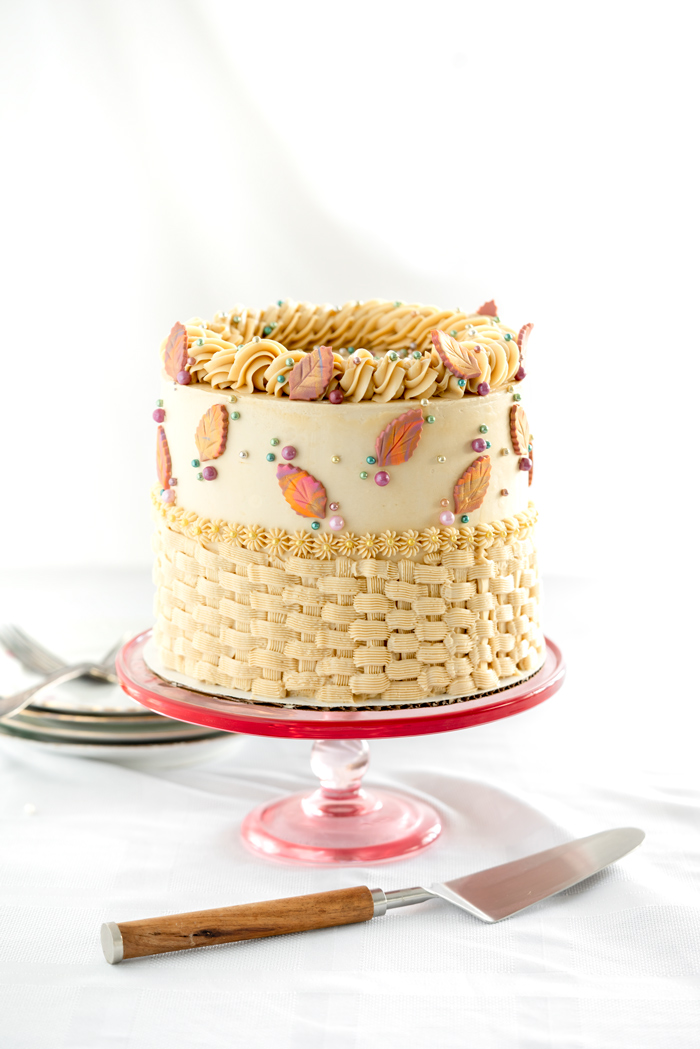 Pumpkin Spice Cake with Salted Brown Sugar Buttercream. Layers of moist pumpkin spice cake coated and filled with layers of creamy, sweet brown sugar buttercream.
If you are looking for that special dessert that will bring a smile to everyones faces and delight to their taste buds then look no further than this delightful Pumpkin Spice Cake with Salted Brown Sugar Buttercream. Imagine the scene if you will…. Everyone has just finished a wonderfully presented meal, enjoyed great conversation and pitched in to help clear the table of all the empty plates. But there is still room for something sweet, that special dessert, that "icing on the cake" so to speak. This is that dessert! The dessert you and your guests will love and talk about over a warm cup of coffee. That special dessert that will get you questions like, "can you make this next year?".
That's a lot of weight to put on the shoulders of one dessert but this Pumpkin Spice Cake with Salted Brown Sugar Buttercream can handle it.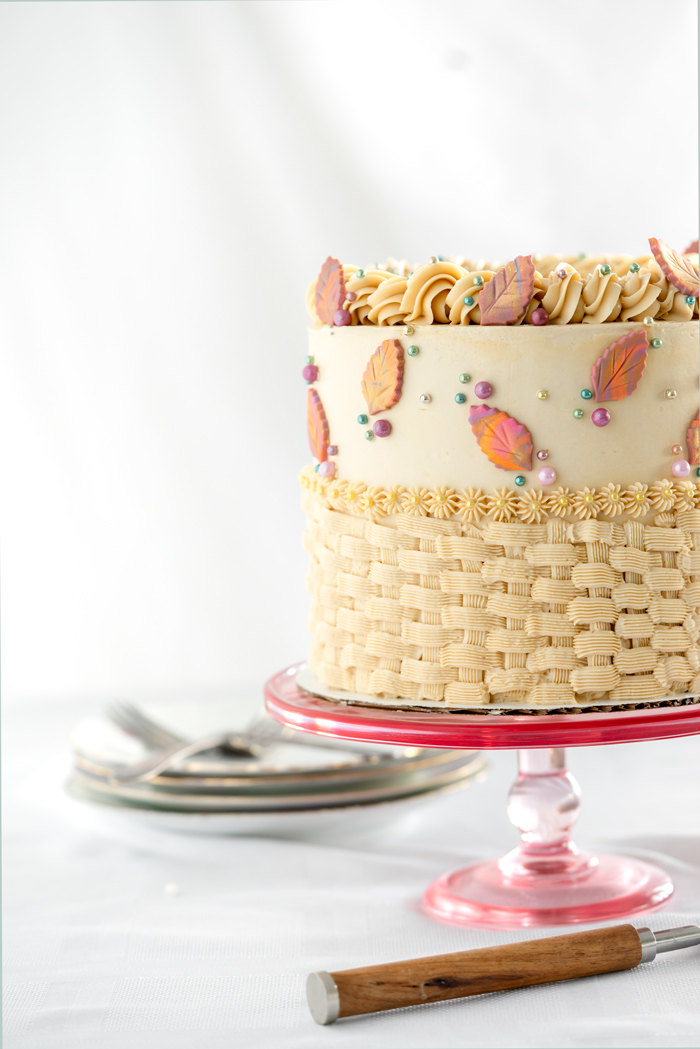 Pumpkin Spice Cake with Brown Sugar Buttercream break down:
Three layers of dense but super moist pumpkin cake. Pumpkin is great for adding moisture to a cake!
Spiced just right to really make that pumpkin flavor pop. Let's be honest, all by itself pumpkin is kind of bland.
Layers of sweet brown sugar buttercream. What makes brown sugar in a buttercream so special? Hints of caramel and toffee that's what!
Salt – with all this sweet and the hints of caramel and toffee a little salt is on order to balance things out.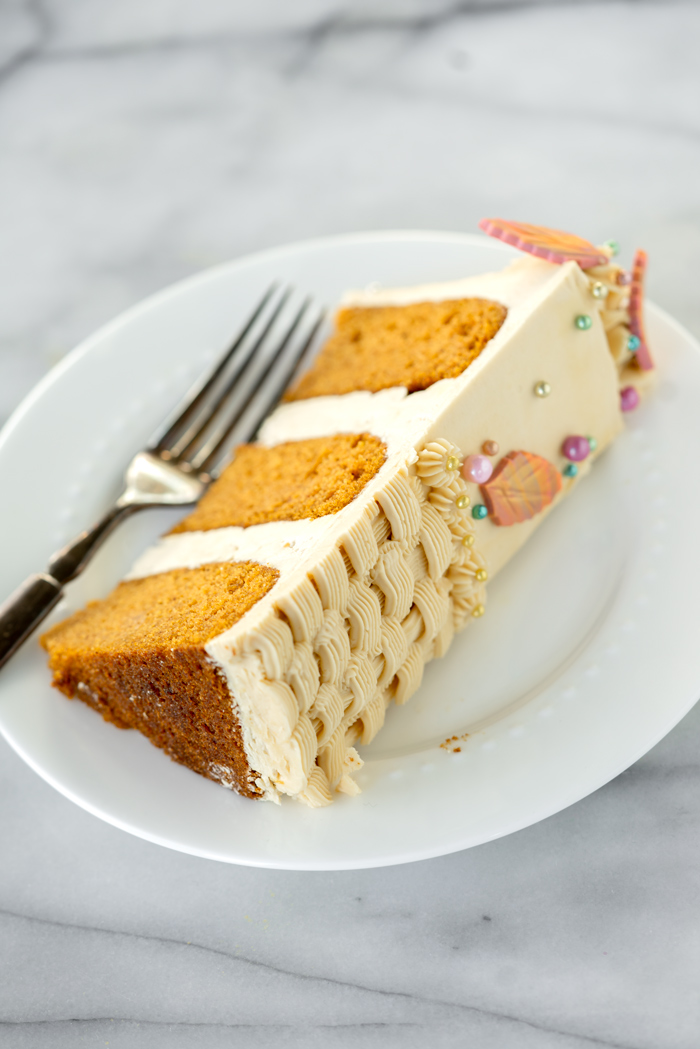 Helpful hints:
Pumpkin cake can be baked/cooled ahead of time, up to 3 days. Just be sure to wrap each layer in 3 layers of plastic wrap to keep moisture in and to stop other flavors in your fridge from getting in.
Brown sugar buttercream can be made up to 3 days prior but must be kept refrigerated. The entire batch will need to be brought to room temperature before you can fill/ice your cake. If you try to mix it while it is cold the egg whites will separate from the butter and it will curdle, if this happens check out this post to fix it.
You will need two batches of buttercream, one to fill and one to coat/decorate the cake.
Cake can be made and assembled a few days ahead just keep refrigerated. Bring cake to room temp before serving for the best flavor and texture experience. Cold cake is good but room temp cake is great because the buttercream will be creamy and the cake will melt in your mouth.
Pairs will with coffee, cappuccino, latte's, tea and milk 😉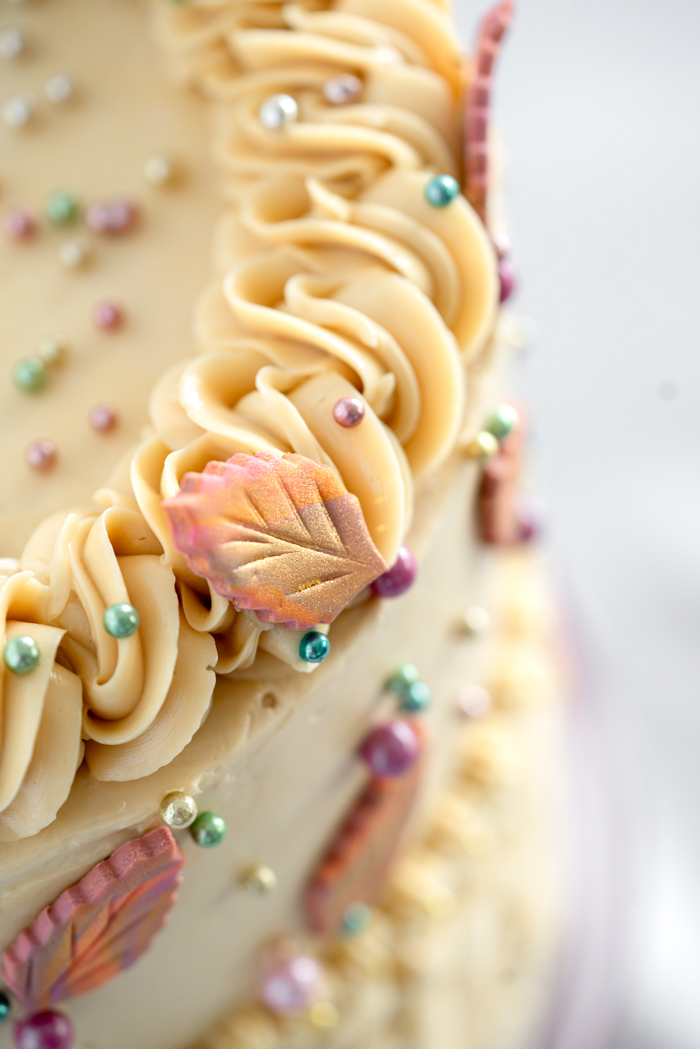 Cake Decoration Breakdown:
The color of the buttercream comes from the brown sugar.
Basket weave was done with the Wilton #47 tip.
Stars were done with the Wilton #32 tip.
Metallic sprinkles were from a gold pack and multi-color pack.
Larger pink pearls are from SprinklePops "Romance Mix" but can also be found at a cake supply store.
Marbled gum paste leaves I made myself (so easy) and I am so excited to show you how in a post later this week!! Stay tuned.
Rope border on top was done with Ateco tip #853.
Want to know how to make these leaves? Check them out here… Marbled Gumpaste Leaves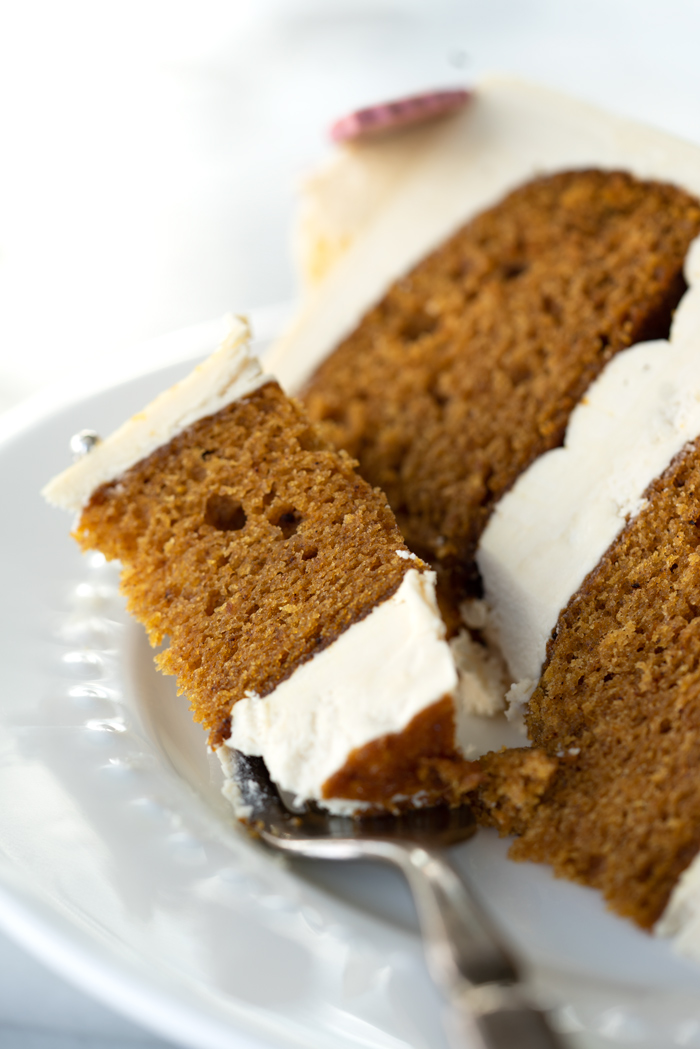 Enjoy this festive flavored cake with your friends and family, heck even all by yourself, I won't judge.
Stacey
A few more pumpkin recipes you might like:
Pumpkin Cake with Salted Caramel Bourbon Buttercream
Pecan Pumpkin Bread with Pumpkin Spice Cream Cheese Glaze
Pumpkin Spice Mini Bundt's With Baileys Pumpkin Spice Glaze
PIN IT FOR LATER! You'll be glad you did. 🙂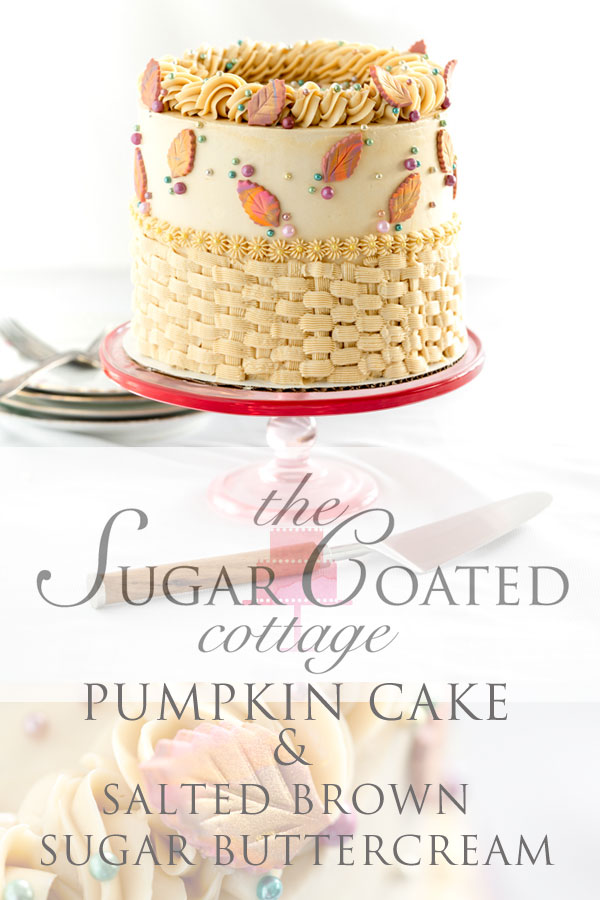 Pumpkin Cake with Salted Brown Sugar Buttercream
Pumpkin Cake with Salted Brown Sugar Buttercream
Ingredients
CAKE

2

cups

all purpose flour

2

tsp

baking soda

1/4

tsp

salt

2

tsp

cinnamon

1/4

tsp

cloves

1/2

tsp

ginger

1/2

tsp

nutmeg

4

large

eggs

room temp

2

cups

sugar

1

cup

canola oil

2

cups

pumkin puree

1/2

tbsp

vanilla extract

BUTTERCREAM

9

egg whites

2 1/4

cups

dark brown sugar

1

tsp

salt

3

cups + 6 tbsp

unsalted butter

2

tsp

vanilla extract
Instructions
1. Preheat oven to 350 degrees.Grease and flour 3 x 7 inch cake pans, line bottoms with parchment paper.

2. In medium bowl add the flour, baking soda, salt, cinnamon, cloves, nutmeg, ginger. Stir with whisk to mix, set aside.

3. In bowl of mixer fitted with the paddle attachment add the eggs, sugar, vanilla and oil. Mix on med-high speed for 5 minutes scraping down the sides of bowl as needed.

4. Bring mixer down to low speed, slowly add in the flour, scrape down side of bowl as needed. Mix in the pumpkin puree and vanilla. Mix all well to combine, about 1-2 minutes.Scrape down sides of bowl if needed.

5. Pour evenly into three prepared pans.

6. Bake 25-30 minutes or until toothpick inserted comes out clean. Rotate cake pans half way through baking.

7. Cool completely.

1. In large sauce pan add the egg whites and brown sugar.

2. On medium heat you are going to whisk egg mixture until sugar is completely dissolved (you can test it by rubbing a small amount between your fingers to test it, it should be completely smooth).

3. Transfer to mixing bowl and with whisk attachment whisk on high until stiff peaks form and mixture is completely cooled (if not completely cooled your butter will melt).

4. On low speed add the butter one piece at a time.Bring mixture up to high speed and continue to mix until well combined.Add in the salt and vanilla, mix to combine.

5. Switch to paddle attachment and mix until smooth and creamy.

1. Cut humps off of cake layers if necessary. 2.

Put a small smear of buttercream onto your cake board/plate (this will help keep the cake in place).

3. Place the first cake layer on the cake board/plate.Spread a large dollop of buttercream on top and spread evenly to the edges of the cake.

4. Place next cake layer on top and spread with buttercream.

5. Repeat with with remaining cake layers until all are stacked. (NOTE - due to the moist nature of this cake the layers have a little weight to them and can break while moving/placing them so be careful of this by supporting them well while moving/placing them).

6. Once all the layers are in place apply a crumb coat of buttercream around the top and bottom of cake. Refrigerate at least 45 min. (Crumb coat gives a nice smooth base to work with when ready to apply final coat of buttercream and decorate).

7. Apply final coat of buttercream. If doing proceed with the piped border around the top and the basket weave.Decorate with sprinkles and gumpaste leaves if using.

8. Keep in cool dry place. If refrigerating take out 1 hour prior to serving.