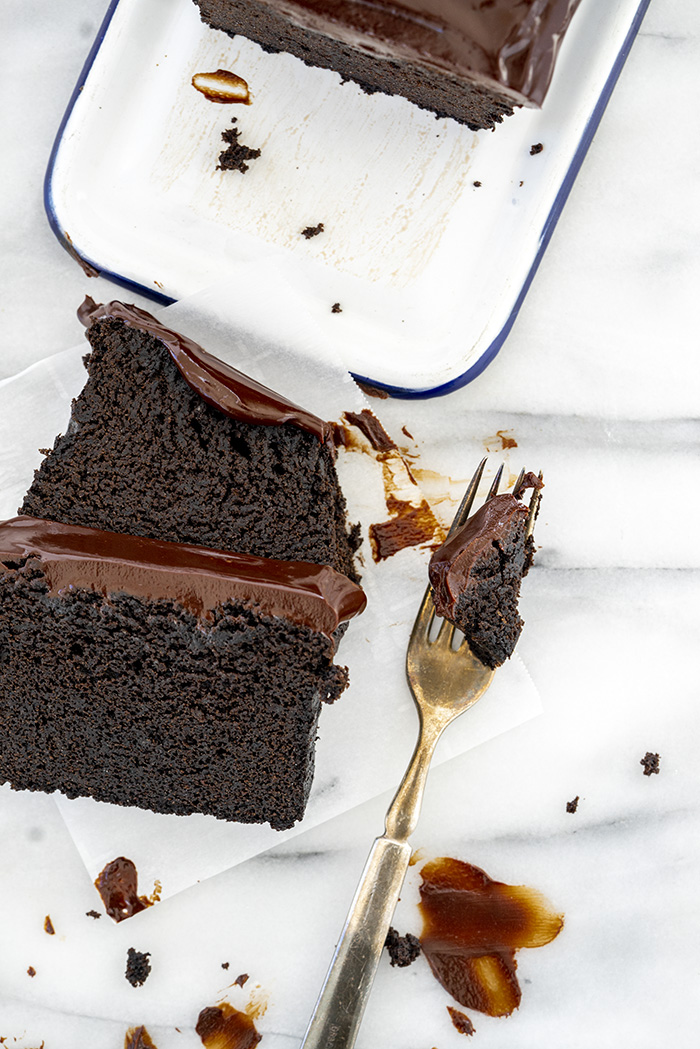 Pound Cake made with black cocoa and enrobed in dark chocolate ganache. The moistest, melt in your mouth, chocolate pound cake you will ever try!
I usually like to start with a whole cake photo of my cakes but the above bite shot snagged my heart. I think it showcases what we all hope for in a cake. Rich, moist, melt in your mouth and good to the last bite. My family and I were certainly sad when the last slice was eaten.
You know I love sprinkles. I put them on cakes, cookies, ice cream, you name it. I had a colorful variety all picked out for this pound cake but after I tasted it I just couldn't sprinkle it. Sprinkles would in no way ruin this cake but this cake is so damn good it doesn't need them. It's like the perfect "little black dress". If done right it doesn't need a colorful belt. Just a good pair of classy heels. This dark chocolate ganache topping is the heels to our dress…or pound cake rather.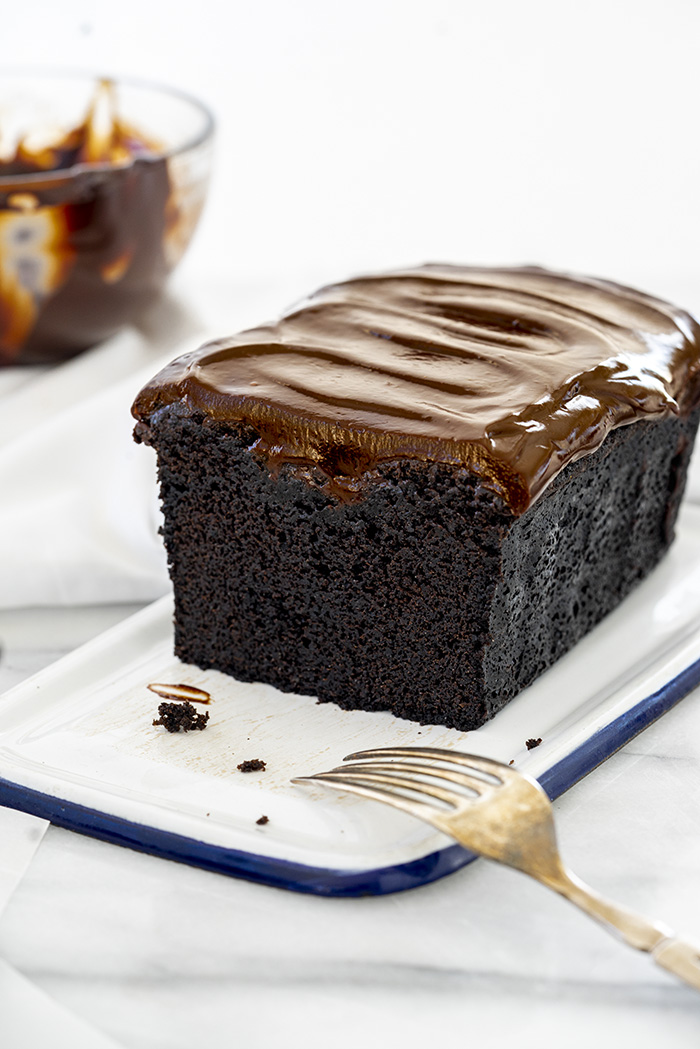 Black Cocoa Pound Cake Breakdown:
Black Cocoa – You could say this is the star ingredient. Black cocoa has an intense black color, hence the name and a deep rich flavor. It's perfection in any chocolate cake that you want to take to the next level. Best to be cautious though you not use only black cocoa as it is too intense. It must be mixed with traditional cocoa for balance.
Almost a cup of butter. Now that may not seem like that much in a traditional cake, however, when you consider that this is a loaf pan cake that's a decent amount of butter. No wonder it's so darn good!
3 whole eggs – talk about rich.
All purpose flour – Ok, ok, so there's nothing too special about this one accept for one very simple fact. Most of us have AP flour in our pantry which just makes it a sigh of relief that we don't need to run to the store for a special type of flour.
Dark chocolate ganache, yes please! I might have stated the idea of no need for frosting. Frosting and ganache are two very different things though. Ganache is luxurious and silky. The perfect compliment to this Black Cocoa Pound Cake.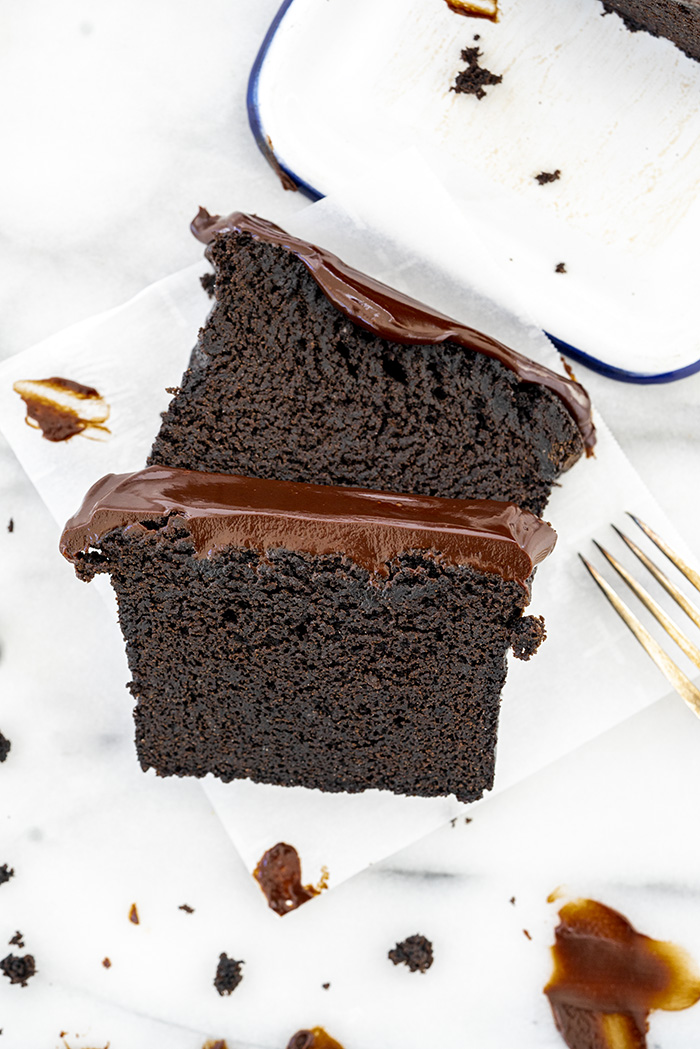 Tips:
Cliche as it may sound, make sure all your ingredients are room temperature.
Once your batter is made fill your loaf pan a 1/2 inch from the top of your loaf pan. If you find you have extra batter (depending on the size of your loaf pan) you can make a few cupcakes or discard.
Note: This pound cake will not get the large hump in the middle as it bakes. Because of its high moisture content and that all your ingredients were room temp.
Parchment paper is your friend here. Lay one piece over the bottom of your loaf pans that comes up the sides and hangs over about an inch on each side. This will allow you to easily pull the pound cake out of the pan when you are ready to slice and eat.
Loaf cakes take a while to bake, this one will be in the range of 50-55 minutes so plan accordingly. As you know every oven is different so start checking your cake for doneness at 45 minutes. Cake should be firm and bounce back when lightly pressed on.
Place your filled loaf pan on a cookie sheet. This is not a must but it will make for easier transfer in and out of the oven.
If you cannot find black cocoa you can certainly use standard cocoa, same measurement.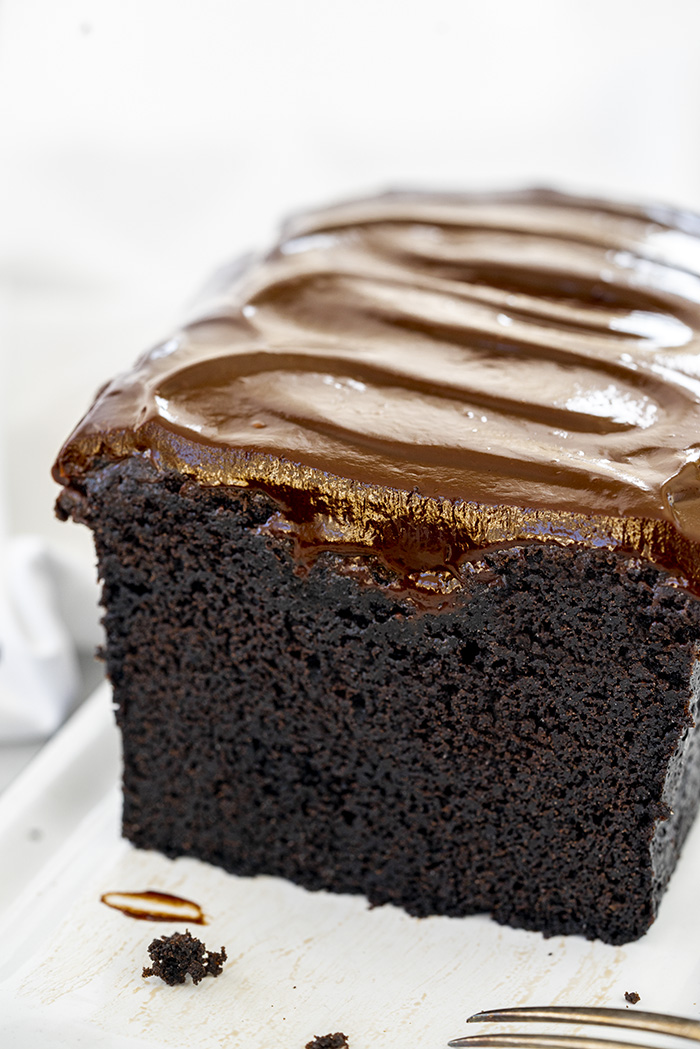 The next burning question is, do you like milk or coffee with your Black Cocoa Pound Cake? Enjoy!
Want to see some more chocolate cakes?
Black Cocoa Chocolate Espresso Cake
No Bake Chocolate Espresso Mousse Tart
See below for some things to help you make this cake. Here are the tools and/or ingredients I used. (Please note that the below are Amazon affiliate links which means if you purchase from these links I get a small commission at no cost to you. Thanks for supporting The Sugar Coated Cottage!)
Pin it for later! You'll be glad you did. 🙂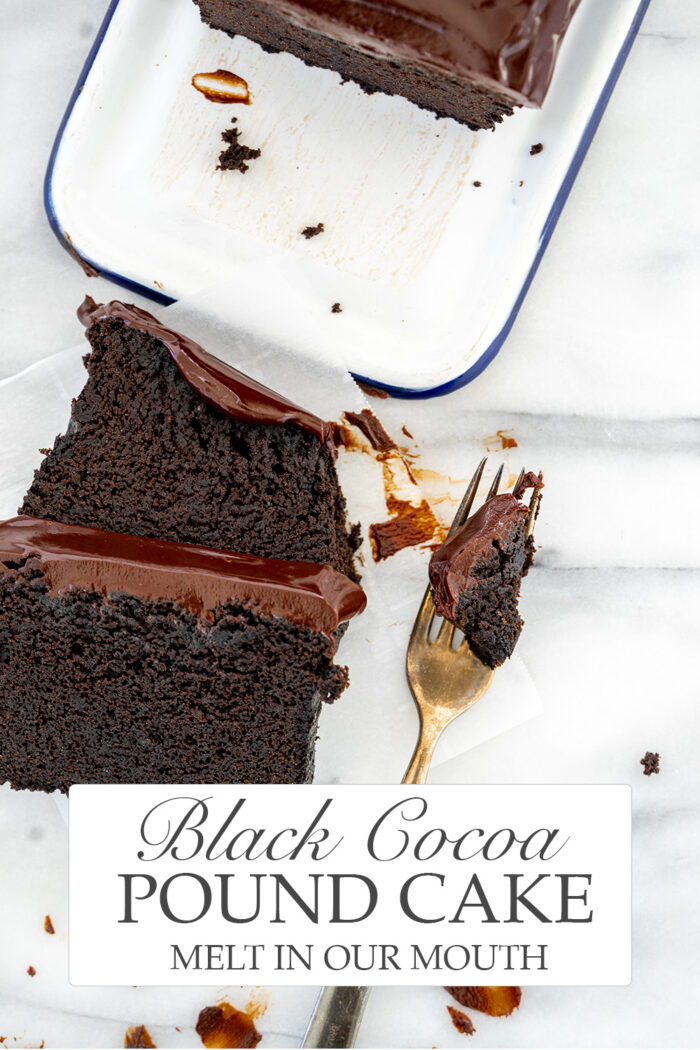 Black Cocoa Pound Cake
Pound Cake made with black cocoa and enrobed in dark chocolate ganache. The moistest, melt in your mouth, chocolate pound cake you will ever try!
Ingredients
POUND CAKE

3/4

cups

butter

room temperature

1 1/2

cups

sugar

3

large

eggs

room temperature

1 1/4

cup

all purpose flour

2

Tbsp

black cocoa powder

2

Tbsp

traditional cocoa powder

1/4

tsp

baking soda

1/2

tsp

salt

1/2

cup

milk

room temperature

2

tsp

vanilla extract

GANACHE

1

cup

dark chocolate

I like Guittard brand if you can get it

3/4

cup

heavy cream
Instructions
Grease and flour your loaf pan. Then lay a piece of parchment in the the pan that will cover the bottom, come up over the long sides by an inch.

Place flour, cocoa, salt and baking soda in a bowl. Whisk to combine, set aside.

In bowl of a mixer, fitted with a paddle attachment, cream the butter until light and fluffy.

Add in the sugar and cream with the butter until completely combined, about 4 minutes.

Add your vanilla to the milk.

With mixer on low speed alternate between adding the flour mixture and milk mixture. Be sure to end with the flour. Mix until combined, scraping down the sides of the bowl as needed. Do not over mix.

Pour into prepared pan, about a 1/2 inch from the top of the pan.

Bake 50-55 minutes or until the top bounces back when gently pushed on.

Notes: 1. I used an aluminum loaf pan (the disposable kind), it measures close to 9x5 inches.

2. If using a non stick pan reduce temperature by 25º degrees. (also adjust your baking time, it may take a bit longer with a lower temperature).

3. If you do not have black cocoa standard cocoa will work nicely. The cake just won't be as dark and the cocoa flavor will be a little lighter. 

Place chocolate in a small mixing bowl.

Bring heavy to cream to just about a boil but not boiling.

Pour heavy cream over chocolate and let sit for 2 minutes.

Start stirring the heavy cream and chocolate in small circular motions in the center. Chocolate will continue melting and combine with the cream.

As you see the ganache start to come together you can stir in larger circles until ganache comes together fully. It should be smooth and glossy.

Ganache will need to be cooled slightly but will need to be warm for spreading on top of the pound cake. If your ganache gets too stiff warm it back up gently, in the microwave at 10 second intervals until shiny, glossy and easily spreadable.

When cake is cooled, pull it from the loaf pan by gently pulling up on the hanging parchment paper. Note: you may need to run a knife around the shorter ends (not covered by parchment)of the cake if they stick a little.

Spread on warm ganache, covering the top of the cake. Be generous. Use a small spatula to move and spread the ganache around.