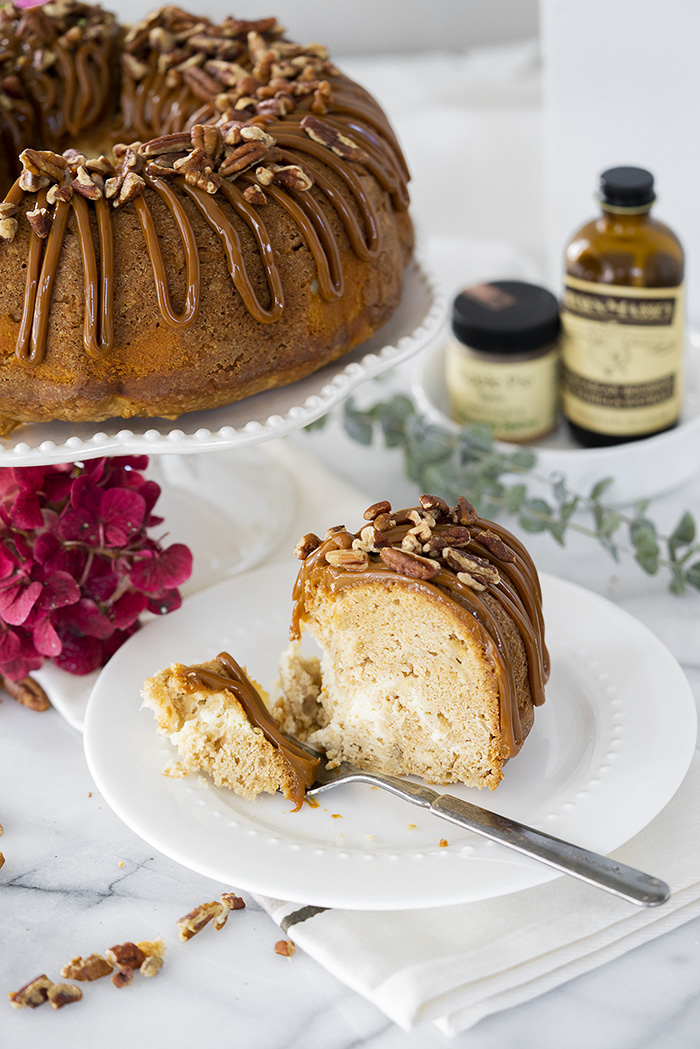 Apple Spice Bundt Cake. Apple filled spice cake with cream cheese filling and dulce de leche glaze.
It is definitely apple season and there is no better way to highlight apples then in a cake. What bananas do to bread, apples do to cake. Apples make this spice cake sweet and moist. And what does the cream cheese filling do? Well, everything… ok, so not everything but cream cheese adds a wonderful creamy balance to all the sweet and spice. Oh and I almost forgot, that shiny, deep golden glaze is rich Dulce De Leche for that caramel flavor we crave with apples.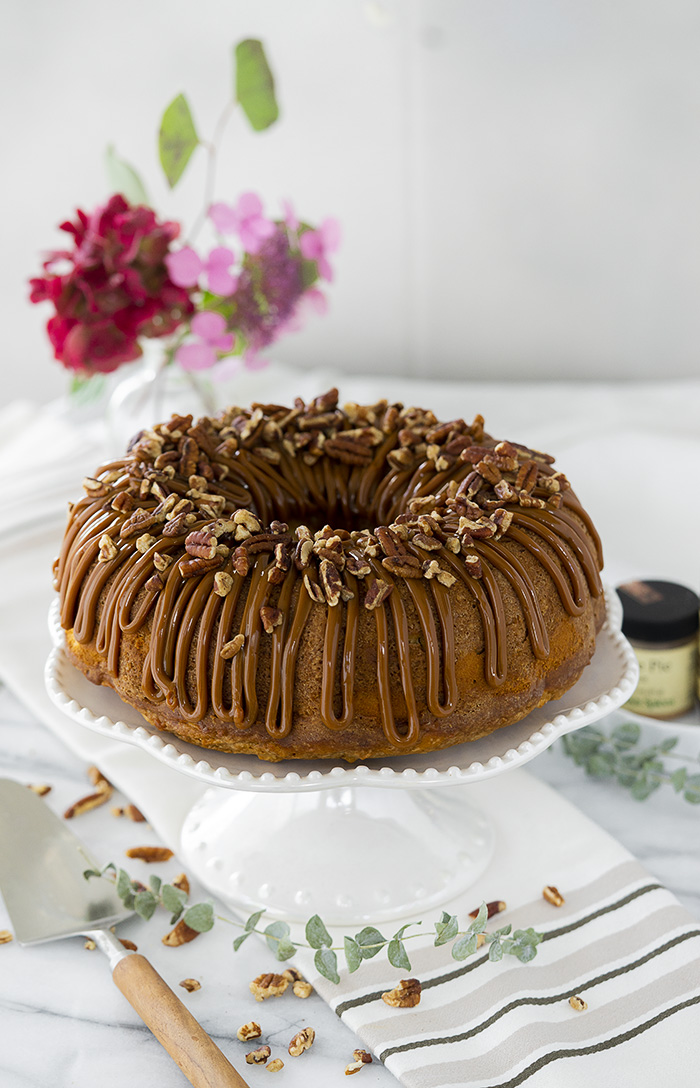 Apple Spice Bundt Cake with Cream Cheese Filling and Dulce De Leche Glaze Tips:
Make sure all ingredients are room temp. This will insure that there are no clumps in your cream cheese filling and that the batter bakes up evenly.
To simplify this process make the cream cheese filling first and set aside. This will be helpful once your batter is done and you are ready to assemble the layers prior to baking.
The apples you choose should be crisp and firm. I used Gala but Granny Smith, Fuji, etc would work just fine as well.
When you add the cream cheese filling layer do your best to keep filling from touching sides. However, don't get stressed if a little does. Batter moves and sometimes it can't be helped.
The batter process is pretty straight forward however, do make sure that you apples are evenly folded in so the moisture they provide is evenly distributed throughout the cake as it bakes.
Make sure to let the cake cool in the pan for 30 minutes prior to removing from the pan. If removed to soon the cake will stick to the pan and break as it comes out.
For the Dulce De Leche – I used the canned version (next to the sweetened condensed milk at the grocery store). It's every bit delicious and I love that all you have to do is open the can.
Dulce De Leche has a smooth, sticky texture and is creamy as well. It remains soft once drizzled on the cake but holds in place as well.
Pecans – they add that little bit of crunch and nutty flavor that makes the other flavors pop.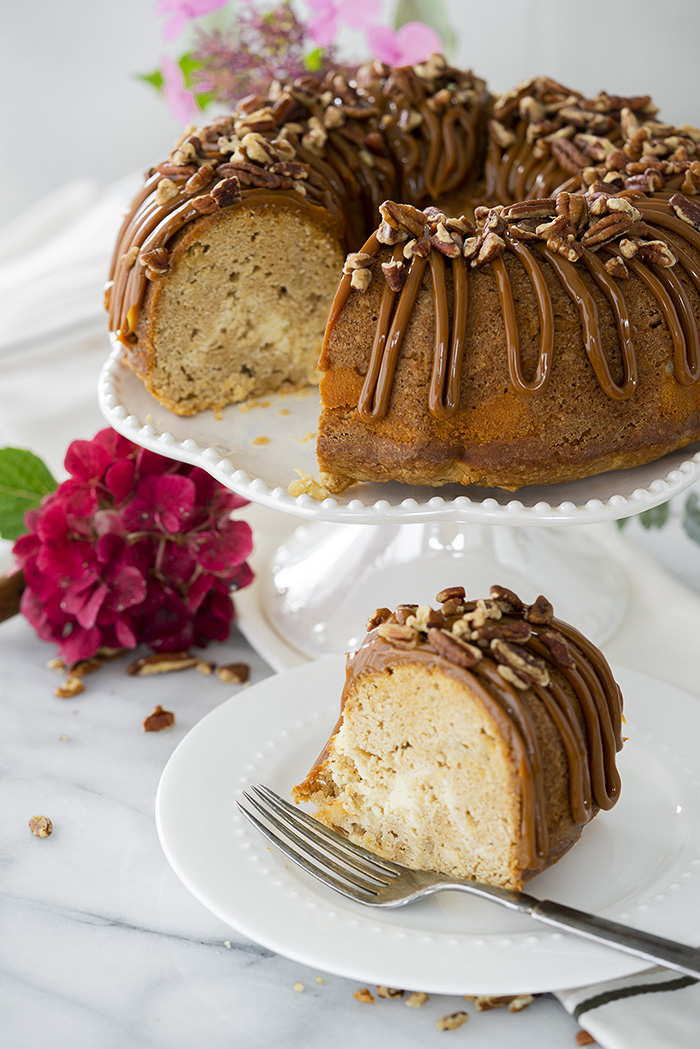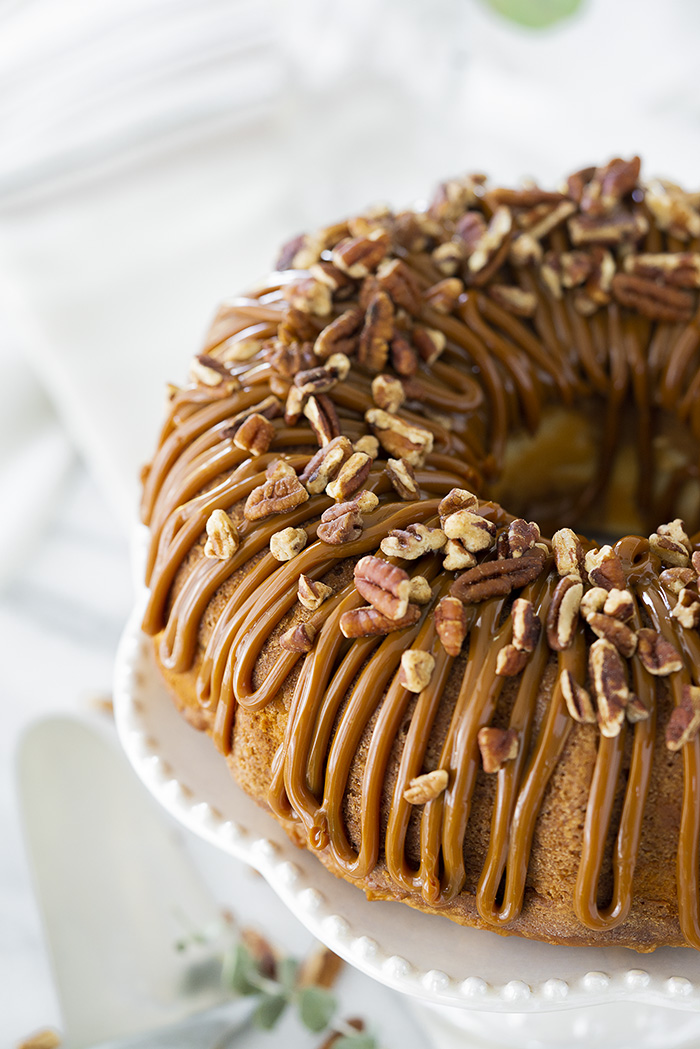 How To Serve and Store Your Apple Spice Bundt Cake:
Serve at room temperature.
Store any leftovers in airtight container careful not to smoosh (Is that a word?) the dulce de leche. If using plastic wrap insert toothpicks around the cake so the plastic wrap does not tough the dulce de leche as it will make for a stick mess.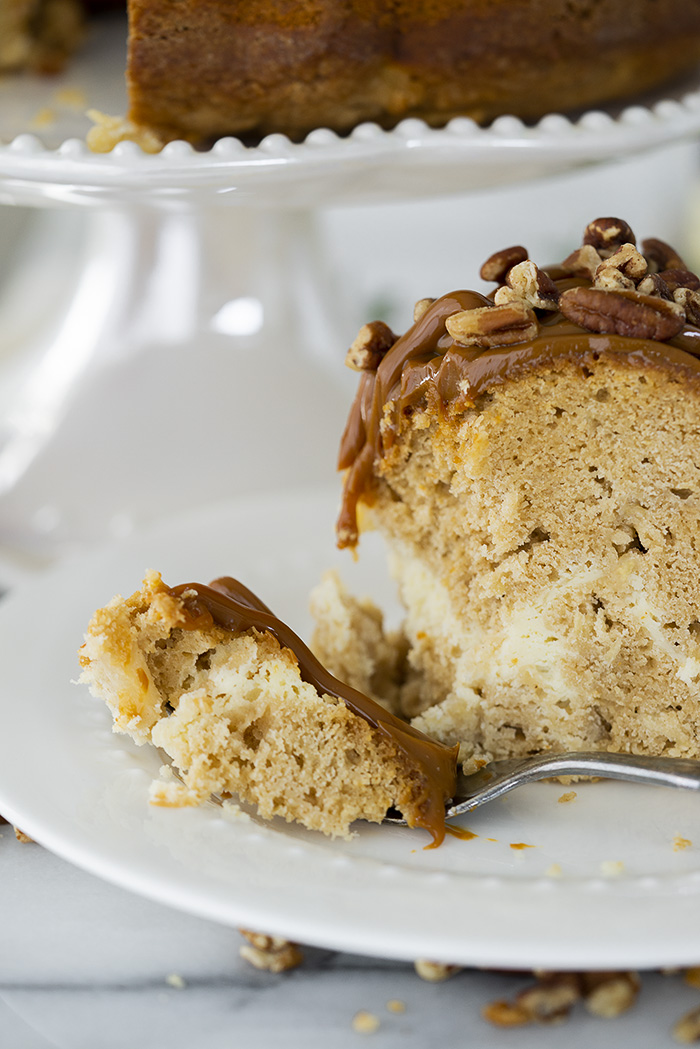 With layers of apple spice cake, cream cheese filling, dulce de leche and pecans what's not to like?
Enjoy!
Stacey
Looking for more Fall recipes?:
Pumpkin Spice Mini Bundt's With Baileys Pumpkin Spice Glaze
Pear Spice Cake with Dark Brown Sugar Buttercream
Here are the tools I used. (Please note that the below are Amazon affiliate links which means if you purchase from these links I get a small commission at no cost to you. Thanks for supporting The Sugar Coated Cottage!)
PIN IT FOR LATER! You'll be glad you did 😉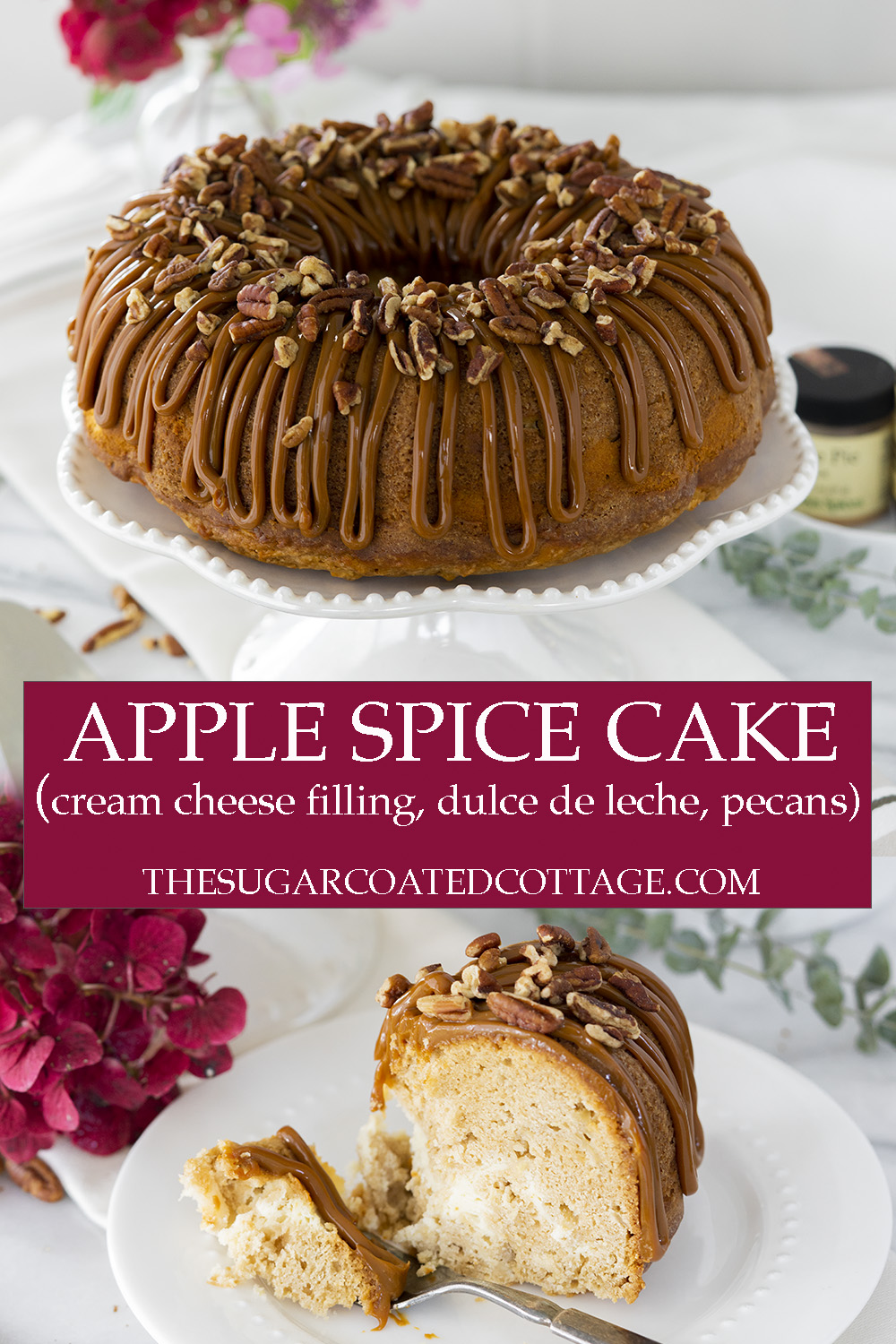 Apple Spice Bundt Cake
Apple Spice Bundt Cake. Apple filled spice cake with cream cheese filling and dulce de leche glaze.
Ingredients
CREAM CHEESE FILLING

1

8 oz

cream cheese

room temp

1/4

cup

sugar

1

large

egg

room temp

2

Tbsp

all purpose flour

2

tsp

vanilla extract

APPLE SPICE BUNDT CAKE

1

cup

light brown sugar

packed

1

cup

canola oil

1/2

cup

granulated sugar

3

large

eggs

room temp

1

Tbsp

vanilla extract

2

tsp

baking powder

2

tsp

apple pie spice

1

tsp

salt

1/2

tsp

baking soda

3

cups

all purpose flour

3

large

apples peel and grated (about 1 1/2 lbs)

I used Gala (use firm and crunchy apples)

GLAZE

1

can

Dulce De Leche

warmed slightly

GARNISH

1/2

cup

chopped pecans
Instructions
Pre heat oven to 350 degrees F. Grease and flour 14 cup bundt cake pan.

Make cream cheese filling first and set aside. Put all ingredients in a bowl and mix until completely combined and creamy.

In bowl of mixer fitted with a paddle attachment beat the brown sugar, oil and granulated sugar.

Add in the eggs one at a time. Add in the vanilla extract.

In seperate bowl add the flour, apple spice, salt, baking soda, baking powder. Keeping mixer on low speed gradually add to the brown sugar mixture. Mix until just combined.

Fold in the grated apples.

Spoon half the batter into the prepared bundt pan.

Spoon cream cheese filling mixture on top of the batter, leave a 1 inch border around the edges of the pan.

Using a knife swirl the filling through the batter.

Spoon remaining batter over the filling. Smooth over with spatula if necessary to even out the batter.

Bake 50-60 minutes or until toothpick inserted comes out clean.

Let cake cool in the pan for 30 minutes. Remove cake from pan and let finish cooling on wire rack.

Place Dulce De Leche in a bowl and warm up slightly. You want it warm to soften it but not hot.

Transfer to a piping bag and cut the tip off making a very small hole.

Drizzle the Dulce De Leche over the cake going back and forth to coat the top and sides of the cake. If you have extra Dulce De Leche store for another use.

Sprinkle top with pecans.