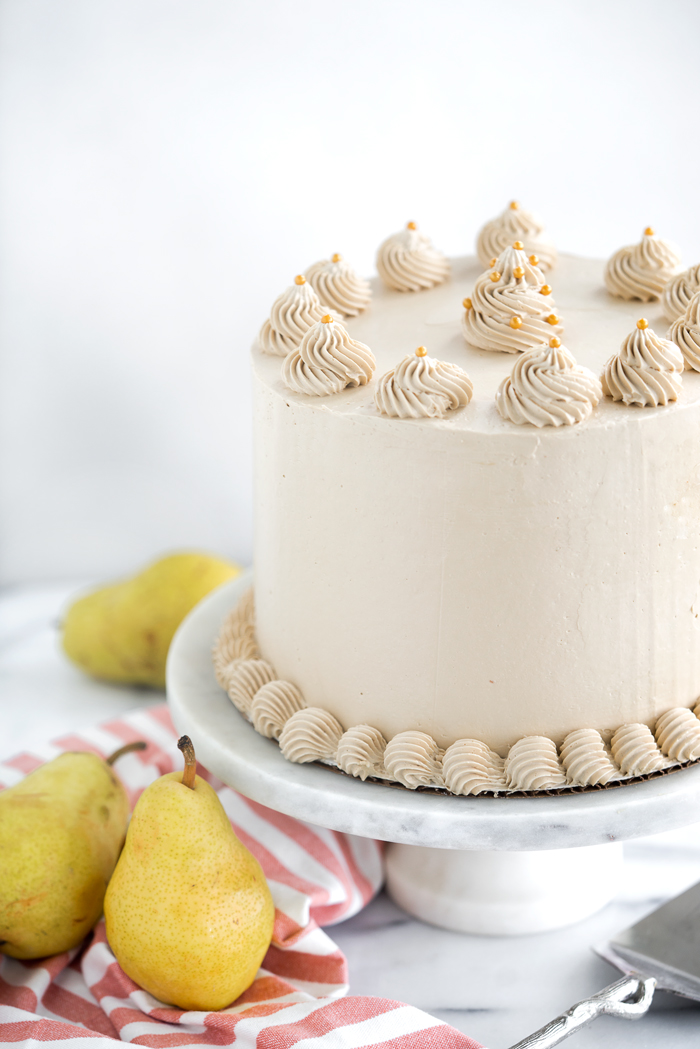 Pear Spice Cake with Dark Brown Sugar Buttercream. Layers of spice cake, caramelized pears and dark brown sugar buttercream.
Happy Fall Everyone!! So last week I posted chocolate because I wasn't ready to say hello to Fall. But then it dawned on me, I love Fall but I just hate saying goodbye to summer. In Michigan and surrounding regions we really only get 3 really consistent months of summer so when Fall arrives I'm never ready to say farewell to summer. Regardless of how I personally feel though Fall is right on schedule. Our last day of summer was 83 degrees and the first day of fall was 63 degrees, right on queue!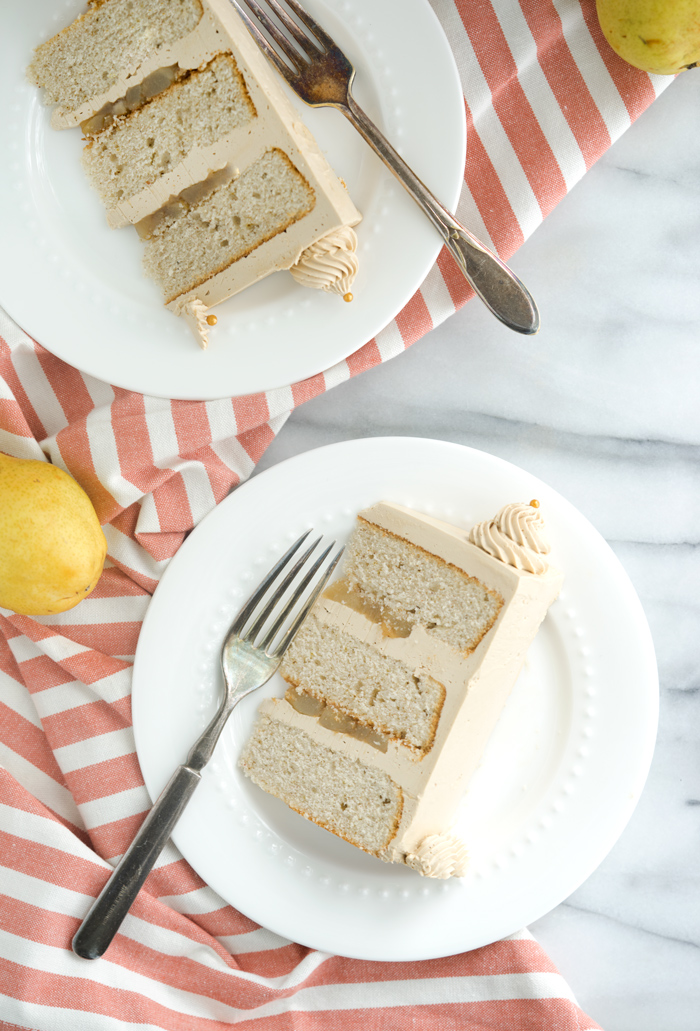 To welcome in Fall I decided to turn to an underrated fruit, the pear. The pear is sweet, addicting and has a unique texture which differs slightly from an apple. And if you like juicy fruit then the pear is your best friend. And though I love a good apple anything I have a special place in my heart for the pear. And now a special place in my heart for this Pear Spice Cake with Dark Brown Sugar Buttercream!!
What Makes This Cake So Grand?:
Fluffy layers of spice cake which just screams fall, autumn, harvest and warmth.
Caramelized pears! That's right, pears that have been simmered in brown sugar and butter.
Dark Brown Sugar Buttercream! Dark brown sugar adds a little more flavor to our buttercream and it works beautifully with all the spices and sweetness we have going on here.
All of the above are put together so each part can be tasted together in an explosion of fall flavors!!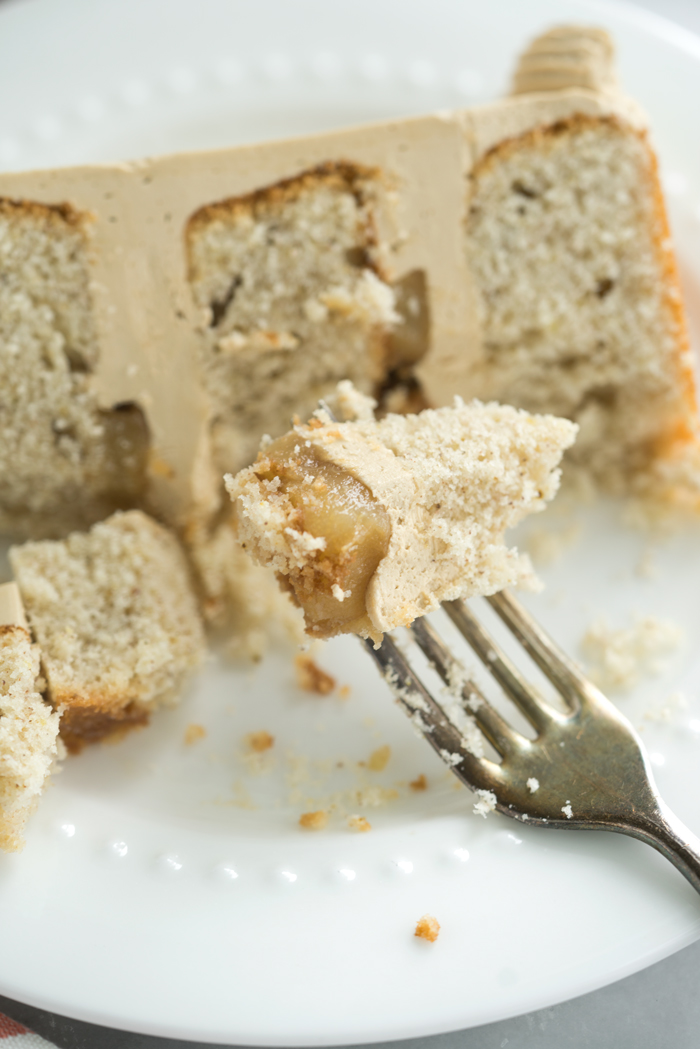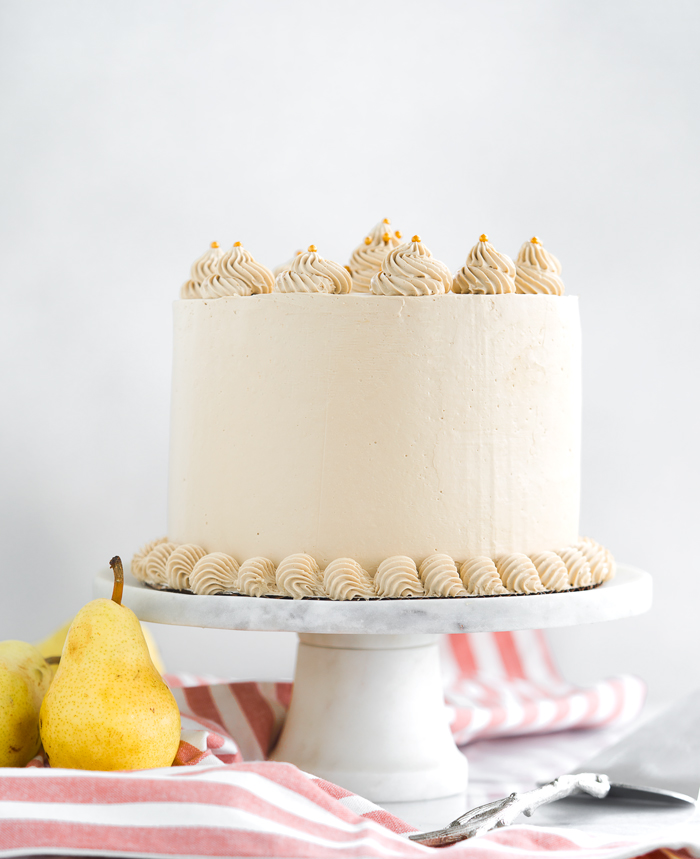 A few notes about pears. As mentioned above they can be juicy. For the caramelized pears you will want ripe but firm pears which will hold there shape as they simmer. If they are mushy to start with they will get mushier as they cook down. As you begin to caramelize the pears they will release their juices, this is normal just keep cooking them down.
Join me in welcoming in Fall and enjoy a slice of this cake (or two).
Enjoy!
Stacey
PIN IT FOR LATER! Thanks.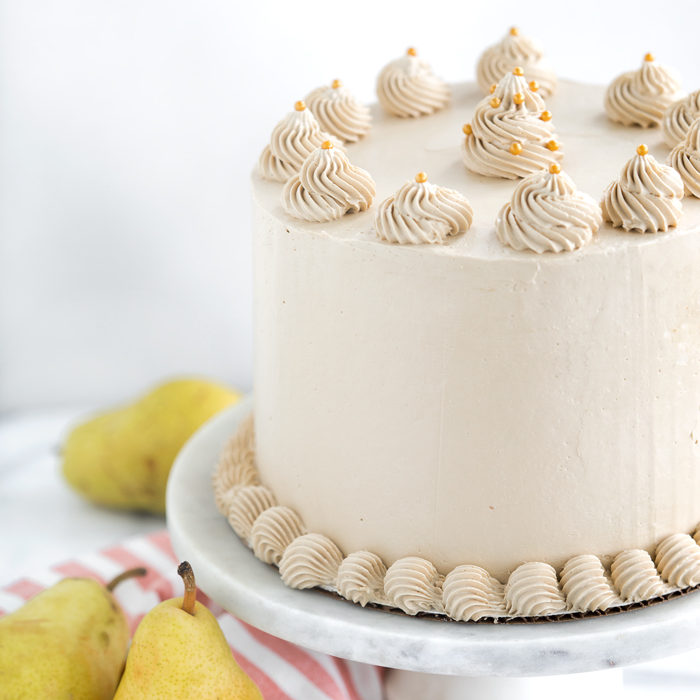 Pear Spice Cake with Dark Brown Sugar Buttercream
Pear Spice Cake with Dark Brown Sugar Buttercream. Layers of spice cake, caramelized pears and dark brown sugar buttercream.
Ingredients
CAKE:

3

cups

cake flour

1

Tbsp

baking powder

1

tsp

cinnamon

1/2

tsp

cloves

1/2

tsp

nutmeg

1/2

tsp

ground ginger

1/2

tsp

salt

1/4

tsp

baking soda

1 1/2

cups

unsalted butter room temp

1 1/4

cups

sugar

4

eggs room temp

2/3

cup

milk room temp

1

Tbsp

vanilla extract

PEARS:

2 1/2

cups

diced pears

1/4

cup

dark brown sugar

2

Tbsp

unsalted butter

BUTTERCREAM:

9

egg whites

2¼

cups

dark brown sugar

1

tsp

salt

3

cups

+ 6 Tbsp unsalted butter

2

tsp

vanilla extract
Instructions
Preheat oven to 350 degrees F

Grease, flour and parchment 3 7inch cake pans.

CAKE:

In large bowl add the flour, baking powder, salt, baking soda, cinnamon, cloves, ginger, nutmeg. Stir with whisk to combine set aside.

In bowl of a mixer fitted with paddle attachment cream the butter and slowly add in the sugar.

Mix until well combined and pale yellow.

Add the eggs one at time, mix well to combine after each addition.

Starting with flour mixture add the flour mixture and milk alternating as needed.

Mix well to combine.

Add in the vanilla, mix well to combine.

Pour into the 3 cake pans.

Bake 23-26 minutes or until toothpick inserted comes out clean.

PEARS:

In medium pan melt the butter.

When butter starts to bubble add in the pears.

Sprinkle in the brown sugar.

Stir a little to distribute the ingredients around.

Bring to a simmer, juice of pear will start to release this is fine.

Bring down to low heat and simmer, stirring often but gently to avoid smashing the pears.

The pears will simmer for about 20 minutes or until sauce is thickened and pears are soft and caramelized.

Place a strainer over a large bowl.

When ready pour pears over the strainer to remove excess liquid.

Let pears cool and transfer to bowl until ready.

(can be refrigerated if not using right away).

BUTTERCREAM:

In large sauce pan add the egg whites and brown sugar.

On medium heat you are going to whisk egg mixture until sugar is completely dissolved (you can test it by rubbing a small amount between your fingers to test it, it should be completely smooth).

Transfer to mixing bowl and with whisk attachment whisk on high until stiff peaks form and mixture is completely cooled (if not completely cooled your butter will melt).

On low speed add the butter one piece at a time.

Bring mixture up to high speed and continue to mix until well combined.

Add in the vanilla, mix to combine.

Switch to paddle attachment and mix until smooth and creamy.

ASSEMBLY:

Cut tops of cakes if hump formed while baking.

Place first cake layer on cake board, secure it in place with a dab of frosting underneath.

Spread even layer of butter cream on top of the cake layer, smooth with offset spatula.

(I left the outer edges of frosting higher to keep the pears from slipping out).

Next add 1/2 of the pear mixture on top of the buttercream arrange evenly.

Repeat with the second cake layer.

Add the top cake layer and crumb coat the cake with buttercream.

Refrigerate 20 minutes.

Put final coating of frosting on cake.

Pipe swirls on top and around the bottom and garnish with sprinkles.
Notes
I used tip Wilton 4B, its a larger shell tip.