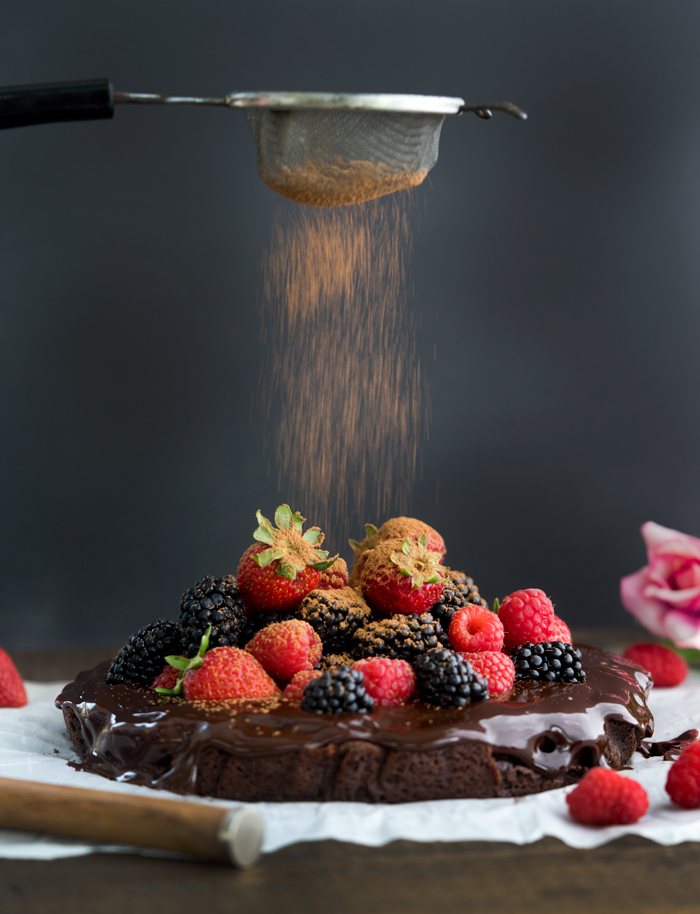 Fudgy Ganache Brownie Cake. Rich fudgy brownie slathered in creamy ganache and topped with fresh berries.
If ever there was a week for some Fudgy Ganache Brownie Cake last week was it! True I would look for any excuse to eat this so I'm probably over dramatizing things here. As many of you know from a few blog posts back I am working on designing a new life so to speak. One that revolves around having more freedom for family, etc.
In attempt to put my life on that new track I decided to structure all my daily activities out by the minute and hour, I read somewhere this works really well so it must work for me right? I found out quickly that this does not work for me and it's unrealistic for me. In fact it was actually making my quest for "freedom" feel more like prison, lol. So this Fudgy Ganache Brownie Cake was much needed because I still eat my emotions ;-).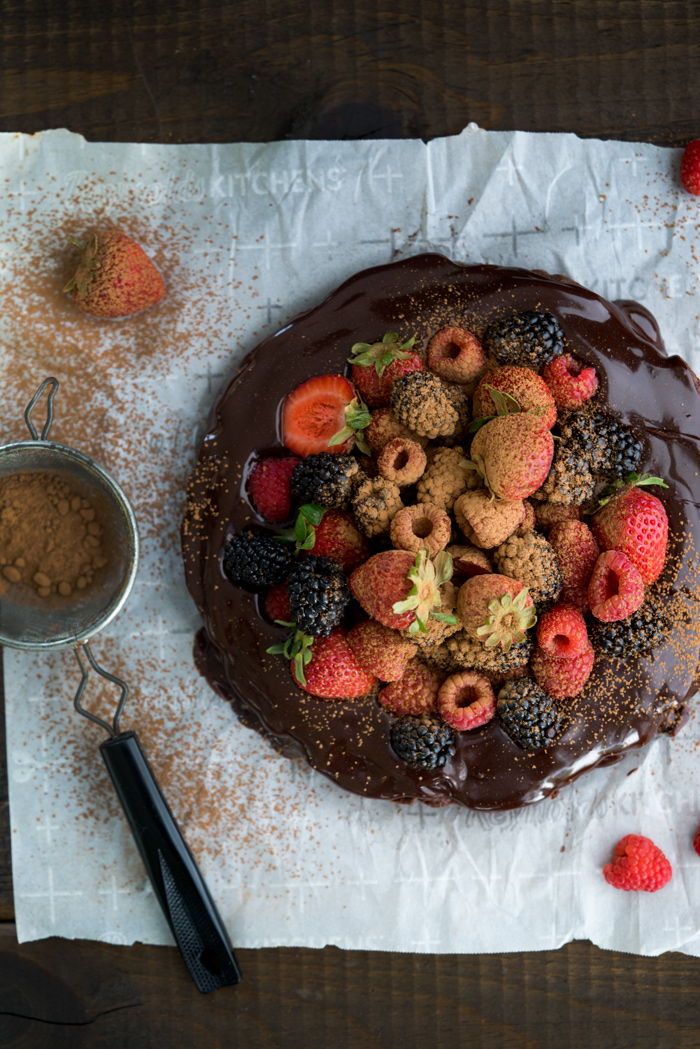 As this was all happening I noticed on my bookshelf "The One Thing" by Gary Keller. I started it over the summer and then stopped after Chapter 8, no reason just kinda forgot about it. Out of the corner of my eye the book almost seemed to glow as if to say, "read me". Then that evening.. "read me". By night I was tired and a bit calmer so I thought what the hell. I picked up the book and began to read. Chapter 9 part 2 had be chuckling. The author was explaining how he had bought into and attempted to practice all the things he read that make someone successful, getting up early/staying up late, dressing the part, talking/walking the part, being entirely too strict. He finally concludes that he let go, focused on the tasks that would move him closer to his goal and all started to fall into place. Though it may seem coo coo that I felt the book talk to me, lol, it was the perfect chapter at the perfect time so I'm not going to question it (or my sanity).
So Here Is What I did:
Had a slice of this Fudgy Ganache Brownie Cake because we all need fuel am I right?
Scrapped the schedule.
Made a list of all the things I wanted to accomplish that day.
Circled the number "One" thing I needed to accomplish that day to take me closer to my goal(s).
Went down the list as far as I could for that particular day starting with the "One" thing that was most important and then moving to the next and so on.
Anything of great importance I didn't get to made it to the next days list.
Repeat.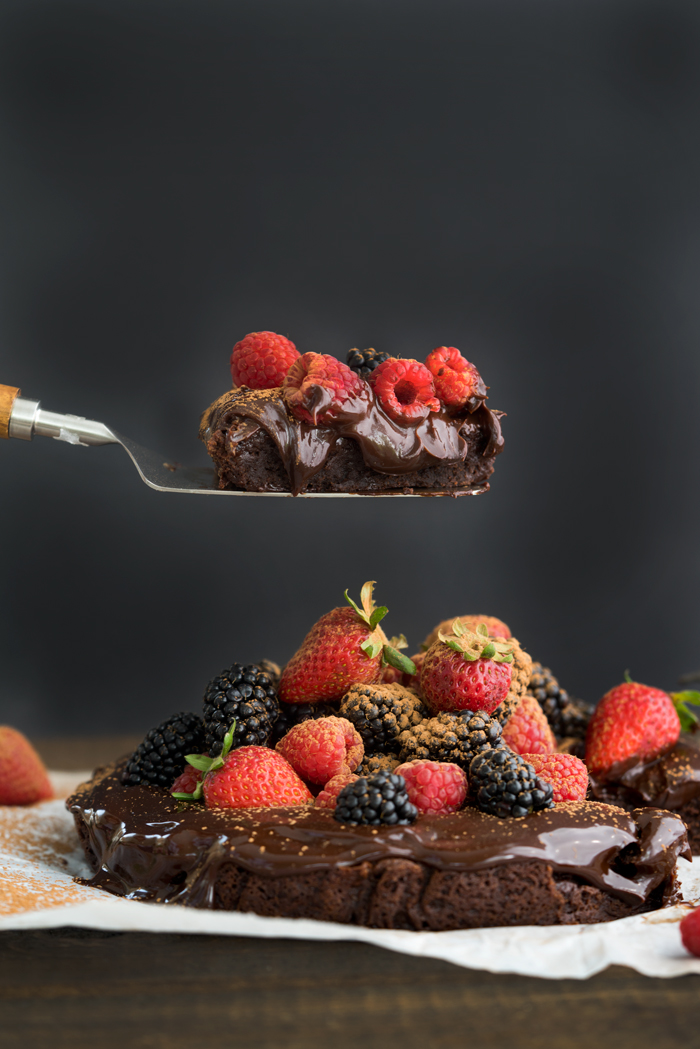 What happened as a result of this restructure and letting go? I got more done, I got the important thing(s) done and I actually enjoyed the process and was relaxed. Which in turn gave me more freedom 😉 .
So if you need a cake that will see you through the changes of life (or a crazy talking book) this Fudgy Ganache Brownie Cake will see you through. And if you need a bit of good advice that feels like you're talking to a mentor then check out "The One Thing".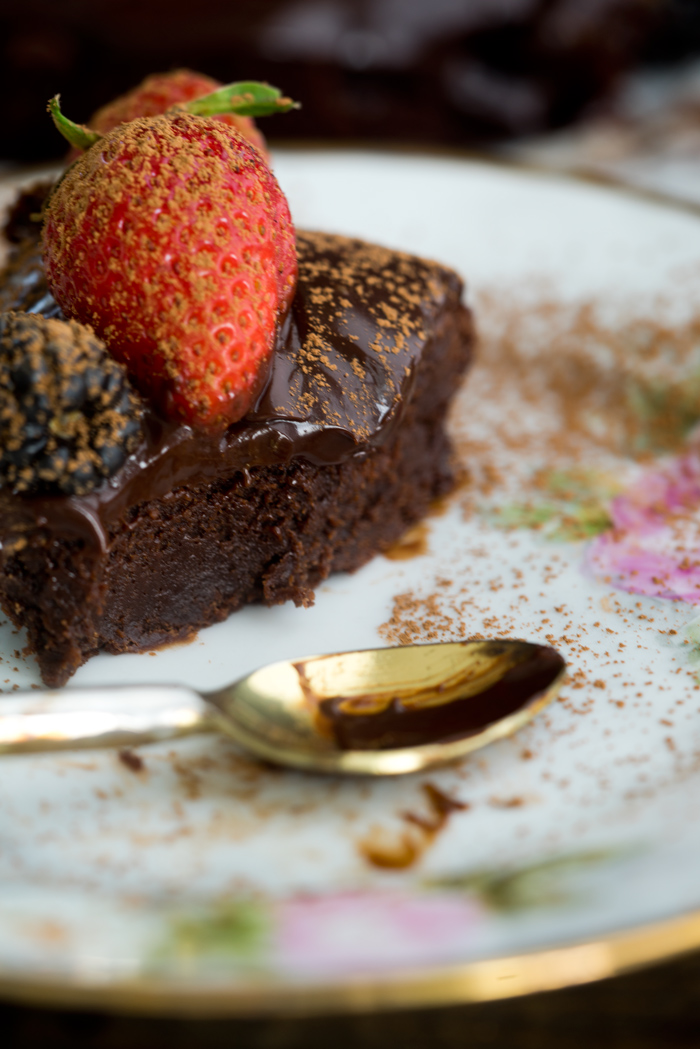 Now I'm pretty sure I hear this cake calling… "eat me". Gotta run.
Enjoy!
Stacey
(Please note: "The One Thing" link is an Amazon affiliate link which means if you were to purchase this book I would get a small commission at no cost to you. )
PIN IT FOR LATER! Thanks.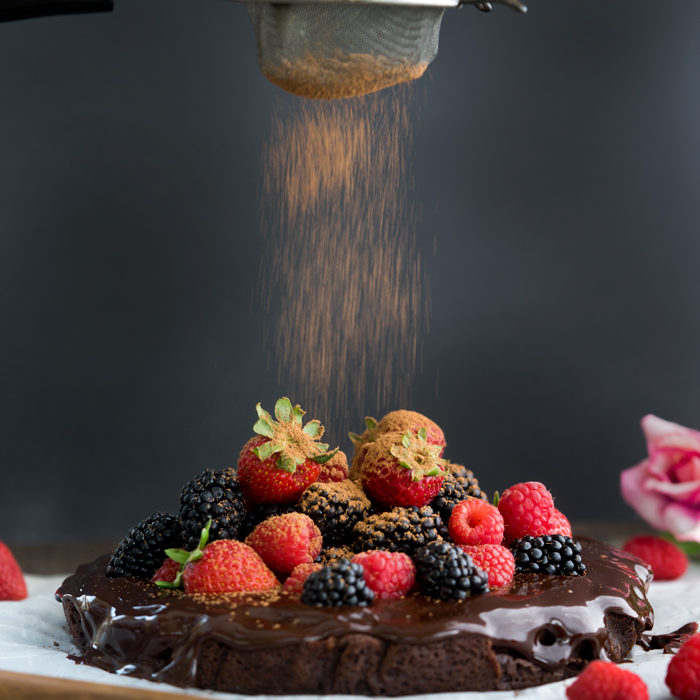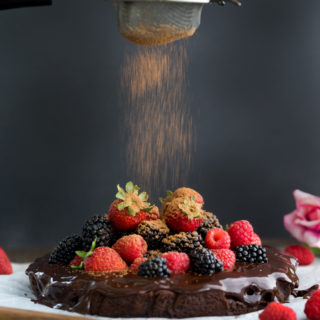 Fudgy Ganache Brownie Cake
Fudgy Ganache Brownie Cake. Rich fudgy brownie slathered in creamy ganache and topped with fresh berries.
Ingredients
BROWNIE CAKE:

1 1/3

cups

granulated sugar

1/3

light brown sugar

3/4

cup

melted butter

2

Tbsp

milk

2

large eggs

3

tsp

vanilla paste

or extract

1 1/3

cup

all purpose flour

3/4

cup

+ 2 Tbsp cocoa powder

1/2

tsp

baking powder

pinch

of salt

GANACHE:

1

cup

heavy cream

12

oz

semi-sweet chocolate chopped

or chips place in small mixing bowl.

GARNISH:

Fresh berries

cocoa powder
Instructions
BROWNIE CAKE:

Pre-heat oven to 350 degrees F

Line 9 inch cake pan with parchment paper, leave some overhang if you plan to pull the cake out of the pan for serving.

In large bowl combine and stir the flour, cocoa powder, salt and baking powder.

In mixing bowl add sugars, butter, vanilla paste, milk and mix.

Add the eggs and mix well to combine.

Slowly add in the flour mixture.

Mix until well combined.

Pour batter into pan and spread with off-set spatula or regular spatula.

Bake for 20 - 25 minutes or until toothpick inserted comes out a little sticky.

Cool completely.

GANACHE:

Heat heavy cream to simmer.

Pour over chocolate, let sit for 1 minute.

With spatula slowly stir mixture in small circular motions to make sure that the mixture is completely combined. This will take quite a few stirs as the chocolate is still melting, just keep stirring.

Let cool but not set completely.

Slather the ganache over the brownie and spread evenly with offset spatula.

Gently arrange the berries on top and sprinkle with cocoa powder.

Let set.

Cut into wedges. This can be done in the pan or pull the brownie out by the parchment paper and slice that way.

Store is cool, dry place.
Notes
1. This brownie bakes to be about 1 to 1 1/2 inches tall.
2. The luscious texture comes from under baking the brownie slightly. So check it at 20 minutes. The center should ideally be sticky when checked with a toothpick.
3. This is extremely rich and can be served in smaller slices.
4. If storing in chilled area pull out 2 hours prior to serving so its at room temp for the best texture.