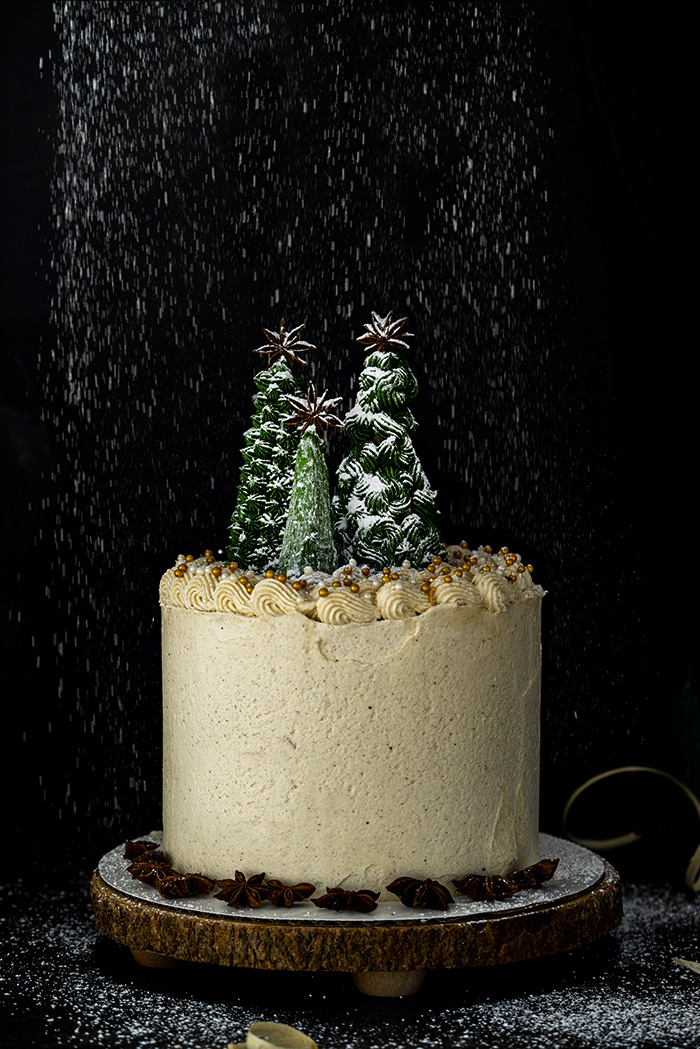 Eggnog Cake with Eggnog Buttercream. Perfect all winter long for us eggnog lovers. Moist, dense, eggnog cake, that really does taste like eggnog. Swirled with layers of creamy, rich, eggnog buttercream.
So what's weirder? The fact that I am posting an eggnog cake in January? Or the fact that it's my first post in over a year? Well, an eggnog cake in January seems natural to me. It's still winter, we're getting freezing temps followed by snow and eggnog and cake are pure comfort food for this hibernating winter gal. Now, the not blogging for a year thing. I know, I know, not ideal. Life, work, parenting, you name it, each one seemed to have really ramped up as most of us know. I miss you guys, I miss making recipes for you and I miss showing you "how to's". So please forgive me. I have a lot of delicious content planned and I hope you are as excited as I am. But now, back to this cake….
I don't know about you but if you're here I am guessing you love eggnog as much as I do! I love eggnog as a drink, I love eggnog as an ice cream, I love eggnog as a latte and now I love eggnog as cake and buttercream. I give a lot of cake away and with that comes comments, suggestions and reviews. And all of the above were nothing but love for this cake. I know it sounds silly and I like to think I know for myself when something tastes amazing but to hear others confirm it just makes me smile.
Eggnog Cake Breakdown:
We have three layers of eggnog cake. I mean it when I say it tastes like eggnog. Not only is eggnog in the cake batter but I amped it up with a few eggnog spices as well.
Moist and dense with a tender crumb, this cake is a cross between the texture of a standard cake and a pound cake. If you are looking for "light and fluffy" this cake is NOT for you.
Eggnog buttercream but of course. Eggnog cake needs a creamy eggnog buttercream. This eggnog buttercream has all the eggnog flavor one could ask for and does not disappoint.
Eggnog Cake and Buttercream Tips:
As with most baked goods, ingredients should be at room temperature. That includes the eggnog both for the cake and the buttercream.
The spices in the cake and the buttercream are there to amp up the flavor of the eggnog and are highly suggested for the full effect. However, if you forgot them or just don't care for the spices I chose you can omit them and the eggnog flavor will still be outstanding.
The eggnog buttercream is creamy and delicious. It has a little more texture as you can see in the photos.
It's imperative to cool the eggnog mixture completely before adding the butter or your butter will melt. This can take up to 4 hours so plan accordingly. Eggnog buttercream can be made the day before and refrigerated. Bring to room temperature and mix with a mixer before using so that is smooth and creamy.
I love 7 inch cake pans but this recipe can be made in the following, just be sure to adjust baking time as needed.

3 – 6 inch pans if desired.
3- 8 inch pans will work and will give you thinner layers as the batter is more spread out.
2- 9 inch pans
9×13 pan

Eggnog buttercream is soft. It is great for layer cakes and for piping but is a smidge softer than a traditional buttercream, that's what makes it amazing. As you layer and crumb coat your cake I suggest refrigerating for 45 min to an hour before the final coat of buttercream and piping.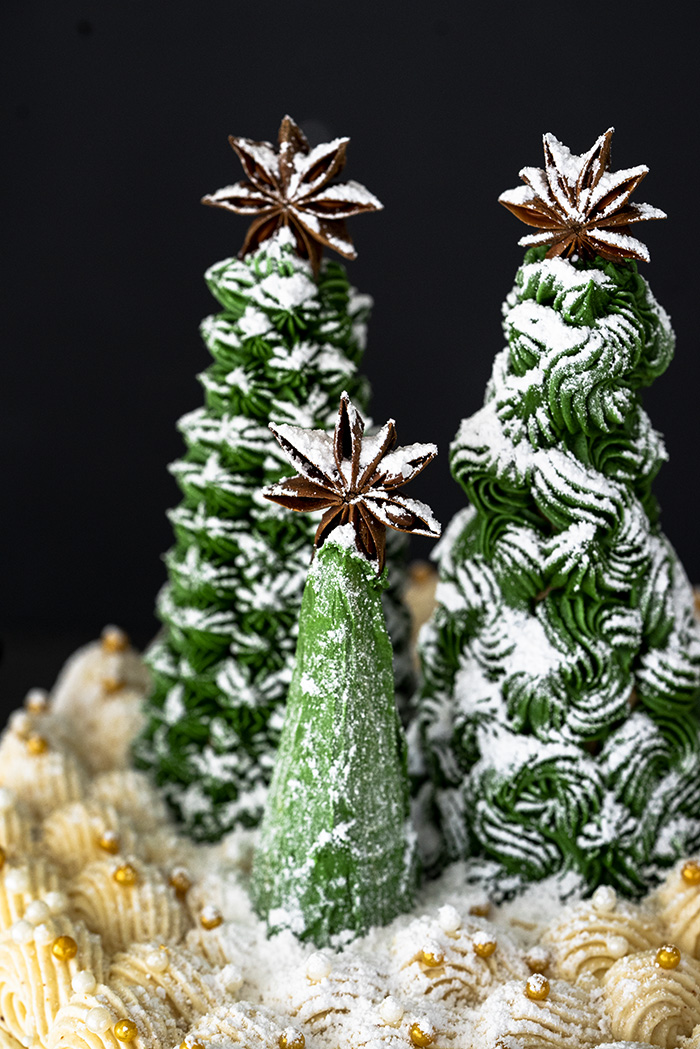 What about those trees?
So easy and so fun. I took sugar cones and piped traditional American buttercream swirls around them in green to mimic forest trees.
The snow is powdered sugar as you more than likely already guessed.
The stars on top of the trees are whole star anise. You can look for this in the spices. Anise smells and tastes like black licorice. By nature they are beautiful and fun to decorate with.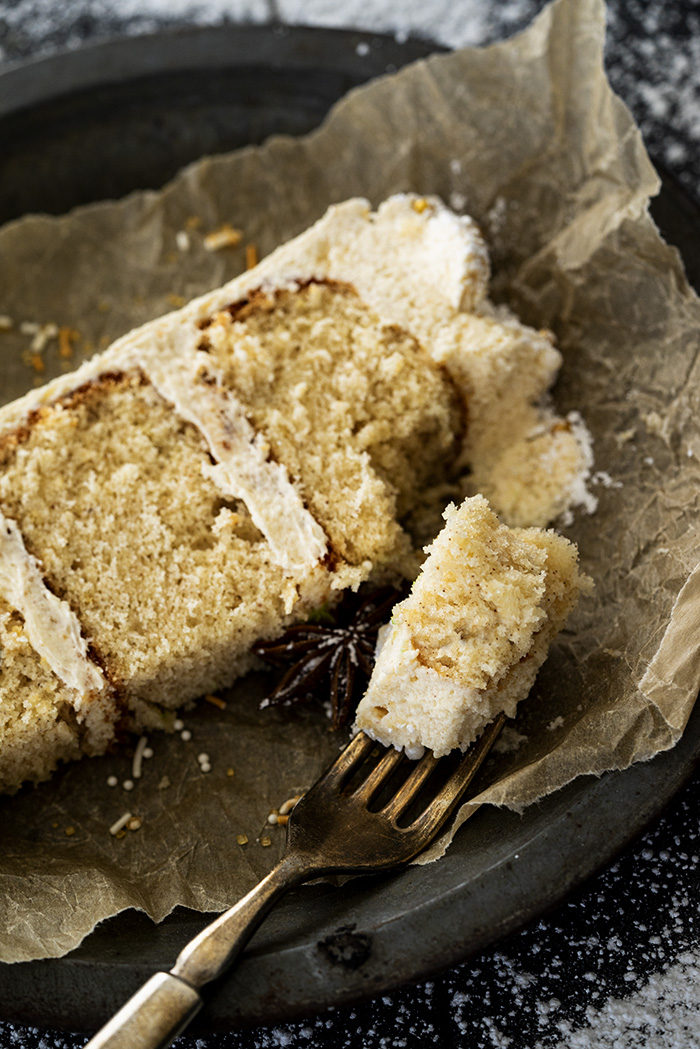 Oh my! That bite shot is everything (in my humble opinion 😉 ). As we hunker down like cozy little bears (maybe its just me?) waiting out the cold and snow, enjoy a slice or two of this phenomenal eggnog cake.
Enjoy!
And if interested check out these posts:
How To Fill and Crumb Coat a Cake
How To Get A Smooth Buttercream Finish
See below for some things to help you make this cake. Here are the tools I used. (Please note that the below are Amazon affiliate links which means if you purchase from these links I get a small commission at no cost to you. Thanks for supporting The Sugar Coated Cottage!)
PIN FOR LATER, you'll be happy you did! 🙂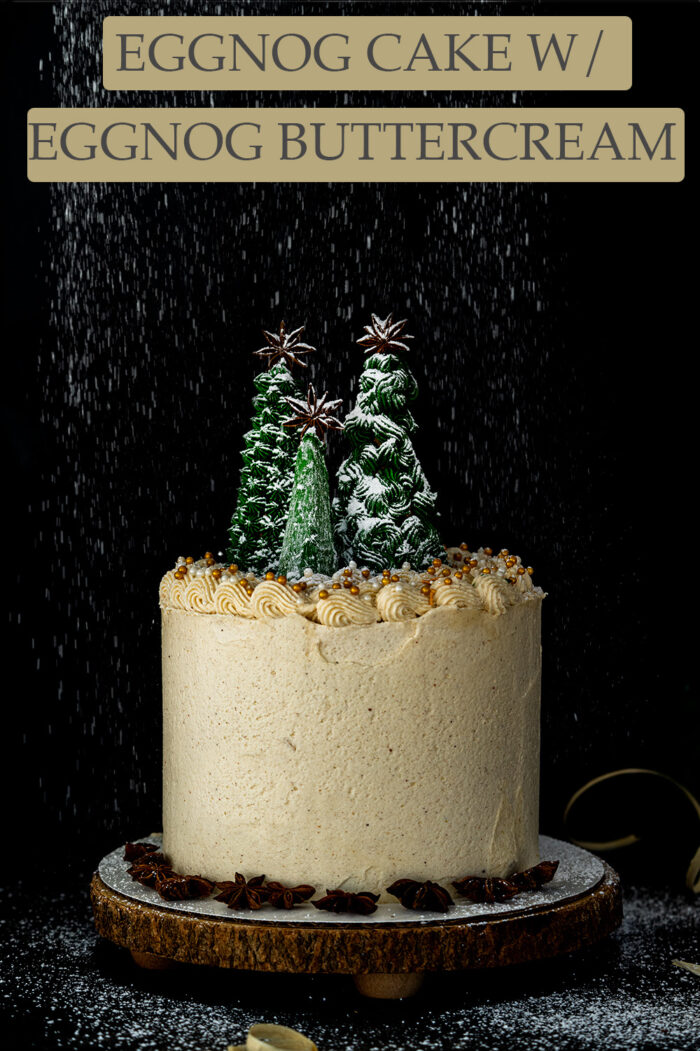 Eggnog Cake with Eggnog Buttercream
Eggnog Cake with Eggnog Buttercream. Perfect all winter long for us eggnog lovers. Moist, dense, eggnog cake, that really does taste like eggnog. Swirled with layers of creamy, rich, eggnog buttercream. 
Ingredients
EGGNOG CAKE

3 1/3

cup

all purpose flour

3 1/3

tsp

baking powder

1 1/2

tsp

salt

1/3

cup

canola oil

3/4

cup

unsalted butter

room temperature

2 1/4

cup

granulated sugar

5

large

egg whites

room temperature

2

tsp

vanilla extract

1

tsp

cinnamon

1/2

tsp

nutmeg

1

cup

eggnog

room temperature

1/2

cup

milk

room temperature

EGGNOG BUTTERCREAM

2

cups

eggnog

2

cups

granulated sugar

2

cups

unsalted butter

room temperature

1/2

cup

all purpose flour

1/4

tsp

nutmeg

1/4

tsp

salt
Instructions
CAKE:

Preheat oven to 350 degrees.

Grease and flour 3 x 7 inch cake pans, line bottoms with parchment paper.

In medium bowl add the flour, baking soda, salt. Stir with whisk to mix, set aside.

In bowl of mixer fitted with the paddle attachment mix butter until pale yellow. Add in the sugar and oil, mix on medium/high until light and fluffy.

Add in the vanilla and spices. Mix to combine.

Lower speed and add egg whites one at a time, mixing well after each adition and scraping down sides of the bowl as needed. 

Next while alternating add in the flour mixture, eggnog and milk. Be sure to end with flour. Mix until just combined, do not over mix. 

Pour batter into prepared pans. Bake 40 minutes or until toothpick inserted into center comes out clean.

EGGNOG BUTTERCREAM:

In large saucepan, stir together sugar and flour with whisk.

Beat in eggnog and nutmeg until no lumps remain.

Heat mixture over medium heat, beating with whisk until mixture comes to a low boil and thickens enough to coat a spoon, about 10-15 min, stirring often.

Remove from heat; scrape mixture into bowl.

Cool completely, about 4 hours or more. Mixture has to be completely at room temp so it doesn't melt the butter.

Using paddle attachment, cream butter and salt in bowl of mixer until creamy.

Pour in cooled eggnog mixture, beating until light and creamy. If Frosting looks curdled or separated, keep beating! It will come together after a few minutes.

ASSEMBLY:

Level out cakes by cutting the bumped top off each.

Put a small dab of frosting on cake board/cake plate to stop cake from sliding off.

Put first cake layer on cake board/plate, frost the top with buttercream about 1/2 in thick.

Put on the second layer of cake and repeat until all 3 layers are done.

Apply a crumb coat of frosting and refrigerate 45-60 minutes.

Apply final buttercream and decorate as desired.

Leftovers can be stored in an airtight container in the refrigerator. Bring to room temp prior to serving.