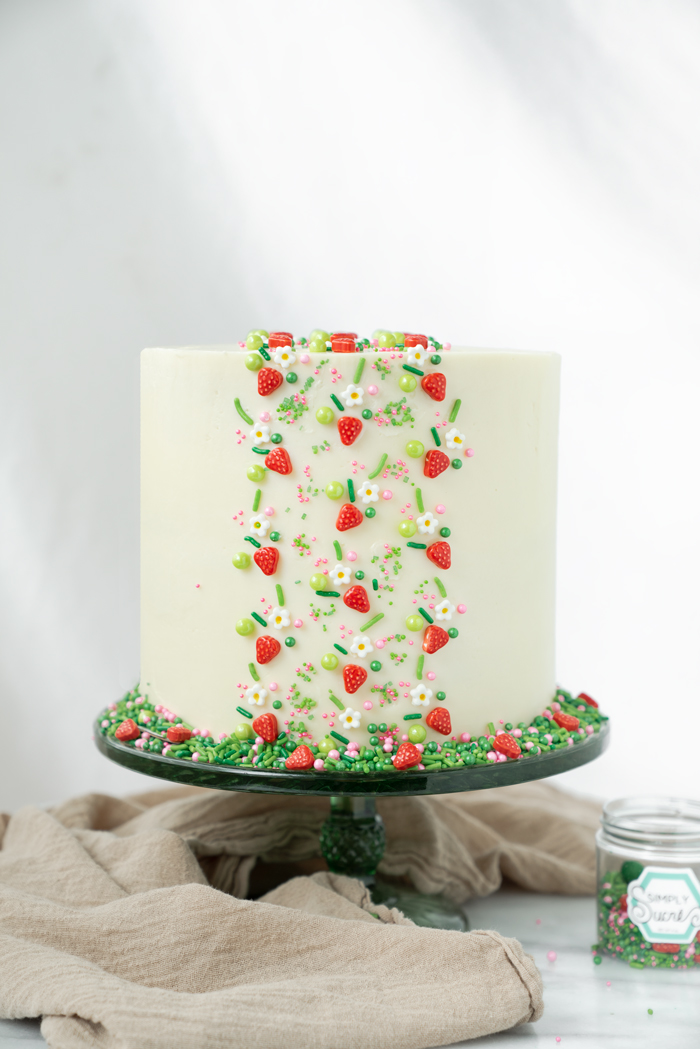 How To Create A Smooth Buttercream Finish. Step by step tutorial on how to get that coveted smooth buttercream finish.
So in our last post we filled, stacked and crumb coated our cake. Now its time to put that beautiful smooth final buttercream layer on. I broke it down into instructions and pictures for a visual. So lets dive right in!
Steps To A Beautiful Buttercream Finish:
With rubber spatula put a generous amount of buttercream on top of cake.
With large offset spatula start to spread buttercream around the top to create a flat, even top. At this point buttercream has likely started to hang over and down the side of the cake, this is fine.
Using your offset spatula spread the hanging buttercream around the sides of the cake, add more buttercream to coat the entire cake in a generous amount of buttercream.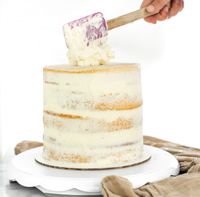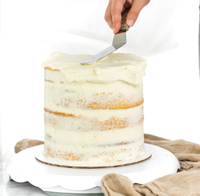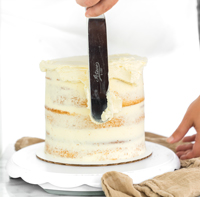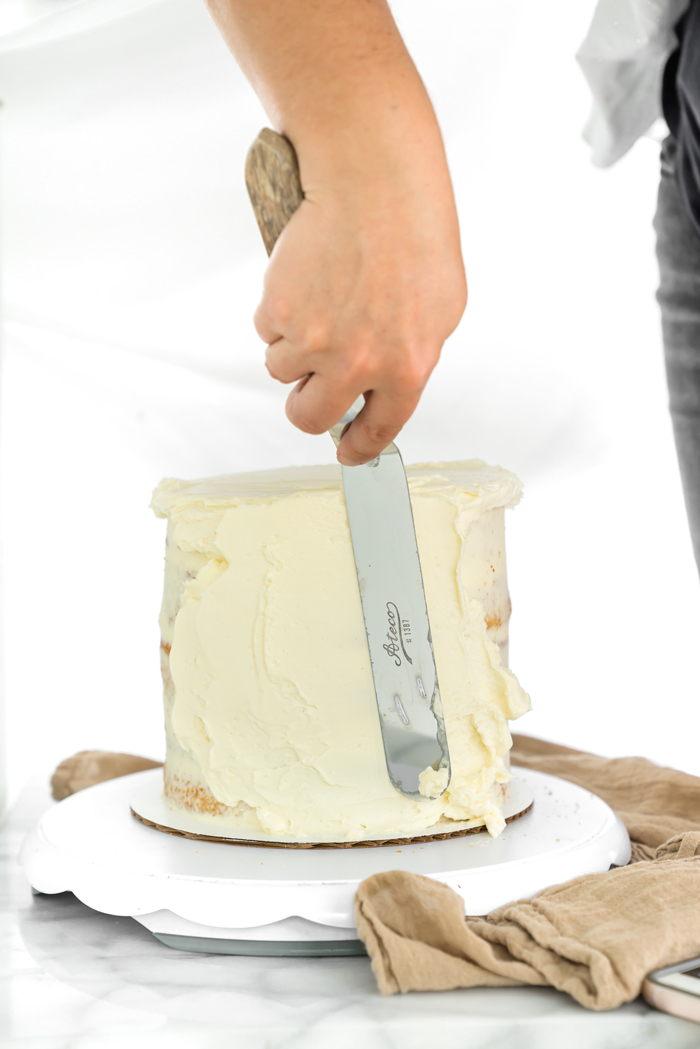 Scrape cake with a scraper and wipe scraper as needed of excess buttercream.
You'll notice that the buttercream has created an uneven top edge on your cake. Starting with the edge furthest from you, take your offset spatula and spread that uneven edge towards you and smooth it out. Turn cake as needed and repeat until you have gone around the whole cake and you have a smooth top edge.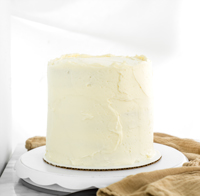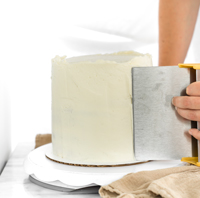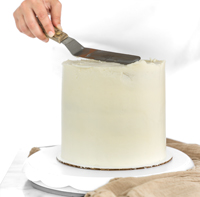 Fill in any holes/gaps and smooth out with scraper/spatula. See red arrows below, examples of areas that need more buttercream, additional smoothing and the uneven edge that needs to be smoothed out.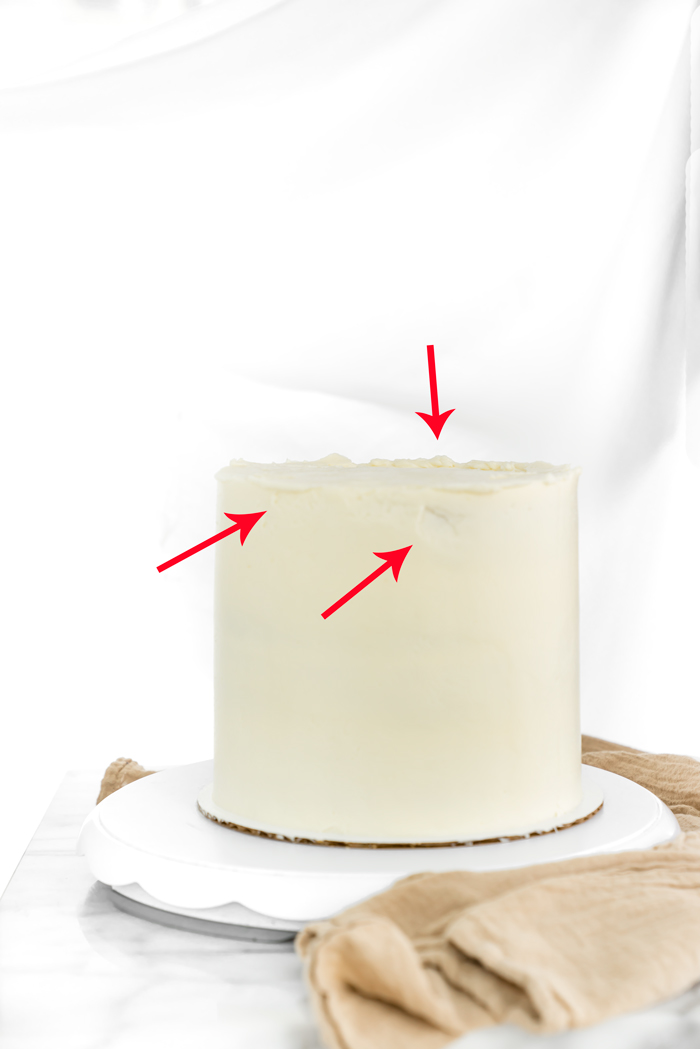 Repeat with another layer of buttercream if necessary but chill cake first. You may see the cake layers peaking through or one side of your cake looks like its leaning slightly, an extra coat of buttercream will assist in fixing these issues. I notice with chocolate cake I usually need more buttercream so I dont see the dark cake layers underneath.
THE FINAL TRICK FOR THAT SMOOTH FINISH:
At this point you should have an evenly, smooth, buttercream coated cake. You could walk away right here and pat yourself on the back but I'm going to take this one step further. We are going to create a smooth, pristine finish.
Either dip large offset spatula into a glass of warm water or run it under a faucet of warm water.
Dry the spatula off completely.
Very gently you are going to use the back of the warm spatula to smooth over the buttercream. You should NOT be scraping the buttercream, this is only to smooth the finish of the buttercream. A little may wipe off but it should be very minimal.
Repeat the same process with the top of the cake.
Chill cake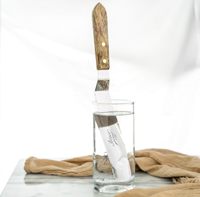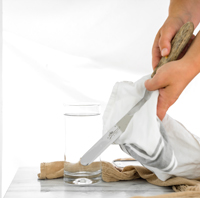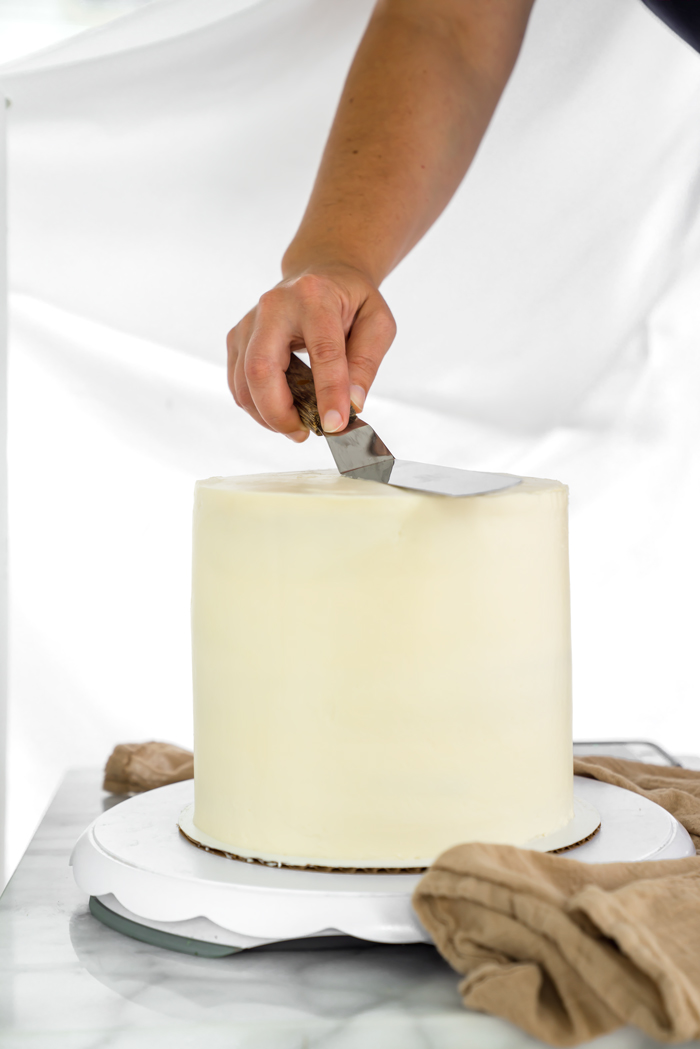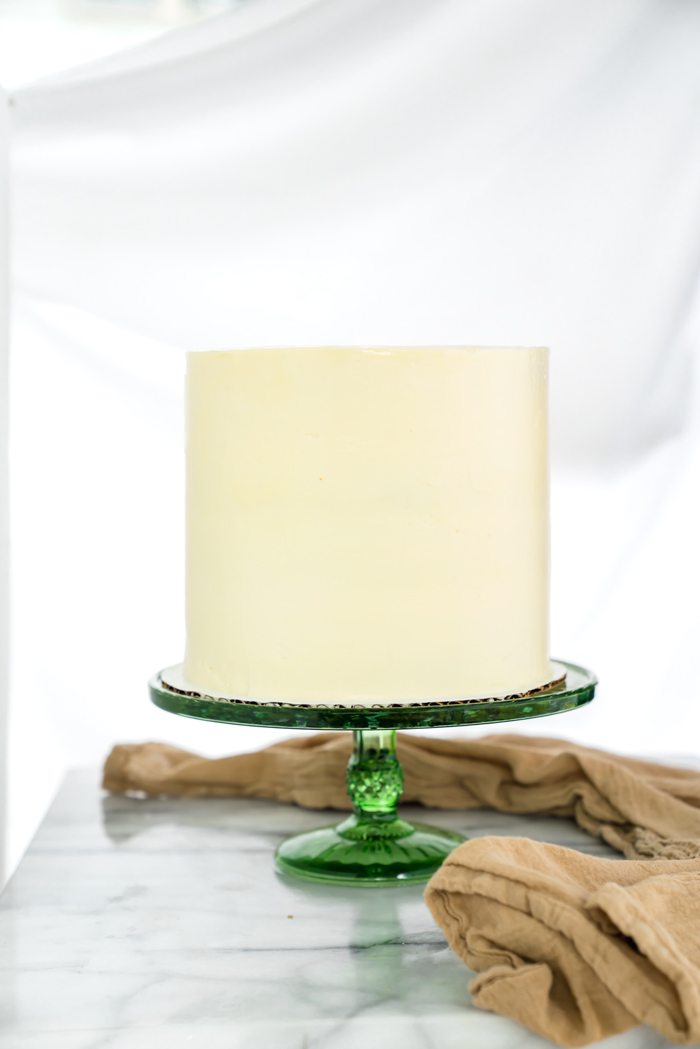 You're done! You did it! Please keep in mind that decorating cakes is a learned process that takes practice and patience. So be patient with yourself most of all and have fun with it!
Enjoy!
Stacey
Details about this cake:
PIN FOR LATER! It could come in handy!