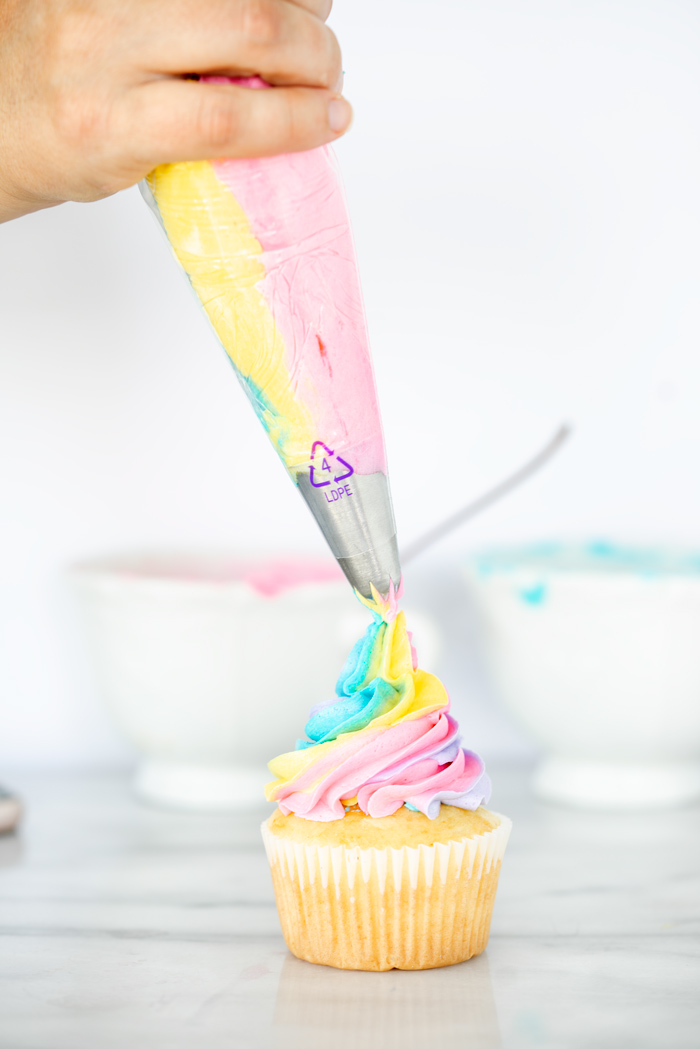 How to make rainbow buttercream tutorial complete with photos.
Is there anything prettier that rainbow buttercream? We know it tastes the same, in fact most the time its vanilla. However just seeing those rainbow hues blended together just somehow makes it taste better, even if just in our imaginations. But one thing is for sure, rainbow buttercream is just so pretty to look at!
Today I'm going to show you how to make rainbow buttercream. I throw the word rainbow out here a lot but you can use any combination of colors that you like. So if you are making a cake for someone that wants blue, red, and yellow, this technique will work just the same. So let's jump right in…
RAINBOW BUTTERCREAM TECHNIQUE:
Your buttercream should be made and ready to go. Any style of buttercream will do, I used American Buttercream but this works beautifully with Swiss Meringue Buttercream as well.
Color your buttercream with colors of your choice.
Prepare your piping bag complete with tip so it's ready to go.
Layout a long piece of plastic wrap flat on the counter.
Using a spatula, scoop out your first colored buttercream and spread it out in a long line on the plastic wrap. You may have to do this  few times.
Repeat with the remaining colors.
Gently roll the plastic wrap so the colors are now cylindrical. I do this by lifting the top edge of the plastic wrap furthest from me and pull it over towards me until buttercream is cylindrical (tube shape) and then roll to tuck the edges in. (Per the second picture below the purple buttercream is now on top of the pink buttercream.)
Twist one end of the plastic wrap into a point. Then cut it so you have about only a 3/4 inch to 1 inch piece of twisted plastic wrap.
Get your prepared piping bag, pick up your buttercream and place the twisted end through the piping bag, down through the tip.
Apply pressure so buttercream starts to push out. Do a couple test circles or rosettes to get the buttercream pressed through to the tip.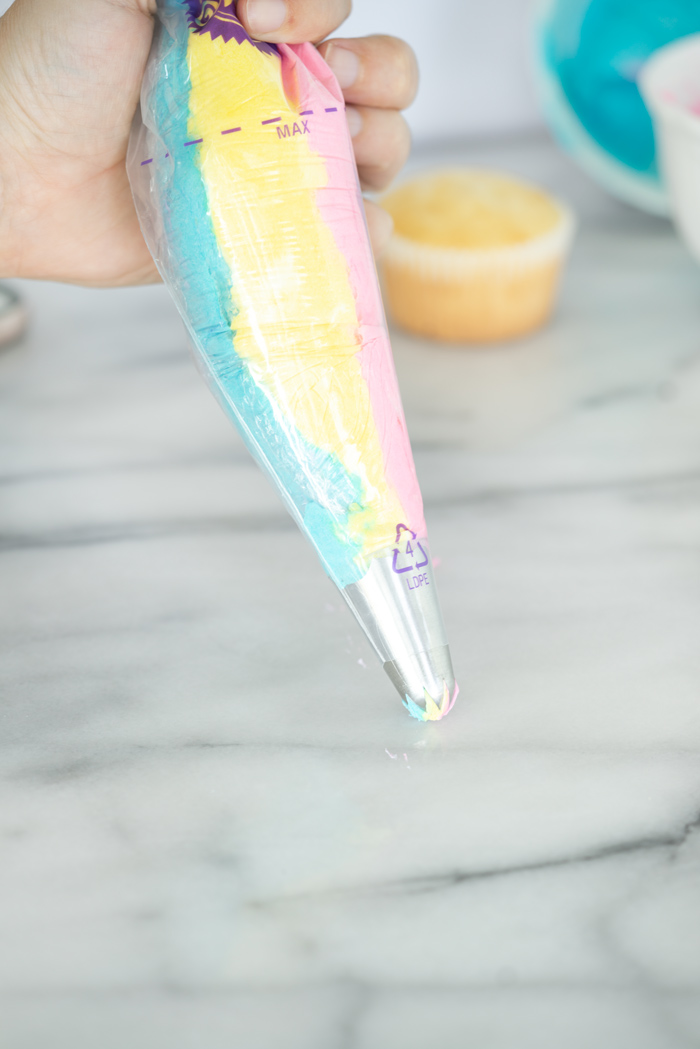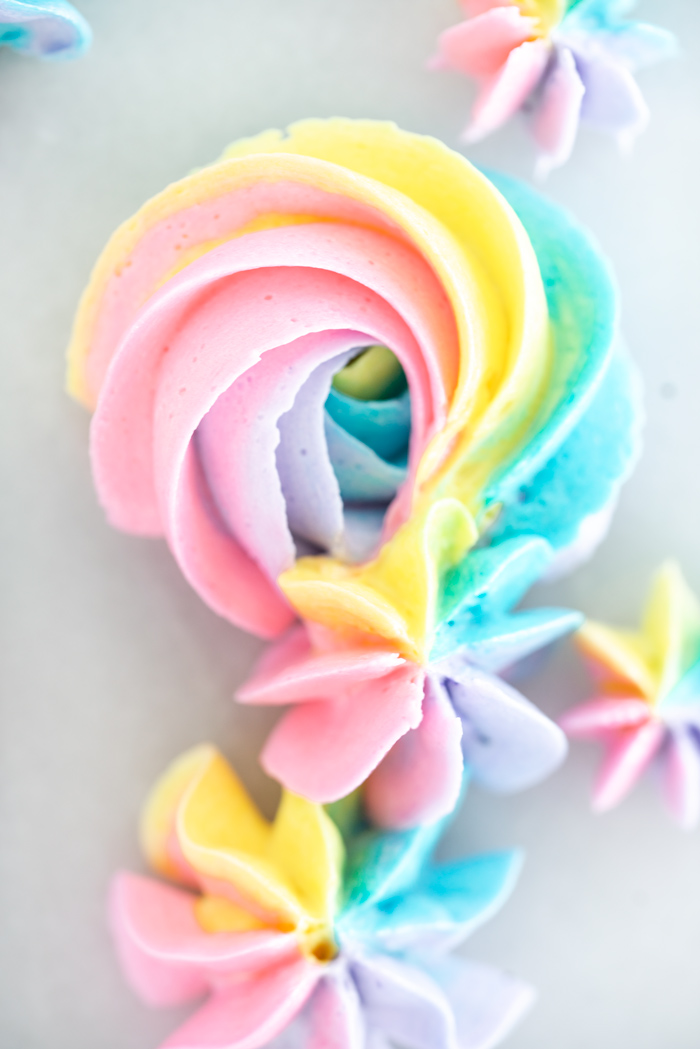 TIPS:
A. Rather than using a spatula or spoon you can put each color in a piping bag and pipe it onto the plastic wrap if you choose. I chose to show it with the spatula because not everyone has a lot of piping bags laying around 😉 . 
B. While you are piping your rainbow buttercream you may notice that you are seeing the two same colors. Simply turn your piping bag a little as you go, otherwise some colors will be on the top, some will be on the bottom. 
There it is, your step by step guide to making rainbow buttercream!
Enjoy!
Stacey
Interested in more tutorials? Check these out!
How To Create A Smooth Buttercream Finish
How To Fill and Crumb Coat A Cake
How to Make (and fix) Swiss Meringue Buttercream
PIN FOR LATER! It may come in handy!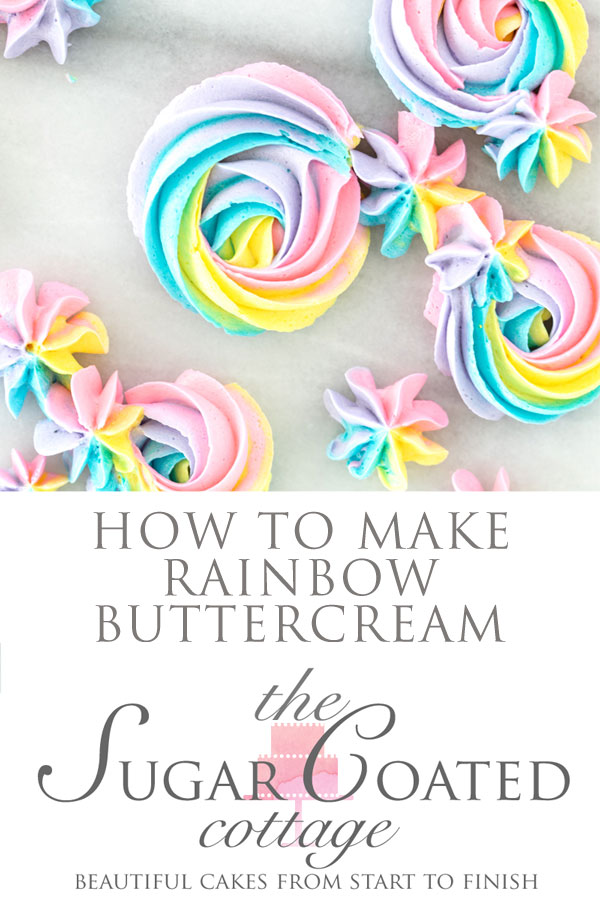 American Buttercream
American Buttercream. Easy to make and delicous to eat.
Ingredients
1

cup

butter

room temp

4

cups

powdered sugar

free of clumps

2

Tbsp

milk

use more if needed to reach proper consistency

1/2

Tbsp

vanilla extract

pinch

salt
Instructions
Cream butter until light and fluffy.

With mixer on low add in the powdered sugar, alternating with milk as needed.

Add in the vanilla and salt.

Bring mixer up to medium/high speed. Mix until all combined and buttercream is light and fluffy.