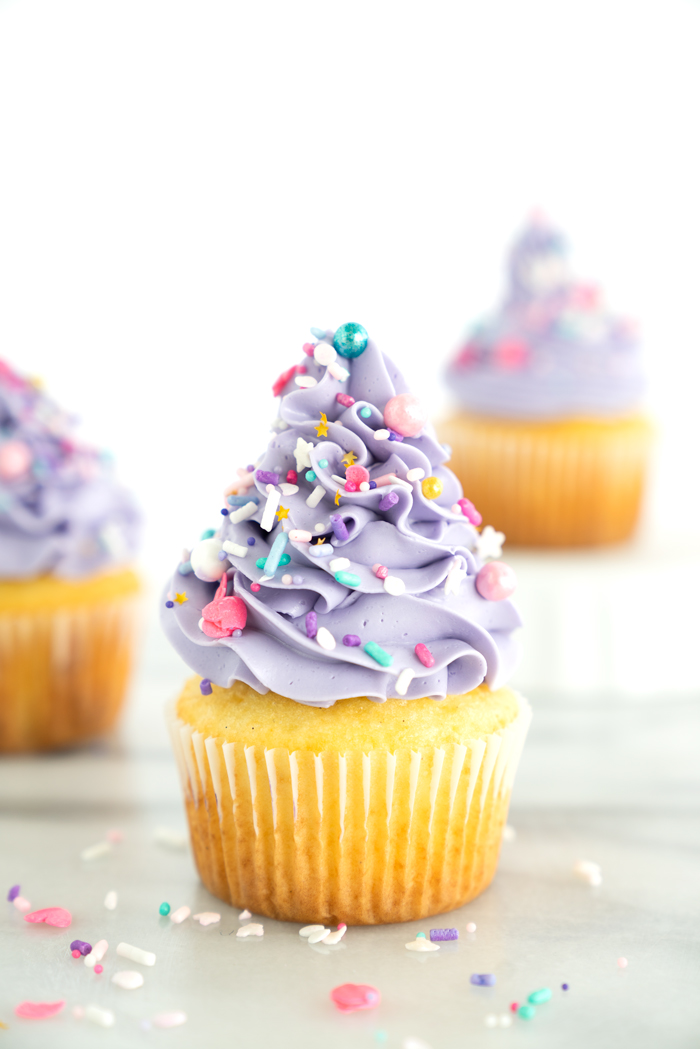 (This post is sponsored by Nielsen-Massey Vanillas. All opinions regarding this product are my own. Thank you for supporting the brands that support The Sugar Coated Cottage)
How to make Swiss Meringue Buttercream and how to to fix it. Tutorial on how to create this luxurious buttercream as well as how to fix broken Swiss Meringue Buttercream.
Ahhh Swiss Meringue Buttercream, you either just smiled when I mentioned it or you cringed. You've either made it successfully or it was a total flop or maybe both. Heaven knows I have had my fair share of Swiss Meringue Buttercream failures. Talk about a waste of time and money, not to mention a bruise to my buttercream ego. It took me years to learn some tried and true steps to a perfect Swiss Meringue Buttercream every time (ok, so every now and then if there's a full moon and the wind is coming out of the SW I might still get a fail, lol, but its very, very rare now) but more importantly how to fix broken Swiss Meringue Buttercream.
Today's post is all about the important steps to making a great Swiss Meringue Buttercream and maybe the most important part of todays post, How to FIX broken Swiss Meringue Buttercream. Because if you know how to fix it you'll be more confident to make it. So let's get started. (please note that all the suggestions/fixes below are based on a standard buttercream batch of 5 cups, if making more or less timings and amounts may need to be adjusted as necessary).
Swiss Meringue Buttercream Success Secrets:
Separate your egg whites from the yolks and make sure there are no yolks in the whites. Since SMBC is meringue based, yolks (a fat) can quickly stop a meringue from not forming its stiff glossy peaks as required. Not sure how to separate eggs properly check out this helpful video from Nielsen Massey Vanillas where they'll show you how. Nielsen Massey Vanillas has started the BetterYourBake.com campaign to help bakers like you with mastering the basics, follow along. There you will also find baking myths, a vanilla quiz and baking Q&A with Food Network's "Challenge" Champion and world-renowned cake designer Marina Sousa.
Make sure there is no grit once you have whisked the egg whites and sugar together, pinch a bit of mixture between your fingers and press. If smooth you're good, if gritty continue to whisk until smooth.
IMPORTANT – Bring your eggwhite/sugar mixture to room temp, just take the pan off the stove and let it sit for 30-60 minutes or until it is no longer warm. I am so passionate on this step because a lot of chefs, bloggers, influencers, recipe books, recipe magazines, etc. never mention it and to be honest it ticks me off because this step alone can make or break your SMBC (and has broken many of my batches in the past). Once you have whisked your egg white and sugar mixture it is now warm. If you create your meringue right away it to will be warm (warm is bad lol), warm meringue will melt your butter and give you buttercream soup. (see below how to fix swiss meringue buttercream soup)
Once you have achieved stiff glossy peaks on your meringue give it a quick fold to insure that the meringue underneath is also at the stiff glossy stage. Many times the meringue on the bottom is not, if this is the case continue to whisk until the entire mixture forms stiff glossy peaks.
Make sure your butter is room temp, not chilled but not mushy either, just room temp and holds its shape. Too soft of butter will end up making SMBC soup. Too cold of butter will give you curdled buttercream.
When adding the butter to your meringue mixture (switch to paddle attachment) the mixture may look funny at first. Just keep mixing (I put my mixture on speed setting #8) if all of the above has been done SMBC should form, it just may take a minute, so walk away if you need to.
Flavoring – Without proper flavoring SMBC can taste flat and just sweet. You need to flavor it. If you've been to the blog before you know vanilla is one of my favorite flavorings. For this post I used Nielsen Massey Ugandan Pure Vanilla Extract, this is a wonderful all purpose vanilla and really brings out the flavor of SMBC.

Ugandan vanilla has a bold, creamy-sweet flavor profile with notes of chocolate. This vanilla pairs especially well with chocolate, caramel, and citrus dishes, enhancing and layering on flavor. Some info on the Nielsen Massey Vanilla Company:

Nielsen-Massey uses as few ingredients as possible when producing its pure vanilla extracts to create the highest-quality product available.
Nielsen-Massey is a family owned and operated producer of premier pure vanillas and flavor extracts.
All Nielsen-Massey products are all-natural, allergen-free and certified Kosher, gluten-free and Non-GMO Project Verified.
Nielsen-Massey uses a proprietary cold-extraction process to preserve more than 300 delicate flavor compounds in their Pure Vanilla Extracts to consistently deliver the richest tasting vanilla from around the world.

Nielsen Massey Vanilla's are known for their quality products and I have always been impressed. Always make sure your vanilla is high quality.

Don't forget the salt! Salt is just as important as flavorings and will make your SMBC pop. Whether its a pinch or a little more don't forget it!
How to Fix Swiss Meringue Buttercream Soup:
Soupy Swiss Meringue Buttercream – you did everything right (or so you thought) only to have a soupy mess that looks alot like melted ice cream (been there). Nine times out of ten it means something in your mixture was too warm and the butter melted thus giving you this soupy mixture. Pop the mixing bowl in the fridge until mixture is entirely chilled but still somewhat fluid. Timing will depend on how warm your mixture was to start. I usually check it every 20 minutes but find it takes at least 45 min because the mixture is thick. Once the mixture is cooled try whipping it up again, the bowl being chilled will also help cool the mixture as it mixes. You may need need to walk away as it mixes, it could take a few minutes, again I set my mixter on setting #8, I find I get splattering if I go all the way to #10.
Broken Swiss Meringue Buttercream (curdled): My least favorite scenario. This happens when the egg whites separate from the butter, thus forming a slippery, curdled buttercream that does not whip together. This happens when you're butter is too cold. It can also happen to chilled SMBC that has not fully been brought to room temp before mixing. Again the butter is too cold to whip together with the meringue and they separate. (see photo below) The fix is taking a 1/3 cup of the buttercream mixture and melting it in the microwave. You want it just melted but not boiling hot. With mixer on medium pour in the melted mixture and then bring mixer up to speed #8 and whip it (paddle attachment) for about 1-2 minutes. Voila, your SMBC should be fixed, smooth, glossy and ready to go.
How to make Swiss Meringue Buttercream white:
Because SMBC is made with butter that by nature has a yellow cast your buttercream will also have a slight yellow cast to it. If you need a more white SMBC add a very small about of purple gel food dye and some white brightener. This will counter the yellow and leave you with a white buttercream. But do not add too much purple gel food coloring or you will have a grayish buttercream.
How to Make Chocolate Swiss Meringue Buttercream:
To make chocolate swiss meringue buttercream follow steps as listed to make vanilla buttercream. Then melt 8 ounces of semi-sweet chocolate and let cool, it should be cool enough that it is no longer hot but is still thickly fluid for pouring (or sometimes plopping) into the buttercream. Turn mixer on high and slowly pour the chocolate into the buttercream mixture. Mix until completely incorporated and scrape sides of mixing bowl as needed.
Whoa! That was a lot of information I just threw at you but I hope this answers a lot of your SMBC questions and eliminates some fears on how to approach SMBC and how to fix it. Any questions please let me know!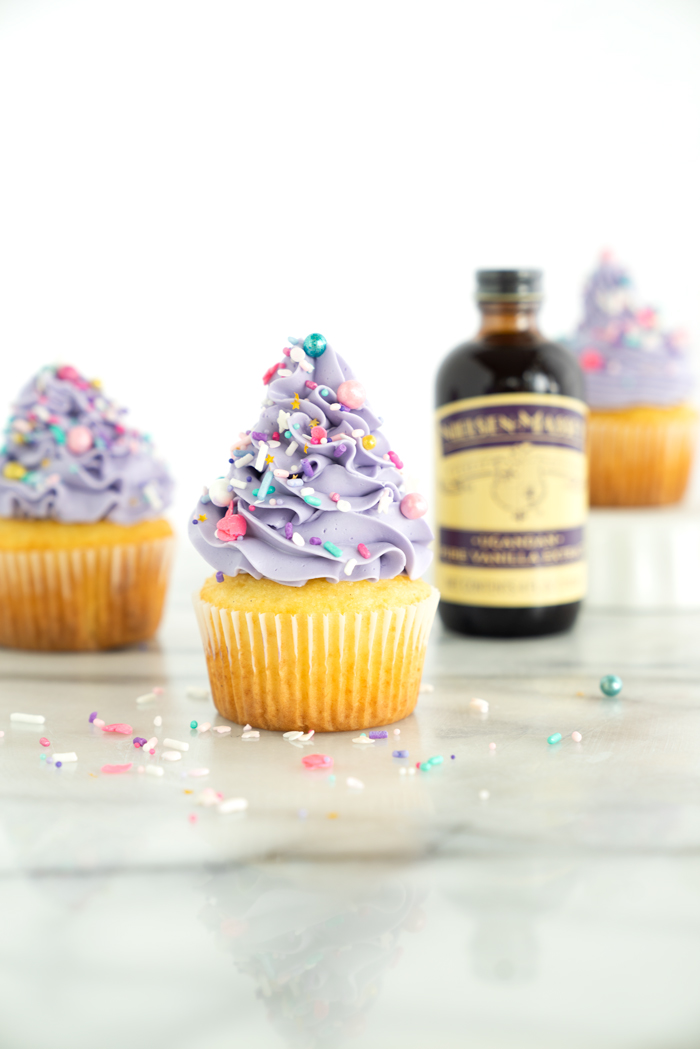 Enjoy!
Stacey
Cupcake details:
a. Wilton "Violet" food color gel
b. Wilton tip "1M"
c. SprinklePop Sprinkles – Hey Sugar! sprinkle mix
PIN FOR LATER! Thanks 🙂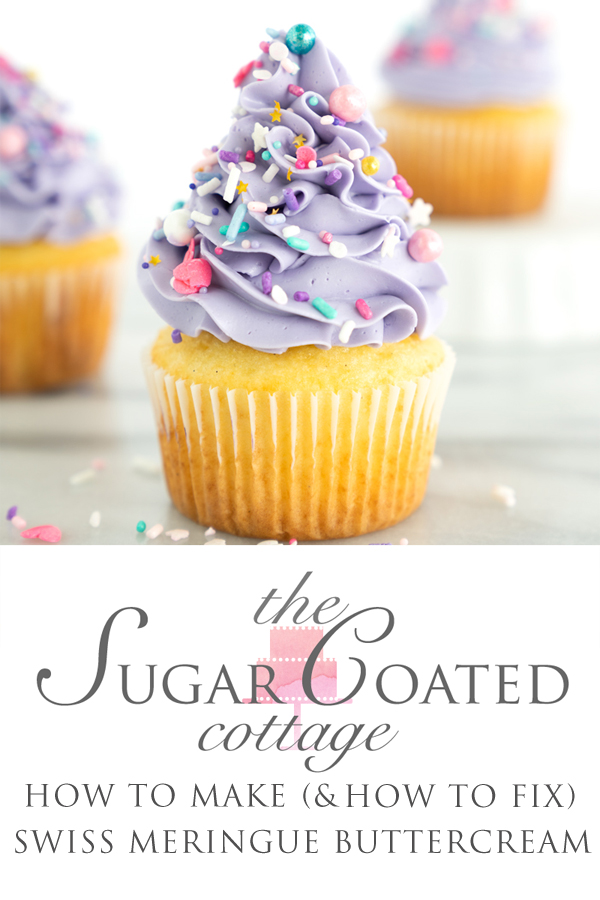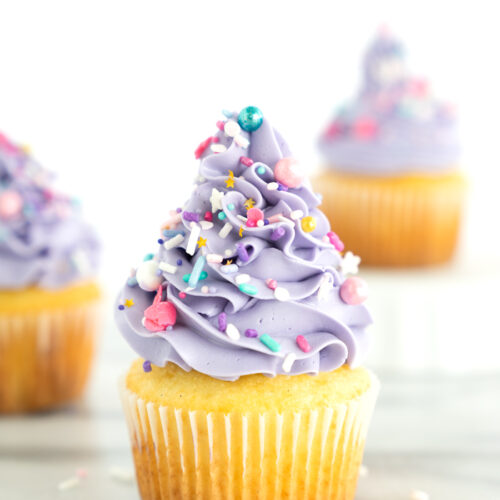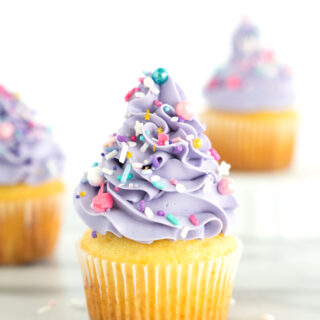 Swiss Meringue Buttercream
Smooth, creamy and luxurious buttercream
Ingredients
1 1/4

Cup

Sugar

5

egg whites

1

lb

butter

room temp

1/2

Tbsp

Nielsen Massey Vanilla Extract

pinch

salt
Instructions
1. In medium sauce pan add the egg whites and sugar.

2. On medium heat you are going to whisk egg mixture until sugar is completely dissolved (you can test it by rubbing a small amount between your fingers to test it, it should be completely smooth).

3. Remove from heat and let mixture cool. (If mixture is too warm it will melt your butter when the time comes).

4. Transfer to mixing bowl and with whisk attachment whisk on high until stiff peaks form and mixture is completely cooled.

5. Switch to paddle attachment.

6. On low speed add the butter one piece at a time.

7. Increase mixer to medium/high speed and mix until buttercream forms.

8. Add in the vanilla, continue mixing until completely mixed in.

To make chocolate swiss meringue buttercream follow steps 1-8 as listed. Melt 8 ounces of semi-sweet chocolate and let cool, it should be cool enough that it is no longer hot but is still thickly fluid. Turn mixer on high and drizzle the chocolate into the buttercream mixture. Mix until completely incorporated and scrape sides of mixing bowl as needed.