Raspberry Chocolate Cake. Layers of rich, deep chocolate cake. Filled with raspberry filling and raspberry and chocolate buttercream!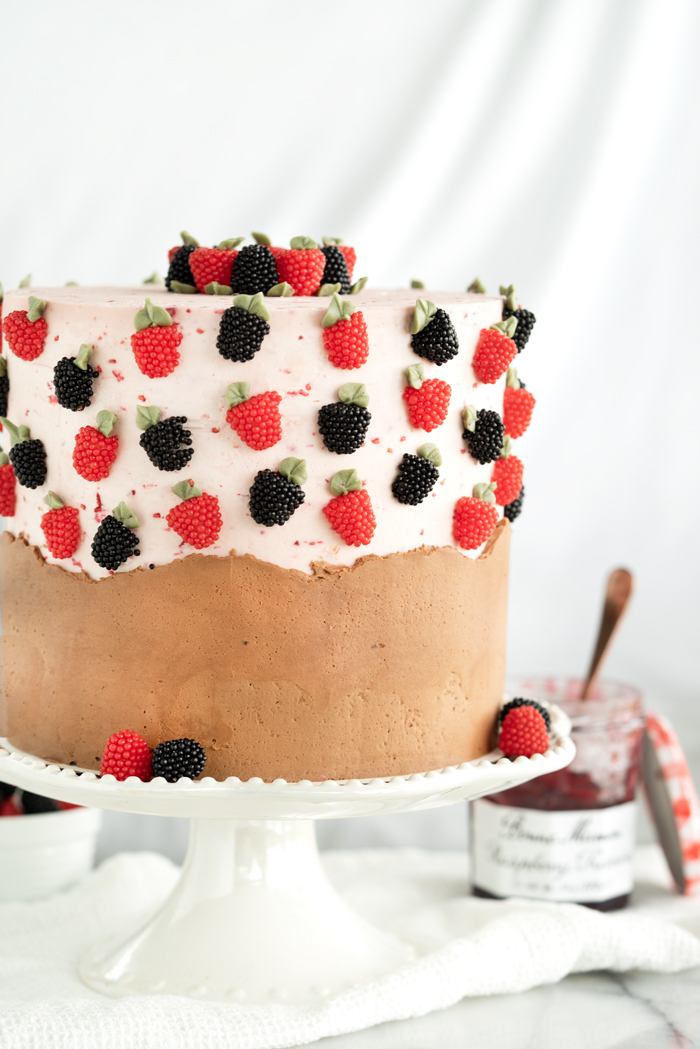 I hope everyone had a wonderful holiday weekend and if it wasn't a holiday for you I hope you just enjoyed the weekend all the same. We mainly did yard work which seemed endless but as the mulch went down and the fresh greens really started to pop all that hard work started to seem worth it. But lets talk about cake…
Sometimes there are just flavors that belong together, pb and j, oreo and mint, just to name few and then of course, as you probably guessed it, raspberry and chocolate as seen here. Raspberry and chocolate is one of the best cake combinations (in my humble opinion). Its deep, rich, sweet, tart and on the decedent side of the flavor wheel.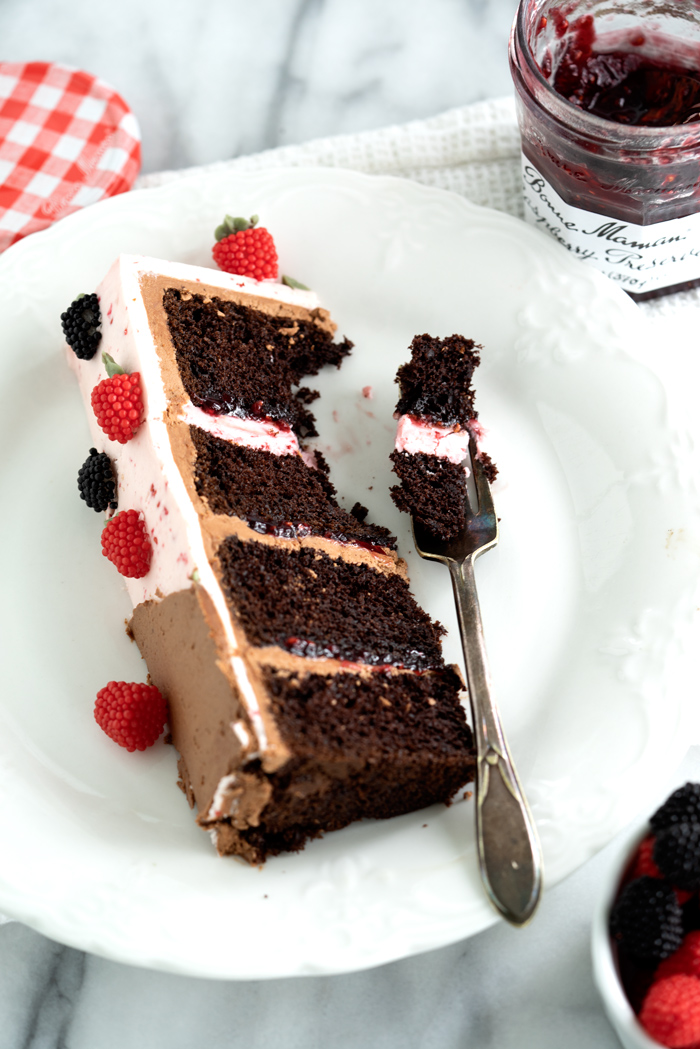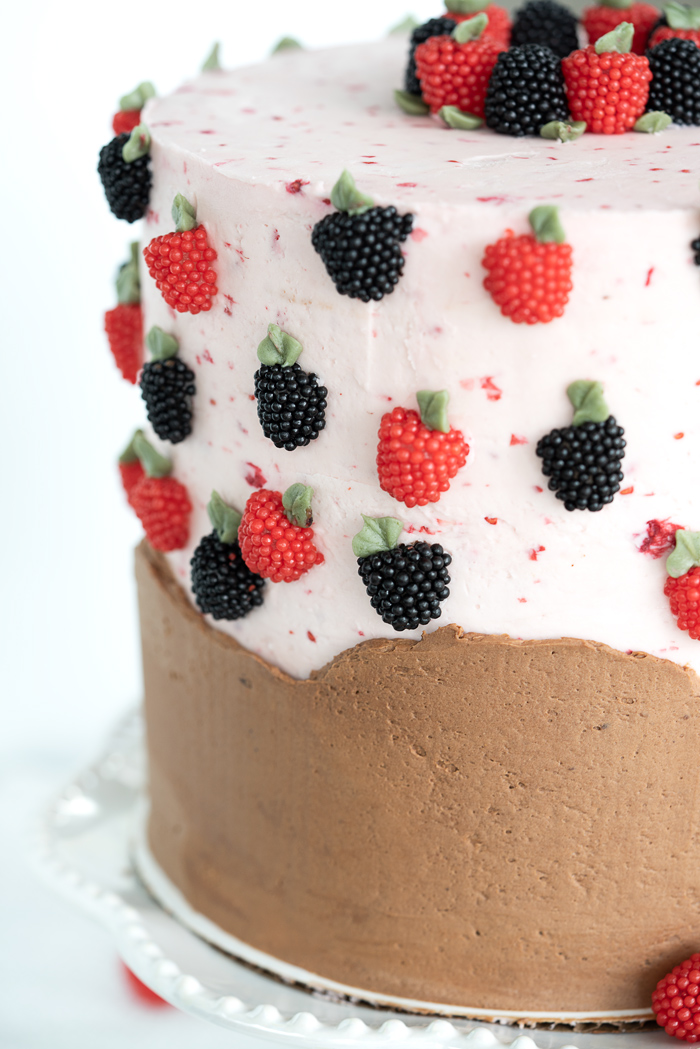 Raspberry Chocolate Cake Breakdown:
4 layers of my favorite Hershey's chocolate cake recipe. This cake is moist, super chocolatey and delicious.
Premium raspberry filling – a few posts back I listed a few hacks for cake making/filling. Using high quality fruit jam/preserves was one of my hacks and since I practice what I preach I used Bonne Maman Raspberry Preserves for the raspberry filling and it is divine!
Chocolate buttercream filling – Swiss Meringue Buttercream is always good on its own but when you add chocolate you get an even smooth, silkier and more luxurious buttercream, perfect for cake filling.
Raspberry buttercream – Remember that raspberry preserves I mentioned above? I added a bit to my vanilla buttercream and in an instant I had red speckled, pink hued, tasty raspberry buttercream. I used it for a layer of filling on the inside and also coated the cake with it.
That chocolate buttercream bottom – I had some extra chocolate buttercream and decided to created an imperfectly perfect rough edged border. Dont you just want to swipe your finger through it?!
The decorations – The candy raspberries are candy made by Haribo, they are clear gummy on the inside with candy non-peril (but softer) looking candies on the outside, they taste amazing and are addicting. I got mine at Five Below but most grocery candy isles have them to. For the decorations pressed into the sides of the cake I cut each piece of candy in half so they would lay a little flush. For the tops I used a little left over raspberry buttercream, added some Moss green food coloring and piped little leaves using the Wilton 352 tip. For the top I arranged additional candies (un cut) and only put leaves on the red ones since the black candies were upside down.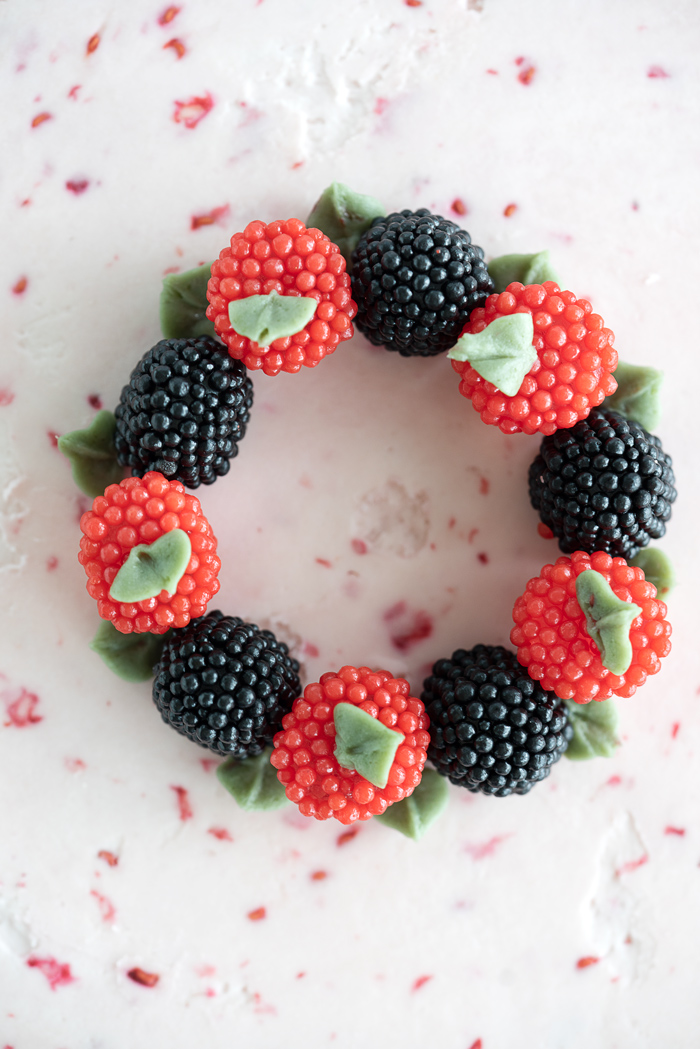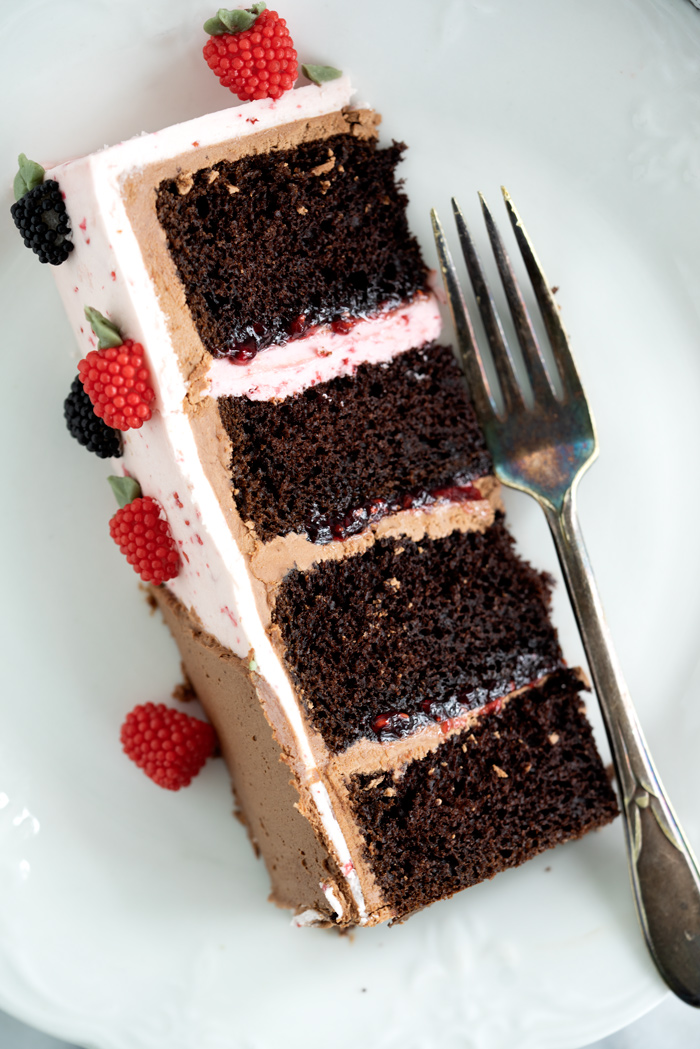 Tips:
The chocolate cake recipe makes a little more batter than you need if using 7 inch pans as I did. This cake rises really good so do not fill your cake pans more than half way full. You can use the extra batter for cupcakes or just discard.
You will be making two batches of buttercream, one chocolate and one raspberry. If using the raspberry buttercream as one of the filling layers you will need to make both buttercream's ahead of time.
Keep cake chilled until ready to serve, take out of chilled area about 1 hour prior to serving so buttercream will come to room temp.
Wishing you all a great week and delicious cake!
Enjoy!
Stacey
PIN FOR LATER! Thanks 🙂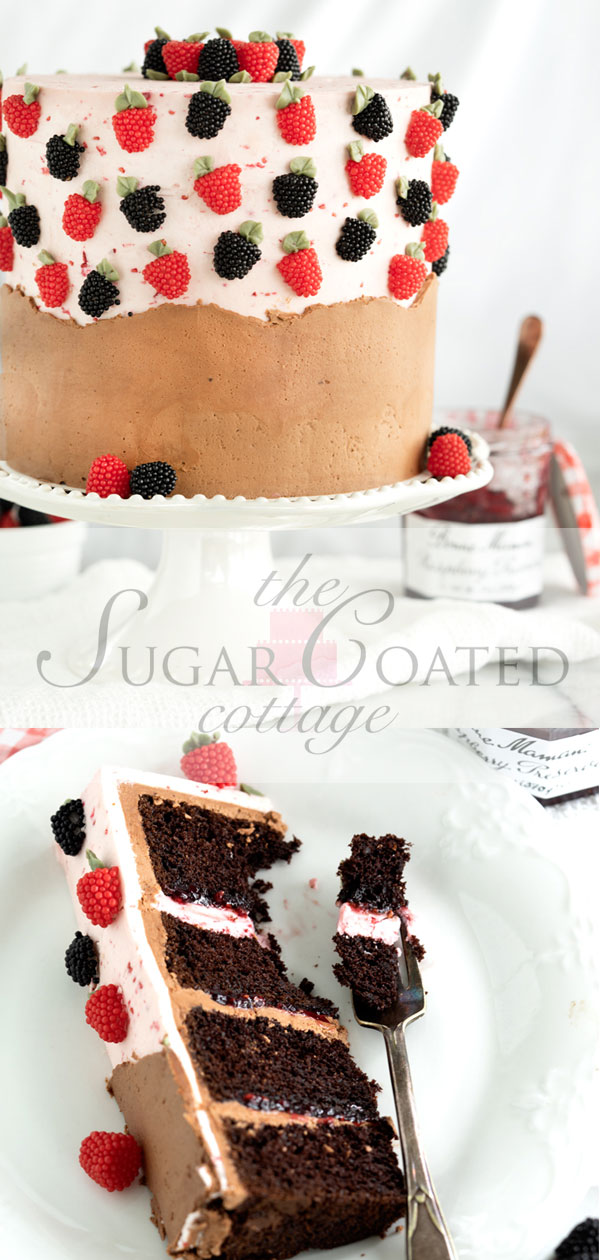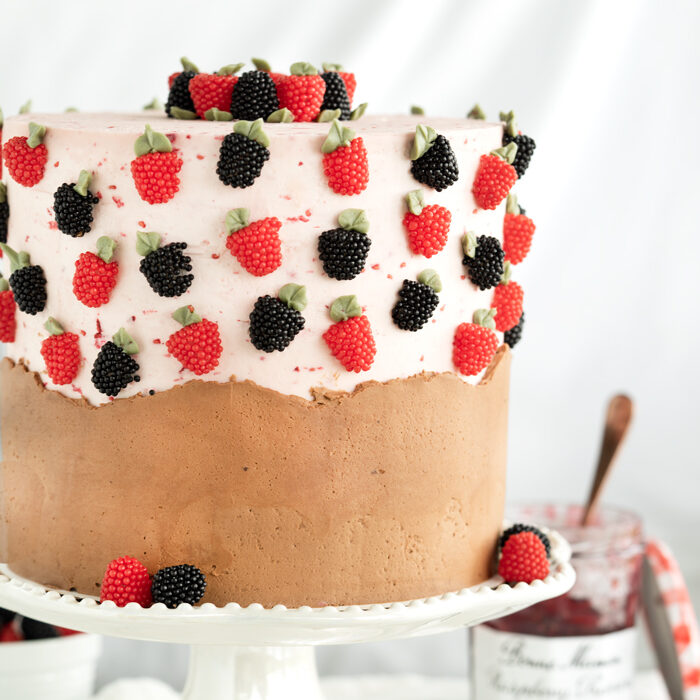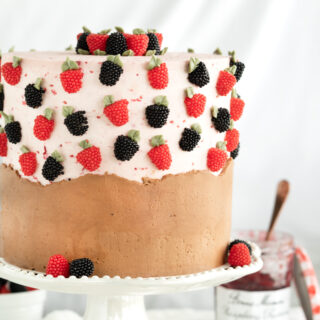 Print Recipe
Raspberry Chocolate Cake Recipe
Raspberry Chocolate Cake. Addicting layers of deep chocolate cake. Filled with raspberry and both raspberry and chocolate buttercream! #cake #buttercream
Ingredients
CAKE:

4

cups

sugar

3 1/2

cups

all purpose flour

1 1/2

cup

Hershey's Cocoa

3

tsp

baking powder

3

tsp

baking soda

2

tsp

salt

4

eggs

2

cup

milk

room temp

1

cup

canola oil

4

tsp

vanilla extract

2

cup

boiling water

BUTTERCREAM

you will need 2 batches of the below, I make one batch to fill and crumb coat the cake, the second batch to final coat and decorate the cake:

5

egg whites

1 1/4

cups

sugar

1

lb

butter room temp

1/2

Tbsp

vanilla extract

1

tsp

salt

10

oz

melted and cooled chocolate for the chocolate buttercream

1/4

cup

high quality raspberry preserves for the raspberry buttercream

FILLING:

High quality raspberry preserves

I used Bonne Maman, I used about 1/3 cup.

DECORATION:

2

bags Haribo raspberry candies
Instructions
CAKE:

Heat oven to 350 degree F.

Grease and flour 4 x 7 inch cake pans, line bottom with parchment. Set aside.

Combine sugar, flour, cocoa, baking powder, baking soda and salt in bowl of mixer.

Add in the eggs, milk, oil and vanilla, beat medium speed for 2 minutes. Scrape sides of bowl as needed.

With mixer on medium speed (reduce to low speed if too much splashing occurs) slowly stream in the boiling water. Continue to mix until completely combined. Scrape sides and bottom of bowl as needed. Batter will be watery.

Pour into prepared cake pans (only fill pans 1/2 way, this cake rises alot, you will have left over batter if using 7 inch pans) and bake 30-35 minutes or until toothpick inserted comes out clean.

Let cool completely.

BUTTERCREAM:

In medium sauce pan add the egg whites and sugar.

On medium heat you are going to whisk egg mixture until sugar is completely dissolved (you can test it by rubbing a small amount between your fingers to test it, it should be completely smooth).

Remove from heat and let mixture cool. (If mixture is too warm it will melt your butter when the time comes).

Transfer to mixing bowl and with whisk attachment whisk on high until stiff peaks form and mixture is completely cooled.

Switch to paddle attachment.

On low speed add the butter one piece at a time.

Increase mixer to medium/high speed and mix until buttercream forms.

Add in the chocolate or raspberry preserves (depending on which one you are making, continue mixing until completely mixed in.

ASSEMBLY:

Cut any humps off each cake layer that may have formed in baking.

Place first cake layer on cake board, secure it in place with a dab of frosting underneath.

Spread even layer of butter cream on top of the cake layer making outer edge a little higher to hold in the raspberry filling, smooth with offset spatula.

Add a thin layer of raspberry preserves on top.

Repeat with the next two cake layers.

Add the top cake layer and crumb coat the cake with raspberry buttercream.

Refrigerate at least 30 minutes.

Put final coating of raspberry buttercream on cake.

Refrigerate 30 minutes.

If adding the chocolate buttercream border do so now by adding chocolate buttercream to lower half of cake with large off set spatula and then scrape smooth with cake scraper.

Decorate with raspberry candies if desired. For the sides I cut mine in half and put a small dab of buttercream on backside to help them adhere. Then gave them a buttercream leaf, I just added a smidge of moss green food color gel (Wilton) to a small bit of raspberry buttercream.

Keep in cool place and bring to room temp before serving.