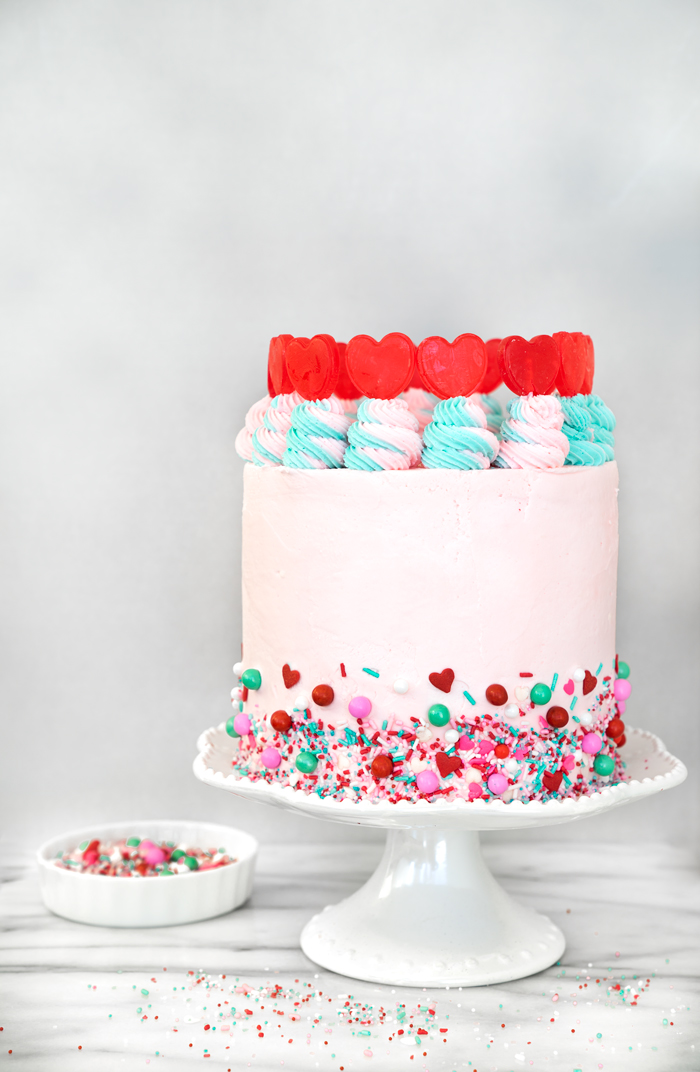 Valentines Day Almond Cake. Delicious cake scented with the light flavor of almond frosted in a traditional american buttercream.
I typically like more muted colors but Valentines Day is the day to indulge in some more vibrant colors. The "colors of love" I happen to love! Not sure if it is the holiday itself or the fact that February is dreary and these colors are just what the doc ordered but they bring a smile to my face and I hope they do the same for you.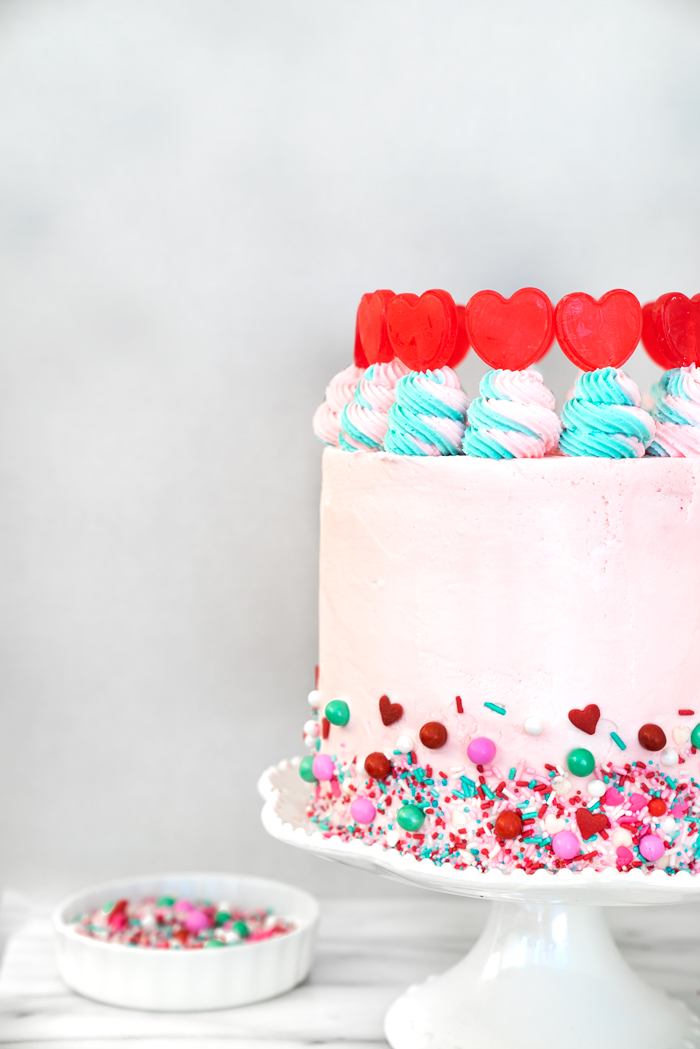 Since we are talking about love here and translating it in the form of cake we have some special touches to this cake that are worth mentioning.
Valentines Day Almond Cake:
4 layers of cake! Layer cakes are just so pretty and look so special, four layers will do the trick.
American buttercream – I love all buttercream's but you have to love how simple it is to make American Buttercream, no cooking required. All the magic happens in the mixer.
Almond – To shake things up a little bit I used almond extract instead of vanilla. Almond blended with the buttery sweetness is a match made in heaven.
Sprinkles – but not just any sprinkles, Valentines Day inspired sprinkles. I used the Sprinkle Pop "PDA" mix, I just fell in love with the colors and had to have them 😉
Buttercream swirls topped with lollipops – well it's just fun and more color!
You may have noticed the buttercream on the outer layer of the cake is lighter than the inside layers. When I frosted the cake with crumb coat I didn't like how pink the buttercream was so I made it lighter for the final coat so the sprinkles would really pop.
One thing to note: I used a simple syrup on top of each cake layer, this step is worth it. It helps to maintain the moistness of the cake. To make a simple syrup is well simple. 1 cup water + 1 cup sugar in small sauce pan, bring to a boil and then simmer until reduced by half. Let cool before using.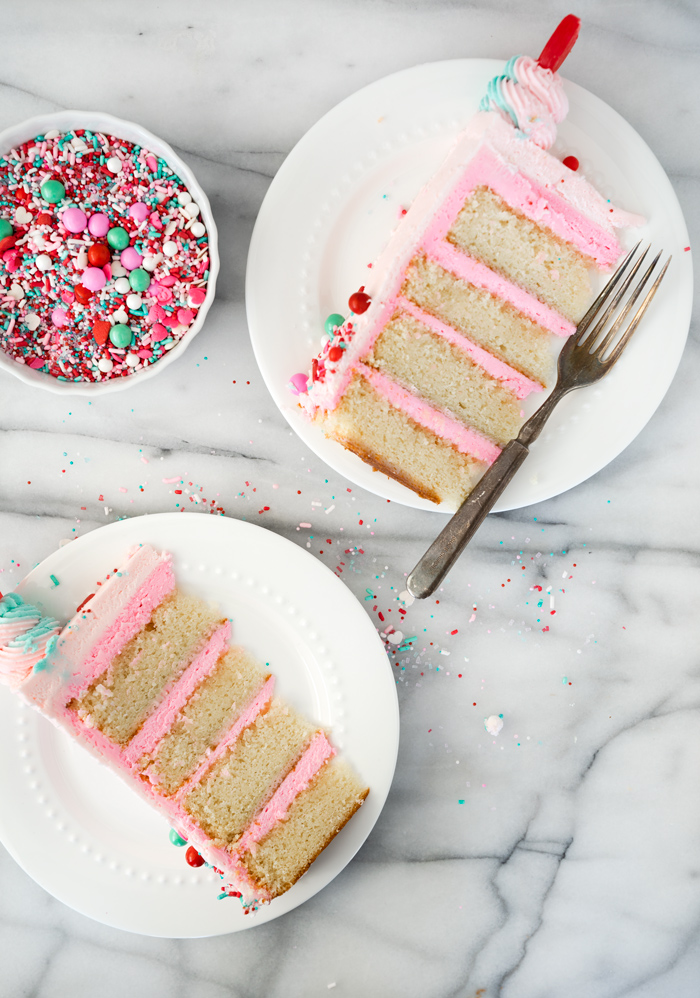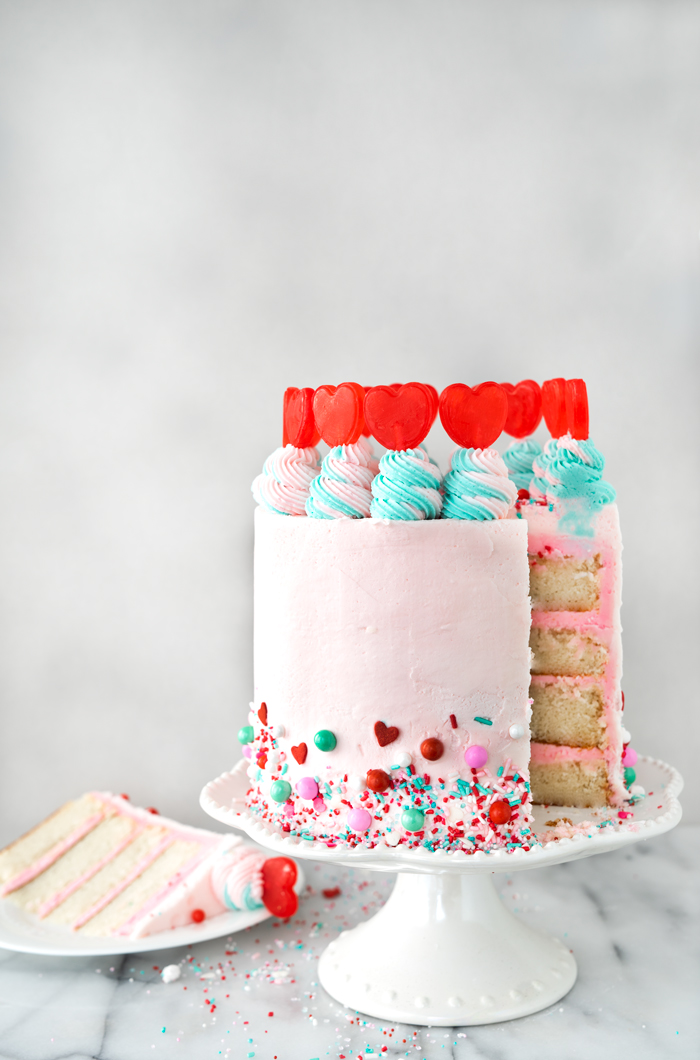 I hope this cake and these pops of color have brought some brightness to your February!
Enjoy!
Stacey
PIN FOR LATER!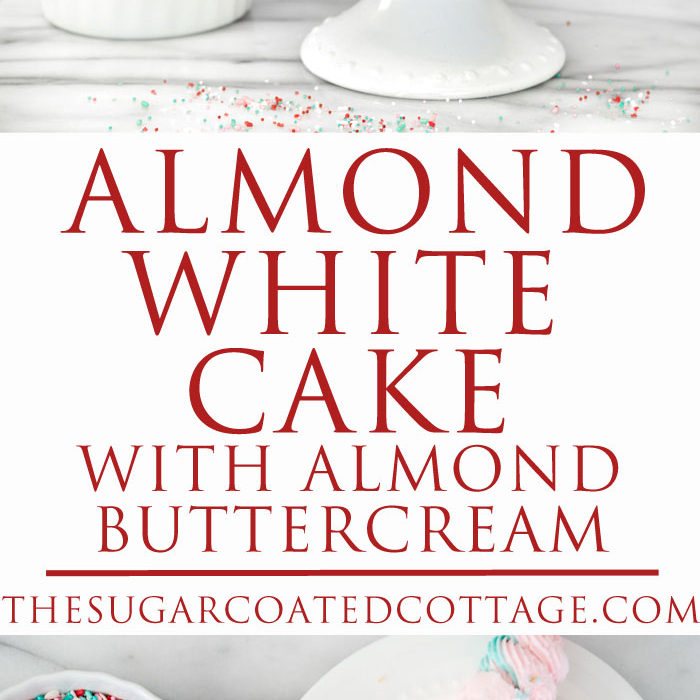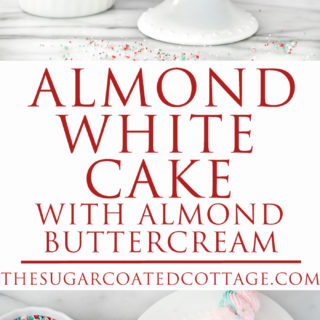 Valentines Day Almond Cake
Ingredients
CAKE:

2

cups

All-Purpose Flour

1

teaspoon

baking powder

1/2

teaspoon

baking soda

1/4

teaspoon

salt

1/2

cup

Crisco® All-Vegetable Shortening

or whatever brand you like

1 3/4

cups

sugar

1

teaspoon

almond extract

4

egg whites

at room temperature

1 1/3

cups

buttermilk

BUTTERCREAM:

3

cups

butter room temp

3

lb

powdered sugar

this is around 12 cups

1/4

tsp

salt

1

tsp

almond extract

3 - 4

Tbsp

milk room temp

use as needed to reach desired consistency

1

cup

simple syrup

for the tops of the baked cakes

DECORATION:

Sprinkles

I used Sprinkle Pops "PDA" sprinkle mix

Red heart lollipops

I used ones I found at the Dollar Tree
Instructions
Preheat oven 350 degrees F

Grease and flour 4 x 7" cake pans, line the bottoms with parchment

CAKE:

In large bowl stir flour, baking powder, baking soda and salt in medium bowl until blended.

In bowl of mixer beat the shortening in large bowl with mixer on medium-high speed until fluffy.

Add sugar and almond extract; beat 1 minute.

Add egg whites, one at a time, beating for 30 seconds after each addition.

Gradually add flour mixture alternately with buttermilk, beating on low speed after each addition, just until combined. Spread evenly in prepared pans.

BAKE 30 to 35 minutes or until toothpick inserted into center comes out clean.

Cool completely.

BUTTERCREAM:

Creamy the butter until light and fluffy.

Add in the salt and mix.

With mixer on low add in the powdered sugar one spoonful at a time, add the milk in as needed.

Add in the almond extract and mix on medium speed until completely combine and smooth and creamy.

Color as desired (I used Wilton's "pink" and "teal")

ASSEMBLY:

Cut tops off cakes to make them flat.

Spread the simple syrup on the tops of the cakes (this really helps maintain the moistness of the cakes and is worth the extra step)

Place small dollop of frosting on cake board/plate to hold the cake in place.

Place first cake layer on cake board/plate.

Spread on a layer of buttercream all the way to the edges.

Repeat with the remaining 3 cake layers.

Crumb coat the cake and refrigerate at least 45 minutes.

Apply final coat of buttercream around the sides and top of the cake.

With buttercream still soft apply the sprinkles around the bottom pressing gently so they stick.

You may have to manually apply the larger sprinkles if you want them to be arranged a certain way.

Pipe swirls around the top (I used a Wilton tip #4B) and I used the 2 colors of frosting as mentioned above.

Gently push the lollipops down into the center of the swirl so the stick doesn't show.

Sprinkle top with additional sprinkles.
Cake recipe adapted from White Lily Homemade White Cake recipe.