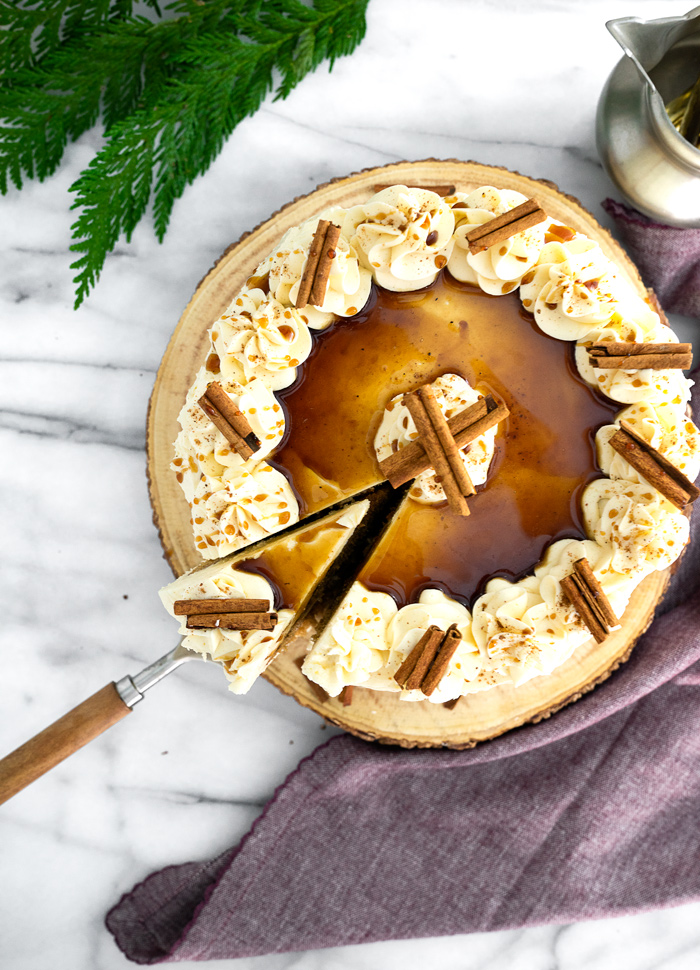 Eggnog Latte Cake. Espresso flavored cake soaked in coffee simple syrup and covered in swirls of eggnog buttercream!
These photos are my experimentation with artificial light. Here in Michigan a cloudy winter is typical but this year it's been dark and cloudy, I mean living room lights on at 11am some days. So I decided it was time to put my big girl pants on and learn the art of artificial light. It's a steep learning curve let me tell you but I cant wait until I figured it out enough that I can shoot with confidence and the weather will have no say as to when or if I can shoot that day!! Through these photos I learned that my light source is too close and I could probably diffuse more 🙂 . I still see a lot of yellow even though I toned it down in post editing but I'm always my worst critic lol. Over all I am happy but still have a lot more practicing!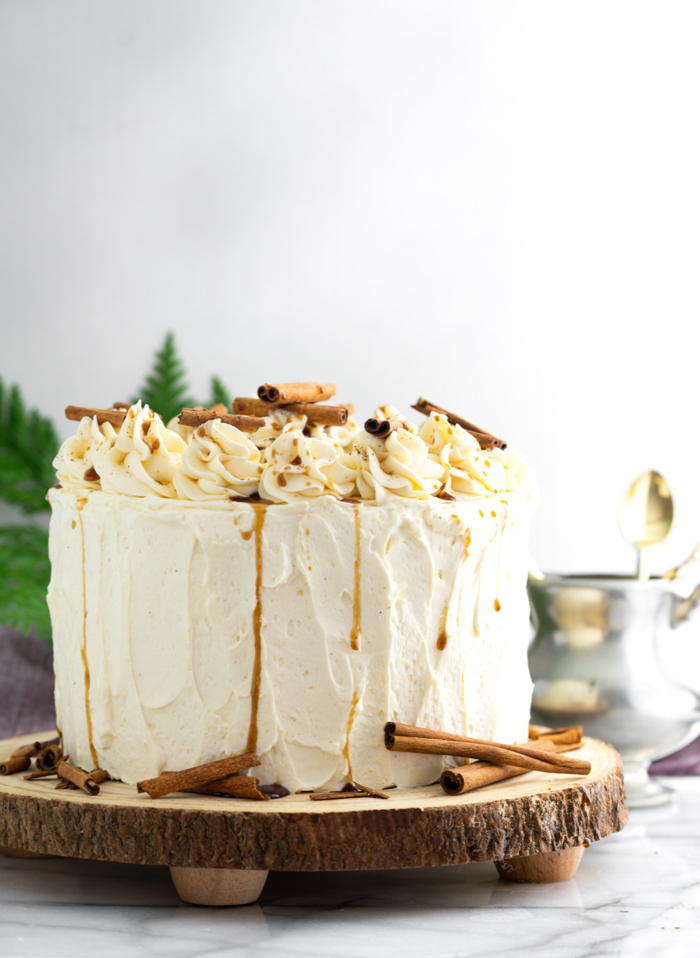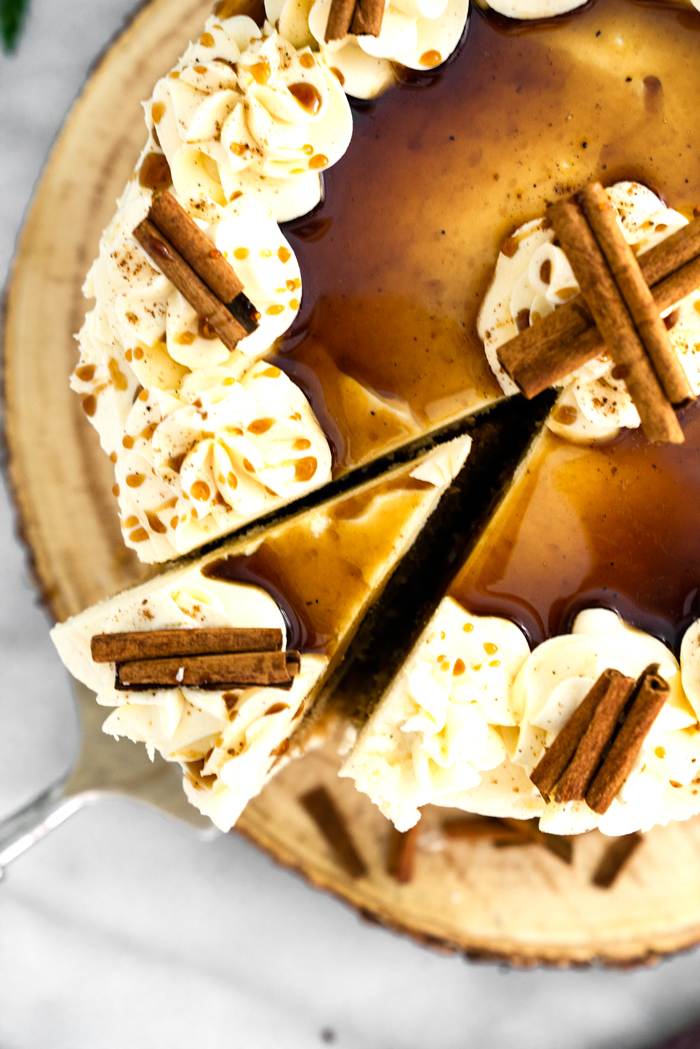 So a funny thing happens when you decide to cut back on caffeine, you start to crave all things coffee, espresso and diet coke related (lol). Which is exactly what happened here. I started to get enormous cravings for latte's. And since it's still winter (even though we are reaching 43 degrees) egg nog was the next thought that came to mind. Honestly I think the eggnog latte is my absolute favorite. Thanks to my bestie's suggestion I ask for straight egg nog (meaning I ask them to hold the milk so the eggnog isn't watered down so to speak). So the latte is even richer and creamier than usual. I've only had one Starbucks tell me "we can't do that", you win some, you lose some ;-).
Here's the Eggnog Latte Cake break down:
Cake layers that taste like espresso because real espresso was added to the batter! Give's Coffee Cake a whole new meaning.
Each layer of cake is soaked in a coffee simple syrup.
Creamy, winter loving eggnog is added to this delicious and addicting buttercream.
The combo takes two beloved drinks and brings them together for one delicious dessert.
And that sauce on top (hint..its not caramel), it's coffee simple syrup!!
Eggnog and Espresso!! do I really need to say more?
A word about the buttercream, I got the Eggnog Buttercream recipe from Betty Crocker.  I was intrigued by the fact that they use flour in their buttercream and real eggnog. When I first created the  thick eggnog mixture and set it aside to let it cool I was panicking and thinking, "how the hell is all that eggnog mixture going to whip up into a glorious buttercream with only 2 cups of butter?". But low and behold it sure did and it's awesome. I could eat it with a spoon. So if you find yourself thinking the same thing don't panic, just make sure the eggnog mixture is completely cool and at room temp, any warmer and it will melt the butter. The original Betty Crocker recipe said to let cool for 45 minutes, NO WAY, mine was still super warm. I waited 6 hours to be safe and I'm glad I did.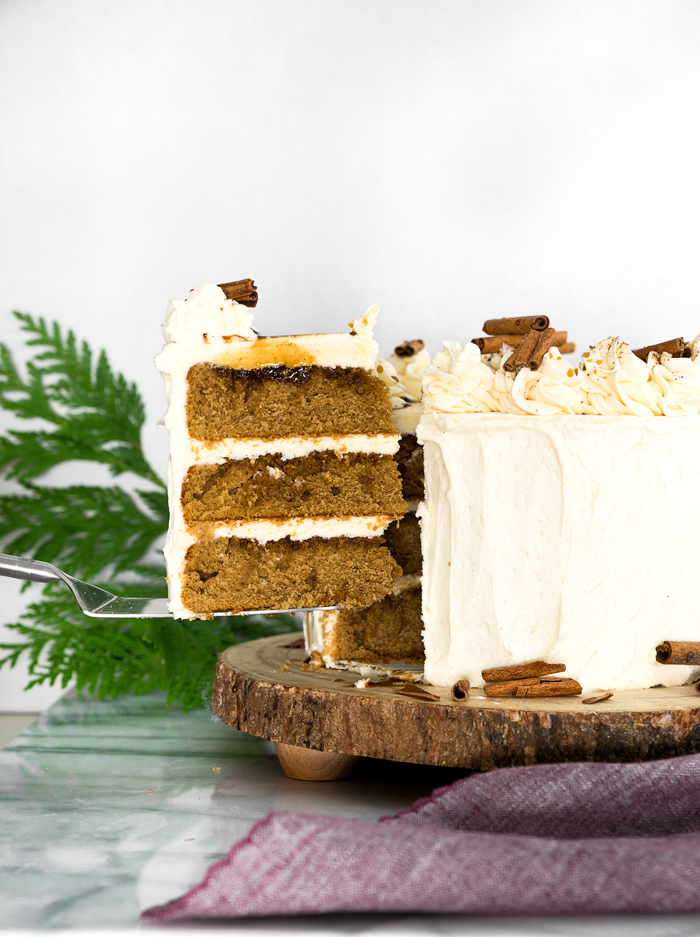 This is your next go to cake! Whether it's a coffee/espresso craving, a caffeine craving or you love for eggnog this Eggnog Latte Cake is sure to please.
Enjoy!
Stacey
Here are a few of the items used to help create this delicious cake. (Please note that these are Amazon Affiliate links, this means if you were to purchase any of the items from the below links I get a small commission from Amazon at no cost to you 😉 )
PIN FOR LATER! Thanks.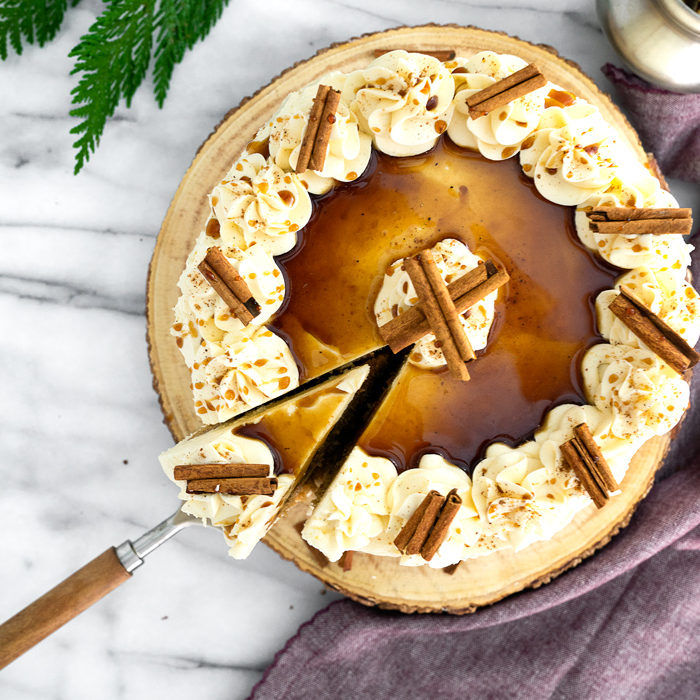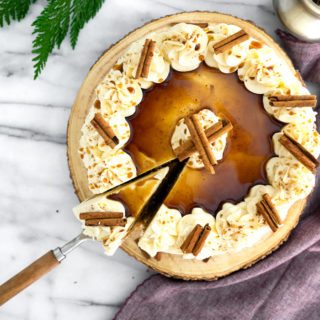 Eggnog Latte Cake
Eggnog Latte Cake. Espresso flavored cake soaked in coffee simple syrup and covered in swirls of eggnog buttercream! espresso latte, coffee cake, eggnog | thesugarcoatedcottage.com
Ingredients
COFFEE SIMPLE SYRUP:

2

cups

water

1/2

cup

ground coffee

1

cup

sugar

CAKE:

3

cups

cake flour

1

Tbsp

baking powder

½

tsp

salt

1/2

cup

butter

room temp

1/2

cup

canola oil

1½

cups

sugar

4

large eggs

room temp

1/2

Tbsp

vanilla extract

1

cup

milk room temp

1/3

cup

espresso powder

BUTTERCREAM:

2

cups

eggnog

2

cups

sugar

2

cups

unsalted butter

1/2

cup

all purpose flour

1/4

tsp

nutmeg

1/4

tsp

salt

GARNISH:

Nutmeg

Cinnamon sticks

Coffee simple syrup
Instructions
COFFEE SIMPLE SYRUP:

Brew the 1/2 cup coffee grounds with the 2 cups of water (this is going to brew your strong coffee).

In medium sauce pan bring coffee and sugar to boil, reduce to simmer and let simmer until reduced by half, about 30 minutes. Stir often.

Let cool completely. (when done you should have 1 cup of coffee syrup)

CAKE:

Pre heat oven to 350 degrees F.

Grease and flour 3 - 7 inch cake pans, line bottoms with parchment.

First whisk the milk and espresso powder together until espresso is completely dissolved. Set aside.

In medium bowl add the flour, salt, baking powder, stir, set aside.

In bowl of mixer cream the butter and sugar until light and fluffy, about 3 minutes.

Add in the eggs 2 at a time, continue mixing.

Add in the canola oil and continue mixing until well combined. Scraping down sides of bowl as needed.

Add in the vanilla, continue mixing.

With mixer on low add the flour mixture and milk mixture by alternating each. Mix until fully and combined.

Pour batter into prepared pans.

Bake 25 minutes or until toothpick inserted comes out clean.

Cool completely.

BUTTERCREAM:

In large saucepan, stir together sugar and flour with whisk.

Beat in eggnog and nutmeg until no lumps remain.

Heat mixture over medium heat, beating with whisk until mixture comes to a low boil and thickens enough to coat a spoon, about 10-15 min, stirring often.

Remove from heat; scrape mixture into bowl. Cool completely, about 4 hours or more. Mixture has to be completely at room temp so it doesn't melt the butter.

Using paddle attachment, cream butter and salt in bowl of mixer until creamy.

Pour in cooled eggnog mixture, beating until light and creamy. If Frosting looks curdled or separated, keep beating! It will come together after a few minutes.

ASSEMBLY:

Level out cakes by cutting the bumped top off each.

Put a small dab of frosting on cake board/cake plate to stop cake from sliding off.

Put first cake layer on cake plate, spoon on and spread the coffee simple syrup over the top.

Frost the top with buttercream about 1/2 in thick.

Put on the second layer of cake and repeat until all 3 layers are done.

Apply a crumb coat of frosting and refrigerate 45-60 minutes.

Apply second crumb coat and refrigerate 30 min.

Apply final buttercream coating in swipes moving from top to bottom.

Pipe swirls on top of cake and garnish with cinnamon sticks and small amount of nutmeg.

Then fill in with coffee syrup as shown in the photos. Note that some may sneak through and drizzle down the side of cake like shown in photos.

Chill until ready to serve.
Notes
Coffee simple syrup - you will have left over syrup, store in refrigerator for other uses or serve along side cake if anyone wants an extra dose of coffee flavor. I was left with 1/3 of a cup after making this cake.
Buttercream - This buttercream is smooth, light and creamy, it is not super stiff. It is a cross between and whipped cream and buttercream. If your buttercream seems too soft place in refrigerator for 30 min., just enough to firm it up but not stiffen it. If it does get overly stiff just let it warm it up by setting on counter for 30 min, then beat with paddle attachment until smooth and creamy. If it looks separated just keep beating it until it looks smooth and creamy, it may take a few minutes.