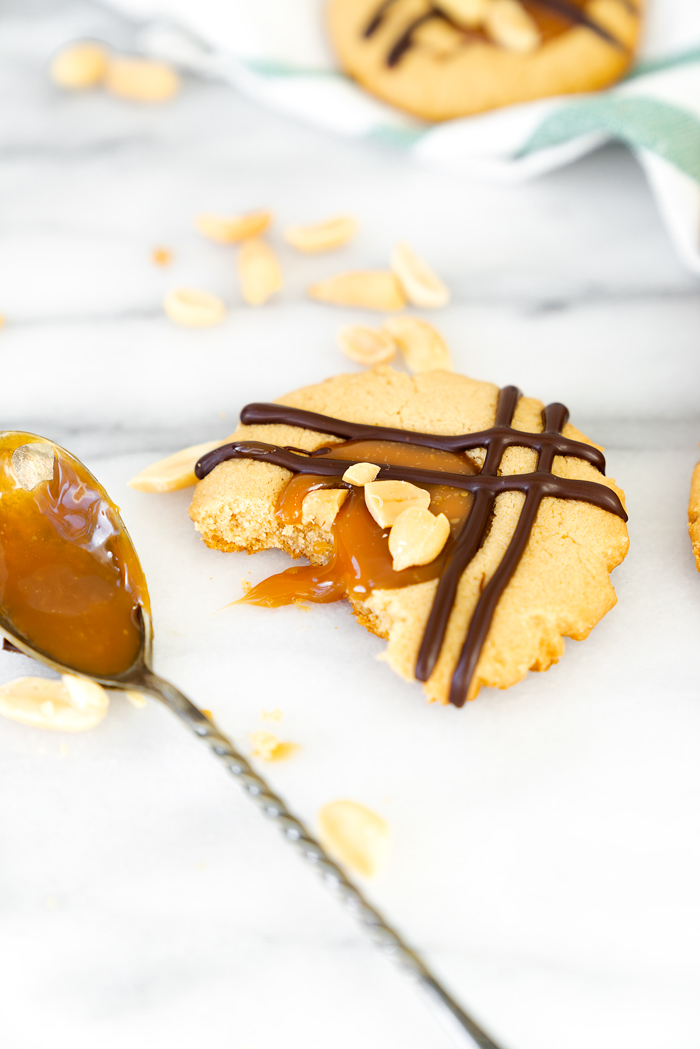 Caramel Peanut Butter Cookies. Crispy edged soft peanut butter cookies with a pool of caramel and chocolate drizzle.
I can't wait to tell you about these cookies!  😉
What's better than a peanut butter cookie? A peanut butter cookie with caramel, chocolate drizzle and crushed peanuts that's what! These cookies are my most recent favorite. The edges are a little crisp, the cookie itself is soft, gooey pools of caramel and a few crushed peanuts for the win! Now that's one heck of a cookie if you ask me.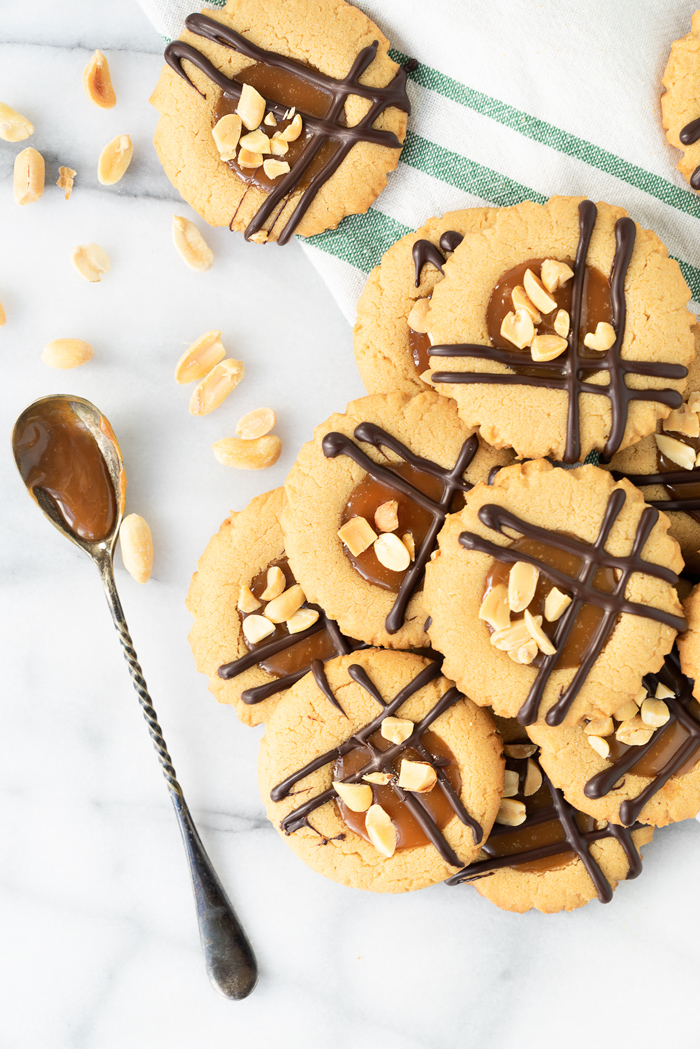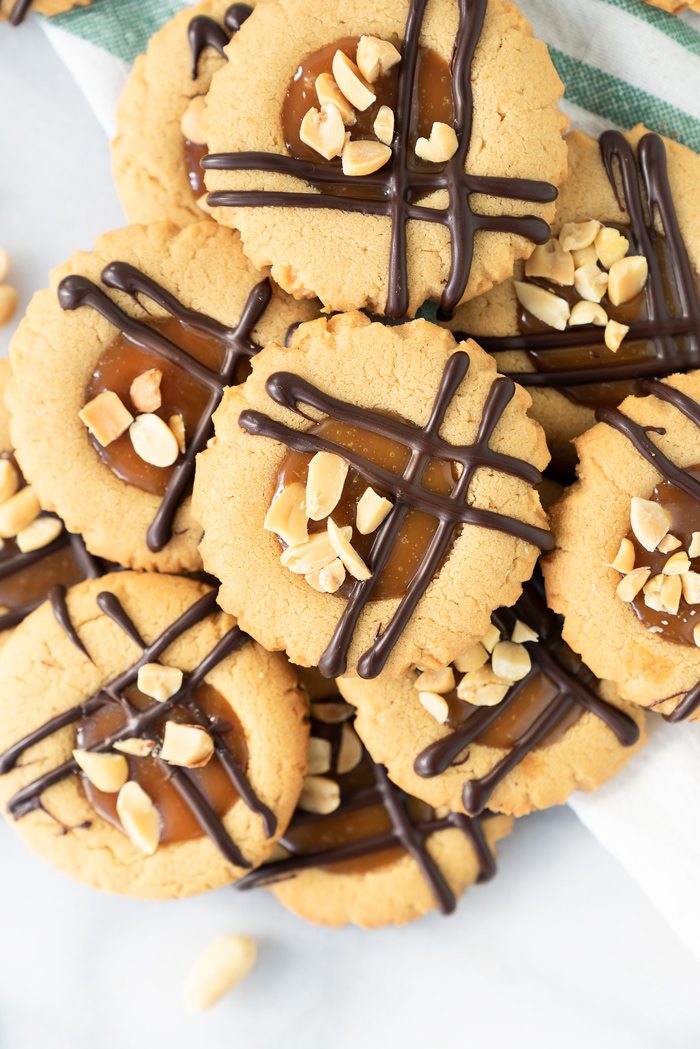 You may be missing those traditional little criss cross fork indentations, the ones that let you know that it's definitely a peanut butter cookie. But the truth is when you take one bite of these Caramel Peanut Butter Cookies you'll be willing to throw tradition to the wind.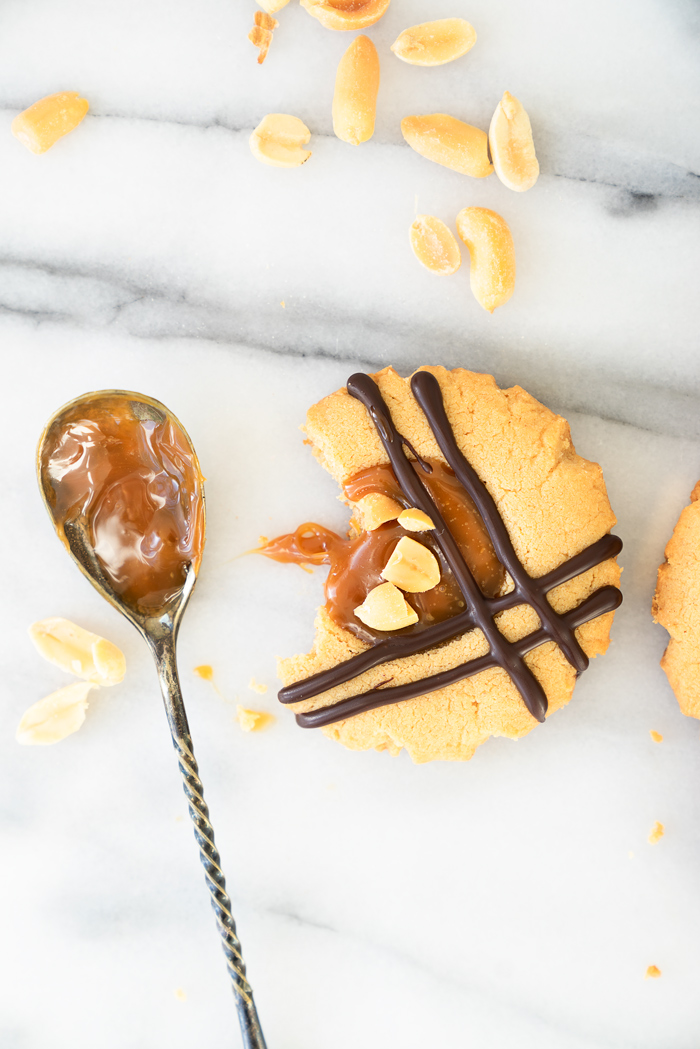 Tips on how to make these Caramel Peanut Butter Cookies:
The dough will be rolled into balls and instead of flattening with a fork you will take the bottom of a glass wrapped in parchment and press down to achieve a flat cookie.
When the cookies come out of the oven that is when you will use the bottom of a shot glass (or small spice jar, etc) to create the indentation for the caramel. You will gently press the bottom of the glass into the middle of each cookie. Then let cool completely. It will not be a deep indentation but just enough to hold that beautiful caramel.
When filling each center with caramel fill until just filled but not over flowing.
For the chocolate drizzle I got a little fancy and used a piping bag fitted with Wilton tip #3. But you can drizzle it on with a spoon or fork. There is no right or wrong.
Since the caramel stays soft the cookies need to be stored flat.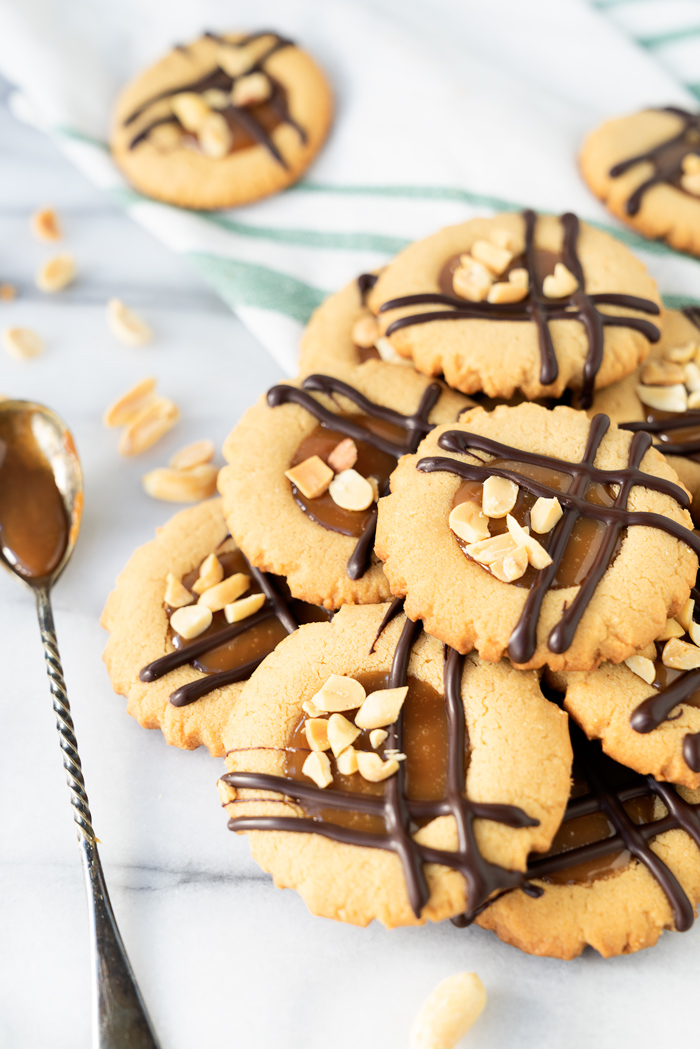 Each cookie is good through the last bite!
Enjoy!
Stacey
PIN IT FOR LATER! Thanks.

Caramel Peanut Butter Cookies
Caramel Peanut Butter Cookies. Crispy edged soft peanut butter cookies with a pool of caramel and chocolate drizzle.
Author:
Stacey - The Sugar Coated Cottage
Ingredients
1¼ cups flour
½ tsp baking soda
½ tsp baking powder
½ tsp salt
½ cup butter room temp
½ cup brown sugar
½ cup sugar
1 egg room temp
1 cup creamy peanut butter
2 tsp vanilla extract
FILLING:
½ cup caramel sauce
GARNISH:
½ cup melted chocolate
Crushed peanuts
Instructions
Preheat oven to 325 degrees F.
Line two baking sheets with parchment.
In medium bowl add the flour, baking powder, baking soda and salt, set aside.
In bowl of mixer fitted with paddle attachment cream butter.
Add in the sugars and mix until light and fluffy.
Add in the egg and vanilla, mix well to combine.
Add in the peanut butter and mix until completely combined.
With mixer on low add in flour mixture one spoonful at a time.
Bring mixer up to medium speed and mix until combined.
Using a cookie scoop scoop out dough mounds and roll between palms to form a ball.
With bottom of glass covered in parchment press each ball down to make dough ball flat.
Bake 12 minutes or until edges of cookies are golden brown.
When cookies come out of oven use bottom of tiny shot gall to press indentation into center of each cookie. Let cool completely.
When cookies are cooled fill indentations with caramel sauce, just enough to fill it but not overflow.
Drizzle chocolate on top. ( I used piping bag and wilton tip #3)
Sprinkle with peanuts. Let set.