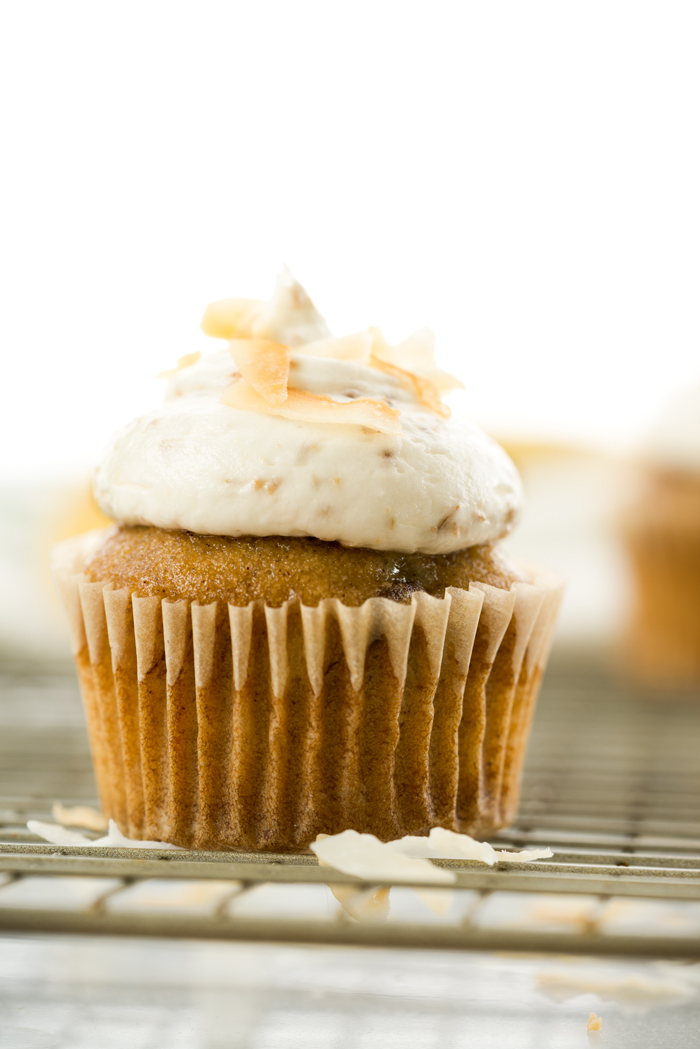 Hummingbird Cupcakes And Toasted Coconut Buttercream. A southern classic and one of my favorites topped with a swirl of smooth and creamy toasted coconut buttercream.
Happy Wednesday! I was looking at a list of fruits and veggies in season for Sept/Oct and was shocked to see bananas on the list. I guess I never really thought of bananas as a seasonal fruit before and if I had been asked to guess it's season Autumn would not have been my first choice. But with that being said I'm really happy it is a fall fruit. Because today I am bringing you a favorite of mine. Hummingbird Cupcakes And Toasted Coconut Buttercream.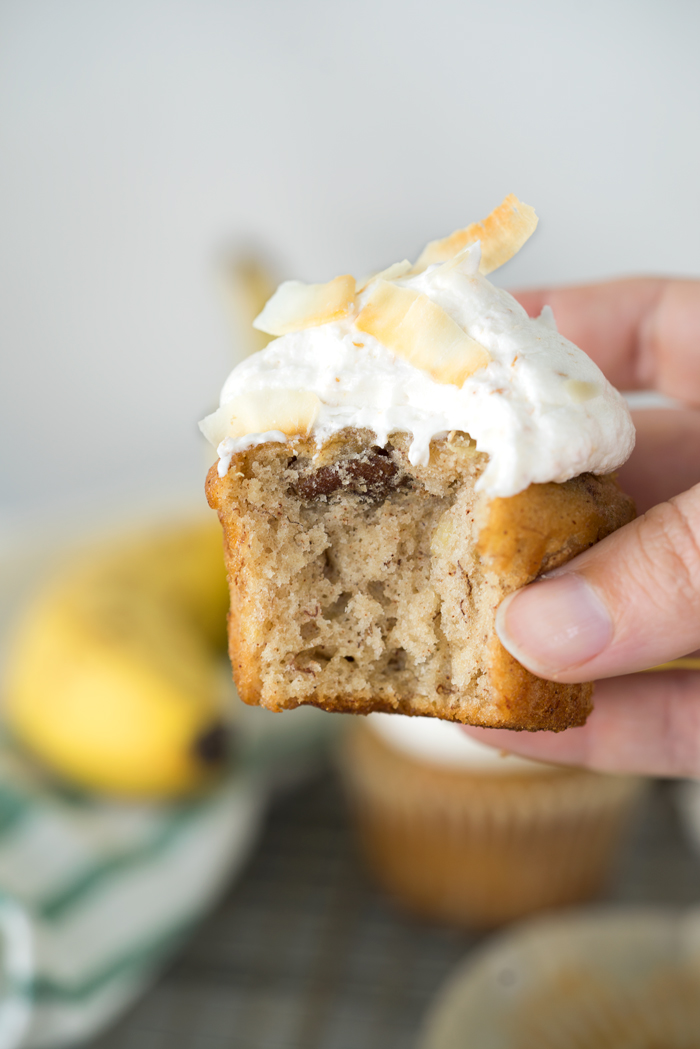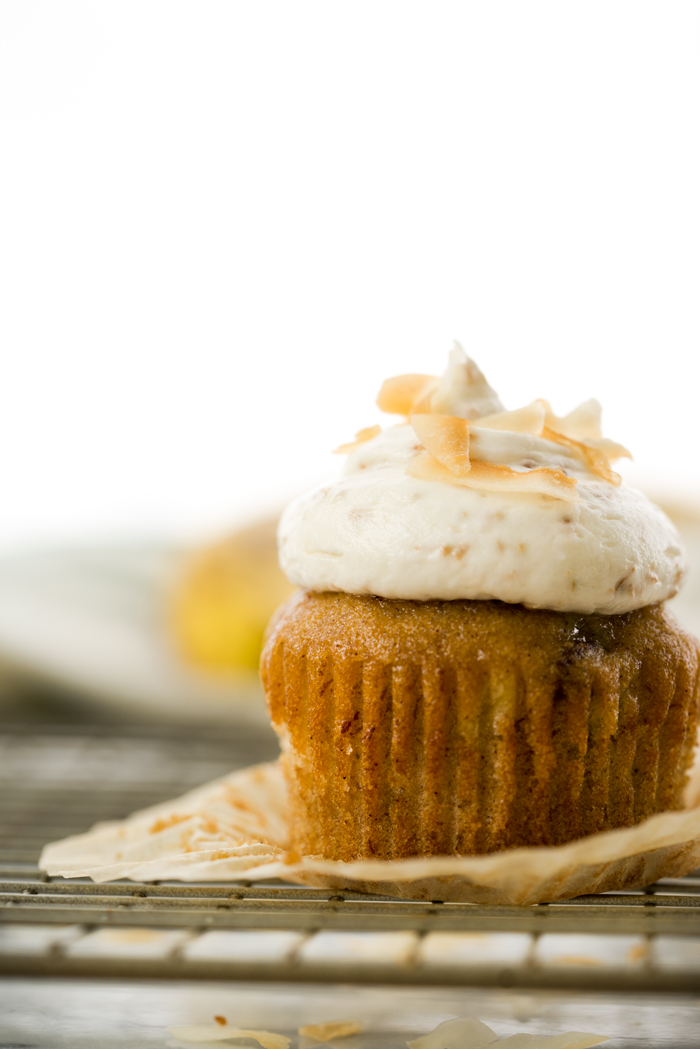 The first time I had Humming Bird cake I was in love, deep love, true love. I didn't know banana cake could get any better but it sure does when you add pineapple and pecans. We're talking next level flavor, texture and goodness.
What's the secrets to making a smashing Humming Bird Cupcake?:
Pineapple and pineapple juice! Don't discard the juice. In fact you have full permission to used canned pineapple, it's the simplest route.
Pecans – truly a fave, the pecan has a nutty yet slight sweetness to it and it adds that little bit of crunch.
Cinnamon – it adds a nice little warmth to the flavors without being over powering
Ripe bananas – you know the kind where the peel is starting to speckle deep brown and the banana itself is easily mashable. That's the kind!
Buttercream – typically cream cheese buttercream is used and no argument here. I just felt like shaking things up a bit and went with a toasted coconut buttercream. Coconut just belongs with bananas and pineapple. Don't you agree?
Now a little bit about the Toasted Coconut Buttercream. It's amazing on these cupcakes and the toasted coconut along with the coconut flaked garnish give a nice balance of coconut flavor all on it's own. I'm not a huge fan of fake coconut flavoring (it's not a snobby thing, it's just a personal preference thing) but if you want more coconut flavor to your buttercream feel free to add a little coconut extract.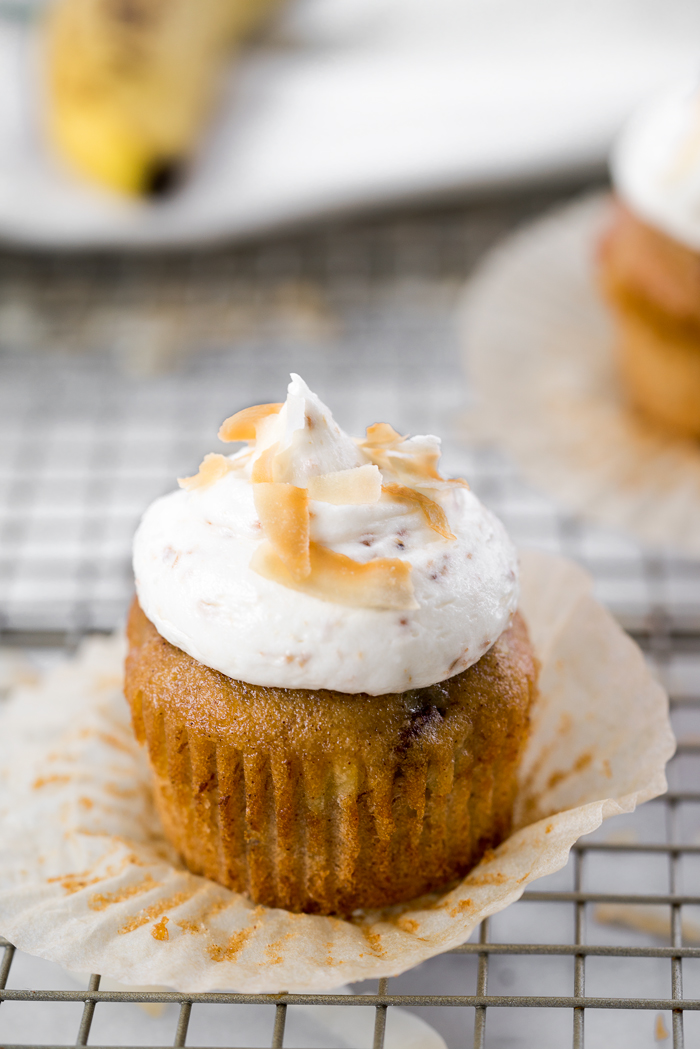 So that's it, now you know what makes a Humming Bird Cupcake so special and why you should be getting those bananas good and ripe to make your own!
Enjoy
Stacey
Here are some of the items that helped make these cupcakes. (please note that the below are affiliate links which means if you were to purchase from the link I would make a small commission at no charge to you.)
PIN IT FOR LATER! Thanks.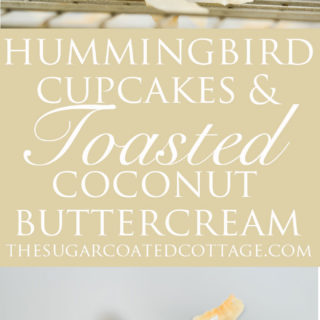 Hummingbird Cupcakes And Toasted Coconut Buttercream
Hummingbird cupcakes, banana, pineapple and pecans. With a dollop of toasted coconut buttercream to top it all off. A southern classic!
Ingredients
CUPCAKES:

3

cups

all purpose flour

2

cups

granulated sugar

1

tsp

baking soda

1

tsp

cinnamon

1/2

tsp

salt

3

large eggs room temp

1

cup

canola oil

vegetable will work to

1

Tbsp

vanilla extract

2

cups

ripe bananas chopped

about 3 large

1 - 8

oz

can of crushed pineapple with juice

1

cup

chopped pecans

BUTTERCREAM:

1

cup

unsalted butter room temp

1

lb

powdered sugar

you can buy 1 lb bags

1/2

cup

toasted coconut chopped up really fine

I found Bobs Redmill Macaroon fine coconut works best

3

Tbsp

coconut milk from a can

if you don't have this you can use milk

1

Tbsp

vanilla extract

GARNISH:

Toasted coconut

larger slivers if you have it, I used Bobs Redmill unsweetened flaked coconut
Instructions
Preheat oven to 350 degrees F.

Line cupcake/muffin tray that holds 24 with liners.

CUPCAKES:

Starting with the dry ingredients and then the liquid, add all ingredients to bowl of mixer but not pecans those will be folded in.

Mix on medium speed until all ingredients are completely combined scraping down sides of bowl as needed.

By hand fold in the pecans.

Pour batter into each cupcake cavity, about 2/3's to 3/4's of the way full.

Bake 15-17 minutes or until golden on top and toothpick inserted comes out clean.

Let cool completely.

BUTTERCREAM:

Cream butter until light and pale yellow.

Slowly add in the powdered sugar one spoon full at a time.

Add in the coconut milk and vanilla, mix until well combined.

Add the toasted coconut. Mix until completely
Notes
If you need to toast your own coconut flakes or macaroon coconut you can. Preheat oven to 350 degrees. Line cookie sheet with parchment. Put desired amount of coconut on cookie sheet and bake for 1-2 minutes or until golden brown. The coconut will brown up fast so don't turn your back or walk away, it can burn easily.