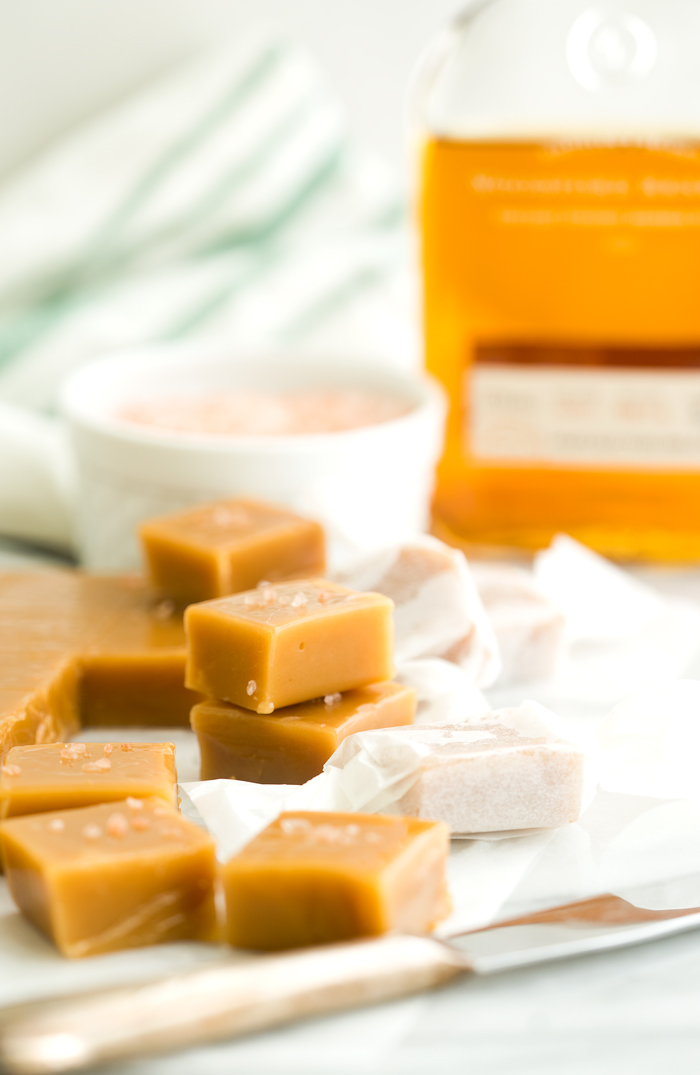 Salted Kentucky Bourbon Caramels. Sticky, gooey, bourbon enhanced caramel candy. An addicting candy classic.
I'm getting really excited for autumn now. I did not have to break a sweat once this week and I think I can officially put the shorts away. It was long sleeve shirts and a few sweaters all the way but still comfortable enough that I could wear sandals. This kind of weather is pure heaven to me. Not too hot, not too cold but just right!
Today I bring you Salted Kentucky Bourbon Caramels. Sometimes you just need a piece of candy. Not a big piece of cake or 3 cookies but just a good old fashioned piece of sticky caramel that satisfies that sweet craving you have going on without being too much of a good thing.
Why These Salted Kentucky Bourbon Caramels are so good:
They are ooey and gooey which always makes for a fun sweet treat.
They are enhanced with good old Kentucky Bourbon. The alcohol is cooked off but you're still left with that rich flavor.
Rich and creamy – something magical happens when you combine cream, sugar, bourbon and butter together. Pure magic!
A little bit of salt makes all the difference – all that sweet needs a little balance of salt, just a sprinkle goes a long way.
A little word on bourbon. I chose a high end brand of bourbon, Woodford Reserve. I'd like to tell you that I chose this brand because I know my way around a good bourbon but the truth is I don't know a thing about bourbon. So I figured the best thing to do would be splurge and get a good quality one to be on the safe side 🙂 . With that being said if you have a good bourbon in mind go for it! I'm in no way a bourbon snob and though Woodford Reserve tasted pretty darn good, even for my uneducated bourbon palette, work with the bourbon you love best.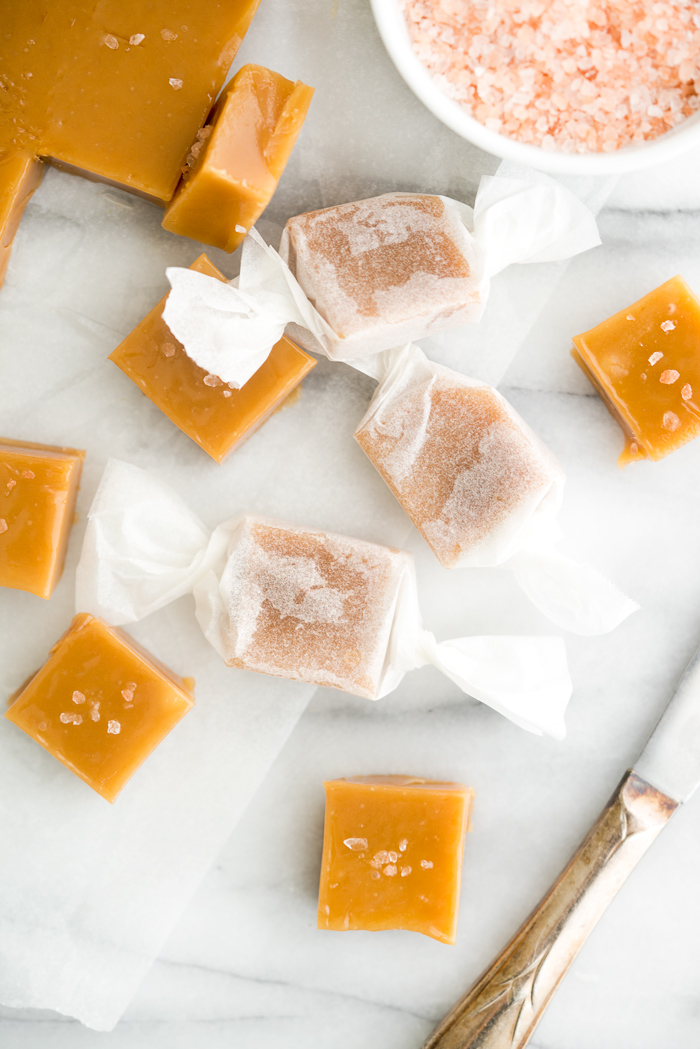 Making candy can be a little stressful if you haven't done it before or worse, you've burned it before. I have ruined plenty of my share of candy recipes, primarily from burning. Just keep practicing and invest in a good quality candy thermometer that attaches to the side of pan. Back when I first started experimenting with candy I used a run of the mill battery operated meat thermometer, I would stick it into the candy mixture every so many minutes to check the temp, it wasn't an accurate method and I wouldn't recommend it. Plus the steam would come up and my hand would get mighty hot while trying to get a temperature read. Learn from my mistake 😉 .
Enjoy these caramels the next time you crave a sweet treat!
Stacey
PIN IT FOR LATER! Thanks.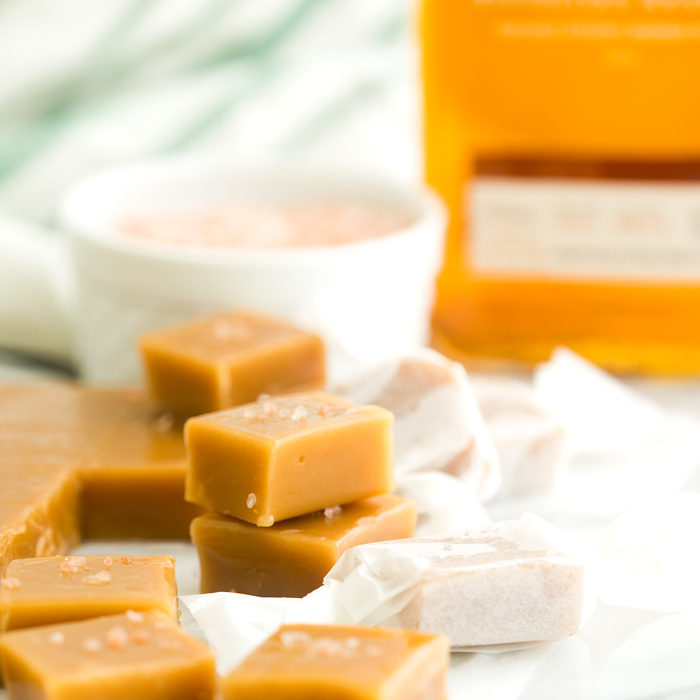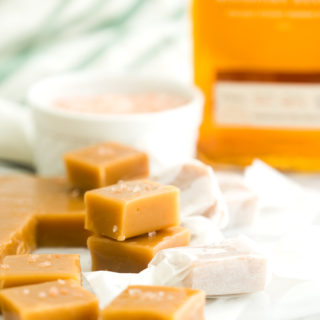 Salted Kentucky Bourbon Caramels
Salted Kentucky Bourbon Caramels. Sticky, gooey, bourbon enhanced caramel candy. An addicting candy classic. | thesugarcoatedcottage.com #caramel #candy
Ingredients
2

cups

heavy cream

1

cup

light corn syrup

2

cups

sugar

6

tbsp

unsalted butter

1/2

cup

good quality bourbon

I used Woodford Reserve

Salt for sprinkling

I used himalayan sea salt but any flaked sea salt will do
Instructions
Grease an 8x8 pan and line with parchment, keep some over hang so you can easily lift the caramel out of pan for cutting.

In large sauce pan with high sides add the cream, corn syrup, sugar, butter and bourbon.

Bring to boil over high heat, stir until sugar is dissolved.

Bring heat down to med/high heat and let cook without stirring. Make sure you attach your candy thermometer at this time.

Continue to cook until mixture reaches 248 degrees F. This took about 25-30 minutes for me. But start checking thermometer sooner as every pan and cook top is different.

Pour mixture into prepared pan and let cool completely.

When ready cut into 1 inch squares, sprinkle with a little salt and wrap each piece in parchment or wax paper.