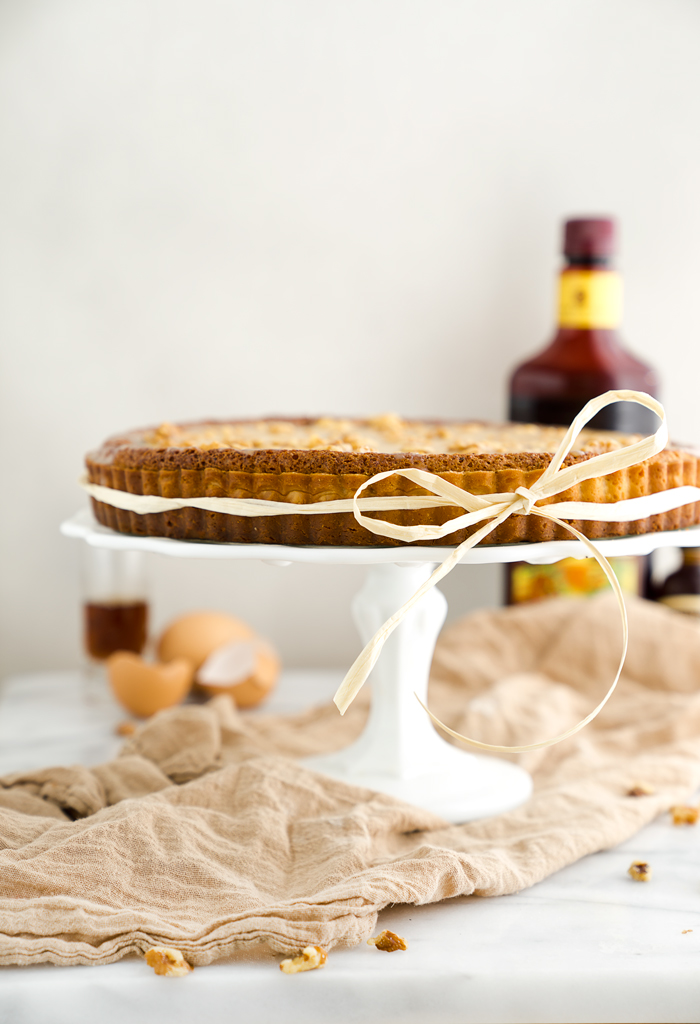 Walnut Rum Tart. Walnuts, salted caramel and rum all wrapped in a buttery crust with a filling that is a very soft, delicate crumble thats melts in your mouth. It's divine.
Thanksgiving is sneaking up on us! To be honest it feels more like Christmas. If you live in the North to North East parts of the US you know all too well that the temps are colder than they should be and we have been getting snow already and that my friends I am just not ready for. So let's change the subject to dessert!!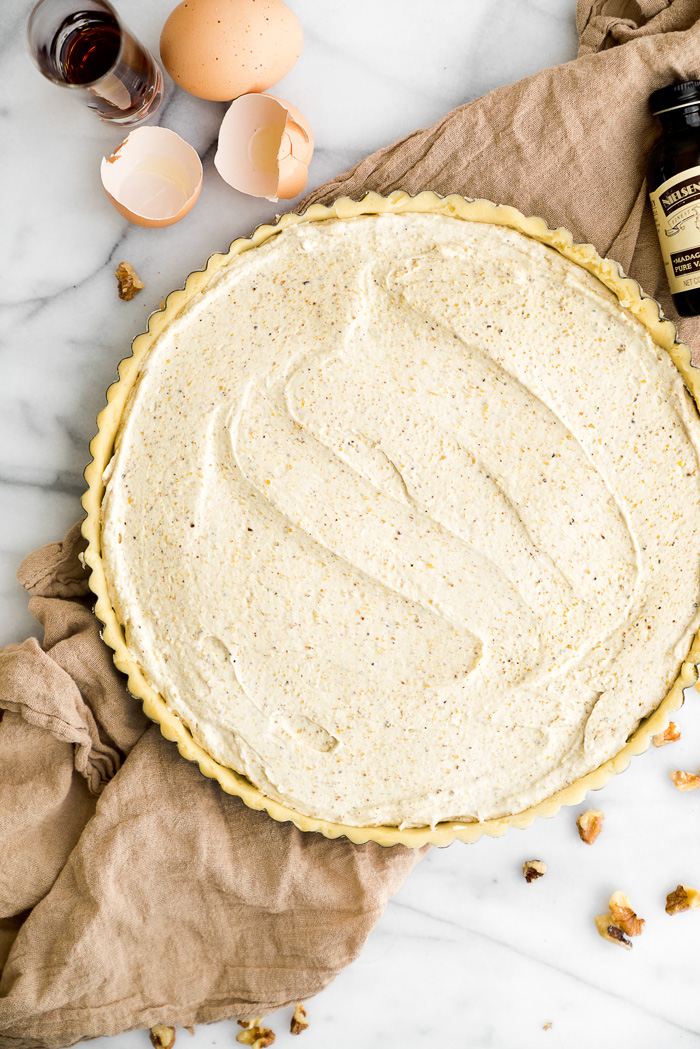 You all know how much I love a good tart (and a good cake, cupcake, truffle, ice cream…). And this one is no exception. It's truly perfect for autumn and your Thanksgiving table scape.
Why Every Thanksgiving Table Needs This Walnut Rum Tart:
Walnuts – I find walnuts to be a sophisticated nut, though I liked them as a kid I didn't love them. However, as a adult I have grown to appreciate their ability to balance a dessert from being too sweet (and they are super healthy for you to blah, blah, blah… 😉 ).
Salted Caramel – Golden, sweet, sticky and gooey caramel with a little hint of salt just makes every dessert more grand.
Rum – Should have just started with this one. So when it comes to actually drinking I don't care for spiced dark rum. But when it comes to desserts like this tart, truffles or buttercream I am all about spiced rum!! I prefer Meyers's (not a typo, theres a double "s" in the name) Dark Rum, I've tried some lesser quality brands and the results were not as favorable. Just a thought…
Buttery cookie like crust – Every tart needs that special crust to hold all it's goodness and this Pate Sucree (sweet dough) is it. Vanilla, butter and sugar is one combo that can never be beat.
Summary – Buttery sweet crust, walnuts, caramel and rum!!
I really like this crust because for me personally I find it easy to work with. I had a few spots that didn't quite reach all the way up the side of the tart pan. And I had a spot tear on the bottom. I just did a little patch work with some dough scraps. It does contain a lot of butter which is very susceptible to heat so if you need to run your hands under cold water before working with it do so. When I pulled my chilled disk out of the refrigerator it was no where near ready to roll out (I find a lot of recipes act as though the dough will just be ready to roll, not the case with this one). I had to let it come to room temp before it would roll out without cracking/breaking.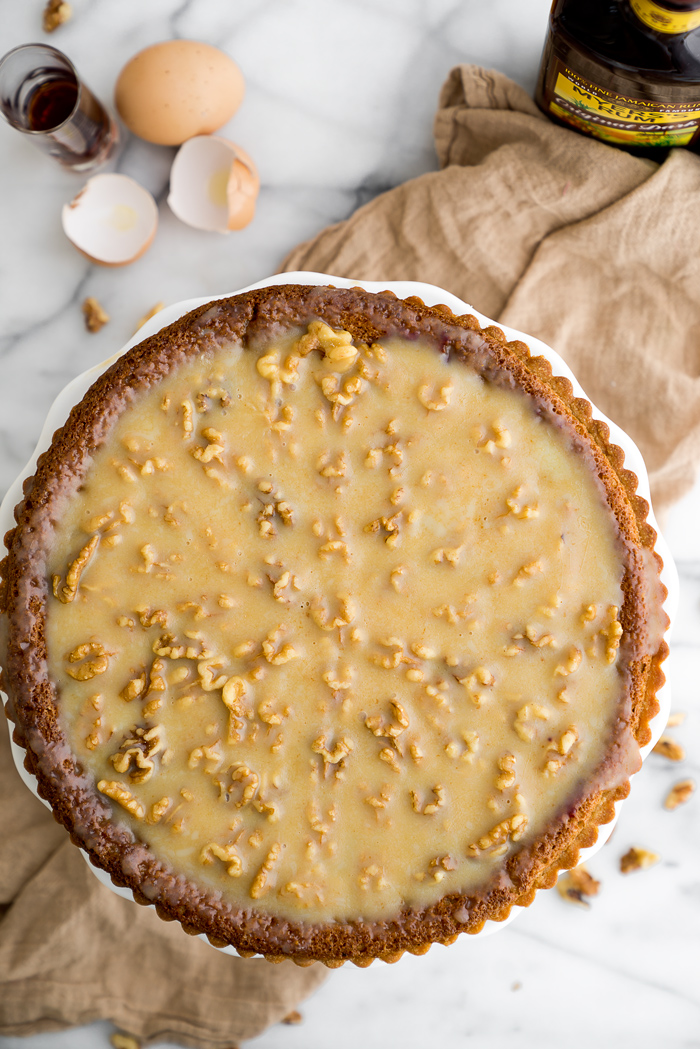 When this filling bakes inside the shell it will puff up, this is normal. As it cools it will come back down to level and the edges may still be slightly higher. The texture of this filling is a very soft, delicate crumble thats melts in your mouth. It's divine.
Caramel sauce – I'm all about home made but caramel sauce gives me anxiety. I can make it 3 times in a row and have great results and then the 4 th time it doesn't turn out. So the whole time in the back of my head I'm wondering, "is it going to turn out or is this the time it will be ruined?". If you are the same way I totally understand. I did make the caramel for this tart but if the homemade caramel is keeping you from making this tart then buy a really good quality jarred caramel (Sanders is one of my favorites, its darker in color and made in Michigan). It may be a little runnier but no one ever complained about gooey caramel that I know of 😉 .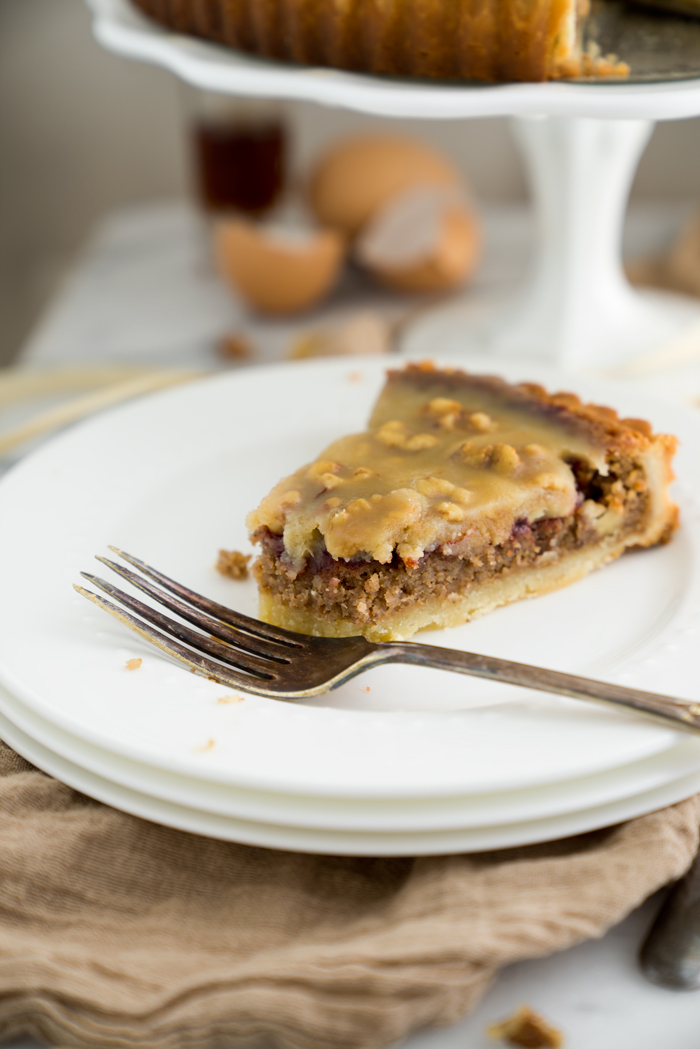 So there you have it! The run down on this fabulous Walnut Rum Tart.
Enjoy!
Stacey
Pin it for later! Thanks.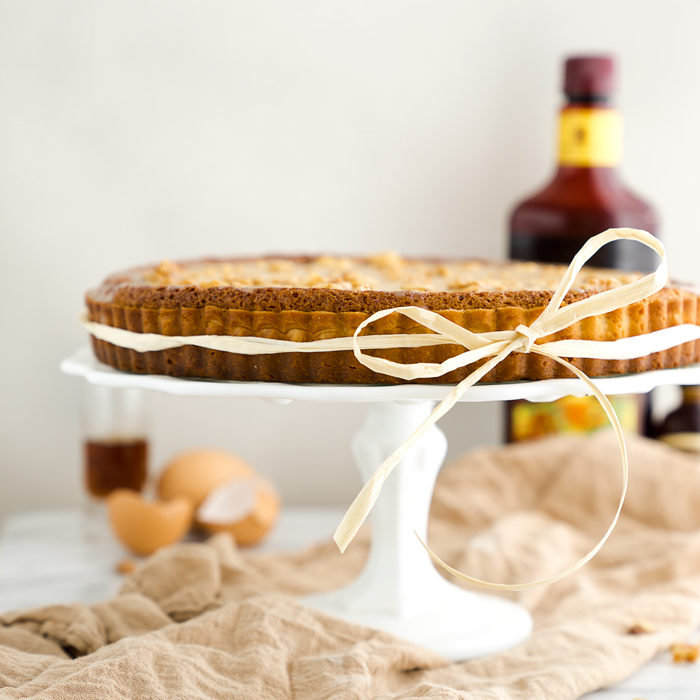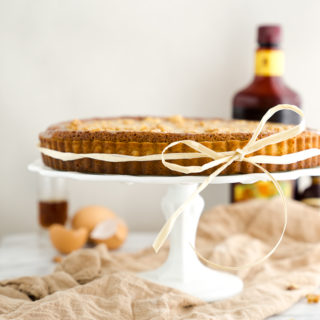 Walnut Rum Tart
Walnut Rum Tart. Walnuts, salted caramel and rum all wrapped in a buttery crust. The filling is soft, delicate and crumbly. | thesugarcoatedcottage.com
Ingredients
CRUST

Pate Sucree or Sweet Dough:

1/2

cup

sugar

1

cup

butter unsalted room temp

1/2

Tbsp

vanilla extract

1

large egg room temp

pinch

of salt

2 1/4

cups

all-purpose flour

TART FILLING:

1 1/2

cups

walnut pieces

3/4

cup

sugar

3/4

cup

unsalted butter room temp

3

large eggs room temp

3

Tbsp

all purpose flour

1

Tbsp

vanilla extract

1/3

cup

dark spiced rum

I prefer Myers's Dark Rum

TOPPING:

3

cups

walnut halves

or enough to arrange in concentric circles.

3/4

cups

unsalted butter

1/4

cup

honey

1/3

cup

heavy cream

1

Tbsp

vanilla extract

1/4

tsp

salt

Raspberry jam

seedless
Instructions
I've broken this out into steps, I find that steps help me understand a recipe better and it makes the recipe seem manageable.

STEP 1 - MAKE CRUST DOUGH:

Combine the sugar and butter in bowl of mixer with paddle attachment.

Mix until smooth, add in the vanilla and salt.

Add in the egg, continue to mix and scrape down sides of bowl as needed.

With mixer on low slowly add in the flour and mix until just combined.

Turn dough onto lightly floured surface and form a flat, round disk. Wrap in plastic wrap.

Refrigerate dough for 1 hour minimum or up to 2 days.

STEP 2 - PREPARE DOUGH FOR TART PAN:

Butter 10" tart pan with removable bottom.

Dough will be too stiff right out of the refrigerator to roll, so when ready pull dough out and let set at room temp for 30 minutes to an hour. The dough should still be chilled but you want the dough to spread nicely when rolled with out cracking or breaking.

Flour your surface and rolling pin.

Roll dough into 13" circle about 1/8 inch thick.

Place dough into tart pan, I gently rolled the dough over my rolling pin and then unrolled it over the tart pan.

Gently arrange the dough into place, do not stretch the dough. If you have some areas where it does not reach all the way up the edges or it tears you can use scrap pieces to fill in or make repairs.

Poke 12-14 sets of holes with a fork on the bottom of tart. Refrigerate for 30 minutes.

STEP 3 - MAKE FILLING:

Pre-heat oven to 375 degrees F.

Combine walnuts and sugar in food processor and process until finely ground.

In bowl of electric mixer with paddle attachment cream butter until fluffy.

Add the walnut and sugar mixture and mix until well combined.

Add eggs one at a time, beat until well combined and smooth.

Add in the flour, vanilla, rum, salt and mix well.

STEP 4 - BAKE THE TART:

Scoop walnut mixture into refrigerated tart shell. Smooth with spatula.

Bake 40-45 minutes. Filling will puff up while baking but will level while cooling.

Cool completely.

STEP 5 - CARAMEL AND WALNUT ARRANGING:

Once tart is cooled spread a light layer of raspberry jam over the top. This will keep walnuts in place.

Arrange walnut halves in concentric circles on top of the raspberry jam.

Next make the caramel.

In small sauce pan place the butter, honey, heavy cream, vanilla and salt.

Cook on medium heat until mixture reaches soft ball stage (240 degrees on candy thermometer).

Drizzle the caramel over the walnuts and let cool completely.

When ready to serve, remove tart from ring and transfer to cake plate or platter.

Store in cool, dry place, will keep covered 2-3 days.
Notes
For the caramel sauce - you can use jarred caramel sauce but it will be runnier but no one is going complain about that 😉 . Choose one that is darker in color and a bit thicker. I like Sanders brand.