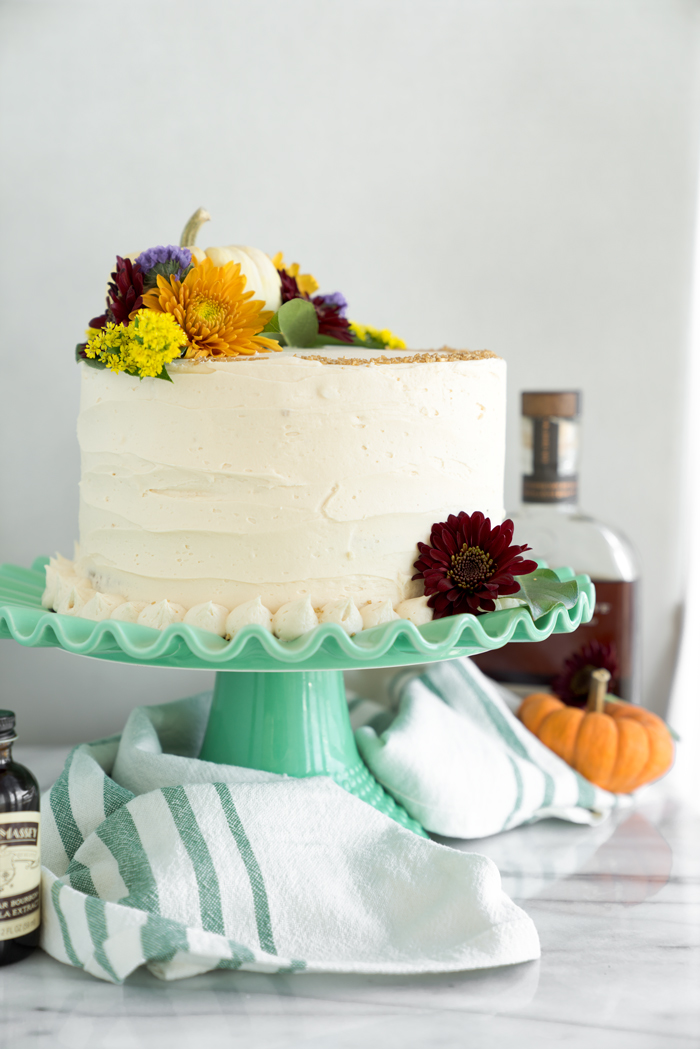 Pumpkin Cake with Salted Caramel Bourbon Buttercream. The only dessert you'll ever need this Thanksgiving (or any day).
You all know I love cake and I am pretty sure I start out every cake post with that statement. But this is the cake of all cakes, the cake that will wow the crowd, the cake that will get you rave reviews, the cake you will be known for and expected to bring every Thanksgiving here and after, the cake that got me multiple orders for this upcoming holiday (Yay!! and thank you if you are one of them).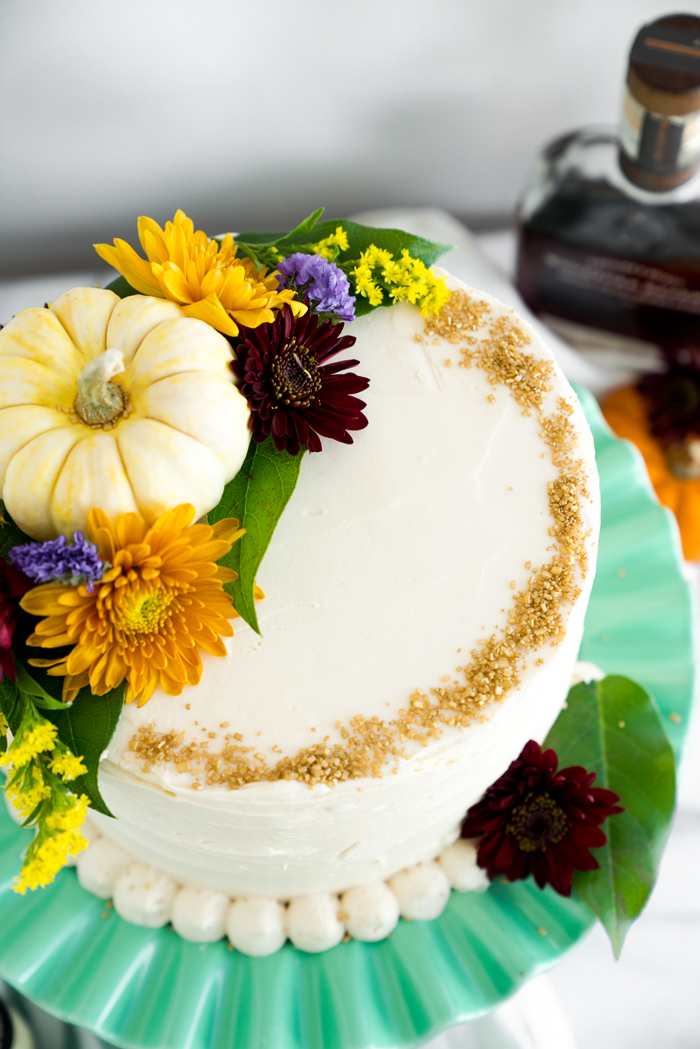 We are talking multiple layers of the moistest spiced pumpkin cake enrobed in Salted Caramel Bourbon Buttercream. Each bite is a delight to the senses. Each bite of this cake and buttercream is heaven on earth. You cannot tell where the cake ends and frosting begins and vice versa.
The cake itself is perfectly spiced, the smell is heavenly and the texture is unbelievable. I chose to go with thinner layers of cake so I could incorporate a little more buttercream. Plus I think it looks trendy and more indulgent.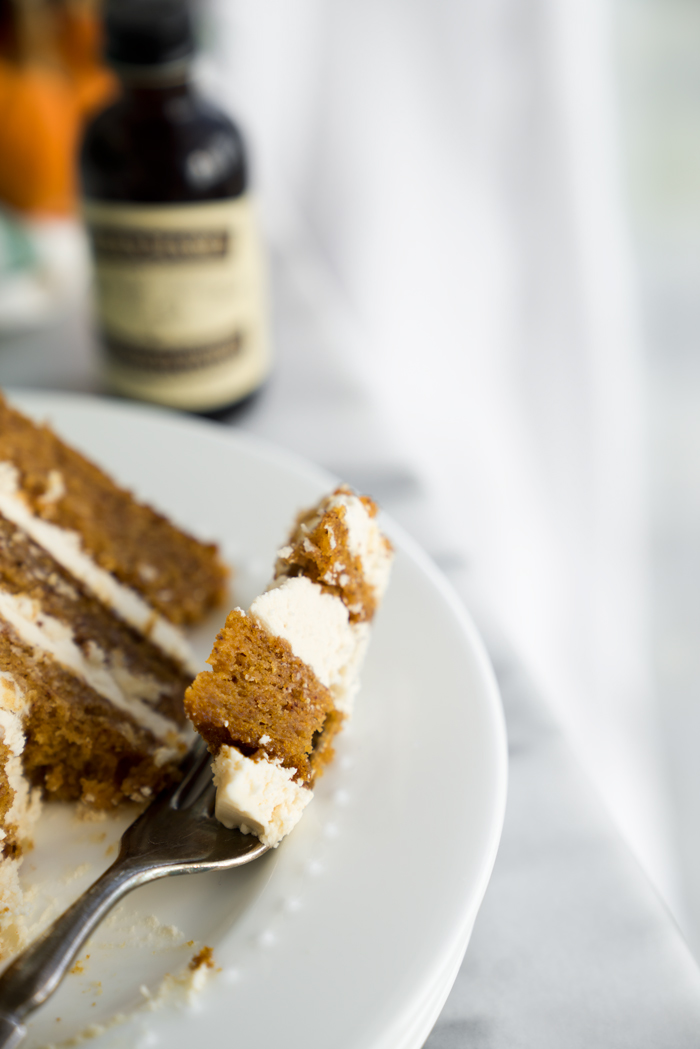 The buttercream is a home run, American buttercream was the choice here. Guess what, it uses good quality jarred caramel sauce, thats right no candy thermometer. Now I should mention this is buttercream with caramel in it, so the caramel flavor is subtle (not too little, not too much). In addition it adds a creaminess to the buttercream. And the bourbon, well, whats not to love. The rich flavor and smell of a high quality bourbon mixed into a buttercream with caramel and how could you possibly go wrong?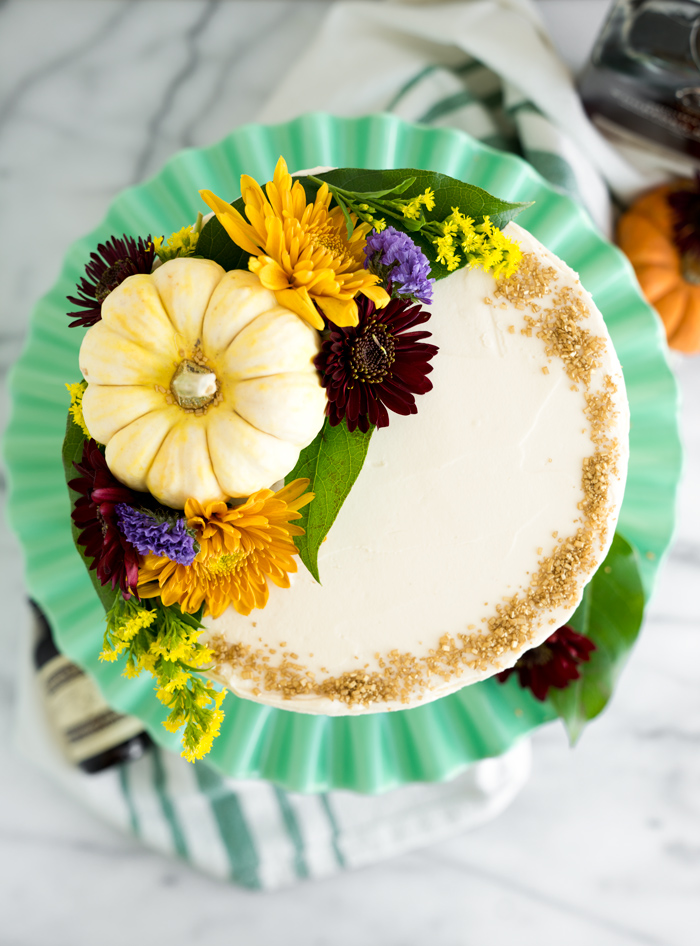 For the decorating I did a rustic swirl affect. First I crumb coated the cake for a smooth based, then came back and put a nice clean coat of buttercream around the whole cake. I then took the tip of an offset spatula horizontally at a 45 degree angle and gently turned the cake stand to leave a swirled affect all the way around. I used autumn inspired florals and a tiny pumpkin on top. To finish the open edge I used gold sprinkles.
A few things worth mentioning:
Due the the moist nature of this cake the layers have a bit of weight to them which makes them a little easier to break when moving and placing them on the cake. So be gentle and make sure they are supported well while moving and placing them.
My original intention was to have 6 layers but as you can see by the photos I ended up with 5. That is because I didn't put as much batter in the third cake pan and it didn't bake high enough to cut the layer in half. Not a big deal just wanted to explain as it could be something you encounter as well.
If you don't like cutting cake layers in half horizontally you don't have to. A 3 layer cake will be just as delicious and beautiful. Just make sure though that you at least cut off the humps that form on top during baking so you have a nice flat surface to frost.
Enjoy this cake for Thanksgiving or for any occasion!
Enjoy!
Stacey
A Few more pumpkin cake recipes:
Pumpkin Spice Cake With Salted Brown Sugar Buttercream
Pecan Pumpkin Bread with Pumpkin Spice Cream Cheese Glaze
Pumpkin Spice Mini Bundt's With Baileys Pumpkin Spice Glaze
Some items that may help you make this cake (please note that the below are Amazon affiliate links which means I get a small commission at no charge to you if you chose to purchase using the below link).

PIN IT FOR LATER! Thanks.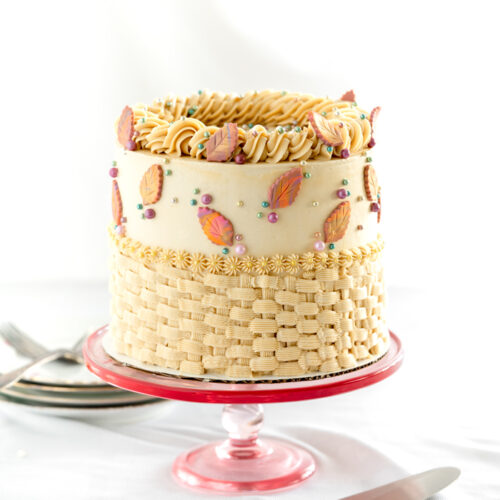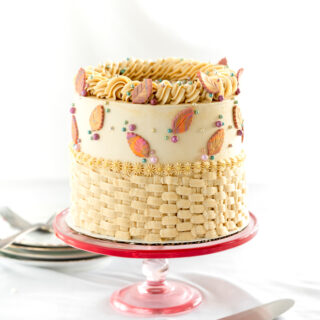 Pumpkin Cake with Salted Caramel Bourbon Buttercream
Pumpkin Cake with Salted Caramel Bourbon Buttercream. The only dessert you'll ever need this Thanksgiving (or any day).| thesugarcoatedcottage.com
Ingredients
CAKE:

2

cups

all purpose flour

2

tsp

baking soda

1/4

tsp

salt

2

tsp

cinnamon

1/4

tsp

cloves

1/2

tsp

ginger

1/2

tsp

nutmeg

4

large eggs room temp

2

cups

sugar

1

cup

canola oil

or vegetable oil

2

cups

pumpkin puree

1/2

tbsp

vanilla extract

BUTTERCREAM: you will need 2 batches of the below recipe.

1

cup

unsalted butter

room temp

2

lbs

powdered sugar

1/4

cup

caramel sauce

I like Sanders

2

tbsp

good quality bourbon

1/4

tsp

salt

2

tbsp

milk

adjust quantity as needed based on consistancy desired.

1/2

tbsp

vanilla extract

GARNISH:

metalic sprinkles

flowers and mini pumpkin
Instructions
Preheat oven to 350 degrees.

Grease and flour 3 x 7 inch cake pans, line bottoms with parchment paper.

CAKE:

In medium bowl add the flour, baking soda, salt, cinnamon, cloves, nutmeg, ginger. Stir with whisk to mix, set aside.

In bowl of mixer fitted with the paddle attachment add the eggs, sugar and oil. Mix on med-high speed for 5 minutes scraping down the sides of bowl as needed.

Bring mixer down to low speed, slowly add in the flour, scrape down side of bowl as needed.

Mix in the pumpkin puree and vanilla.

Mix all well to combine, about 1-2 minutes.

Scrape down sides of bowl if needed.

Pour evenly into three prepared pans.

Bake 25-30 minutes or until toothpick inserted comes out clean. Rotate cake pans half way through baking.

Cool completely.

BUTTERCREAM:

Mix butter on medium speed until light and fluffy.

With mixer on low speed add in the powdered sugar one heaping spoonful at a time. Alternate with caramel sauce. Add the salt, vanilla and bourbon. If needed (buttercream too thick) add in the milk 1 tbsp at a time until the right consistency is reached. (buttercream should be soft and spreadable but able to hold a shape if piped)

Scrape down the sides of the bowl as needed. Mix until completely smooth and creamy and well combined.

Cut humps off of cake layers if necessary and cut each layer in half horizontally so you have 6 cake layers (this is optional you can opt to not cut the cake layers in half for a 3 layer cake). Put a small smear of buttercream onto your cake board/plate (this will help keep the cake in place). Place the first cake layer on the cake board/plate.

Spread a large dollop of buttercream on top and spread evenly to the edges of the cake. Place next cake layer on top and spread with buttercream.

Repeat with with remaining cake layers until all are stacked. (NOTE - due to the moist nature of this cake the layers have a little weight to them and can break while moving/placing them so be careful of this by supporting them well while moving/placing them).

Once all the layers are in place apply a crumb coat of buttercream around the top and bottom of cake. Refrigerate at least 45 min. (Crumb coat gives a nice smooth base to work with when ready to apply final coat of buttercream and decorate).

Make your second batch of buttercream if needed. Apply final coat of buttercream.

If doing proceed with the piped border around the bottom.

Decorate with sprinkles, pumpkin and flowers.

Keep in cool dry place. If refrigerating take out 1 hours prior to serving.