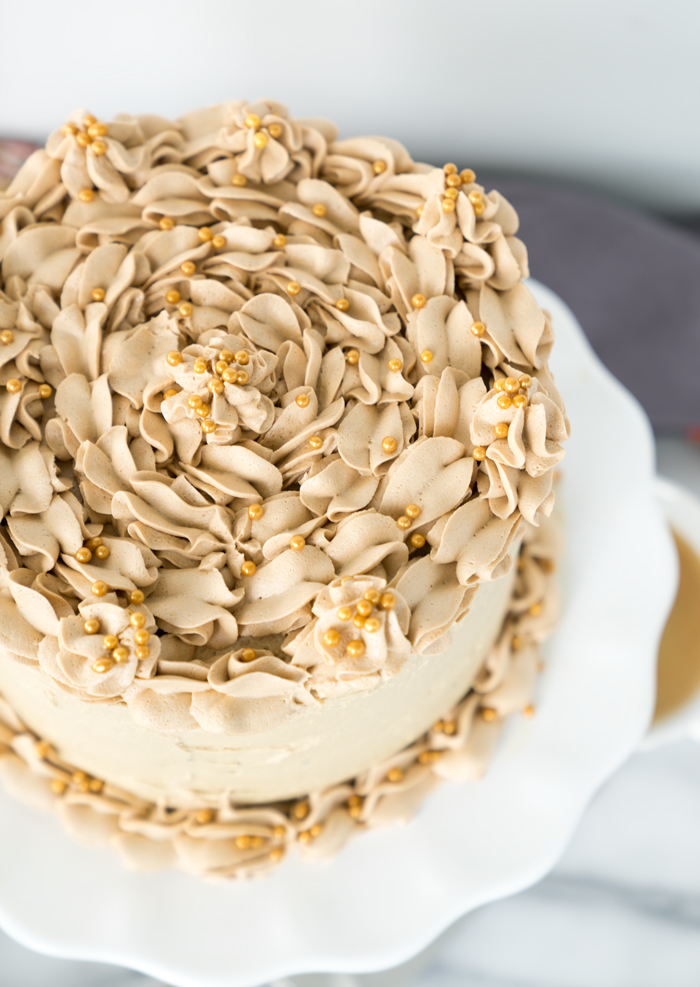 Black Cocoa Chocolate Espresso Cake. Deep, dark, delicate crumbed chocolate cake enrobed in a blanket of rich, creamy espresso cream cheese frosting.
Now this my friends is how you start a Tuesday (Wed, Thurs, Fri, Sat, Sun or Mon)! This has become my most favorite cake and I don't say that lightly because I love my cake, all of them but this one I cannot get enough of. Its super moist, has a tender crumb and a deep, rich chocolate flavor and color. The frosting is super creamy and espresso flavor pairs perfectly with the chocolate cake and the cream cheese in the icing brings a light tang that balances all the sweet.
Secret ingredient.. Black Cocoa! Well maybe not so secret since it's in the title 😉 . This cocoa lives up to its name, its black and I think it adds a good depth to this chocolate cake in flavor and color. I adjusted my cake recipe to 50/50 regular cocoa powder and Black Cocoa! Perfection!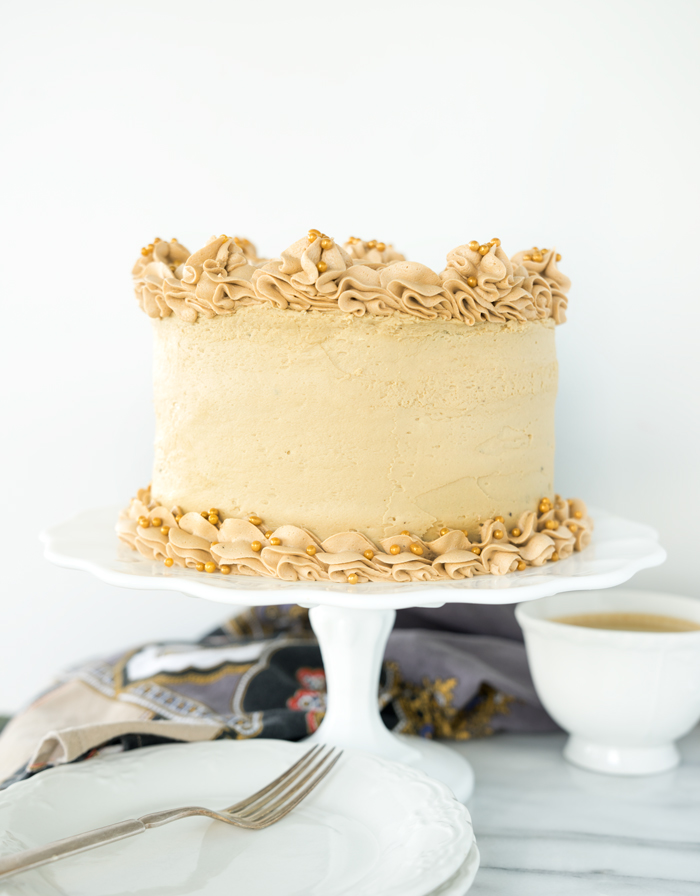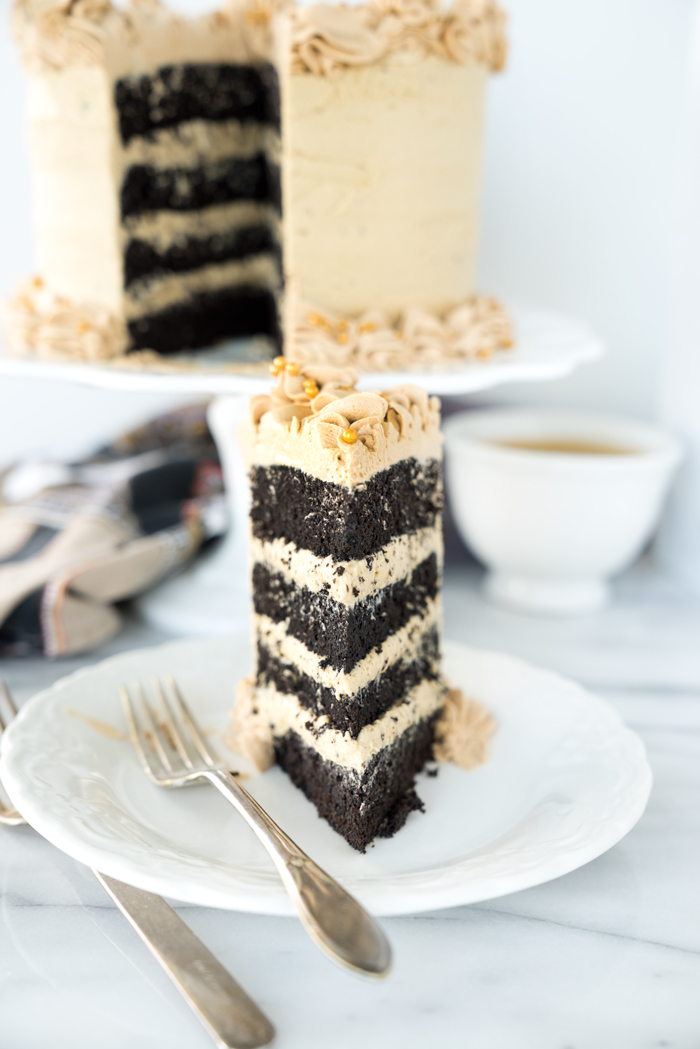 Each bite of this cake melts in your mouth, its hard to tell where the cake starts and where the frosting begins but since they all work together like a glorious symphony it doesn't really matter because like a symphony you wouldn't separate the instruments from each other or they just wouldn't sound the same. So what I am trying to say is that this Black Cocoa Chocolate Cake needs the Espresso Cream Cheese frosting!!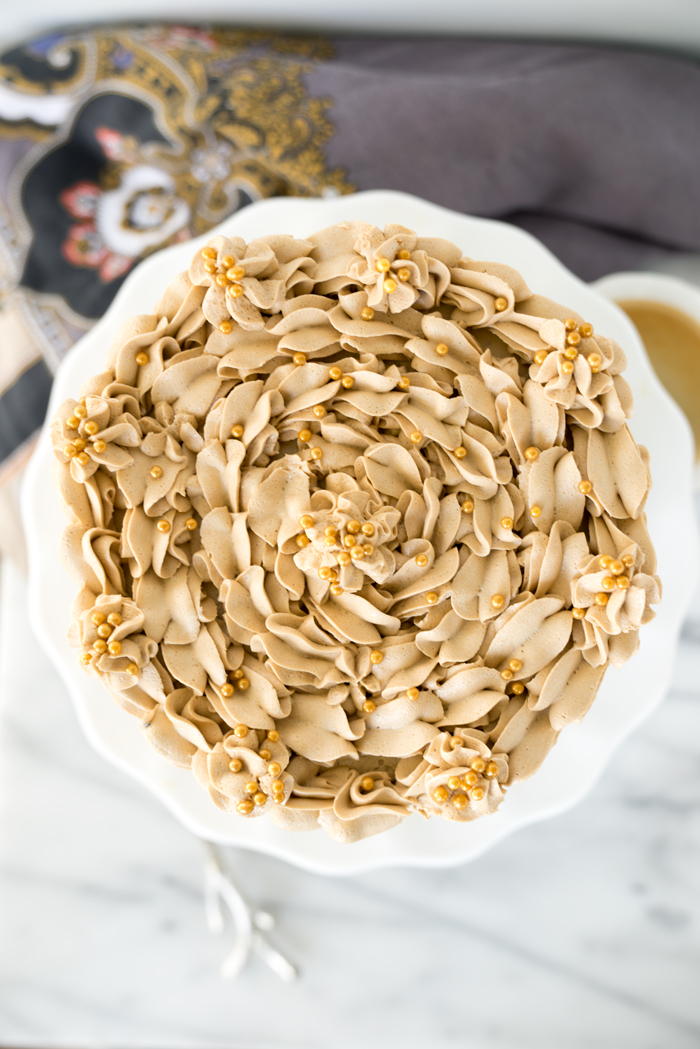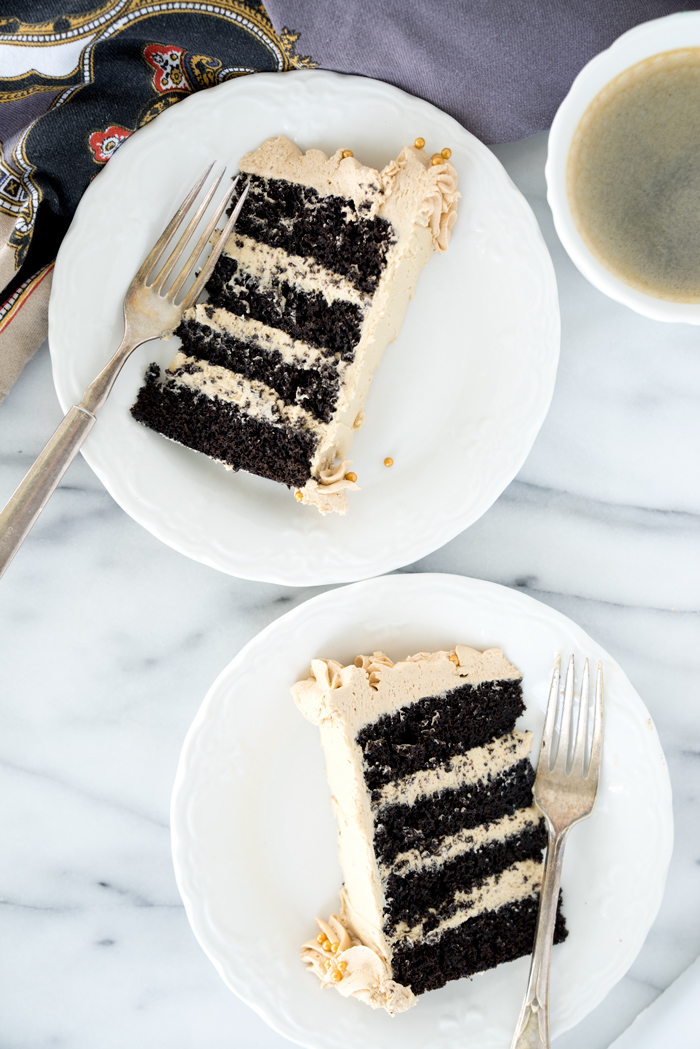 I hate to admit it but I ate enough of this cake this past weekend that I am now officially paying for it by eating salad for breakfast, lunch and dinner but it was worth it!
You won't be able to stop at one slice!
Enjoy!
Stacey
*************************************************************************************************************
Here are some of the products that helped me create this amazing cake, they could help you to!
King Arthurs Black Cocoa – Talk about adding luxury and richness to any cocoa related dessert. I recently found this black cocoa and am obsessed with it. Just look at the color of this cake!
King Arthur Espresso Powder – This is my preferred espresso powder.
Wilton Gold Sugar Pearls – these are so classy on any dessert and I love that their gold color is on the darker side.
Wilton Piping Bag – I like the 16 inch piping bags, I don't have to refill them as often as the smaller.
Wilton Piping Tip 2D – This is the tip I used on this cake.
Please note some of the links above are affiliate links which means if you purchase from the link I get a small commission. I use these products and stand behind them which is why I chose to tell you about them. Thank you for your support.
FORGOT TO PIN IT? Here you go! Thanks!
Yum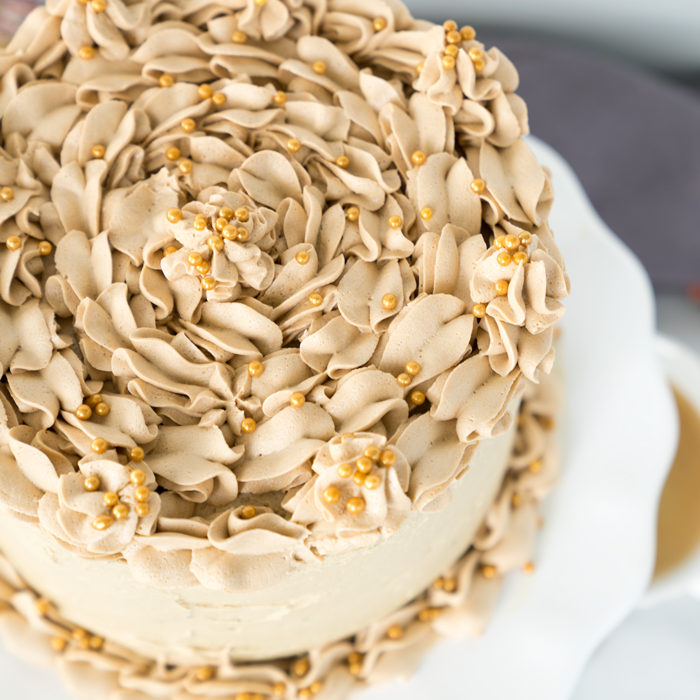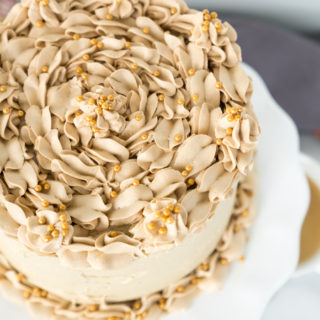 Black Cocoa Chocolate Espresso Cake
Black Cocoa Chocolate Espresso Cake. Deep, dark, moist and delicious chocolate cake enrobed in a blanket of creamy espresso cream cheese buttercream.
Ingredients
CAKE:

2 1/2

cups

cake flour

2

cups

sugar

1/4

cup

+ 2 Tbsp cocoa powder

1/4

cup

+ 2 Tbsp black cocoa powder

1

tsp

baking powder

1

tsp

baking soda

1

tsp

salt

4

large eggs

3/4

cup

vegetable oil

1

Tbsp

vanilla paste

1 1/4

cup

brewed coffee

cooled.

FROSTING:

12

oz

cream cheese softened

1 1/2

cup

butter softened

4 1/2

tsp

espresso powder

3

Tbsp

Kahlua

coffee liqueur

3

lb

powdered sugar
Instructions
Pre heat oven to 350 degrees F

Lightly grease 2 - 7 inch cake pans and line bottoms with parchment.

In bowl of mixer add the flour, sugar, cocoas, baking powder, baking soda and salt.

In a medium bowl add the eggs, oil, vanilla and coffee, stir to combine.

With mixer on low slowly pour the liquids into the dry ingredients.

Switch up to medium speed, mix until well combined.

Pour evenly into prepared pans.

Bake 38-42 minutes or until toothpick inserted comes out clean.

Cool completely.

FROSTING:

Cream butter and cream cheese until light and fluffy.

Add the espresso powder, continue mixing.

Slowly add in the powdered sugar one spoonful at a time.

Add in the Kahlua, continue mixing for about 2-3 minutes until frosting is creamy and smooth.

ASSEMBLY:

Cut off the round tops of cakes if need be.

Cut each cake horizontally to make a total of 4 layers.

Lay first cake layer on cake plate/board (add a bit of frosting underneath to hold the cake in place).

Spread or pipe a layer of frosting making sure to go to the edges, repeat with the remaining 3 layers.

With remaining frosting coat the sides of the cake using offset spatula.

Pipe shell border around the bottom, I used piping tip Wilton 2D.

Pipe decoration on the top, I used piping tip Wilton 2D. I did a shell border around the outside perimeter, then repeated by alternating the direction working my way inward toward the center of the cake.

Sprinkled with Wilton gold sugar pearls.

Keep cake in cool dry place until serving, can be refrigerated.
SaveSave
SaveSave
SaveSave
SaveSave
SaveSave
SaveSave
SaveSave
SaveSave
SaveSave
SaveSave
SaveSave
SaveSave
SaveSave
SaveSave
SaveSave
SaveSave
SaveSave
SaveSave
SaveSave
SaveSave