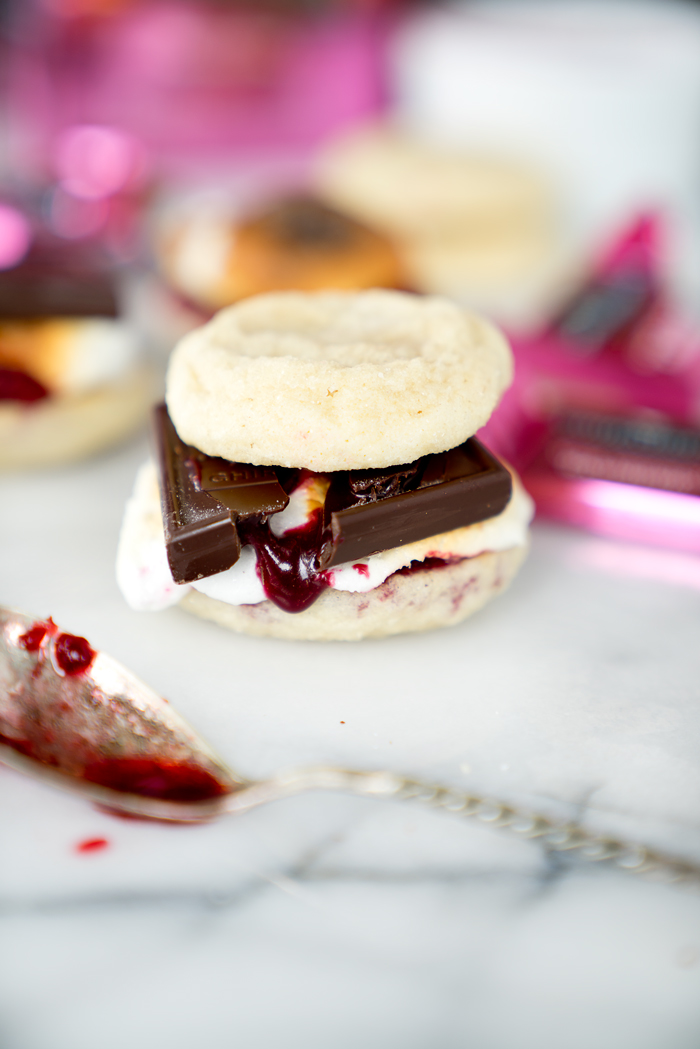 Dark Chocolate Raspberry Sugar Cookie S'mores. Soft, pillowy, buttery sugar cookies, chocolate, toasted marshmallows and homemade raspberry sauce make these the s'mores of your dreams.
Happy Friday! Happy Weekend! I love to add a twist to something traditional and these Dark Chocolate Raspberry Sugar Cookie S'mores are doing just that. These were inspired by a contest hosted by Ghirardelli. Using their chocolate squares you can show them your version of a s'more and of course the winner gets a bunch of awesome prizes. Fingers crossed, along with 1000+ others I'm sure 😉 .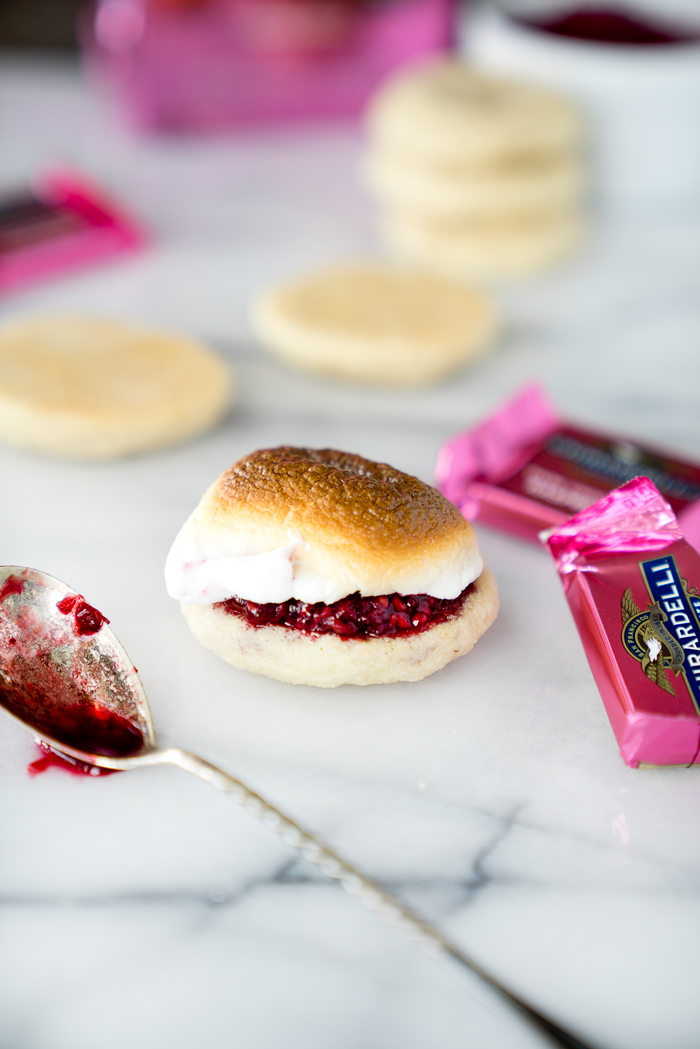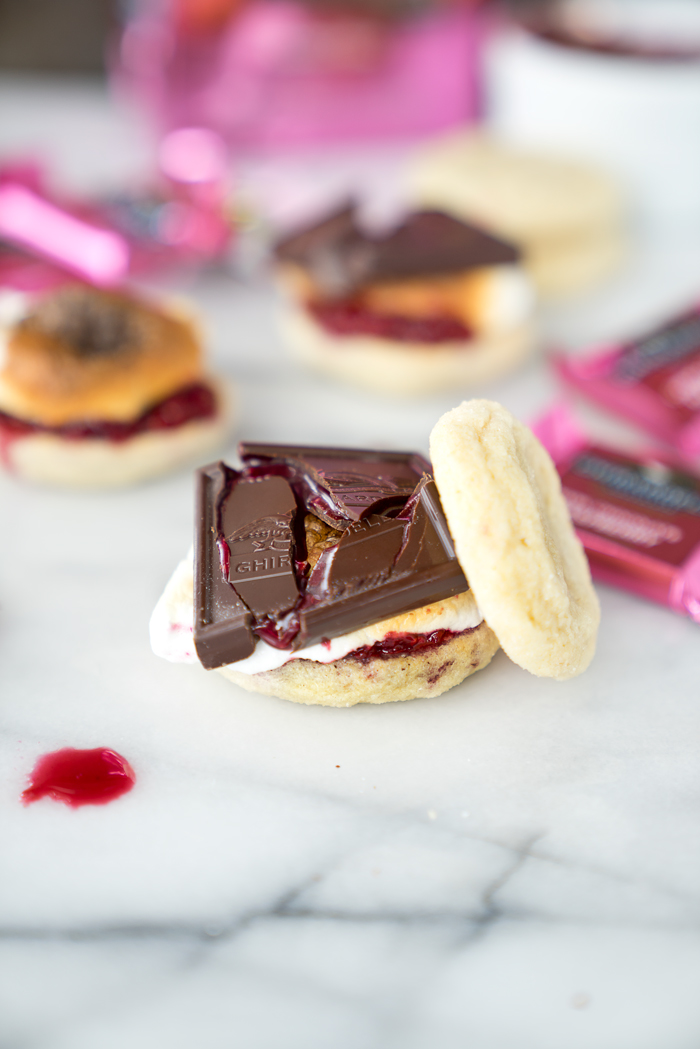 I've always been in love with Ghirardelli's Dark Chocolate Raspberry Squares so that is where I started. Pairing that with the traditional toasted gooey marshmallow was heaven enough but we need that magical cookie to sandwich it between. In comes the super soft, buttery, sugar cookies. Oh and one more thing… home made raspberry sauce.
Talk about a home run!! We have dark chocolate, raspberry fillings, gooey marshmallows, soft melt in your mouth buttery cookies! This is a wonderfully delicious new take on a traditional classic s'more and with summer at its peak season for fruit we have to eat as many raspberries as we can, right?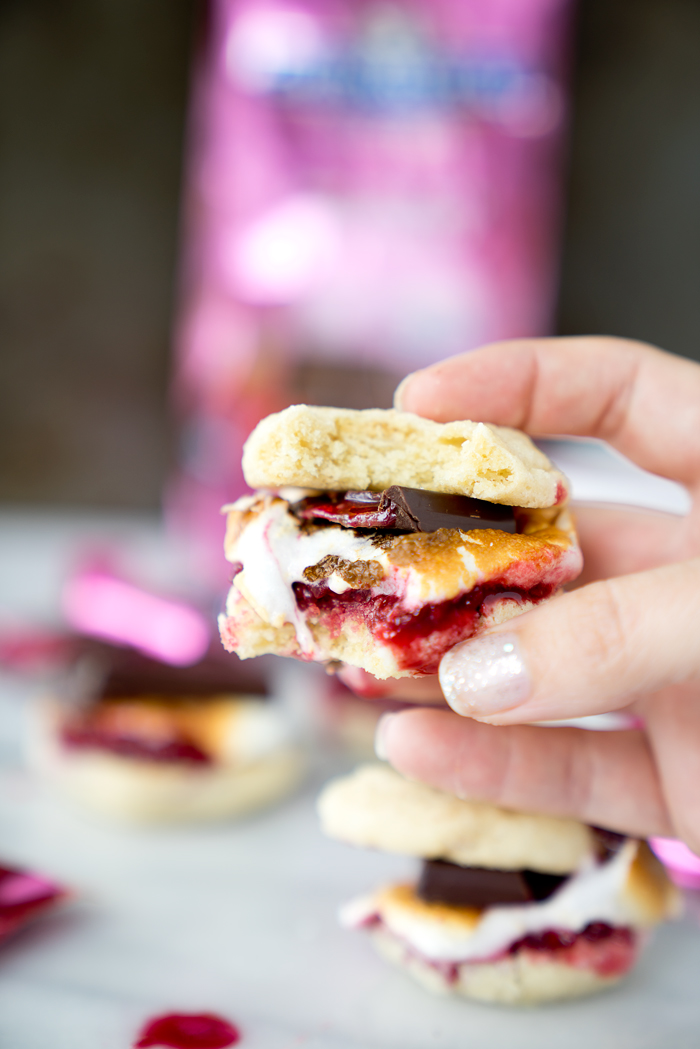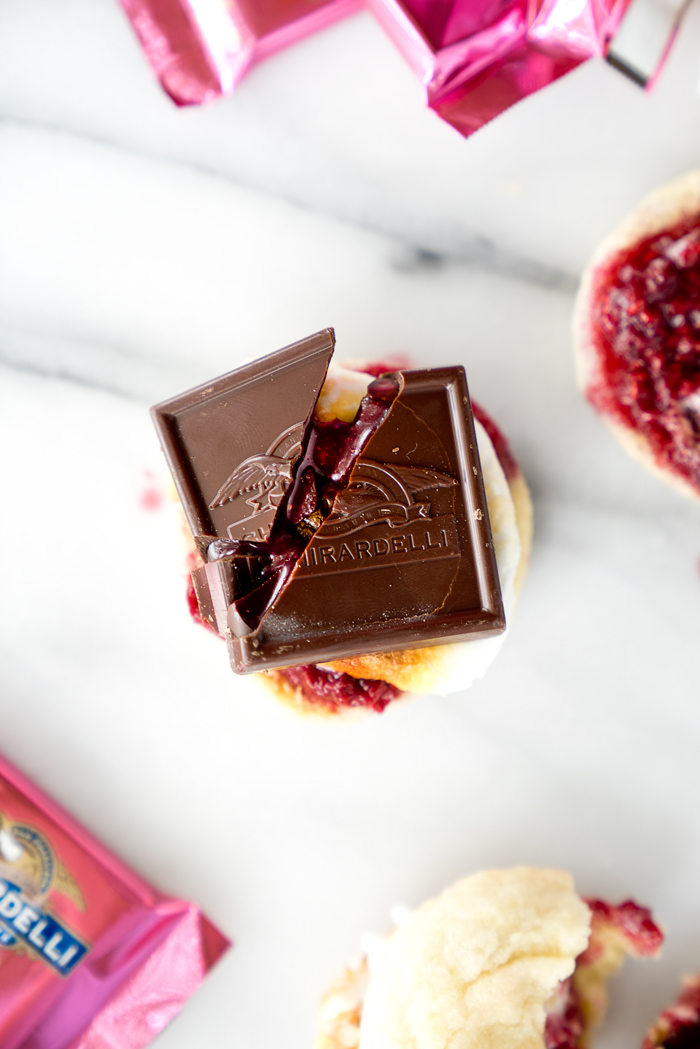 Enjoy these campfire side, bonfire side or kitchen table side. Anywhere you eat them you're going to love them.
Enjoy!
Stacey
FORGOT TO PIN IT? Here's you go! Thanks.
Yum


Raspberry Sugar Cookie S'mores
Raspberry Sugar Cookie S'mores. Soft, pillowy, buttery sugar cookies, toasted marshmallows and homemade raspberry sauce make these the s'mores of your dreams.
Author:
Stacey Thimmes - The Sugar Coated Cottage
Ingredients
COOKIES:
½ cup butter, room temperature
½ cup sugar
1 egg
2 tsp vanilla extract
1 and ¼ cup all purpose flour
¼ tsp baking powder
¼ tsp baking soda
Extra sugar for rolling
RASPBERRY SAUCE:
1 cup of frozen raspberries
½ cup sugar
ASSEMBLY:
18 Ghirardelli Raspberry Dark Chocolate Squares
18 toasted marshmallows
Instructions
Pre heat oven to 325 degrees F
Line cookie sheets with parchment paper
Add extra sugar to shallow dish for rolling
COOKIES:
With mixer on medium cream butter and sugar until light and fluffy.
Add in the egg,vanilla, mix to combine.
In separate bowl put flour, baking powder, baking soda, stir to combine.
With mixer on low slowly add the flour mixture to butter mixture, mix until well combined.
Roll into 1 in balls and roll in sugar.
Place on baking sheet about 2 inches apart.
Bake for 7-9 minutes until edges are lightly browned.
Let cool.
RASPBERRY SAUCE:
Add raspberries to sauce pan and heat on low/med heat. Add sugar. Stir and let raspberries melt and start to liquify. Keep at a low simmer, stirring often.
Simmer until mixture is reduce by half.
If you desire you (I did not) can remove seeds by straining the mixture through a strainer over a bowl.
Let cool.
ASSEMBLY:
Pair up cookies, place spoonful of raspberry sauce on bottom cookie, followed by a marshmallow, followed by Ghirardelli chocolate square, top with top cookie.
Enjoy!
Notes
I broiled my marshmallows. Put the rack one level above half, place marshmallows on parchment line cookie sheet. Pop into the oven and broil for 1 minute, watch carefully, they toast fast and every oven is different. Move quickly as marshmallows will start to collapse so you want to get them on the cookie before this happens if you can.
SaveSave
SaveSave
SaveSave
SaveSave
SaveSave
SaveSave
SaveSave
SaveSave
SaveSave
SaveSave
SaveSave