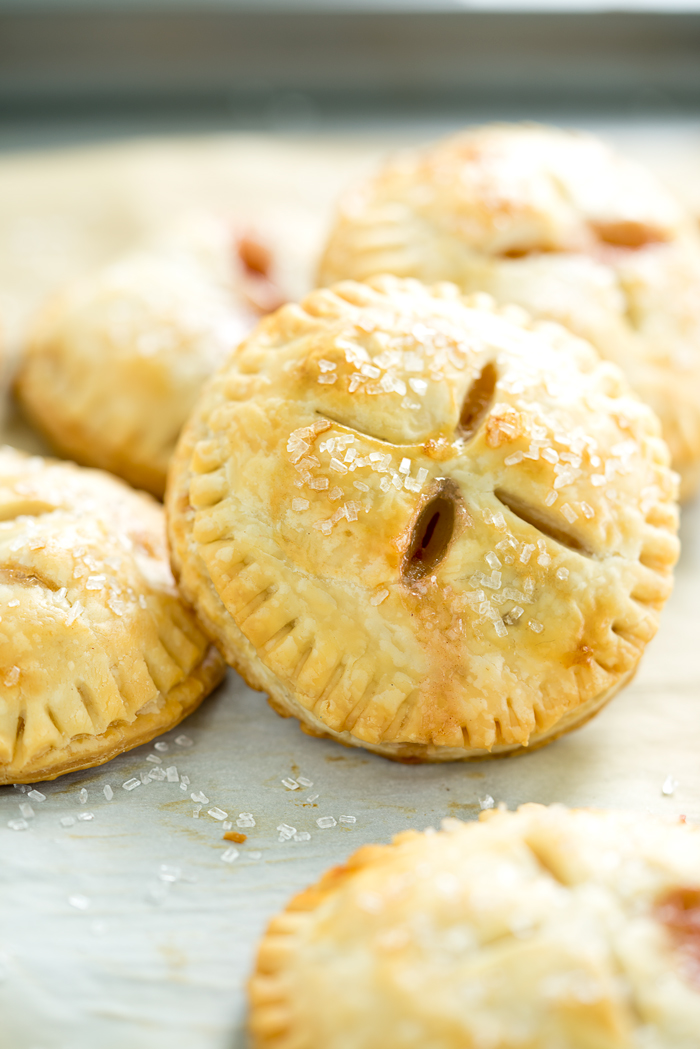 Easy Peachy Hand Pies. Sweet, juicy, ripe peaches in cute little individual buttery crusted hand pies.
Happy Friday everyone! I'm a little excited as you can tell. Is it the fact it's Friday or is it these Easy Peachy Hand Pies? I like to cover my bases so let's go with all of the above!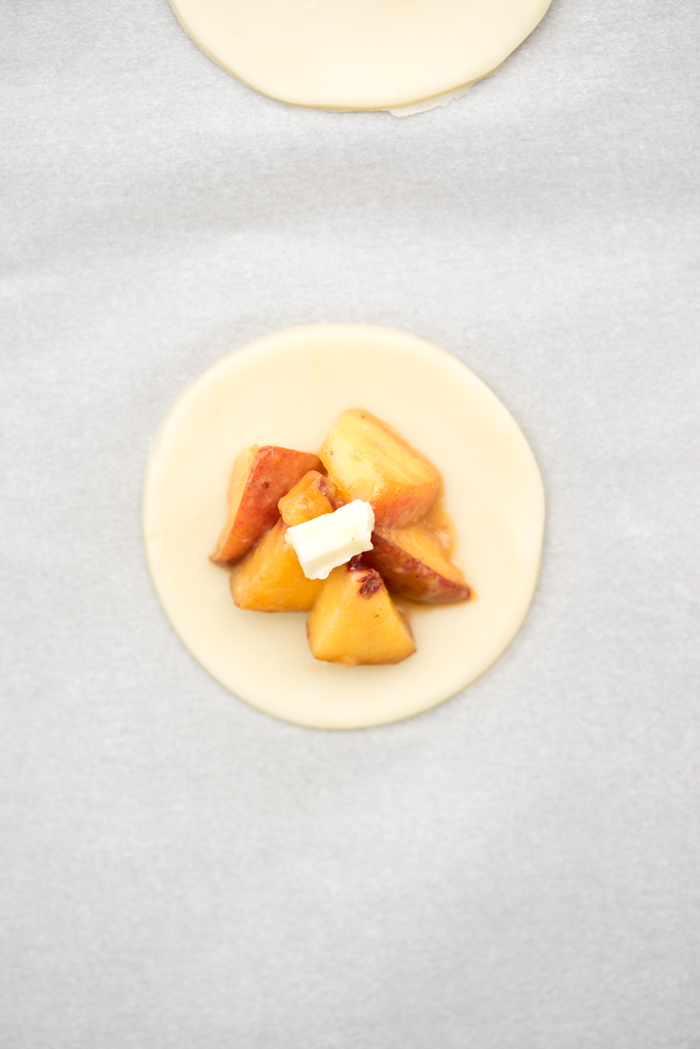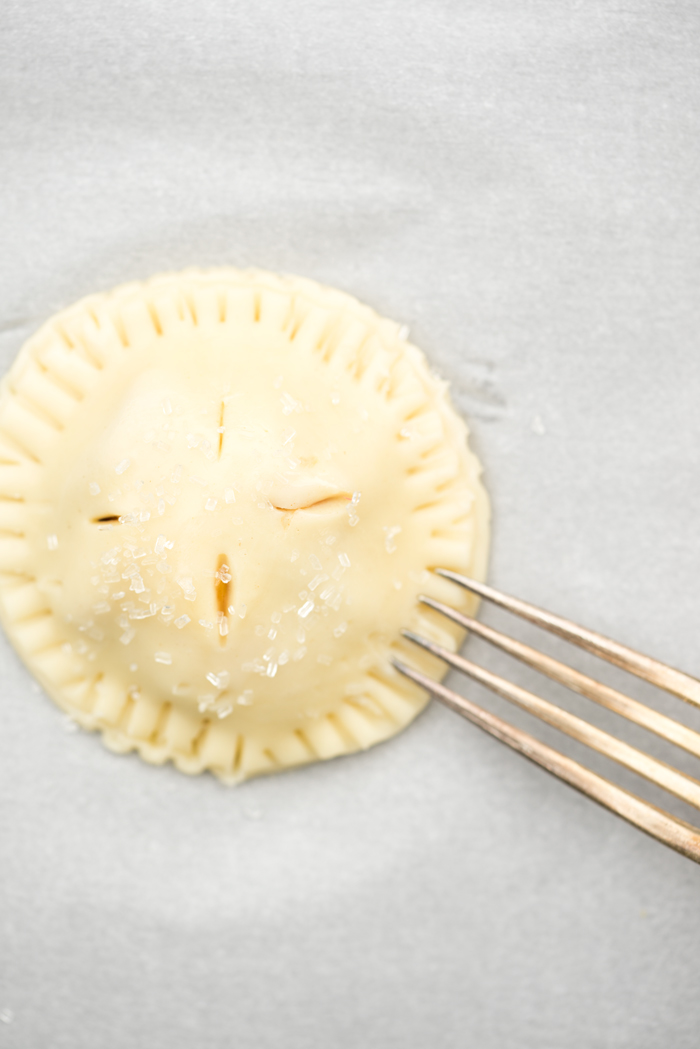 I find myself once again this week hoarding fruit like a squirrel hoards nuts. I want to get it all in before fall is upon us, I love you fall but I am not ready for you. These Easy Peachy Hand Pies are the perfect way to incorporate natures finest, sweetest, juiciest fruit… the peach! The peach by itself is superb fruit but wrap it in a sprinkling of sugar and a buttery crust with sugar crystals and now its off the charts delicious!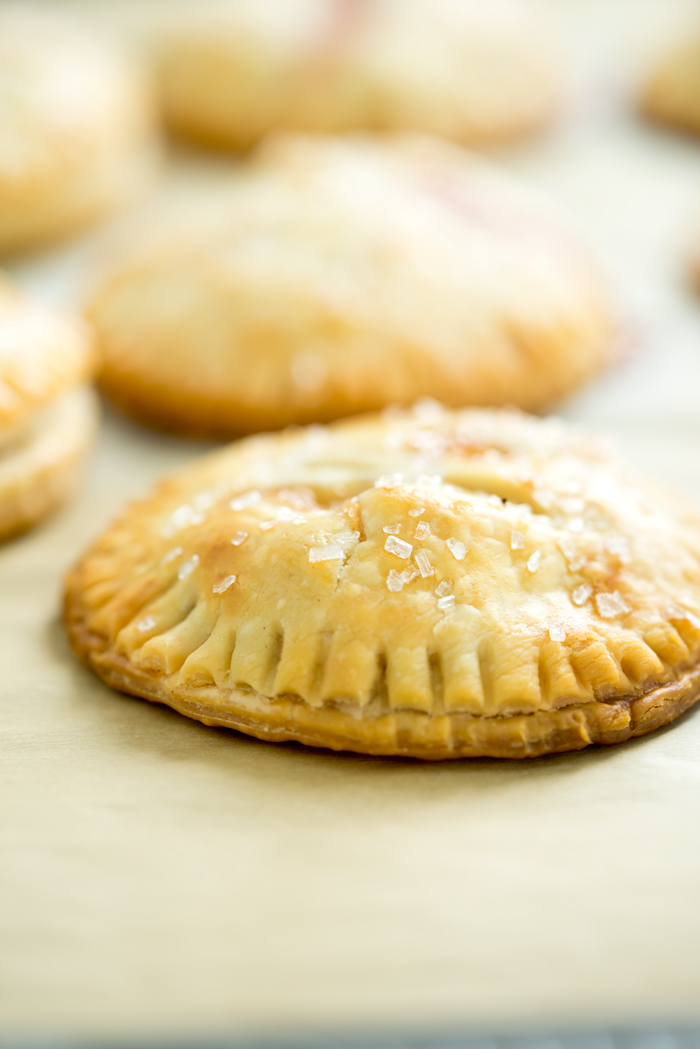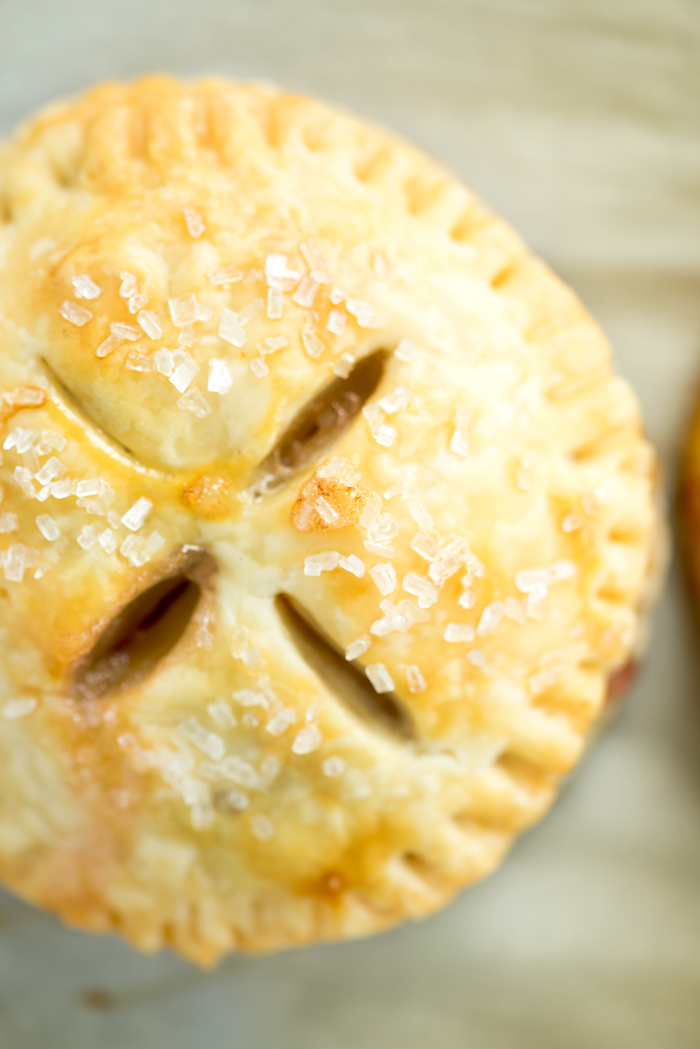 The process of making hand pies is pretty simple, roll out dough, cut out dough rounds, make the sweet peach mixture, assemble and bake. Of course there's a few more steps but this sums it up in a nutshell. They bake up beautifully and that little but of bubbly juice that oozes from the tops is heavenly, its proof something magical is happening under there.
I completely recommend eating these warm if you can. Warm, sweetened peaches are so delicious, almost luxurious. Especially when paired with a buttery flaky crust and that little bit of sugar crystal crunch. Y-U-M!!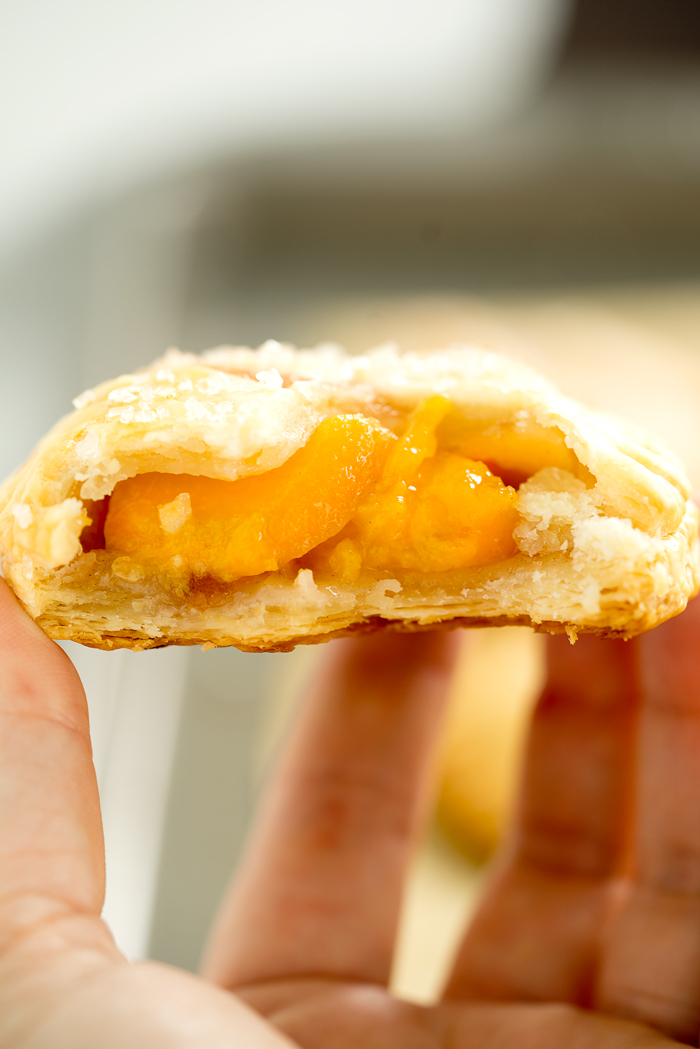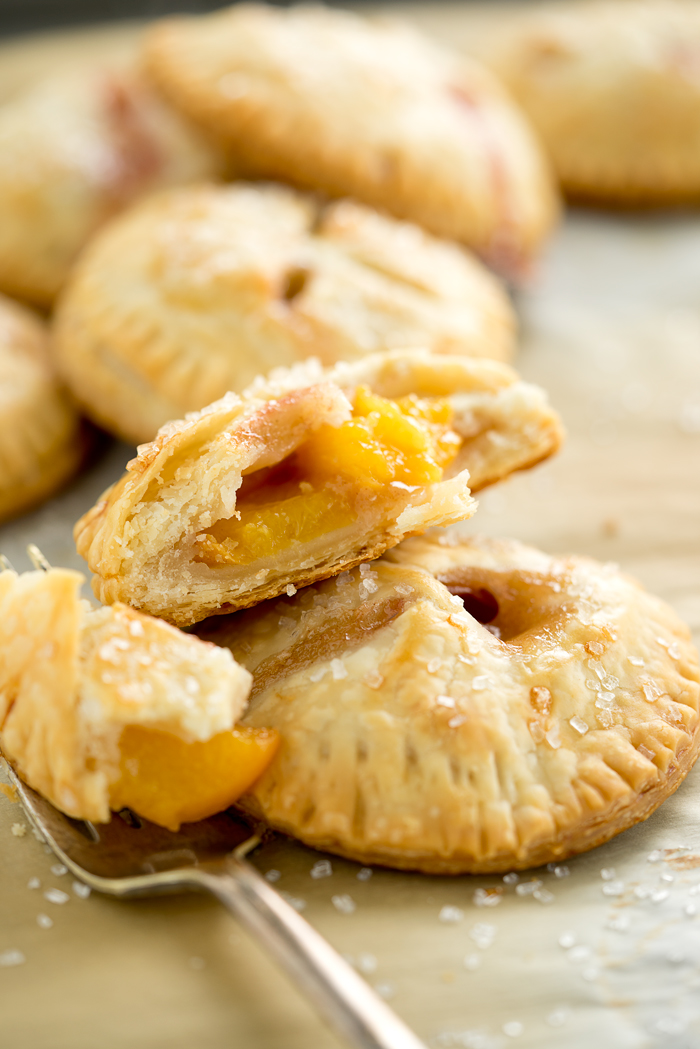 Enjoy these Easy Peachy Hand Pies with your friends, family or keep them all to yourself, I won't judge.
Enjoy!
Stacey
FORGOT TO PIN IT? Here you go. Thanks!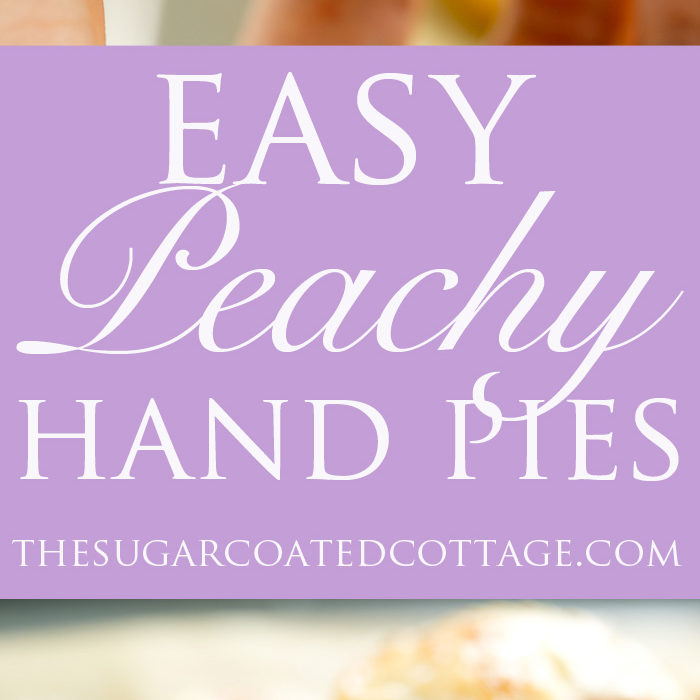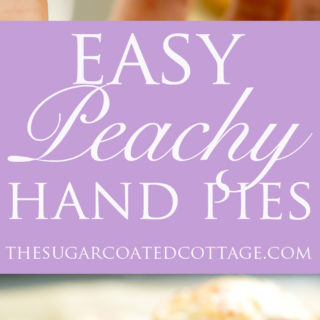 Easy Peachy Hand Pies
Easy Peachy Hand Pies.
Ingredients
2 -

Pie crusts either your favorite recipe or store bought. I used store bought

1 box.

2

peaches diced

1

Tbsp

flour

1/2

Tbsp

brown sugar

1/2

Tbsp

granulated sugar

1/2

tsp

cinnamon

1

Tbsp

cold butter cut into 10 cubes.

1

egg white

Sanding sugar
Instructions
Pre heat oven to 425 degrees F.

Line 2 baking sheets with parchment paper.

In medium bowl add the diced peaches, sugars, flour and cinnamon. Mix will so all the peaches are coated.

Roll out pie dough, if using store bought this is already done.

Using a 3 1/4 inch biscuit cutter, cut out 20 rounds (this will give you 10 tops and 10 bottoms).

You will need to re-roll out dough scraps again to use all the dough.

Lay out the rounds in pairs, on the 10 top rounds cut four 1/2 inch slits on the top, this will release air while baking.

On the the 10 bottom rounds scoop 1 to 1 1/2 Tbsp of the peach mixture onto the round.

Place one tiny cube of butter on top of each peach mound.

Dip your finger in the egg white and go around the outer edge of the bottom dough round, this will help the top dough stick to the bottom.

Place top dough round on top, press slightly down and with a fork press the top dough down onto the bottom dough round.

Rub egg wash onto the top of each pie and sprinkle with sanding sugar.

Bake 15 minutes or until edges and tops are golden brown and filling is bubbling.

Cool.
SaveSave
SaveSave
SaveSave
SaveSave
SaveSave
SaveSave