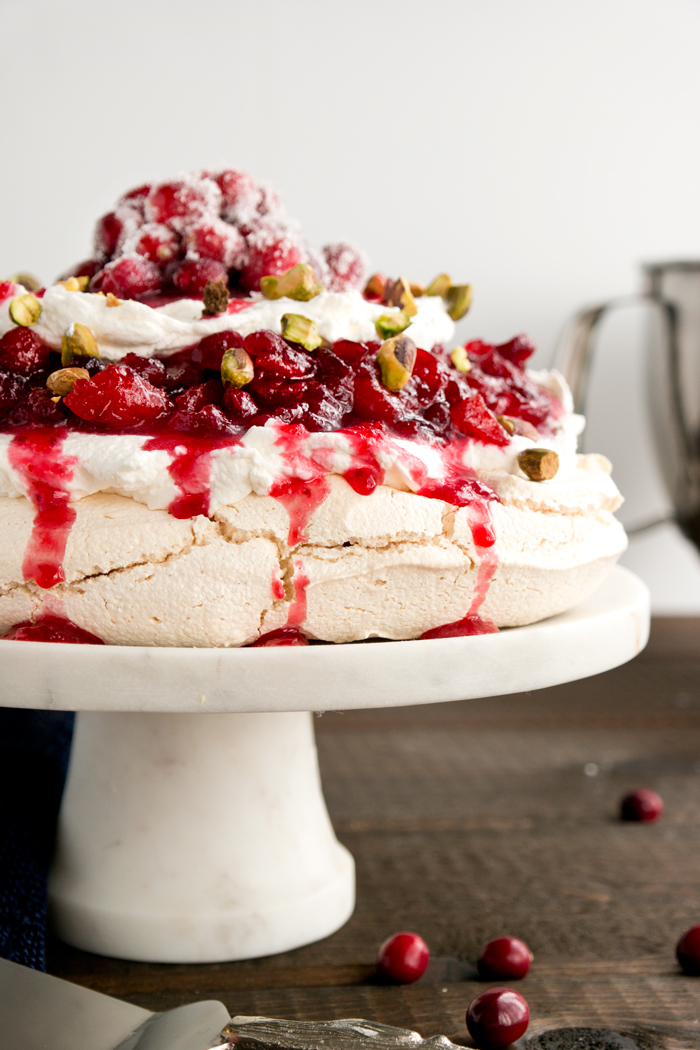 Cranberry Peach Pavlova! Crunchy on the outside, chewy on the inside meringue. Tart cranberries sweetened with peaches and all brought together in a pillow of fresh whipped cream.
[social_share/]Yum

Can Christmas really only be in 3 1/2 weeks? Is everyones shopping done? At least started? I personally have been using Amazon. I have to admit I miss the thrill of the "hunt" but Amazon just makes my life so much easier. I find everything I need, it all ships to me and it took me 30 minutes tops. Now I just need to find a little elf to wrap it all for me, I'm too frugal to pay Amazon to do it for me, lol, I have my limits.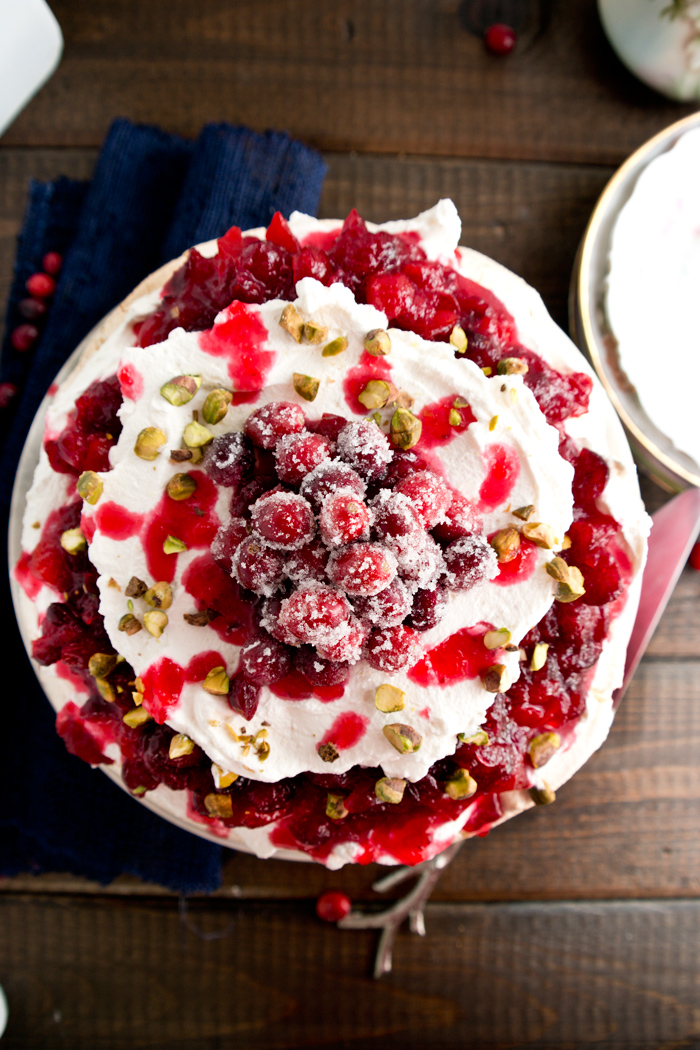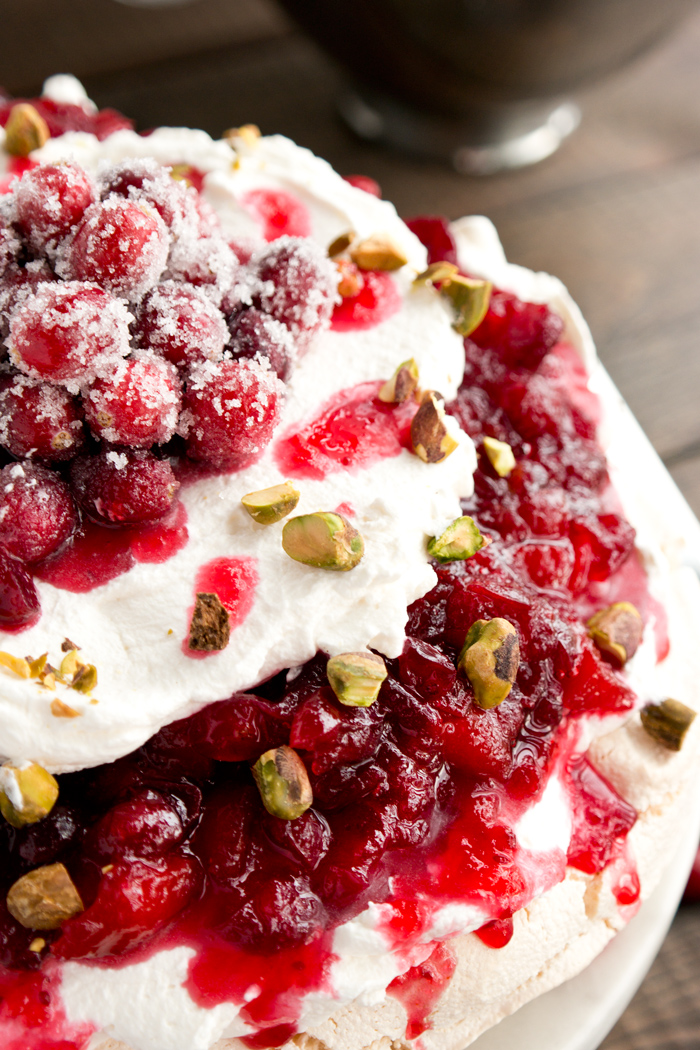 One thing to keep on your list for the Christmas meal is this Cranberry Peach Pavlova. If you want a little bit of a lighter dessert and are obsessed with meringue like I am, this is the dessert for you.  It has all the wonderful complementary textures, crunchy, chewy, cool and bursting berries. Followed by the complementary flavors of tart, sweet and creamy.
I wanted to keep the tartness of the cranberry but didn't want it to taste exactly the same as what is served on Thanksgiving next to the turkey. Instead of using just sugar to sweeten the berries I used a combination of sugar, peaches, peach juice, maraschino cherries and cherry juice. This really added a wonderful fruitiness to the cranberries without over powering the tartness that I love.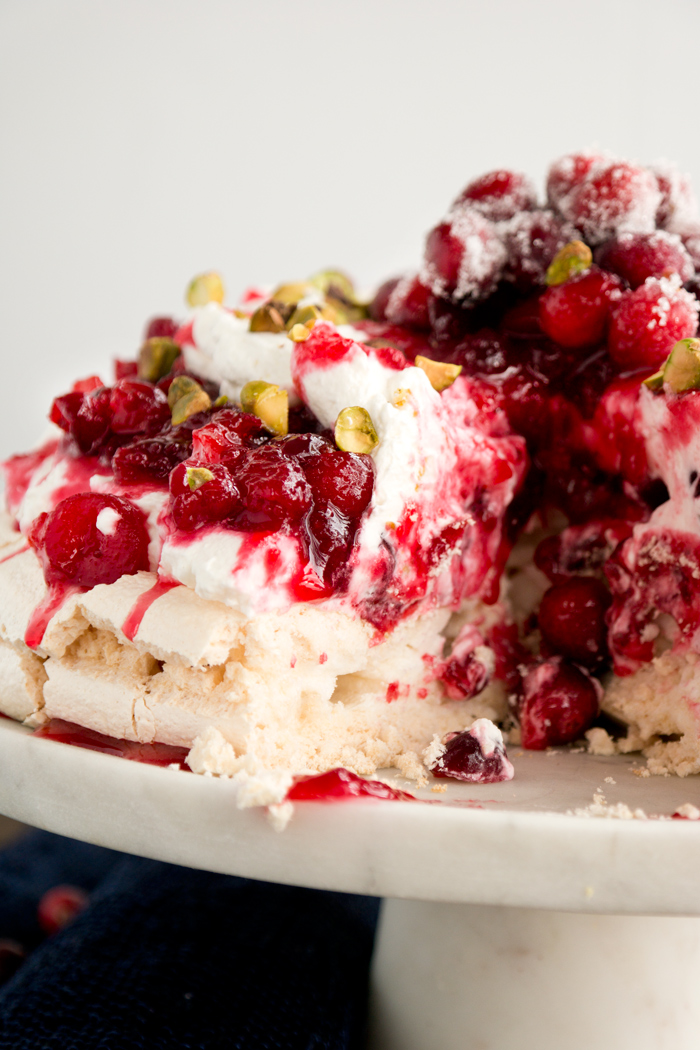 In addition to the wonderful taste of this dessert, the presentation is magical. It looks like a mystical dessert cloud. The fruit filling glimmers like rubies and the green in the pistachio garnish plays up the ruby red beautifully making it the perfect addition to your holiday dessert table.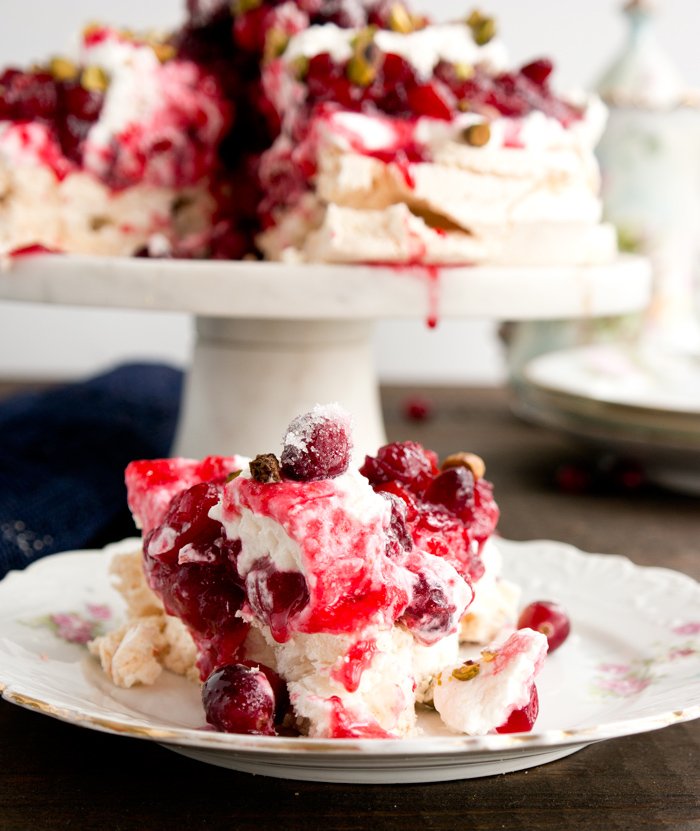 This Cranberry Peach Pavlova will impress the eye and delight the tastebuds!
Enjoy!
Stacey
FORGOT TO PIN IT? Here's your chance!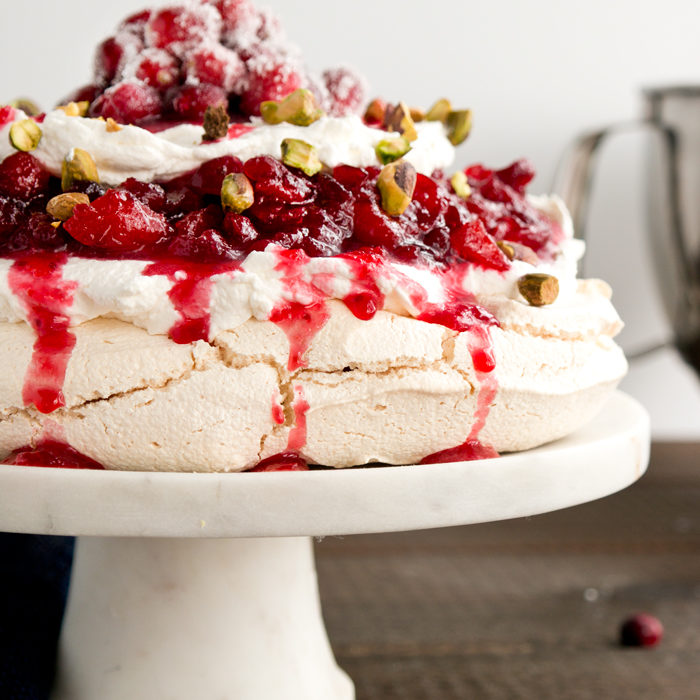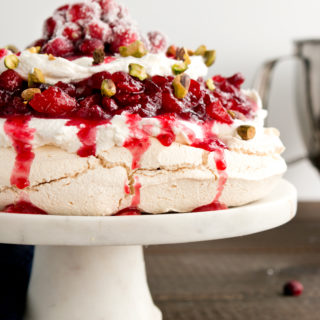 Cranberry Peach Pavlova
Cranberry Peach Pavlova! Crunchy on the outside, chewy on the inside meringue. Tart cranberries sweetened with peaches and all brought together in a pillow of fresh whipped cream.
Ingredients
PAVLOVA:

4

eggs whites room temperature.

pinch

of cream of tarter

1

cup

of sugar

1

tsp

vanilla extract

CRANBERRY FILLING:

1 12

oz

bag of fresh cranberries

1

cup

sugar

1/2

cup

water

1/2

cup

diced canned peaches

reserve the juice

1/4

cup

peach juice

from the canned peaches

1/2

cup

chopped maraschino cherries

1/4

cup

maraschino cherry juice

1

Tbsp

orange zest

WHIPPED CREAM:

1 1/2

cups

cold heavy whipping cream

3

Tbsp

powdered sugar

1

tsp

vanilla extract

GARNISH:

1/4

cup

sugared cranberries

1/4 cup cranberries, 1 Tbsp lemon juice, 2 Tbsp sugar

1/4

cup

chopped pistachios
Instructions
CRANBERRY FILLING:

In a large sauce pan add the cranberries, sugar, water, peach juice and cherry juice.

Bring mixture to a boil and boil for 7 minutes or until mixture is thickened.

Remove from heat and stir in the orange zest, peaches and the cherries.

Cool completely.

PAVLOVA:

Pre-heat oven to 300 degrees F.

Line baking sheet with parchment paper, trace an 8 inch circle on the parchment paper.

Flip the paper over so you can see the circle but it won't get on the pavlova. Set aside.

In the bowl of mixer fitted with whisk attachment add the egg whites and cream of tarter.

Whisk the eggs whites on high until soft peaks form.

With mixer on medium add in the sugar one Tbsp at a time.

Once all the sugar is added turn mixer to high and whisk until stiff peaks form.

Add in the vanilla and mix until combined.

Add the meringue to the circle on the parchment. Spread it out evenly.

Place in the oven and bake 60 - 70 minutes.

Remove from oven and let cool.

WHIPPED CREAM:

Add all ingredients to the mixing bowl, whisk on high until stiff.

SUGARED CRANBERRIES:

Put lemon juice in small shallow dish, add the cranberries, swirl them around until wet.

Add the cranberries to a small ziploc bag, add the sugar, shake around until coated.

Lay on baking sheet to dry.

ASSEMBLY:

Place pavlova on a cake plate or stand.

Spread the whipped cream over the top and spread evenly to about 1/4 inch from the edge. Leave about a 1 cup of whip for on top of the cranberry filling.

Spoon on the cranberry mixture, for presentation spoon some of the juice down the sides so it drips.

Add the remaining whipped cream.

Spoon about a 1/4 to 1/2 cup cranberry filling on top of whip.

Stack on the sugared cranberries and sprinkle with pistachios.
Notes
You may have some cranberry filling left over.
This is best made shortly before serving, once the juice from the fruit touches the meringue it will begin to soften it.