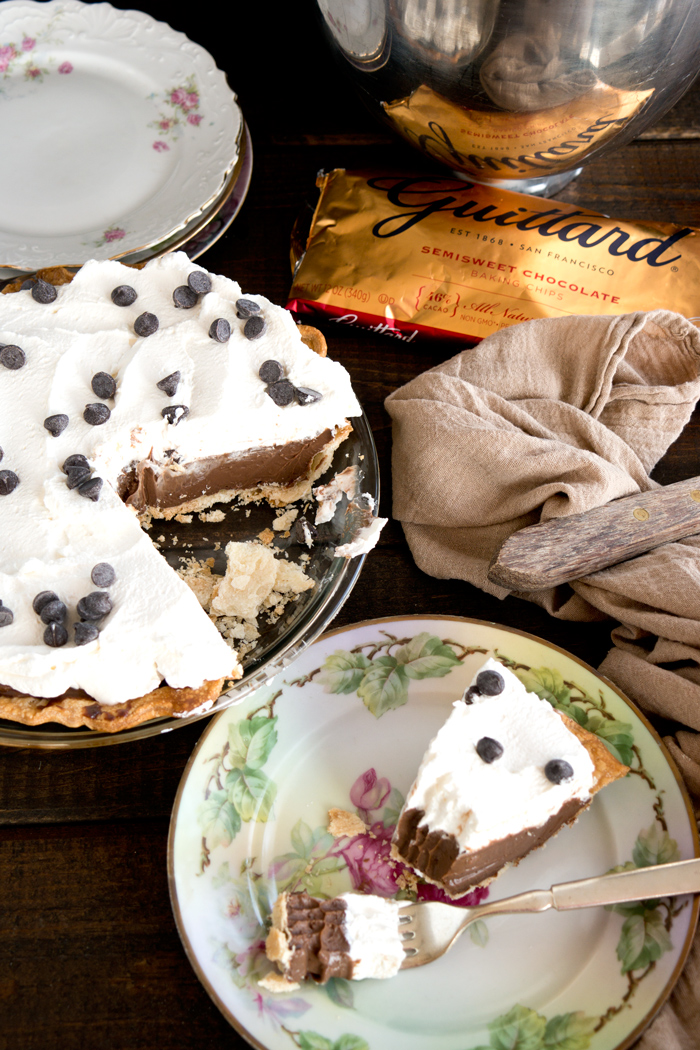 Silky Chocolate Cream Pie. Smooth and creamy deep chocolate filling topped with whipped cream! Classic favorite! [social_share/]Yum
Can everyone agree that we're so glad its Friday?! This post almost didn't get published, lots of crazy "lay off" happenings at work which means trying to learn new things to help where needed all the while wondering, "am I next..?". Needless to say the brain is exhausted and when the brain is exhausted procrastination sets in. But then I knocked some sense into myself and realized that nothing should get in the way of Silky Chocolate Cream Pie! So this post will be short but it will also be sweet!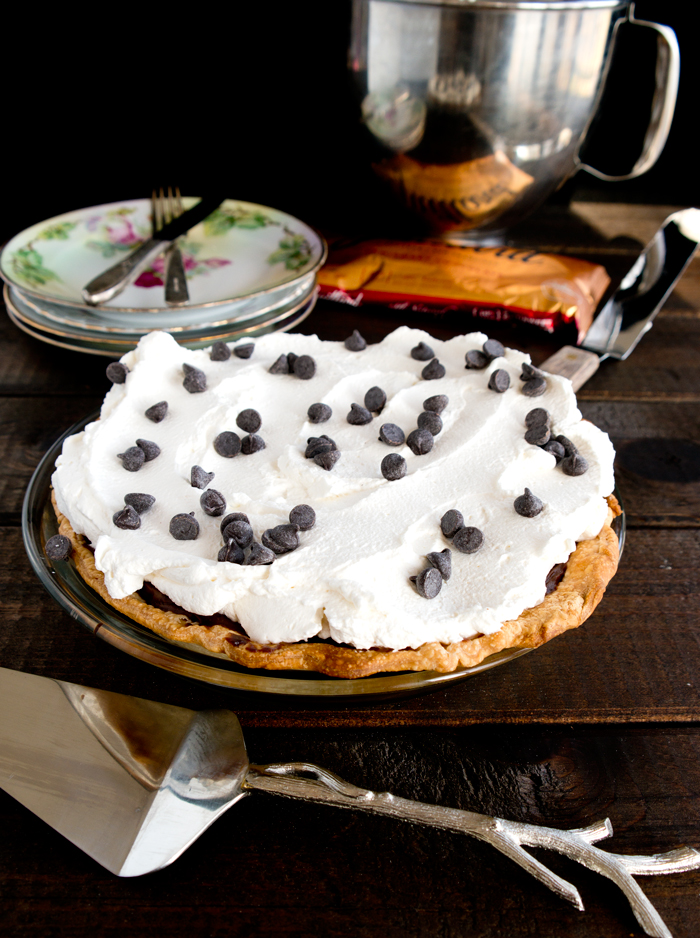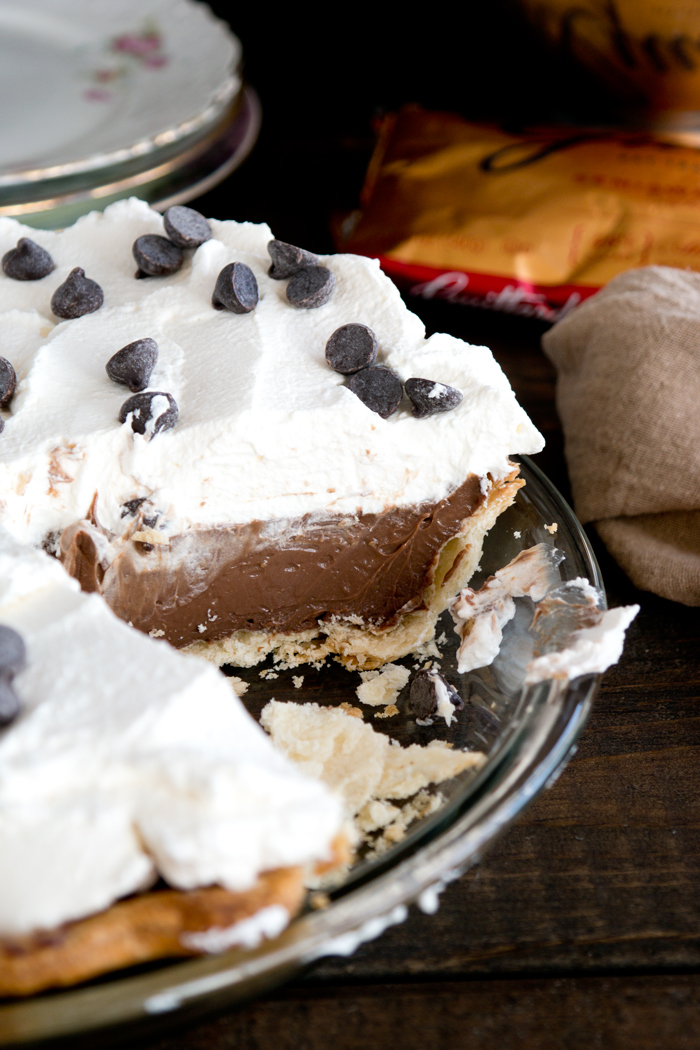 This pie is a classic and is everything soothing, comforting and delicious you could wish for! Creamy chocolate filling made from scratch. Cool whipped cream and buttery, flaky crust!! I can hardly contain my emotions as I begin to smile just describing how wonderfully delicious this Silky Chocolate Cream Pie is. I kept the crust unsweetened. The chocolate and whipped cream have plenty of sweet and the crust is a great equalizer. Its buttery, flaky and melts perfectly with each bite.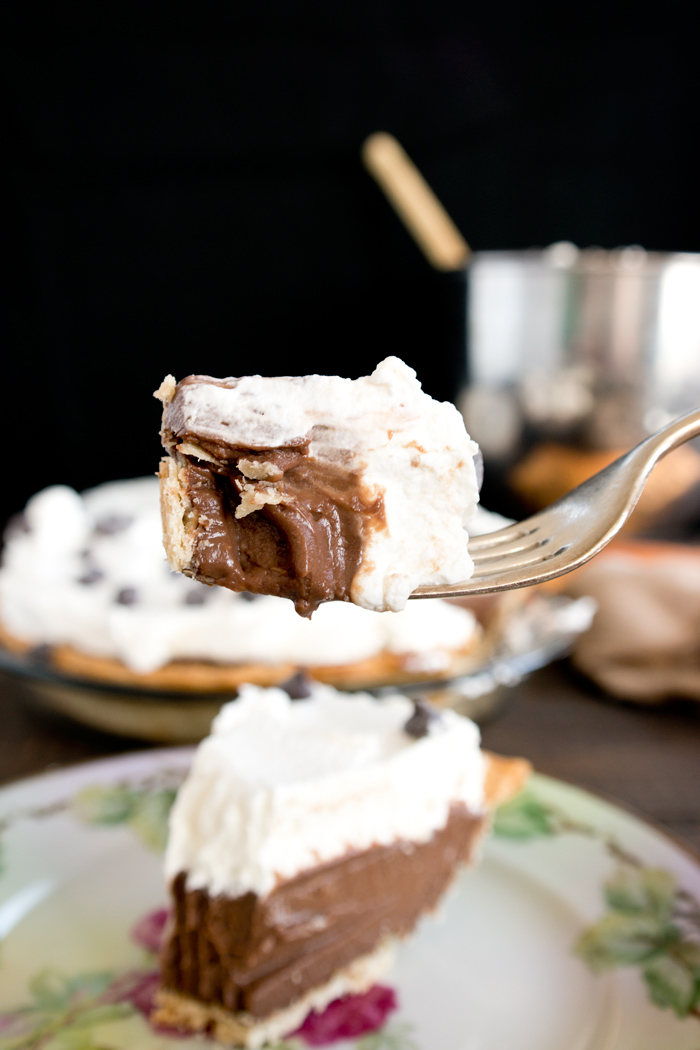 The chocolate filling is divinely chocolatey, smooth and every chocolate lover you know will thank you for making the filling from scratch because there really is no substitute for the real thing. Whipped cream was the obvious topping choice here. Its like diamonds, they go with everything and no one ever says, "I'm sick of diamonds and whipped cream".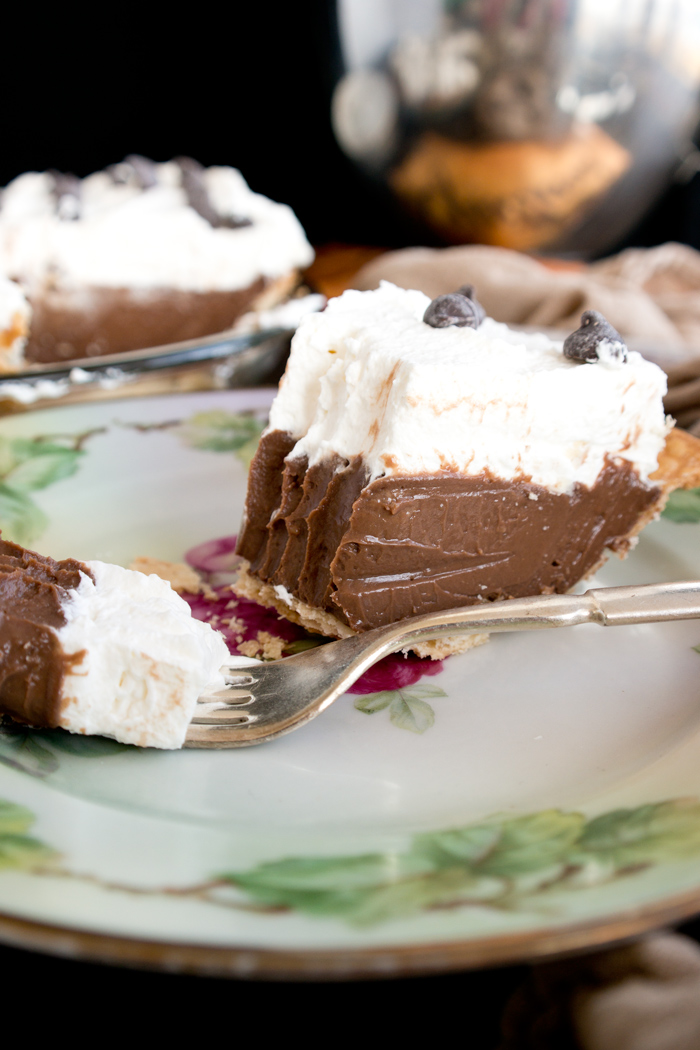 Enjoy this wonderfully, chocolatey Silky Chocolate Cream Pie!
Stacey
FORGOT TO PIN IT? Here's your chance! Thanks.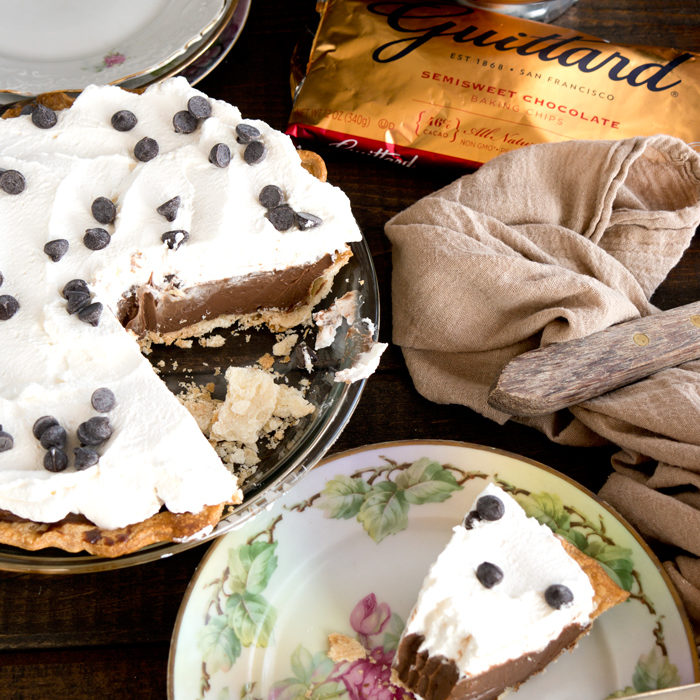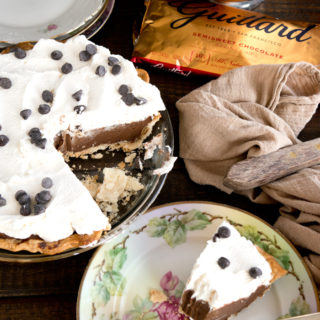 Silky Chocolate Cream Pie
Silky Chocolate Cream Pie. Smooth and creamy deep chocolate filling topped with whipped cream! Classic favorite!
Ingredients
CRUST:

2 1/2

cup

all purpose flour

1

tsp

salt

1

cup

cold unsalted butter cut into small pieces

1/4

cup

ice water

more if needed

CHOCOLATE FILLING:

6

Tbsp

sugar

1/4

cup

cornstarch

8

large egg yolks

4

cups

whole milk

9

oz

semi sweet chocolate

4

Tbsp

unsalted butter

WHIPPED CREAM:

1 1/2

cups

heavy cream

3

Tbsp

confectioners sugar

2

tsp

vanilla

Garnish:

1/4

cup

chocolate chips
Instructions
CRUST: (this recipe makes enough for 2- 9 inch pies)

Add flour and salt to food processor

Add the pieces of cold butter and mix for about 10 seconds or until mixture is a coarse meal texture.

Add ice water a very little bit a time through the feed tube while food processor is running until dough holds together but is not sticky or wet.

Empty onto a large piece of plastic wrap, press together to form a dough ball.

Cut in half and form each into a round disk and wrap each separately in plastic wrap.

Chill for at least an hour.

When ready roll out one disk onto a floured surface, must be about 1/8 inch thick and fit in 9 inch pie plate. Place one rolled out disk in the 9 inch pie plate. (Other disk can be kept for another pie when ready).

Prick crust with fork on bottom and sides.

Bake 10-12 minutes or until golden brown.

Cool completely.

CHOCOLATE FILLING:

In bowl of mixer mix the sugar and cornstarch, whisk.

Add in the egg yolks, mix on high speed until thick and pale.

Bring milk to boil in sauce pan, whisk frequently.

Whisk 1/3 of hot milk into egg yolk mixture.

Add egg yolk mixture into sauce pan with milk.

Bring to boil, whisking constantly until thickened.

Remove from heat, add chocolate and butter. Whisk until completely smooth and combined.

Pour into pie shell.

Cool completely. Cover with plastic wrap, refrigerate over night.

WHIPPED CREAM:

Add everything to mixer, whisk until stiff peaks form.

Spread over chilled pie before serving.
Recipe adapted from "Dessert University by Roland Mesnier"