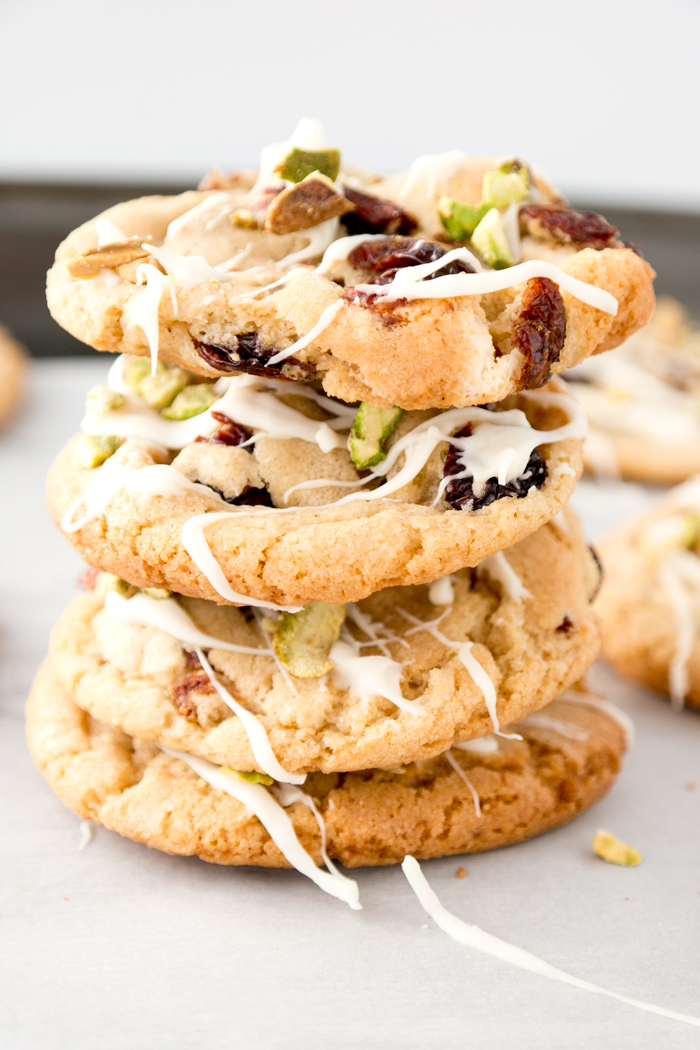 Drunken Cherry Pistachio Cookies. Kirsch soaked cherries, salted pistachios and white chocolate make this cookie a must!
Snow, snow, snow and more snow. I have to admit the little child in me is so excited as millions of white snow flakes continue to come down. The adult in me was happy to break out my super warm but stylish snow boots. Plus its really getting me in the Christmas mood even more than I already was.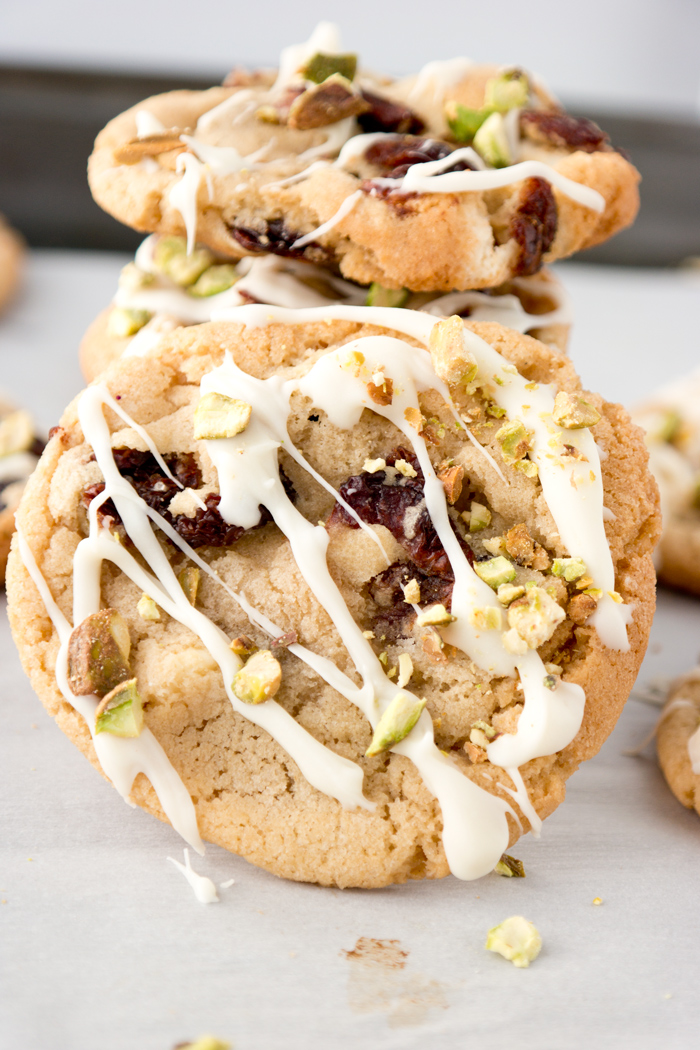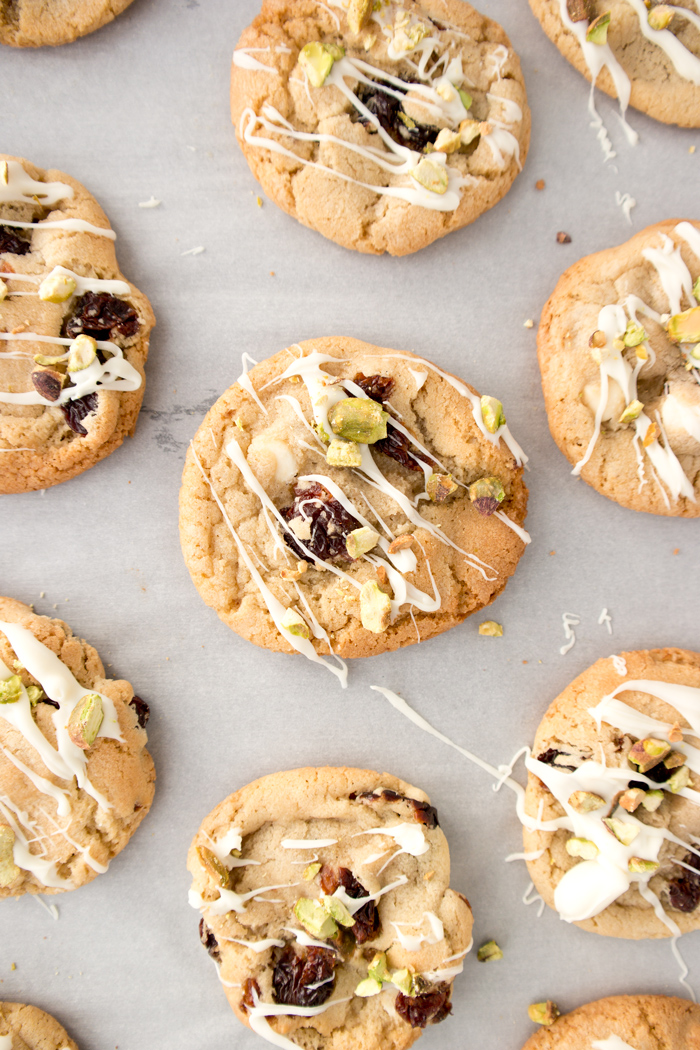 You guys if ever there was a Christmas cookie to add to your list of favorites this is it! These Drunken Cherry Pistachio Cookies are everything this holiday season. Your cookie making and eating experience will never be the same again. Plump, dark red, drunk, Kirsch soaked cherries (Kirsch is a cherry liqueur). Crunchy, salted, christmas green pistachios. And creamy, smooth white chocolate. The cookie base itself is my favorite kind, crunchy on the outside, slightly chewy on the inside.
There's a special warmth that the kirsch brings, along with a wonderfully enhanced cherry flavor. The delightful crunch of the pistachios and a wonderful sweet balance from the white chocolate. All enrobed in a cookie thats crunchy at first bite giving way to a slight chewiness as the buttery cookie melts into all the other flavors. There is no way that only one of these cookies could ever be enough.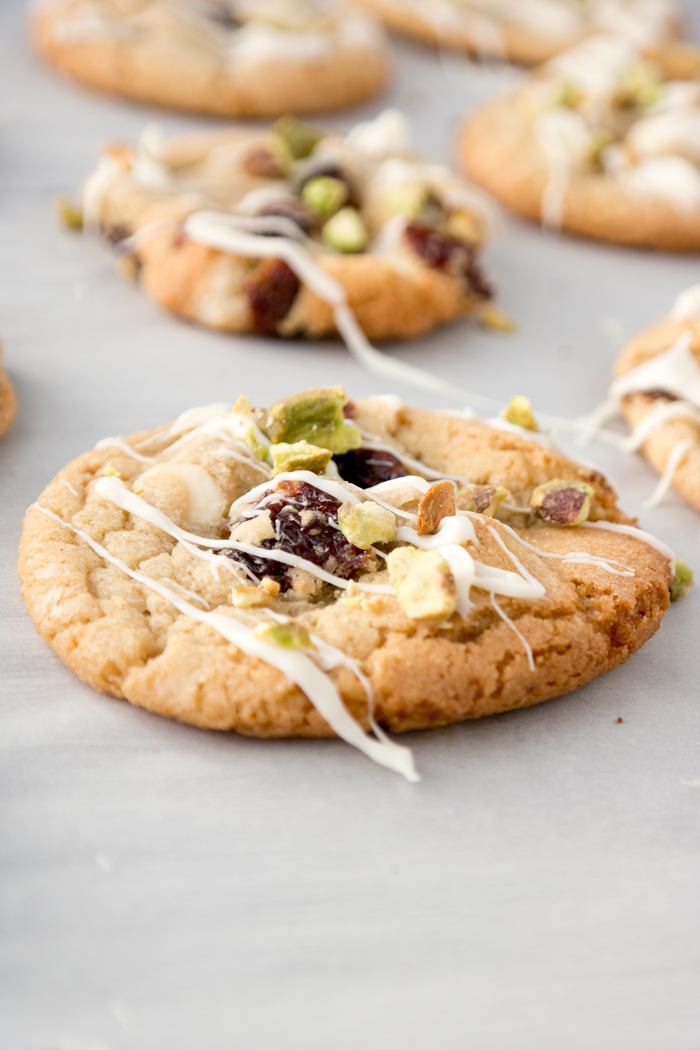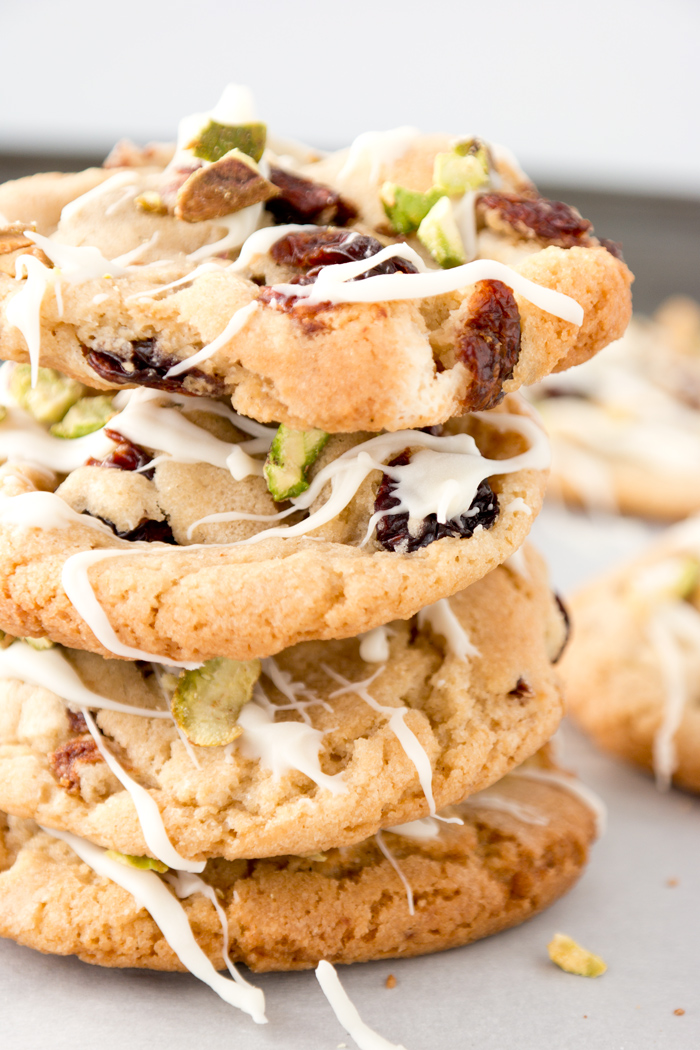 So if you need a Christmas cookie that's stylish and delicious or are always on the look out for another wonderful cookie to add to your collection make it the Drunken Cherry Pistachio Cookies.
Enjoy!
Stacey
Yum

FORGOT TO PIN IT? Here's your chance! Thanks.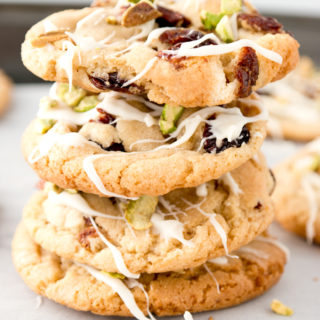 Drunken Cherry Pistachio Cookies
Ingredients
1

cup

butter

room temperature

1

and 1/2 cups brown sugar

1

cup

granulated sugar

2

eggs

room temperature

2

tsp

vanilla paste

or extract

1

tsp

baking soda

3

cups

all purpose flour

3/4

cup

dried cherries

1

cup

Kirsch

cherry liqueur

3/4

cup

salted pistachio nuts

3/4

cups

white chocolate chips

GARNISH

optional:

1

cup

chopped pistachio nuts

1

cup

melted white chocolate
Instructions
Preheat oven to 350 degrees F

Line cookie sheets with parchment, set aside.

SOAKED CHERRIES:

Soak dried cherries in Kirsch the day before, the kirsch will reduce over time as it is absorbed by cherries.

When ready to start making the cookies pour cherry mixture over a strainer and let set for 10-15 minutes, the cherries should be wet to the touch but not dripping wet.

Set aside.

COOKIES:

In large bowl add the flour and baking soda, mix well to combine, set aside.

In the bowl of mixture cream the butter and sugars.

Add in the eggs and vanilla, mix well.

With mixture on low add in the flour mixture and mix until dough forms.

By hand fold in the white chocolate chips, cherries and pistachios.

Using standard cookie scoop, scoop dough onto cookie sheet.

Roll each dough mound into a ball and flatten with palm of your hand.

Bake until golden brown on the edges, about 11-12 minutes.

Let cookies cool completely.

Drizzle with melted white chocolate and sprinkle with chopped pistachios.