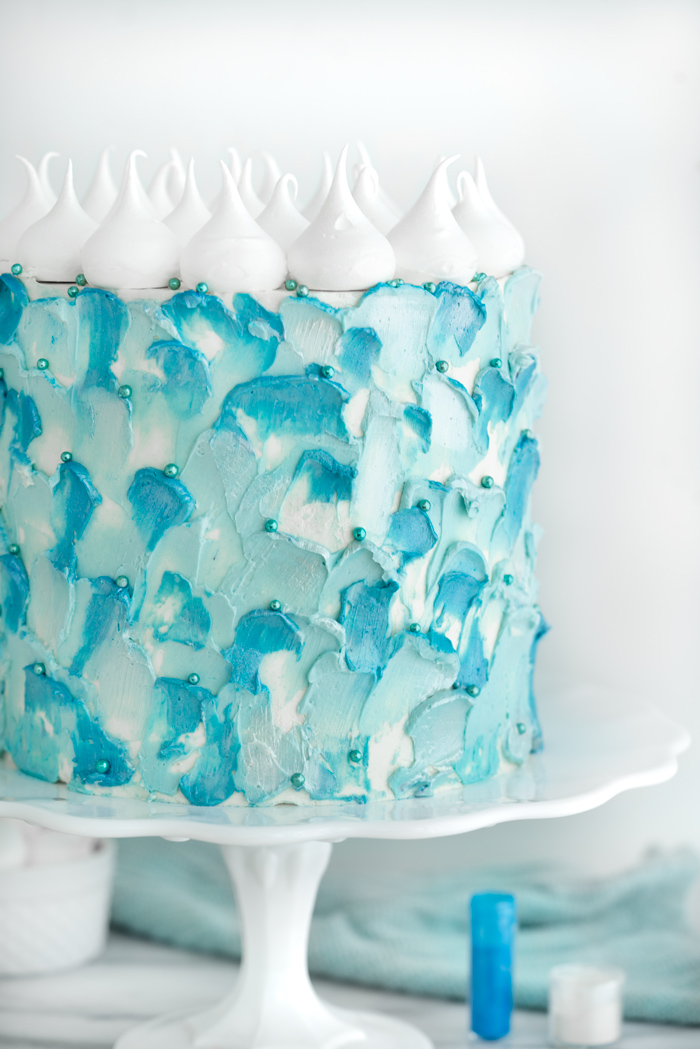 Palette Knife Buttercream Tutorial. Wondering how you can achieve these pretty swoops and shimmery detail? I'll show you how.
I have been wanting to lean towards tutorials for a while now, video to be exact. When it comes to my blogging journey there is never an end to learning and it usually requires initial failures to get it right lol. Whether its a new recipe like these meringues, or photographing in artificial light for this Eggnog Latte Cake. There is always something to learn and of course drive me absolutely nuts in the process lol.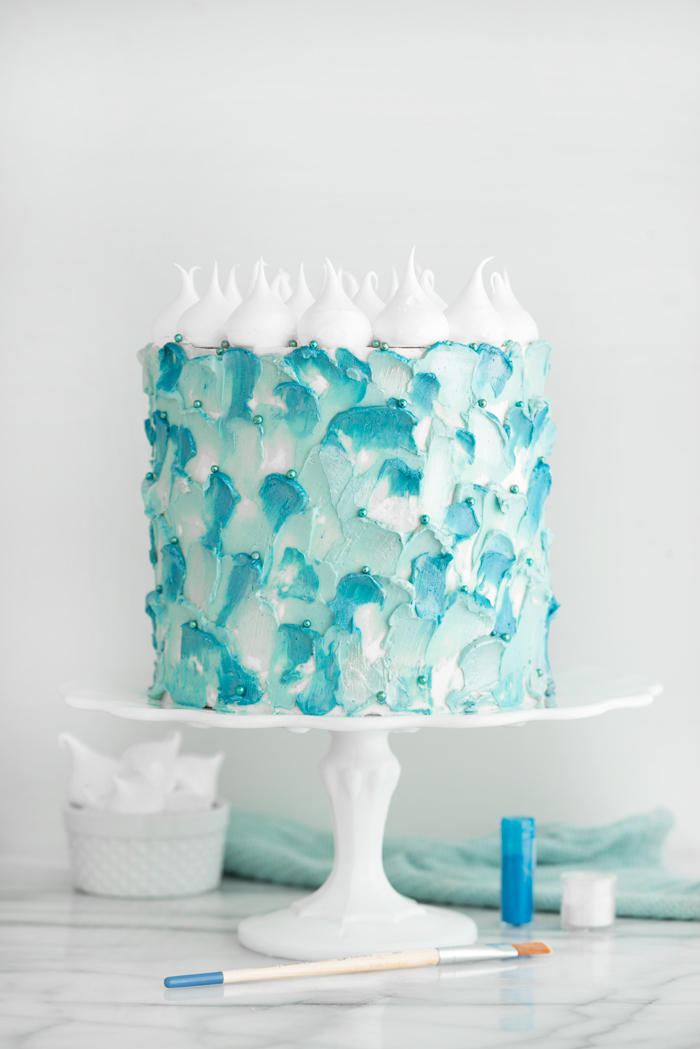 In this post is my first tutorial video. I'm going to warn you, its rough, good but rough. I had to film it five times (multiple videos in each session), make three cakes and I still could not figure out why I was so over exposed. Then on the 5th try, the last cake of this I swore I would make. I realized the problem. Total "user error", in the IT world they would call this an I-D-10-T error… get it, it looks like idiot, lol, that nerdy one still makes me laugh. Anyways, when I finally figured it out I had one side of the last cake left that wasn't decorated, so I thought its all or nothing. And so the video you see below is basically that last ditch effort. I promise they will get better from here 😉 .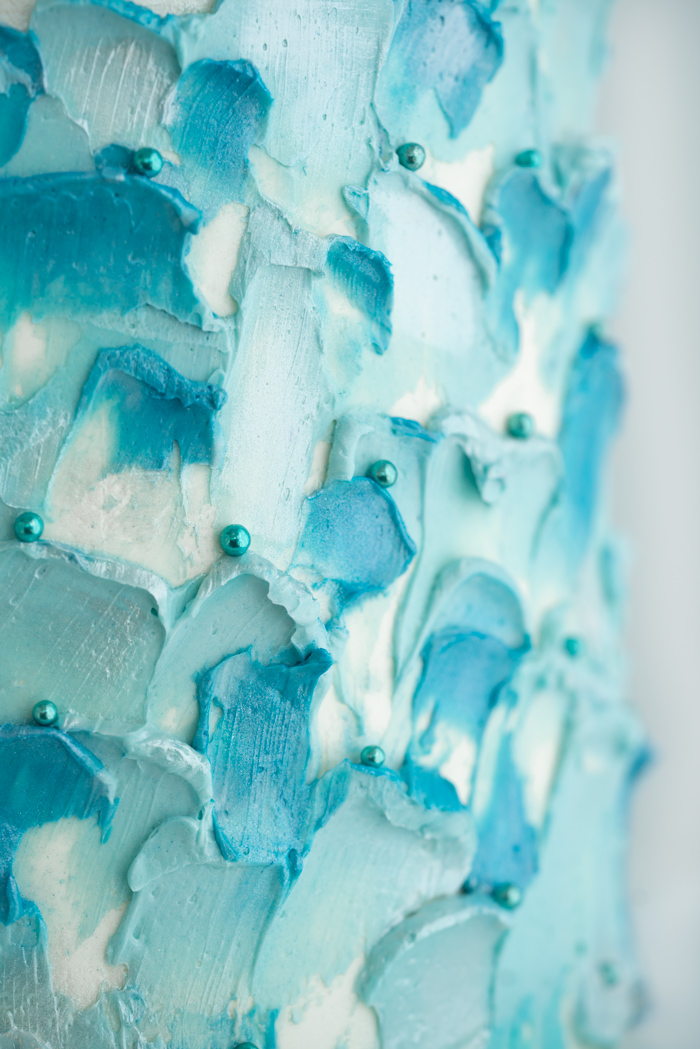 What is a palette knife? Its a tool made out of plastic (like my white cheapie version in the photo below) or it can be metal with a wooden handle. It is used to mix paint colors on a painters palette, many painters/cake artists also create beautiful master pieces with them as well. I thought it would be fun to show you my rendition of the technique. I love the perfectly imperfect outcome of this cake.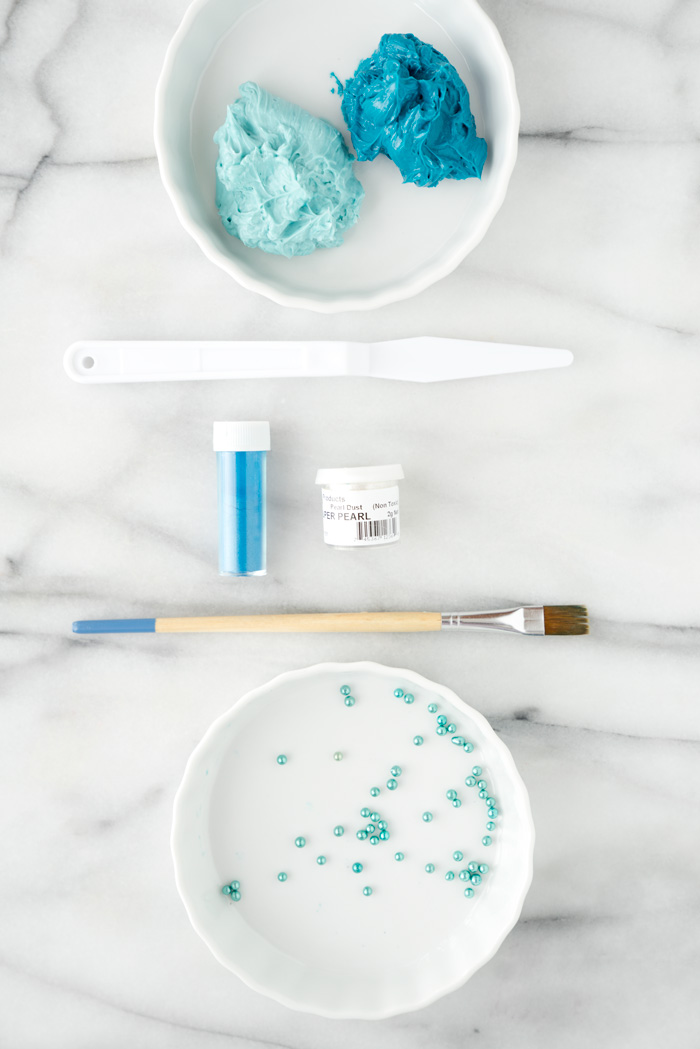 Along with the video I wanted to post some relevant tips to assist:
For this cake I used Swiss Meringue Buttercream, it has a silky quality that was perfect for the texture and workability of this design. Recipe here, if filling a 4 layer cake like this one you will need to triple the recipe.
Crumb coat, final coat and chill your cake completely. The buttercream should not be soft or tacky.
I used two blue tones for this cake. Both used Wiltons "Blue" with a touch of Wilton "Black" to mute the shades slightly.
When you are ready to begin palette knife painting your blue buttercream should be at room temp and creamy, it will paint, smear and blend better.
When you put the buttercream on your palette knife, this is called "loading" the knife. You will put on a generous amount, press it against the cake pressing slightly so the buttercream builds a heavy cap on the top and then swipe downward so the buttercream gets thinner as you go down. I applied the buttercream at a slight angle. Think of it as a wave, heavier on top, thinner towards the bottom. You can apply as few or as many swoops as you wish, this is really up to your vision. As you can see I have a lot of swoops but you can still see the cake through in places which is fine.
After this step chill the cake completely, at least an hour. The swoops should be completely chilled through for the next step or buttercream will get messy on your paint brush.
Once ready each swoop will be dusted with luster dust. I used Wiltons "Blue" and CK Products "Super Pearl".
Starting with the darker blue swoops, use a flat 3/8 inch paint brush and dab it into the blue luster dust, tap off excess and gently dust onto the swoops making sure to get the tops as well. Repeat until all are finished.
Check to see if your cake needs to be re-cooled for 30 minutes, if needed do so before proceeding to the light blue swoops.
When ready to dust the lighter blue swoops repeat step 8 using the Super Pearl luster dust.
Optional but really pretty, randomly place a blue sprinkle (aka dragee') on the cap/top of each swoop. I had a multi color mix so I just picked out the blue ones.
For the top I used meringues, recipe can be found here.
Enjoy!
Stacey
The following are Amazon Affiliate Links which means if you were to purchase from these links I get a small commission at no charge to you. But even if you dont purchase through Amazon the below will help give you visual of what to look for when you are shopping 🙂 . 
PIN FOR LATER! Thanks.