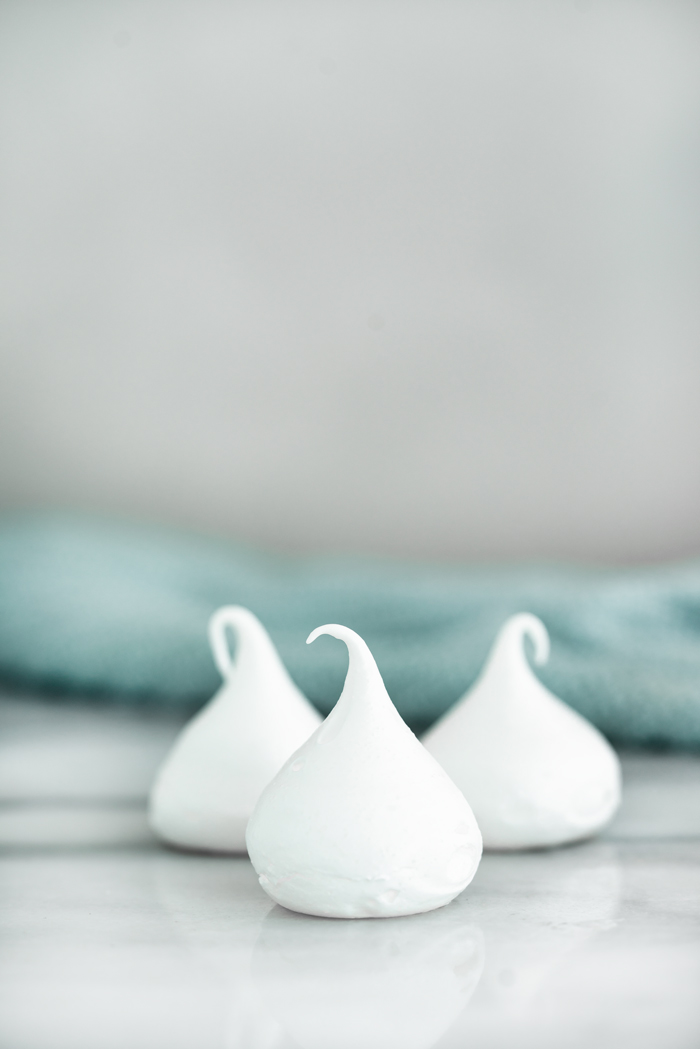 Meringue Kisses Recipe. The perfect dollop of meringue baked into a crispy on the outside, chewy on the inside cookie.
I'd like to tell you that my relationship with meringue has always been a loving one but that would be a lie. One minute meringue is my best friend and the next she's the "mean girl" snickering behind my back.
It took me five batches to get this recipe and process right. I probably should've quit after the third batch but to be completely honest I was ticked and fueled to get it right. I had tried both the swiss meringue method and the egg whites straight in the mixer method and had issues with both. They all tasted good and a had a lovely crunch and chew but in the last few minutes of baking they would get pits and indentations (not cracks), if I had to compare it to something I would say it looked like acne scars. The internet wasn't much help, one article would tell me too much mixing, the next not enough mixing, the next not enough sugar, the next too much sugar, argh… exhausting.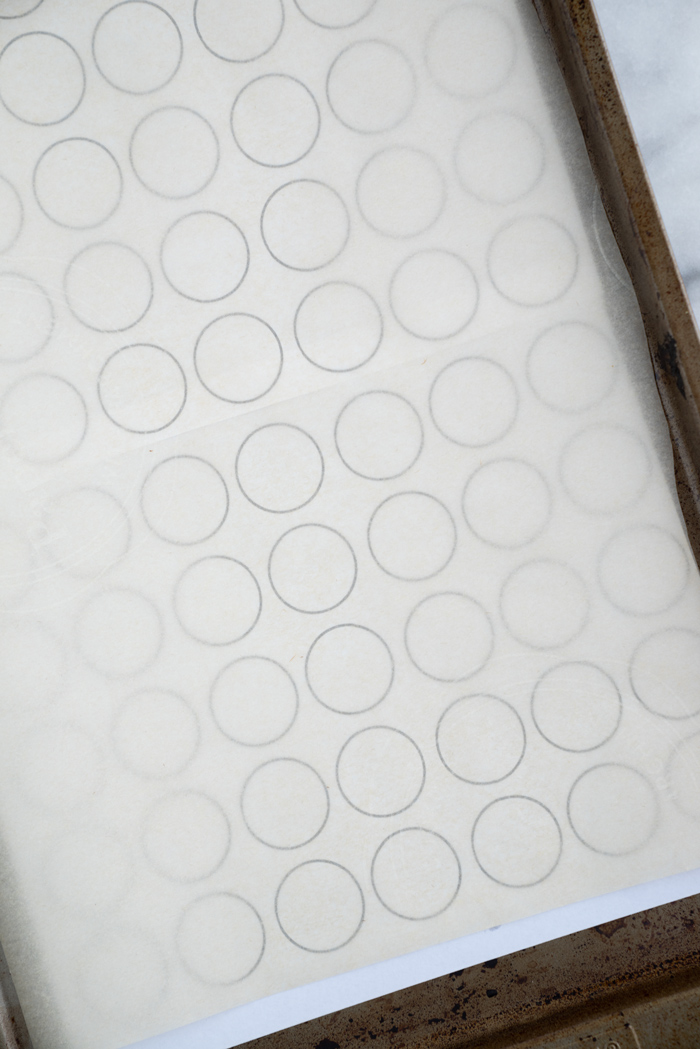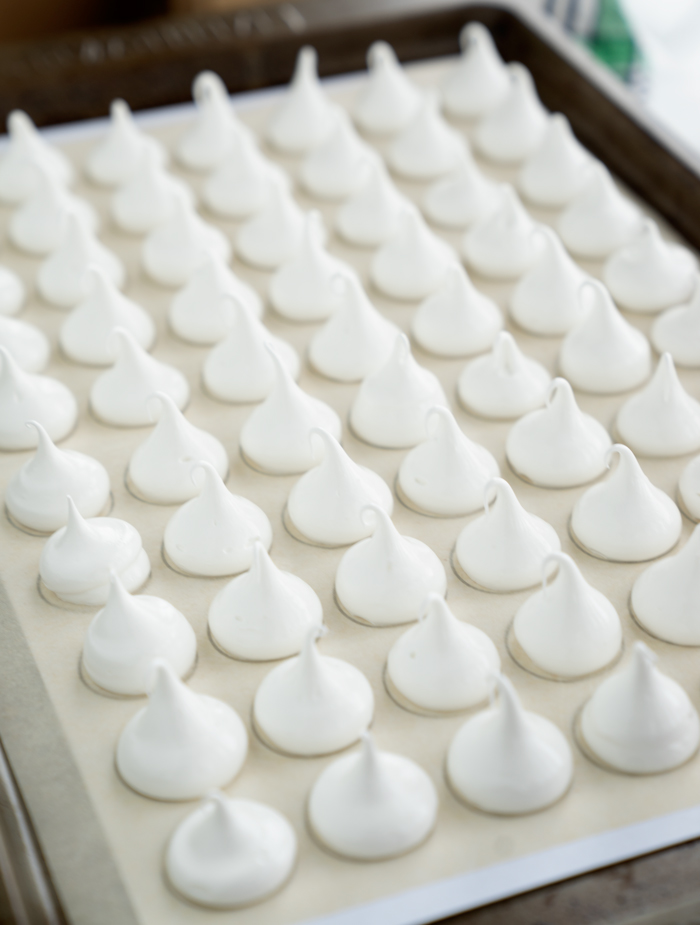 So I took a combination of methods and did the opposite of what I had been doing and it worked. The method mine is closest to is the Meringue Girls method. I just added a tad more sugar to be on the safe side. And I baked my sugar before hand, which seemed odd to me but hey it worked so odd it is. In my previous batches I whipped the meringue on medium/high speed. For this batch I went full on high speed. Making these tweaks worked! I finally achieved the smooth glossy surface I had been looking for and a technique I will continue to go back to.
Some suggestions. Use a template to make even, same sized meringues (download my free template here – meringue template). I made my circles about 1 inch in diameter. I printed two sheets and placed them on the cookie sheet under my parchment. When it comes time to bake I remove the templates by gently pulling them out from under the parchment. If you are using a silpat or other silicone baking sheet just place mat down on the cookie sheet, then the templates and then the parchment. You will need to keep the parchment on top of the silicone but this will not interfere with the baking.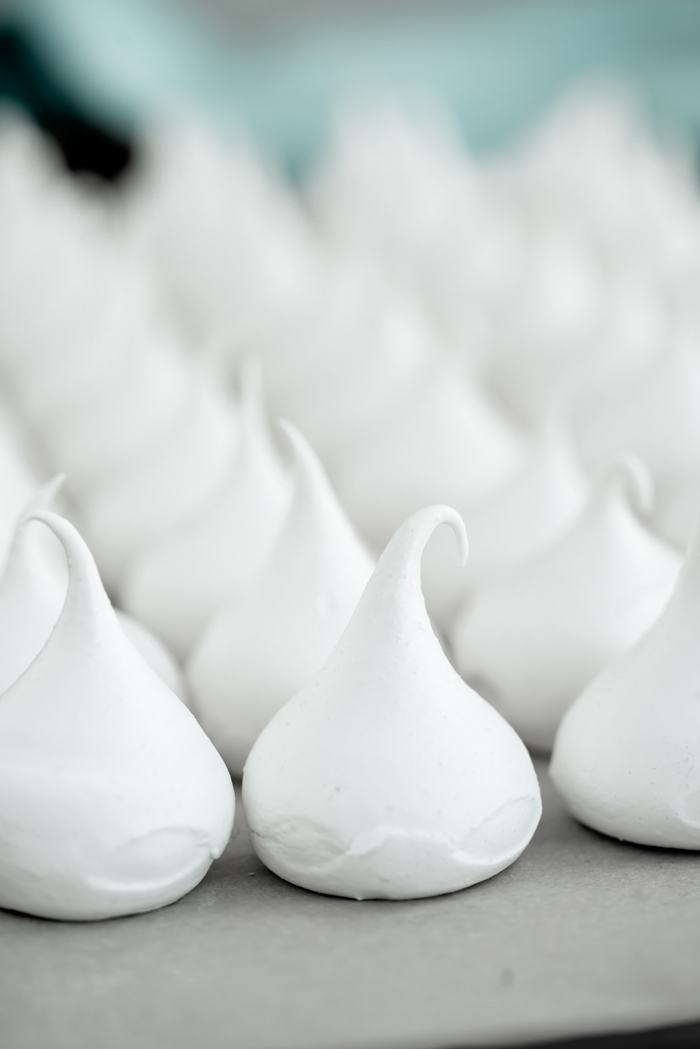 If you're in the mood for some of these light crispy meringue kisses give this method a try.
Enjoy!
Stacey
If you like meringue here are a few more meringue based recipes you may like:
Butterscotch Pecan Dacquoise Cake
PIN FOR LATER! Thanks.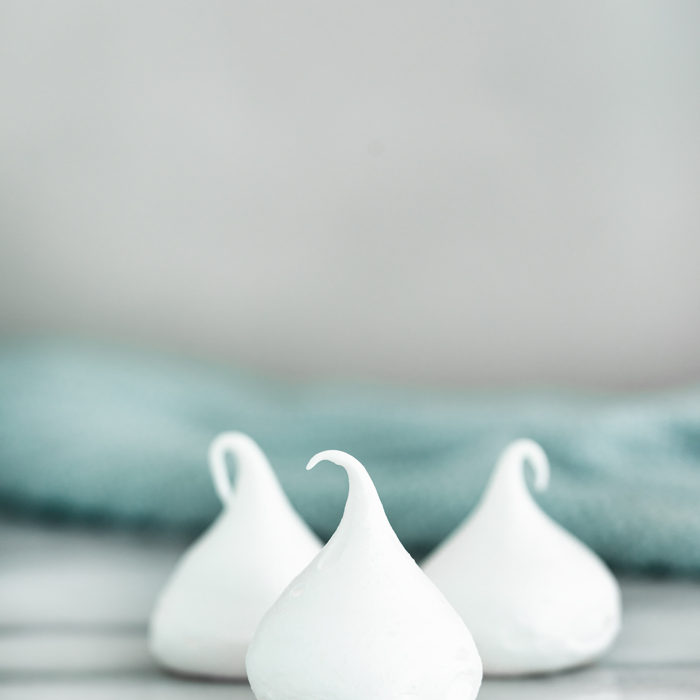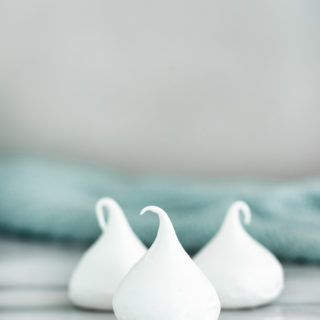 Meringue Kisses Recipe
Meringue Kisses Recipe. The perfect dollop of meringue baked into a crispy on the outside, chewy on the inside cookie. | thesugarcoatedcottage.com #merignue
Ingredients
110

grams

egg whites room temp

223

grams

caster sugar
Instructions
Preheat oven to 400 degrees F.

Line baking sheet with parchment.

Line a second baking sheet with templates and parchment.

Using the first baking sheet add the caster sugar, keep it grouped together in the center (if spread too thin it will caramelize.) of the baking sheet. Bake 7 minutes.

Add egg whites into bowl of mixer, start mixing on low and then gradually increase the speed to high and whisk until stiff peaks form. You want a nice smooth meringue.

Take the hot sugar out for the oven and reduce oven temp to 210 degrees F.

With mixer on high speed add in the sugar one spoonful at a time until all sugar is added. (any carmelized bits do not need to be added).

Continue mixing on high speed until a smooth and glossy stiff peaks form and sugar has been dissolved. This will take about 5-7 minutes. You can test the mixture by putting a little between two fingers and rubbing together, it should be smooth and not grainy.

Place mixture into piping bag fitted with a round tip (I used Ateco #808). Get the second baking sheet you prepared with the templates.

With tip 1 inch above the template and angled straight up and down above the template squeeze the meringue out of the piping bag and let it build to desired shape, when ready stop squeezing and pull bag up and away to create the pointed tip. Repeat until all are finished.

Bake 30-40 minutes, meringues should be come off the parchment clean.

Let cool.