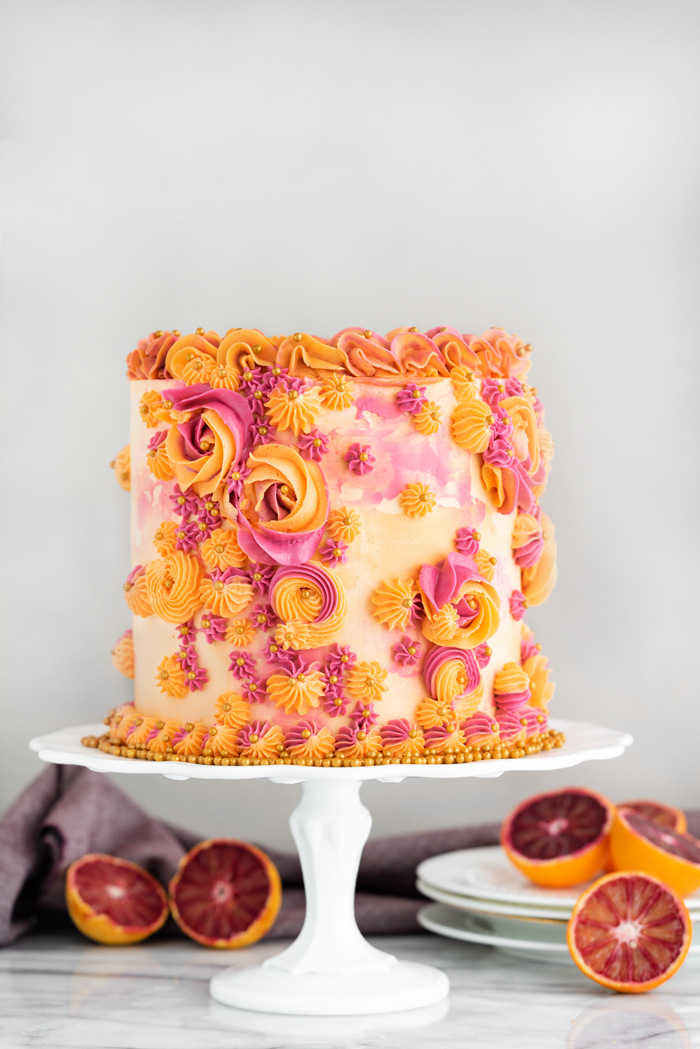 Blood Orange Cake. Blood orange scented cake layered with fresh blood orange curd.
So this started out as just a blood orange curd post because there are so many wonderful ways to use this curd. Like layer cakes, on toast, on muffins, spread on pancakes and a great dip for other fruit. As I began to really see how beautiful these oranges are with their deep burgundy, orange and pink hues I became inspired to capture it all in cake form.
The curd itself is simple to make, I adapted Ina Garten's orange curd recipe. I found that personally mine took a bit longer to thicken so my recipe will reflect this. One other thing to note is that because of the burgundy tones in the juice the natural color of the curd was a brownish orange (not so appealing to the eye) so I added a touch of orange gel food coloring to brighten it up but this is is optional.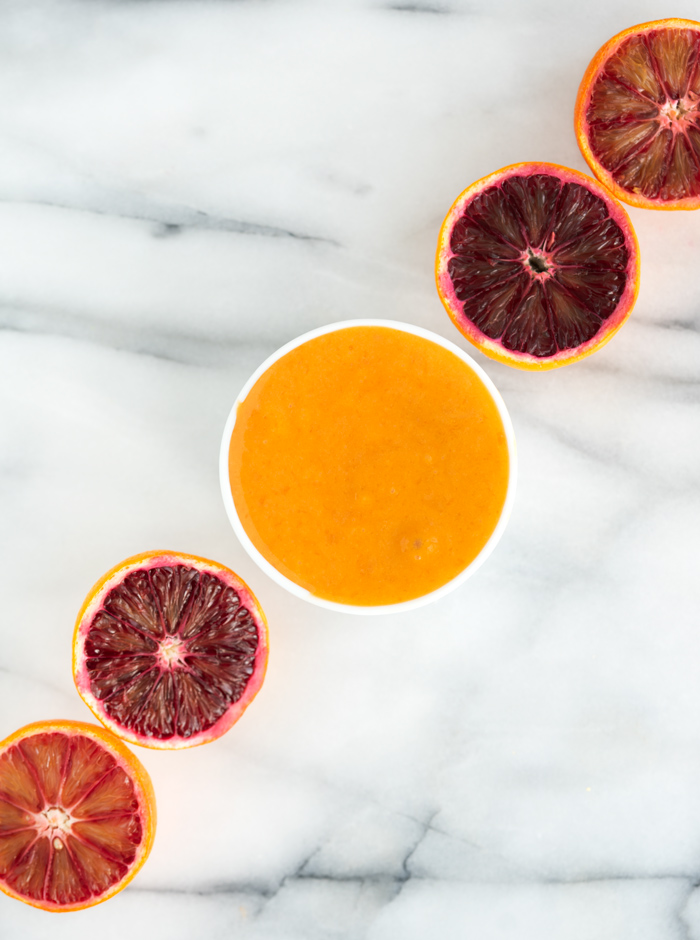 I used a cake mix (please don't judge lol) for the base of this cake and amped it up a bit with buttermilk, whole eggs, additional vanilla and of course blood orange zest for additional orange flavor. This cake is 4 x 7 inch layers which took 2 cake mixes. If you only want to use one cake mix you can do so, you will have 2 layers (each of those layers can be cut in half horizontally to make 4 layers as well). Since this post was meant to be blood orange curd based I wasn't going to provide a cake recipe but then I thought what the heck, maybe this cake hack will be helpful to someone else 😉 .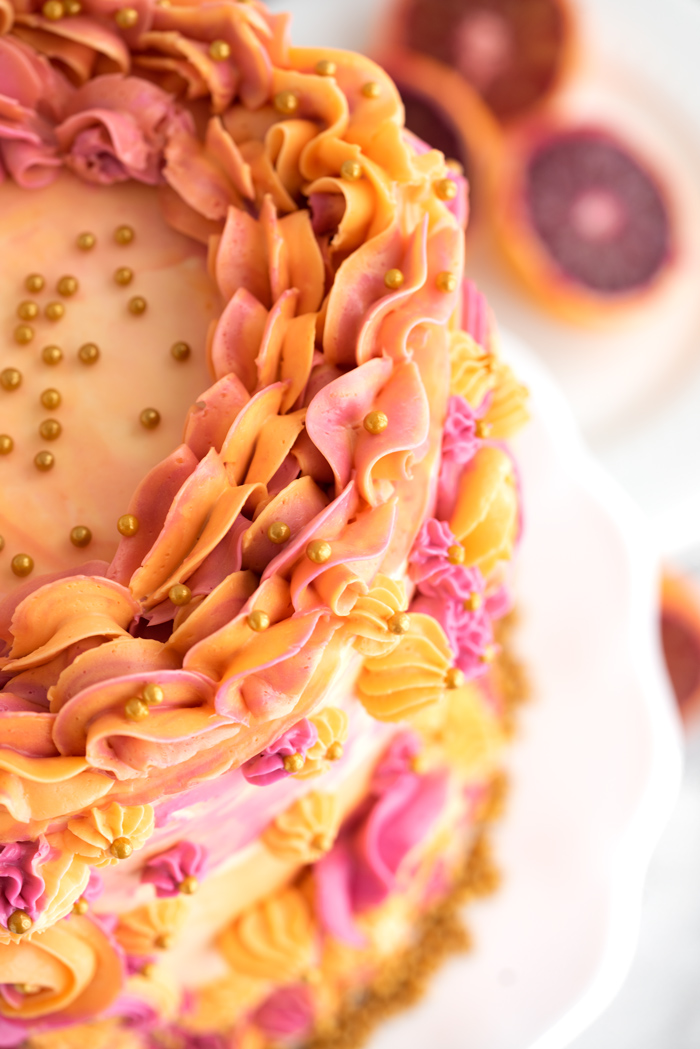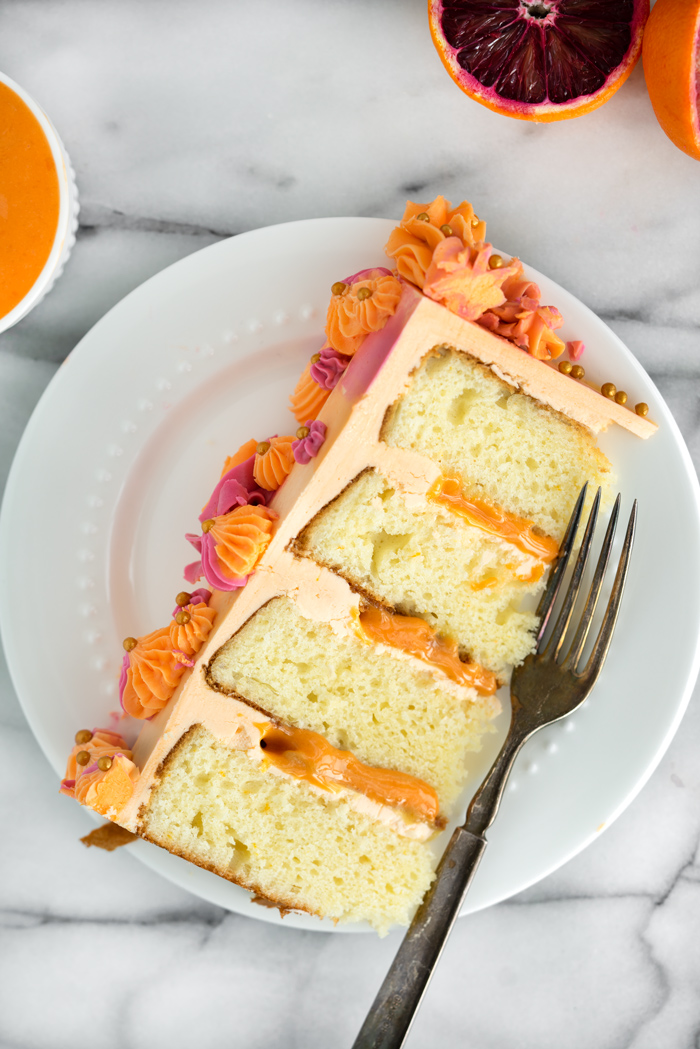 Blood Orange Cake Breakdown:
4 layers of fluffy blood orange scented cake – As you know I love tall cakes, I think they're elegant and a notch above.
Blood orange curd – This blood orange curd is amazing and such a wonderful addition to the cake layers both in texture and flavor, it adds brightness.
Swiss Meringue Buttercream – Smooth, silky and always a delight to frost with, its pure luxury. (with that said if SMBC is not your thing you can use American buttercream)
Swirls and swirls of color and buttercream – the more the better, had to capture those beautiful hues as best I could, my burgundy came out a little light but I like it with the orange. I just played with a few piping tips to get a variety of sizes and designs.
Dragee's – aka gold sprinkles, they're the bling on this cake but still simple. They are hard so watch the teeth lol.
For those of you that want to mimic the design here goes… I used 3 colors of buttercream, the cake is coated in a light orange. The swirls and piping are all down with a medium orange and burgundy, same with the sweeps that create the watercolor effect. The tip used for the large rosettes and top scalloped border is Wilton 1M. For the border I piped all the way around going one way for the outer edge, for the inner edge I piped all the way around in the opposite direction. For the medium rosettes I used Wilton 4B. For the remaining stars I used Wilton 32 and Wilton 18.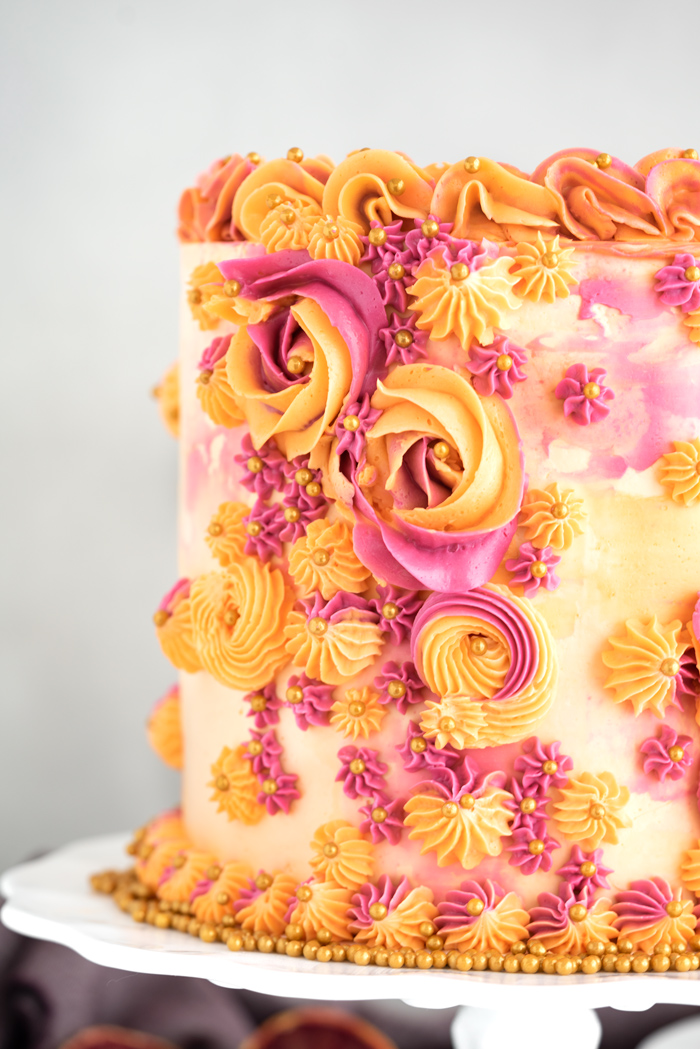 I hope you find the blood orange as inspiring as I do. The blood orange curd is a game changer.
Enjoy!
Stacey
The following are Amazon Affiliate Links which means if you were to purchase from these links I get a small commission at no charge to you. But even if you dont purchase through Amazon the below will help give you visual of what to look for when you are shopping 🙂 . 
PIN FOR LATER! Thanks 🙂 .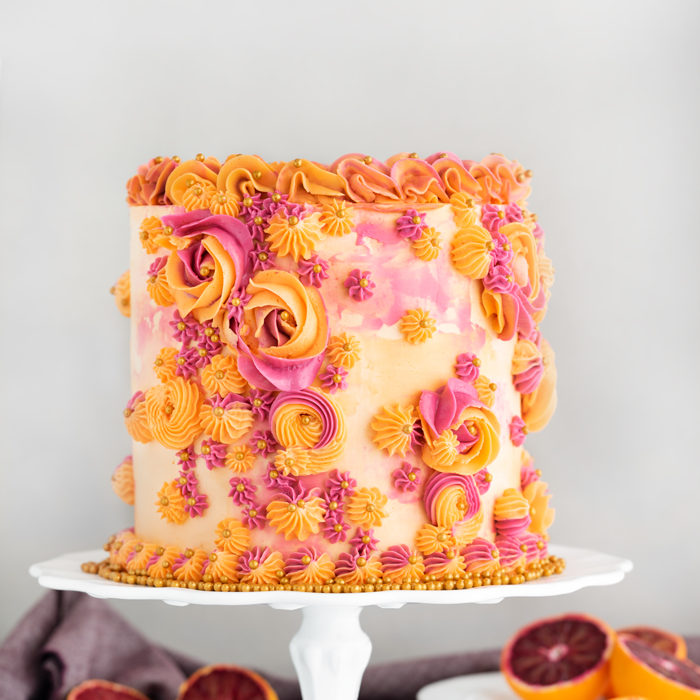 Print Recipe
Blood Orange Cake
Blood Orange Cake. Blood orange scented cake layered with fresh blood orange curd. | thesugarcoatedcottage.com #bloodorange #orangecurd #cake #buttercream
Servings:
1
- 7 inch cake
Ingredients
BLOOD ORANGE CURD:

4

blood oranges

at room temperature

1 1/2

cups

sugar

1/4

pound

unsalted butter

at room temperature

4

large eggs

at room temperature

1/2

cup

freshly squeezed blood orange juice

1/8

teaspoon

kosher salt

A little orange food gel

this is optional for a brighter orange color.

CAKE

FOR FOUR LAYERS:

2

white cake mixes

I used Pillsbury

6

large whole eggs

room temp

1

cup

oil

2

cups

full fat buttermilk

room temp

2

Tbsp

blood orange zest

1

Tbsp

vanilla extract

SWISS MERINGUE BUTTERCREAM**:

10

egg whites

2 1/4

cups

sugar

4

cups

butter

1/4

tsp

salt

1

Tbsp

vanilla extract
Instructions
BLOOD ORANGE CURD:

Zest all four blood oranges, being careful to avoid the white pith.

Put the zest in the bowl of a food processor fitted with a steel blade. Add the sugar and pulse until the zest is very finely minced.

Cream the butter in the bowl of an electric mixer fitted with a paddle attachment.

Add the sugar/blood orange zest mixture and mix until light and fluffy.

Add the eggs, one at a time, then add the blood orange juice and salt.

Mix until combined.

Pour the mixture into medium saucepan and cook over low heat until thickened, about 30-45 minutes, stirring constantly. The orange curd will be ready when it coats a spoon, and it will register about 175 degrees F on a candy thermometer. (Be careful not to overcook, or it will curdle.)

Remove from the heat and let cool completely.

Transfer to a bowl and cover with plastic wrap, lay the plastic wrap directly on the surface of the curd to prevent a skin from forming.

Chill for at least 6 hours (I chilled mine over night).

CAKE:

Preheat oven to 350 degrees F. For the four 7 inch pans grease, flour and line bottoms with parchment.

*Note - If your mixer will not hold (2) cake mixes just make one at a time, this will require cutting the cake recipe in half and repeating the steps twice.

Place cake mix and all other ingredients into bowl of mixer, mix on low until cake mix is moistened and mixture is no longer soupy.

Increase speed to medium and mix for 1 minute or until mixture is completely combined. Make sure to scrape the sides and bottom of bowl as needed.

Pour evenly into prepared cake pans.

Bake 30-34 minutes or until toothpick inserted comes out clean.

Let cool completely.

BUTTERCREAM:

In large sauce pan add the egg whites and sugar.

On low/medium heat you are going to whisk (continuously) egg mixture until sugar is completely dissolved (you can test it by rubbing a small amount between your fingers to test it, it should be completely smooth).

Transfer to mixing bowl and with whisk attachment whisk on high until stiff peaks form and mixture is completely cooled (if not completely cooled your butter will melt). If you have reached the stiff peak stage but meringue is still warm let it sit to cool to room temp.

Switch to paddle attachment.

On low speed add the butter in 2 Tbsp piece at a time.

Bring mixture up to high speed and continue to mix until well combined, smooth and creamy.

Add in the vanilla and salt, mix to combine.

ASSEMBLY:

Cut tops of cakes if hump formed while baking.

Place first cake layer on cake board, secure it in place with a dab of frosting underneath.

Spread even layer of butter cream on top of the cake layer, smooth with offset spatula.

(I left the outer edges of frosting higher to keep the orange curd from slipping out).

Next add blood orange curd mixture on top of the buttercream arrange evenly.

Repeat with the next two cake layers.

Add the top cake layer and crumb coat the cake with buttercream.

Refrigerate at least 30 minutes.

Put final coating of buttercream on cake.

Pipe swirls on top and garnish with sprinkles.

I used Wilton "Burgundy" and "Orange" for the coloring. I used a light orange for the base buttercream and for the decorating used a medium toned orange and burgundy.

The tip used for the large rosettes and top scalloped border is Wilton 1M. For the border I piped all the way around going one way for the outer edge, for the inner edge I piped all the way around in the opposite direction. For the medium rosettes I used Wilton 4B. For the remaining stars I used Wilton 32 and Wilton 18.

Sprinkles are Wilton Gold sprinkles.
Notes
**I make my swiss meringue in 2 batches, if you want to do the same cut the recipe in half and make one batch for crumb coat and final coat and the second batch for any extra coating and decorating.
*** you will have extra blood orange curd, you can serve it along side the cake if anyone wants extra or save for another use. Keep covered and refrigerated.
**** Curd is not stiff, it is thick but it has movement like a thick caramel sauce so when you cut the cake it may ooze a little.