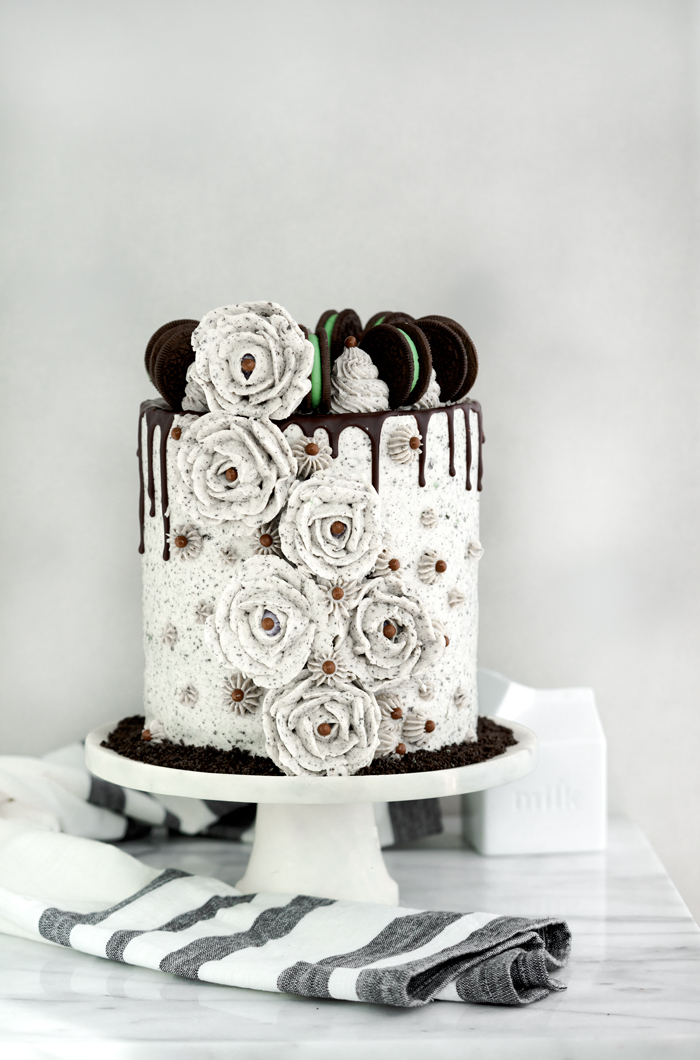 Mint Oreo Cookie Cake. Minty, chocolatey, 4 layer cake decorated with Mint Oreo speckled buttercream roses.
Happy Friday (or happy whatever day you are reading this 😉 ). No better way to celebrate any occasion than with Oreo buttercream but wait…this is Mint Oreo Buttercream which just makes it that much better! I went ahead a paired my favorite Hershey's chocolate cake with the delightful Mint Oreo speckled buttercream. I cant help but love speckles and when they taste this good well it's like I've died and gone to heaven.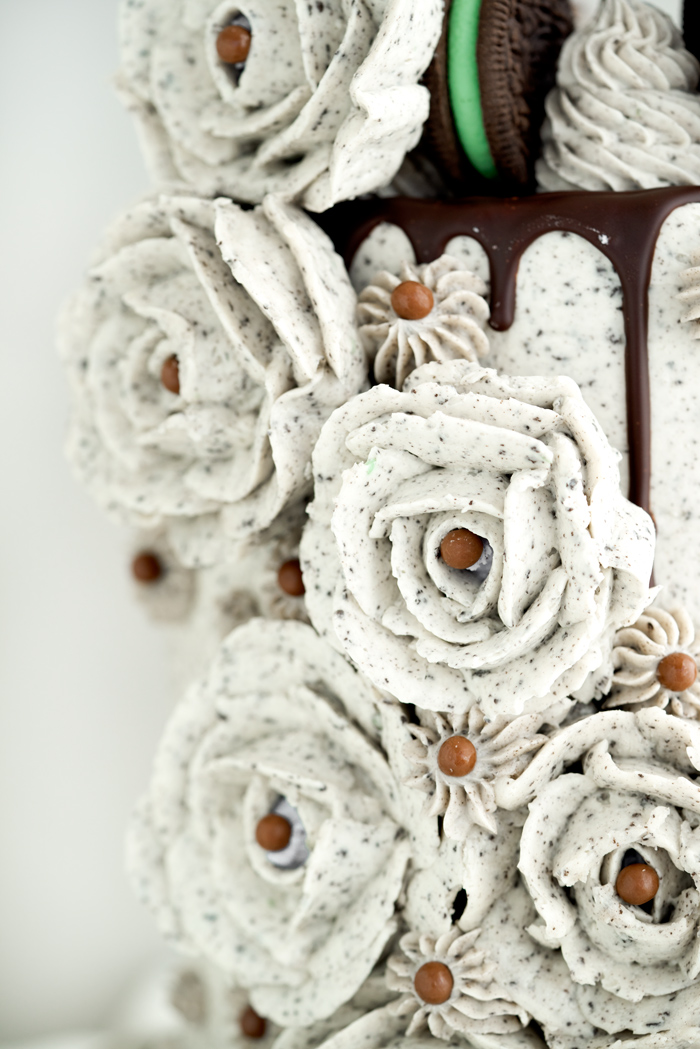 Here's The Breakdown of This Mint Oreo Cake:
4 Layers of rich chocolatey cake.
The 4 layers make this cake tall and tall just makes me smile.
The inner layers and outer coating are all Mint Oreo Buttercream. Lightly minted and chocolate speckled cookie goodness.
Mint Oreo Buttercream Roses!!! These are a little over the top but I had extra buttercream so I went for it. I think they turned out so pretty with the speckles and and the petals. Plus they added a soft touch to the brown the white color scheme.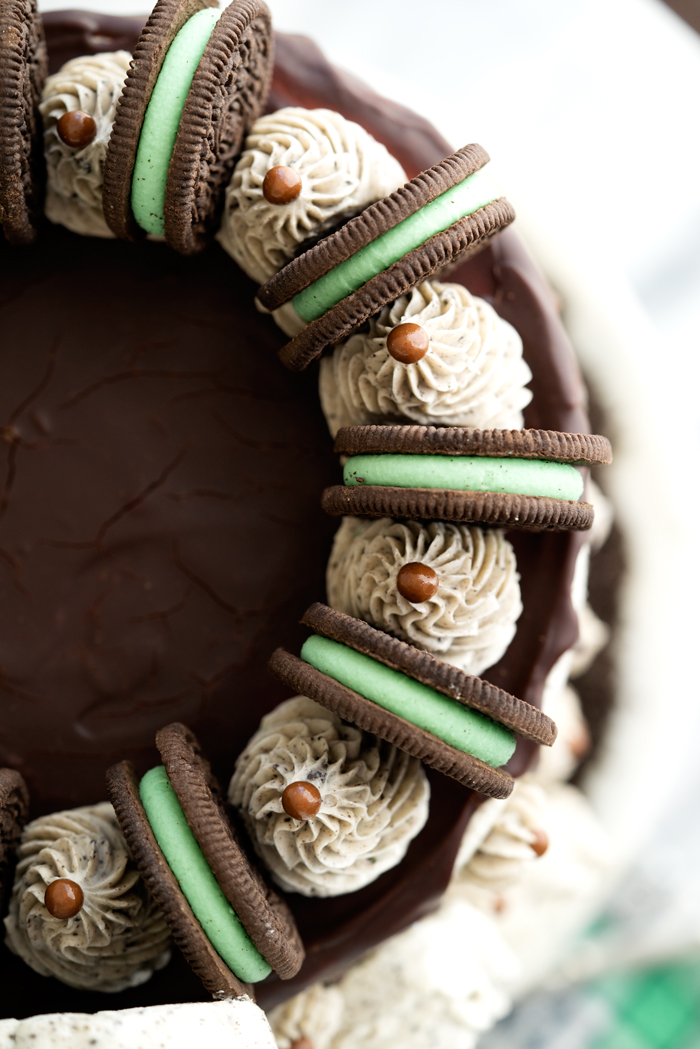 Some things to note about this cake.
I used 2 batches of buttercream for this cake. Depending on how heavy you fill and coat the cake you may be able to get away with one batch. But if you plan on making the roses and doing heavy piping you will need 2 batches.
Note that the recipe is for one batch of buttercream (also noted in the recipe itself). I make one batch at a time to make sure that everything mixes well in my mixer, if it is too full it won't mix properly (I have a Kitchen Aid 5 qt Artisan mixer).
Most mint cakes are green, I dyed a small portion of buttercream green but didn't like it as much as the natural color. But feel free to add some green (or any color) if desired.
Dont like mint? Just use regular Oreo's.
I did not add additional peppermint flavoring to the cake or buttercream. I let the Mint Oreo's do all the work. It's just the right balance of mint, not too much, not too little but you definitely taste and smell the mint.
If 4 layers of cake is not your style feel free to cut the cake recipe in half and only use 1 batch of buttercream.
If doing the buttercream roses I used Wilton tip #125, its the larger rose petal tip. I'm not sure if the Oreo bits would pass through a smaller tip smoothly.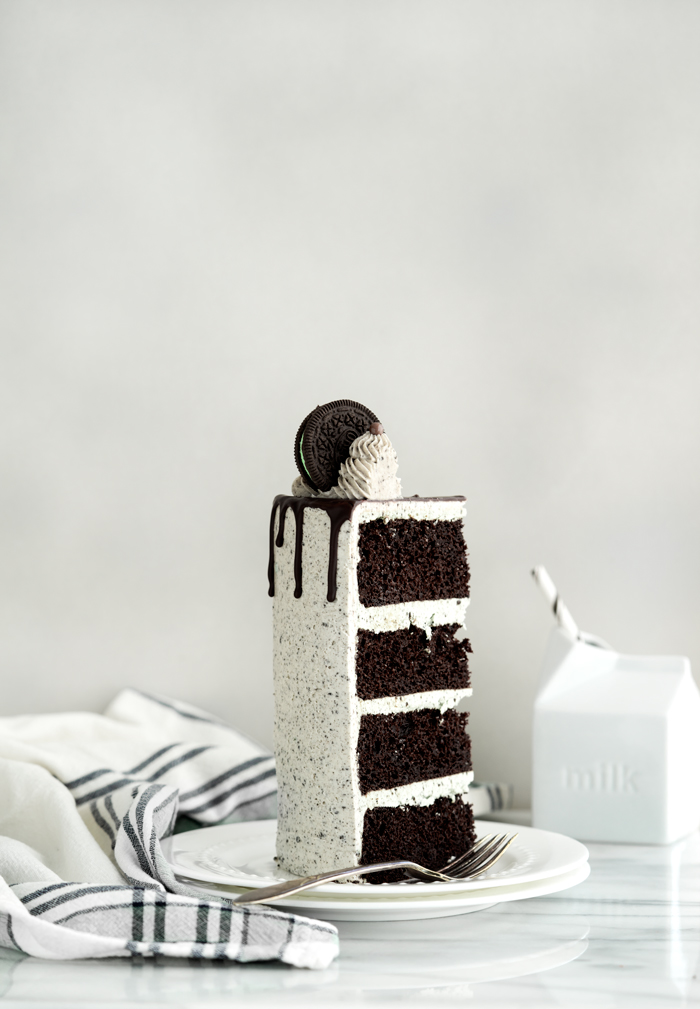 Enjoy this Mint Oreo Cake!
Stacey
Here are some more minty suggestions:
White Chocolate Peppermint Cake
4 Ingredient Peppermint Truffles
Yum

PIN FOR LATER! Thanks.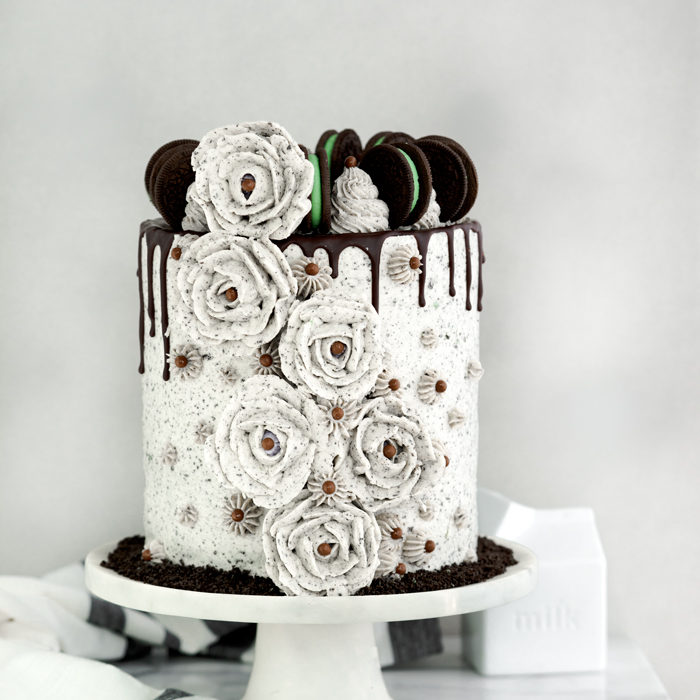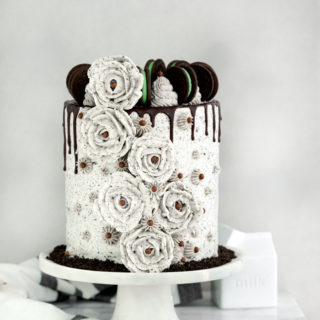 Mint Oreo Cookie Cake
Mint Oreo Cookie Cake. Minty, chocolatey, 4 layer cake decorated with Mint Oreo speckled buttercream roses.
Ingredients
CAKE:

4

cups

sugar

3 1/2

cups

all purpose flour

1 1/2

cup

Hershey's Cocoa

3

tsp

baking powder

3

tsp

baking soda

2

tsp

salt

4

eggs

2

cup

milk

room temp

1

cup

canola oil

4

tsp

vanilla extract

2

cup

boiling water

BUTTERCREAM

you will need 2 batches of the below, I make one batch to fill and crumb coat the cake, the second batch to final coat and decorate the cake:

5

egg whites

1 1/4

cups

sugar

1

lb

butter room temp

1/2

cup

Oreo Mint cookies crumbs

use a food processor, you want a fine crumb.

1/2

Tbsp

vanilla extract

1

tsp

salt

Garnish

optional:

Whole Mint Oreo Cookies

Valrhona Caramelia Milk Chocolate Crunchy Pearls

Mint Oreo Buttercream roses
Instructions
CAKE:

Heat oven to 350 degree F.

Grease and flour 4 x 7 inch cake pans, line bottom with parchment. Set aside.

Combine sugar, flour, cocoa, baking powder, baking soda and salt in bowl of mixer.

Add in the eggs, milk, oil and vanilla, beat medium speed for 2 minutes. Scrape sides of bowl as needed.

With mixer on medium speed (reduce to low speed if too much splashing occurs) slowly stream in the boiling water. Continue to mix until completely combined. Scrape sides and bottom of bowl as needed. Batter will be watery.

Pour into prepared cake pans (only fill pans 1/2 way, this cake rises alot) and bake 30-35 minutes or until toothpick inserted comes out clean.

Let cool completely.

BUTTERCREAM:

In medium sauce pan add the egg whites and sugar.

On medium heat you are going to whisk egg mixture until sugar is completely dissolved (you can test it by rubbing a small amount between your fingers to test it, it should be completely smooth).

Remove from heat and let mixture cool. (If mixture is too warm it will melt your butter when the time comes).

Transfer to mixing bowl and with whisk attachment whisk on high until stiff peaks form and mixture is completely cooled.

Switch to paddle attachment.

On low speed add the butter one piece at a time.

Increase mixer to medium/high speed and mix until buttercream forms.

Add in the vanilla and mint oreo crumbs, continue mixing until completely mixed in.

ASSEMBLY:

Cut any humps off each cake layer that may have formed in baking.

Place first cake layer on cake board, secure it in place with a dab of frosting underneath.

Spread even layer of butter cream on top of the cake layer, smooth with offset spatula.

Repeat with the next two cake layers.

Add the top cake layer and crumb coat the cake with buttercream.

Refrigerate at least 30 minutes.

Put final coating of buttercream on cake.

Pipe swirls on top and garnish with Mint Oreo Cookies, chocolate crunches and buttercream roses or however you want to decorate it.

Keep in cool place and bring to room temp before serving.
Notes
You may have a little cake batter left over, just make a few cupcakes or discard.