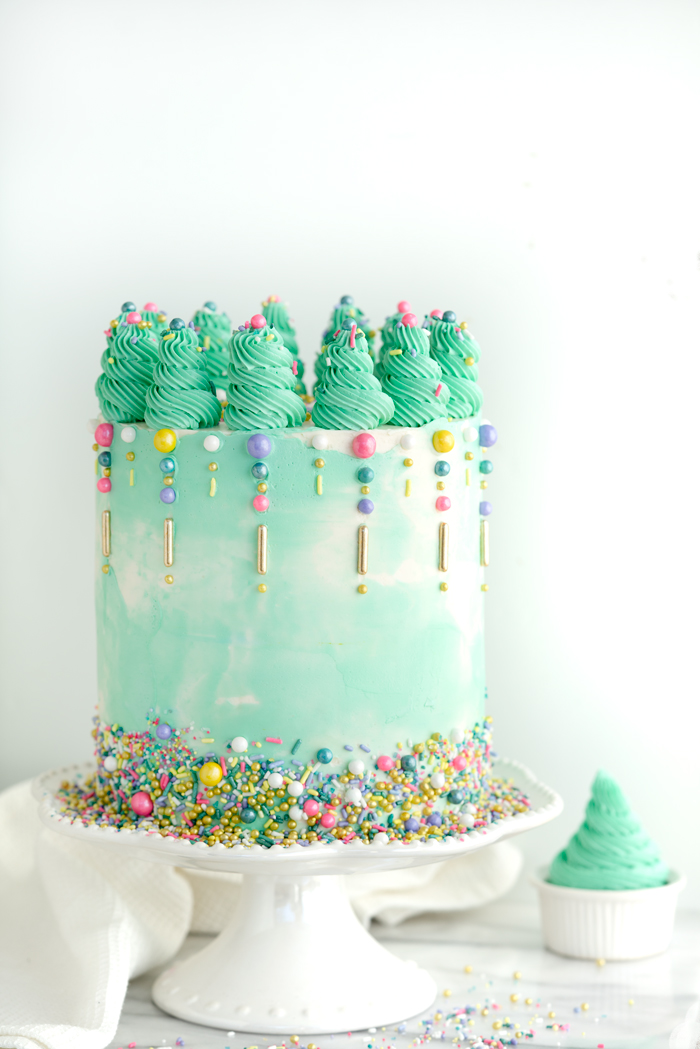 Lemon Raspberry Cake Recipe. Lemony cake and raspberry filling plus my classy cake hacks.
As you all know I love to bake from scratch. I find it therapeutic, a bit scientific and totally satisfying however… there are just times when a cake mix is a huge help. Whether you are short on time, don't like baking from scratch or you just need a break this Lemon Raspberry Cake Recipe is for you. Using a cake mix (totally amped up) and simple raspberry filling you'll never know it's a cake mix and most importantly the recipients won't either.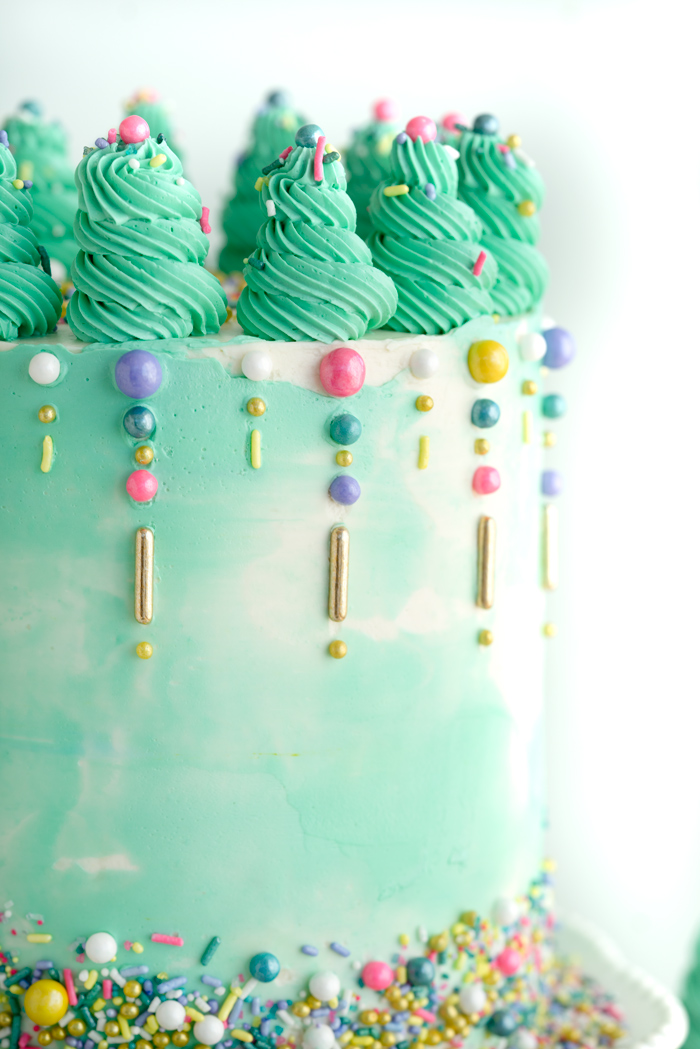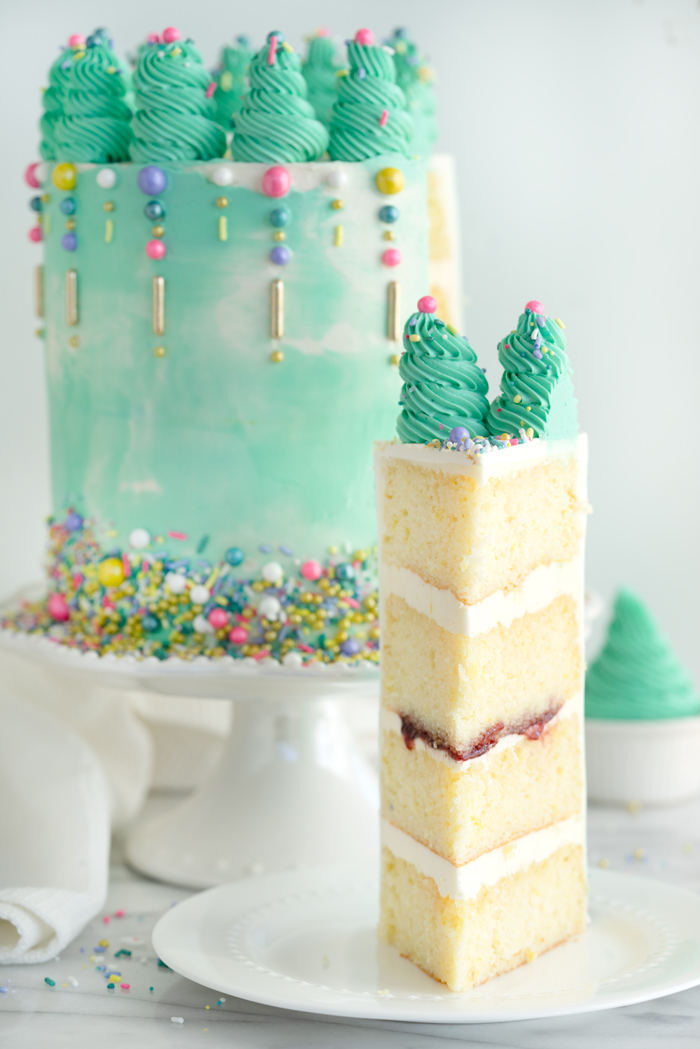 Lemon Raspberry Cake Breakdown and Hacks (shhhh 😉 ):
4 layers of perfectly baked lemon cake. The taller the better in my book.
Hack #1 – Cake mix amped up with..

buttermilk
vanilla
whole eggs
and last but not least tons of lemon zest

Hack #2 – Simple syrup – in this case lemon simple syrup. It amps the flavor and keeps the cake moist and delicious.
Hack #3… Filling, filling is a step up while adding even more flavor, class and intrigue as your guests see that little line of filling. In this case our filling was raspberry.
Hack #4 – Raspberry jam for the filling. Its delicious and gives the advantage of using seedless so you aren't straining all the seeds out yourself.
Swiss meringue buttercream – I couldn't hack this one, I love SMBC too much to bypass it. But it adds extra class to our cake hacks.

Decorating Breakdown:
Class act sprinkles – I used the "Bewitched" mix from Sprinkle Pop. But any extra pretty sprinkles you like will do.
Super high piping – because? Why not! Adds to the height and classy appeal.
Skim coat frosting technique – crumb coat, final coat and then a teal skim coat adds interest.
Arranged sprinkles – ok so this is a bit nutty but sooo much fun (and not fun when they dont line up perfectly lol) but if you have a good pair of tweezers and an eye for detail go for it!!
Heavy sprinkled bottom – its the bling that wraps it all together.

Helpful Notes:
This 4 layer tall cake takes (2) cake mixes but if that's too much for you scale it down to (1) cake mix and cut the layers in half to achieve the 4 layer look.
This recipe takes (2) batches of swiss meringue buttercream. I make one batch at a time. I make the first batch for crumb coating and filling. The second batch for the final coat, skim coating and piping. Note: If only using one cake mix you should be able to use only (1) batch of buttercream.
Concerning the sprinkles, to cover the cake as I did you will need the 8 oz jar to make sure you get enough of the specialty detailed pieces. For the detailed decorating at the top remove all your specialty sprinkles and arrange them to insure you have what you need. The rest can be used for the bottom and then for the sprinkling on top. And a good pair of tweezers are highly recommended 😉 .
For the teal color I used sky blue with a touch of lemon yellow both from Wilton.
Raspberry jam can be clumpy – easy fix just put it in a bowl and give it a good stir. This will soften it and make it more spreadable.
I think that about wraps it up!
Enjoy!
Stacey
Additional citrus cakes you may love:
PIN for later! Thanks.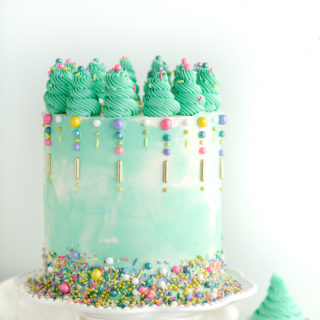 Lemon Raspberry Cake Recipe
Lemon Raspberry Cake Recipe. Lemony cake and raspberry filling plus my classy cake hacks.
Ingredients
CAKE

FOR FOUR LAYERS:

2

white cake mixes

I used Duncan Hines Classic White

6

large whole eggs

room temp

2/3

cup

oil

2

cups

full fat buttermilk

room temp

5

Tbsp

lemon zest

1

Tbsp

vanilla extract

SIMPLE SYRUP:

1/2

cup

fresh lemon juice

1/2

cup

sugar

BUTTERCREAM

you will need 2 batches of the below, I make one batch to fill and crumb coat the cake, the second batch to final coat and decorate the cake:

5

egg whites

1 1/4

cups

sugar

1

lb

butter room temp

1/2

Tbsp

vanilla extract

1

tsp

salt

GARNISH:

Sprinkles
Instructions
Preheat oven to 350 degrees F. For the four 7 inch pans grease, flour and line bottoms with parchment.

*Note - If your mixer will not hold (2) cake mixes just make one at a time, this will require cutting the cake recipe in half and repeating the steps twice.

Place cake mix and all other ingredients into bowl of mixer, mix on low until cake mix is moistened and mixture is no longer soupy.

Increase speed to medium and mix for 1 minute or until mixture is completely combined. Make sure to scrape the sides and bottom of bowl as needed.

Pour evenly into prepared cake pans.

Bake 30-34 minutes or until toothpick inserted comes out clean.

Let cool completely.

SIMPLE SYRUP:

Put all ingredients into small sauce pan, bring to boil. Reduce to simmer and continue simmering until reduced by half (about 20 minutes), make sure to whisk often.

Cool completely.

BUTTERCREAM:

In medium sauce pan add the egg whites and sugar.

On medium heat you are going to whisk egg mixture until sugar is completely dissolved (you can test it by rubbing a small amount between your fingers to test it, it should be completely smooth).

Remove from heat and let mixture cool. (If mixture is too warm it will melt your butter when the time comes).

Transfer to mixing bowl and with whisk attachment whisk on high until stiff peaks form and mixture is completely cooled.

Switch to paddle attachment.

On low speed add the butter one piece at a time.

Increase mixer to medium/high speed and mix until buttercream forms.

Add in the vanilla, continue mixing until completely mixed in.

ASSEMBLY:

Cut tops of cakes if hump formed while baking.

Apply the lemon simple syrup to the tops of each cake layer, you can do this to all of them at once or to each as you are stacking them. (I like to do it all at once so I don't forget to as I am in the assembly process).

Place first cake layer on cake board, secure it in place with a dab of frosting underneath.

Spread even layer of butter cream on top of the cake layer, smooth with offset spatula.

(I left the outer edges of frosting higher for the middle layer to keep the raspberry from slipping out).

Next add raspberry filling on top of the buttercream arrange evenly.

Repeat with the next two cake layers, you can add raspberry to additional layers as well if you wish (I did not as you can see from the pics).

Add the top cake layer and crumb coat the cake with buttercream.

Refrigerate at least 30 minutes.

Put final coating of buttercream on cake. Refrigerate 30 minutes minimum.

Skim coat the cake with teal buttercream (if doing so).

Pipe swirls on top and garnish with sprinkles. I used Wilton 4B tip

I used Wilton "Sky Blue" and "Lemon Yellow" for the teal coloring.