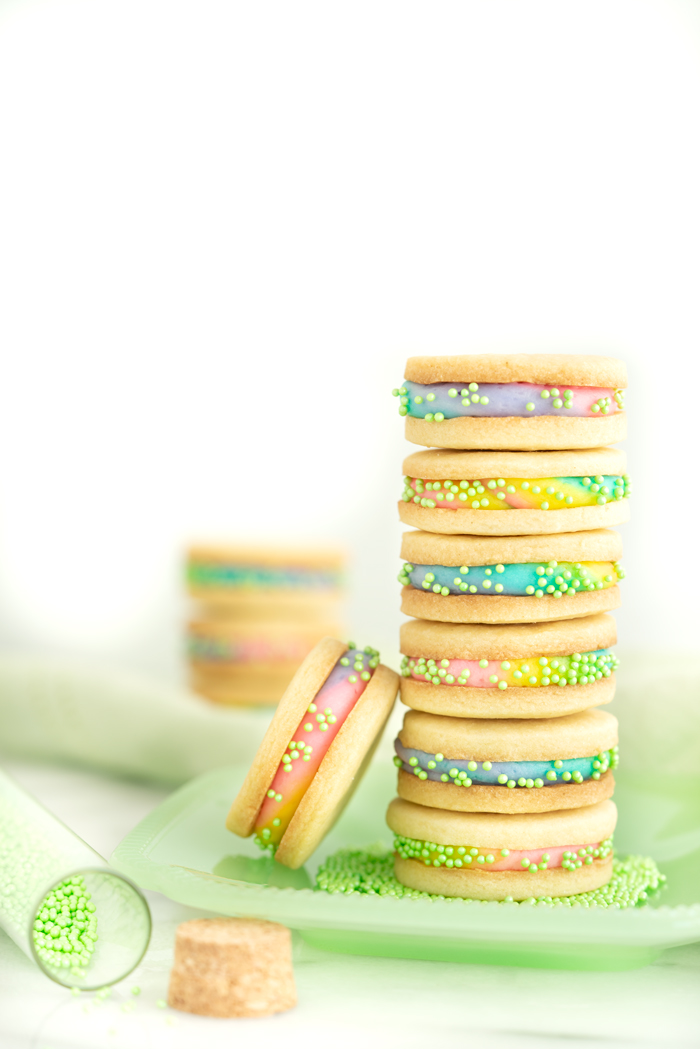 Buttercream Sandwich Cookie Recipe. Crispy sugar cookies sandwiching sweet buttercream.
As much as I love desserts there is nothing that beats the delicious sweet buttery crunch of a sugar cookie. Pair it with melt in your mouth buttercream and you have a match made in heaven!
Since the first day of Spring is upon us I felt inspired by rainbow colors and fresh green. So I chose a rainbow hued color plan for the buttercream and then used spring green non-perils to really add a pop to the edges.
Why These Are My Favorite Sugar Cookies:
This is the same recipe as My Favorite Sugar Cookie recipe so its been test, tried, eaten and true. (total transparency – its the Fancy Flours sugar cookie recipe)
No chilling the cut out cookies prior to baking.
No worries that as the cookies bake up they will melt into unrecognizable blobs (if you've had this happen you know exactly what I'm talking about, not fun!). The cutouts keep their shape all the way through baking.
The sugar cookies taste amazing, sweet, buttery with hints of vanilla.
These sugar cookies have a wonderful light crunch that immediately melts in your mouth.
The Filling – American Buttercream:
This is one addicting buttercream and is so simple to make. All the work is done with the mixer (handheld or stand).
Melt in your mouth goodness – sweet, rich and hints of vanilla that compliment a sugar cookie perfectly.
You can easily color it any way you wish.
Has a nice sturdy texture once set.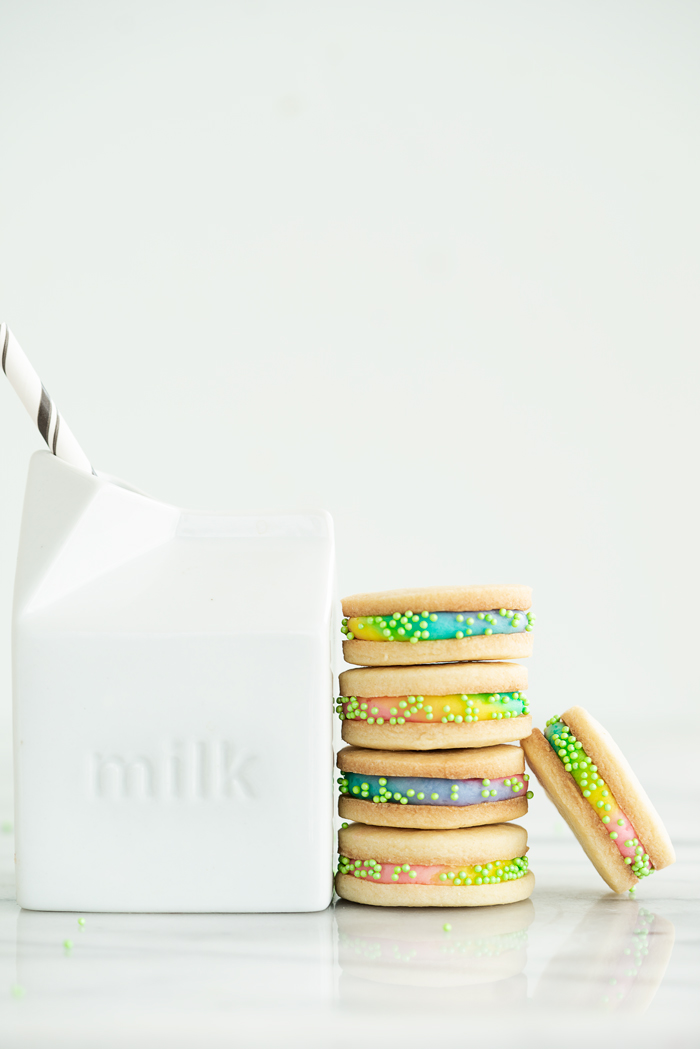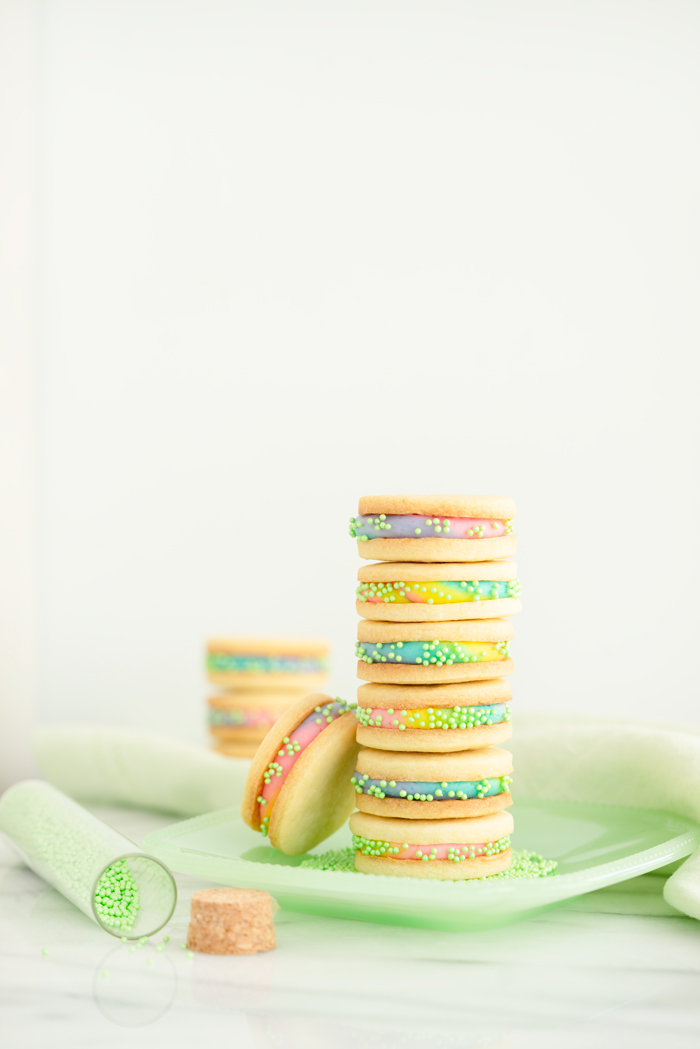 Some notes when making these Buttercream Sandwich Cookies:
A piping bag works best to get that nice clean edge for the buttercream but you don't have piping bags spooning a small dollop in the center of each cookie will do.
Leave about a 1/4 inch edge when adding the buttercream as the buttercream will move toward the outer edges of the cookies as the two cookies are pressed gently together to make the sandwich.
When adding the sprinkles do so when the buttercream is still wet so they stick. If you wait too long the buttercream will crust over and nothing will stick to it. I worked one cookie at a time.
I used a  1 3/4 inch round cutter for my cookies but any size you wish will do.
I used Wilton food coloring in – Pink, Sky Blue, Violet, Lemon Yellow.
I used Wilton green non-perils
This is one sweet, buttery treat with a light crunch!
Enjoy!
Stacey
PIN for later! Thank you.

Buttercream Sandwich Cookie Recipe
Buttercream Sandwich Cookie Recipe. Crispy sugar cookies sandwiching sweet buttercream.
Author:
Stacey - The Sugar Coated Cottage
Ingredients
SUGAR COOKIES:
3 cups flour
1.5 tsp baking powder
1 tsp salt
1 cup butter (room temp but not too soft/melty, see Notes)
1 cup sugar
1 egg
1 tsp vanilla extract or paste
AMERICAN BUTTERCREAM:
1 cup butter room temp
4 cups powdered sugar
2-4 Tbsp milk
½ Tbsp vanilla extract
½ tsp salt
GARNISH:
Wilton green non-perils (I got mine at Michaels craft store)
Instructions
Pre-heat oven to 350 degrees.
Line baking sheets with parchment.
Have cookie cutter(s) ready.
SUGAR COOKIES:
In medium bowl add the flour, salt and baking powder, stir to combine, set aside.
In bowl of mixer start whipping the butter until light and fluffy.
Add the sugar and mix to combine.
Add in the egg, vanilla and vanilla bean. Mix well to combine.
Slowly add in the flour mixture and mix until cookie dough forms and all is combined.
Divide dough into two portions.
Place dough between two sheets of wax paper and roll out, cut out cookies and place on tray. (I used a 1¾ inch round cutter)
Bake for 8-10 minutes.
Repeat until all cookies are baked.
Let cool completely.
BUTTERCREAM:
In bowl of mixer cream the butter until light and fluffy.
Add in the vanilla and salt, mix until fully combined.
With mixer on low add in the powdered sugar one spoonful at a time. Alternating with the milk as needed and desired consistency is met.
Mix on med/high speed until smooth and creamy.
ASSEMBLY:
Color buttercream as desired.
Match up the cookies in pairs.
Pipe a dollop of buttercream in the center of one of the paired cookies. Leaving about a ¼ inch edge.
Top the bottom cookie with the top cookie and press lightly to allow the buttercream to moved to the outer edge.
Sprinkle with sprinkles (do this before the buttercream sets, I worked one cookie at a time).
Notes
I used Wilton food coloring in - Pink, Sky Blue, Violet, Lemon Yellow.