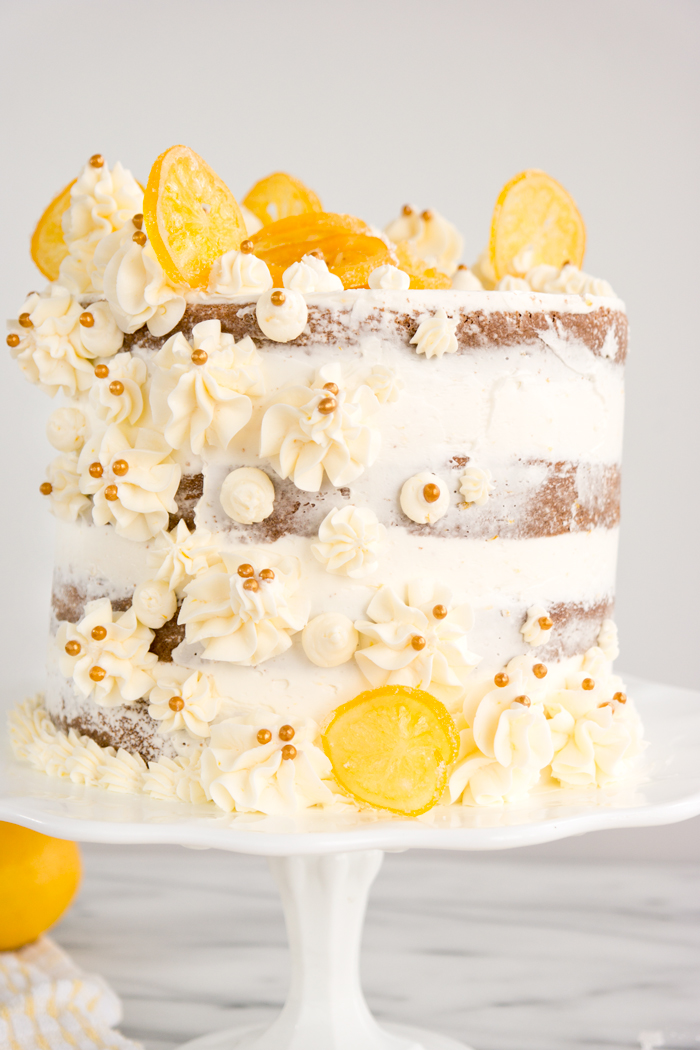 Meyer Lemon Sour Cream Cake. Meyer Lemons are the star of the show is this fabulous sour cream cake and swiss meringue buttercream.
[social_share/]Yum

Meyer Lemons are such a special treat this time of year. Thought to be a combination of a mandarin orange and lemon, they retain their tartness with hints of sweet orange. In my neck of the woods they aren't brought in mass crates but rather small bags of 5-6 lemons making them all the more special.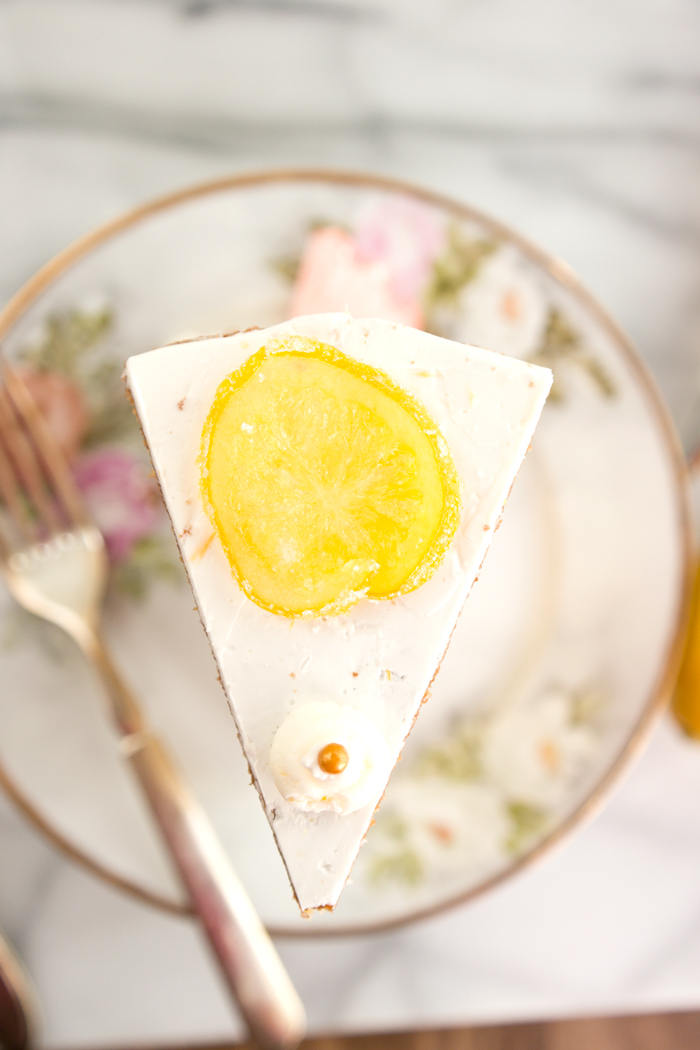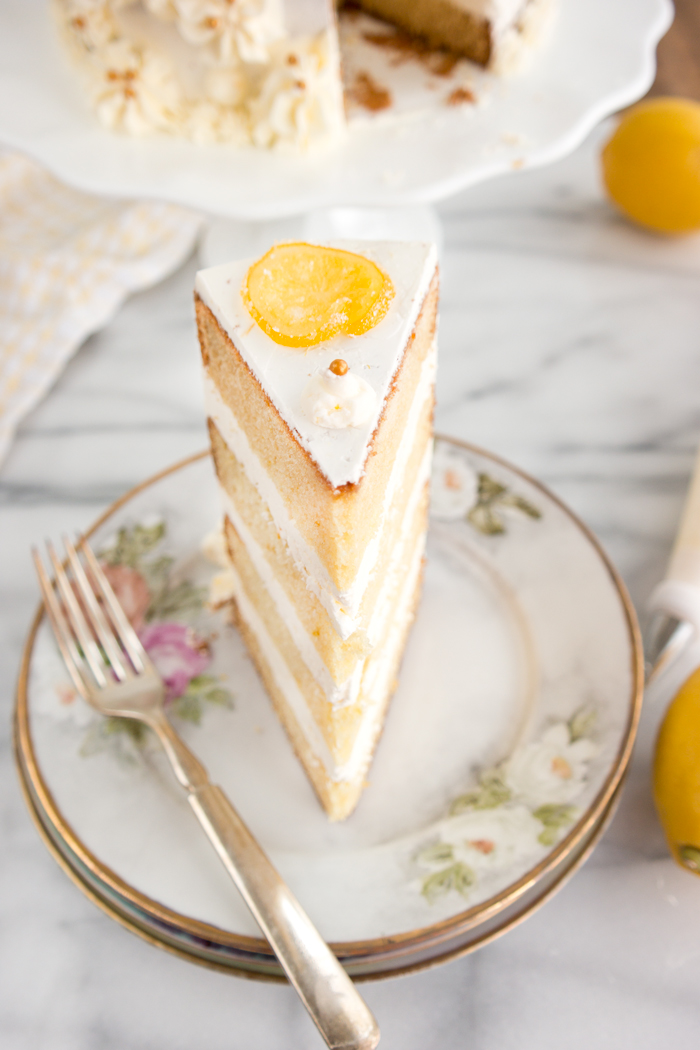 The weather has been playing tricks on us here, one day its winter and then next day spring! I know the spring fling won't last but it does make me crave citrus, something about the sun and warm air makes me think of lemons, oranges, limes and grapefruit.
I have been itching to make a cake but one that was light and lively in flavor rather then rich and heavy. Meyer Lemons answered the call and along with their help and a little sour cream, we created a deliciously, moist, tender crumbed cake that melts away with each bite. The sour cream addition to this cake makes it a bit more dense which lends beautifully to the structure of this layered cake and the fat in the sour cream adds to the moistness.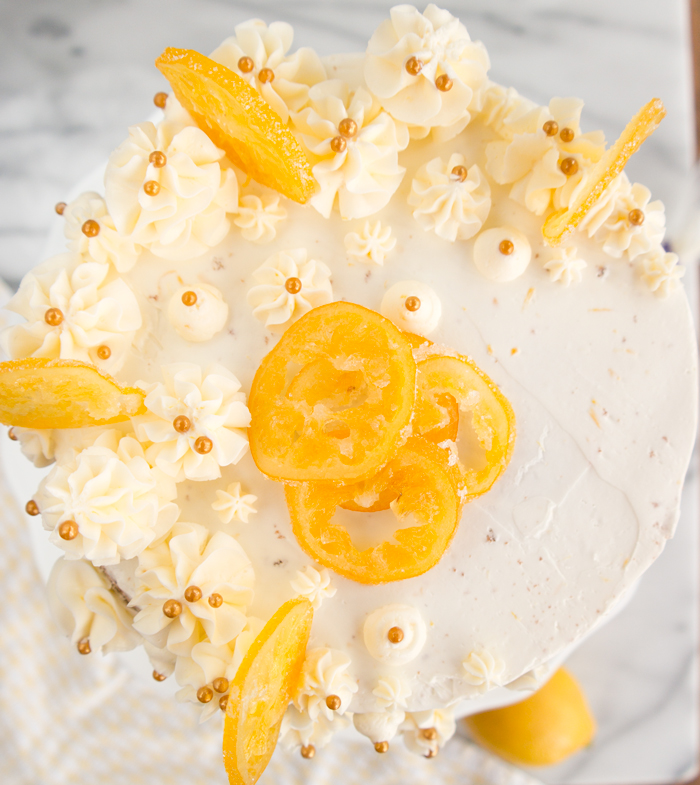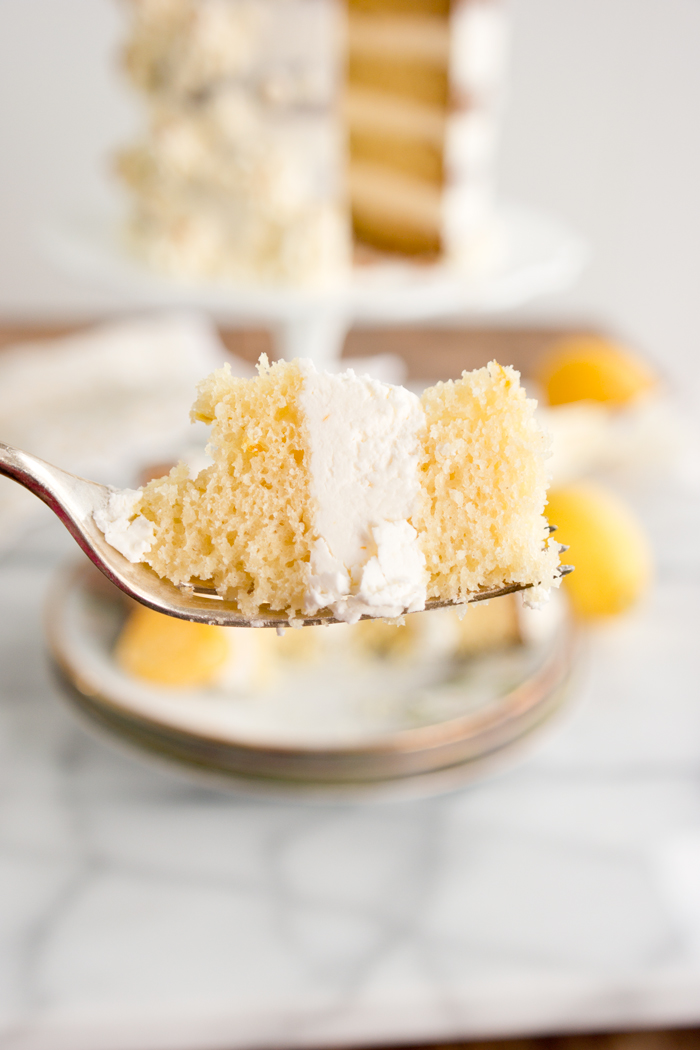 The swiss meringue buttercream is also flavored with Meyer Lemons and though you would think buttercream = heavy, the brightness of the Meyer Lemons lifts this buttercream to a much lighter place. That combined with the light, melt in your mouth quality we have grown to expect from swiss meringue buttercream knocks this out of the park.
As you can see from the photos I opted to do a "Naked" cake, meaning that it gets a crumb coat on the outside but you can still see the cake layers. I also chose to skim some buttercream over the edges of the cake layers as a means to help protect the edges from drying out. The real secret though to a great naked cake is that the filling has got to make up for the lack of frosting on the outside. I'm all about the frosting so I made sure each buttercream layer was a 1/2 inch thick so each bite of cake had its equal partner of buttercream.
Ever have a candied Meyer Lemon slice? They are divine and worth the extra step. And just between you and me, even if you were to decide not to make the cake (which would be a devastating tragedy), make the Meyer Lemon slices. They are a treat within themselves. Their glow added a jewel like gleam to the decoration of this Meyer Lemon Sour Cream Cake.
The Meyer Lemon Sour Cream Cake takes the best this winter fruit has to offer and turns this cake into a deliciously bright layered treat.
Enjoy!
Stacey
FORGOT TO PIN IT? Here's your chance. Thanks!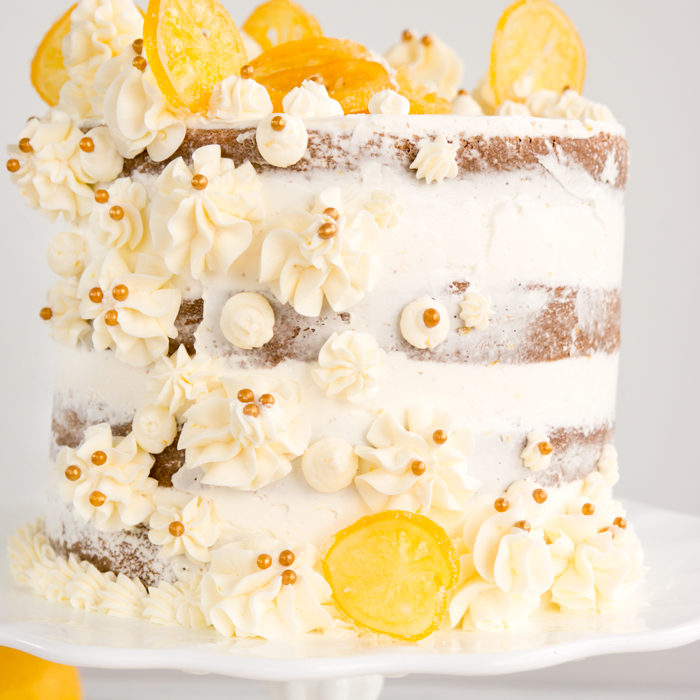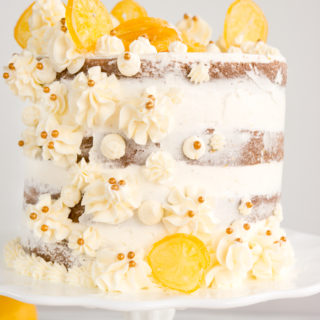 Meyer Lemon Sour Cream Cake
Ingredients
CAKE:

1

cup

butter

room temp

1 1/2

cups

sugar

4

eggs

room temp

2

Tbsp

Meyer Lemon Zest

2

Tbsp

Meyer Lemon Juice

3

cups

cake flour

1/2

Tbsp

baking soda

1/2

Tbsp

baking powder

1/2

tsp

salt

1/2

cup

milk

1/2

cup

sour cream

BUTTER CREAM:

2 1/4

cups

sugar

9

large egg whites

1/2

teaspoon

cream of tartar

4

cups

unsalted butter

cut into tablespoons, room temperature

2

Tbsp

Meyer Lemon zest

3

Tbsp

Meyer Lemon juice

CANDIED MEYER LEMON SLICES:

1

Meyer Lemon

sliced thinly, seeds removed

2

cups

water

3/4

cup

sugar

1/4

cup

water

1/2

cup

sugar for dusting

GARNISH:

Candied Meyer Lemon slices

Copper colored ball dragees

sprinkles
Instructions
Pre heat oven to 350 degrees F

Oil bottom and sides of 2 - 7" cake pans and line bottom with parchment. Oil parchment and dust pans with flour. Set aside.

CAKE:

In large bowl add the dry ingredients, flour, baking powder, soda, salt and stir to combine. Set aside.

In bowl of mixer fitted with the paddle attachment, cream the butter and sugar until fluffy and pale.

Add in one egg at a time, mixing between each addition. Scrape down sides of bowl if needed.

Add in the lemon zest and juice, keep mixing on medium speed.

On low, mix in the flour mixture, sour cream and milk, alternating as needed.

Mix on high for about 5 seconds to make sure everything is well combined.

Pour into prepared pans.

Bake 44-46 minutes or until the cake is firm and tooth pick inserted comes out clean.

Cool 20 minutes, remove from pans and place on wire rack to continue cooling completely.

BUTTERCREAM:

Combine sugar, egg whites, in medium sauce pan.

Whisk until sugar is dissolved, 2 to 3 minutes. Test by rubbing between your fingers; the mixture should feel smooth.

Pour mixture into bowl of mixer fitted with whisk attachment.

Mix egg white mixture until frosty, add the cream of tarter.

Mix egg whites again on med/high until glossy, stiff peaks form and mixture has cooled.

Reduce speed to medium and add butter 2 tablespoons at a time, mix until well incorporated. (mixture may appear curdled, keep mixing.)

Add in the lemon zest and juice. Mix well to combine.

Switch to the paddle attachment.

Mix on medium/high speed to smooth buttercream for about 2 minutes.

CANDIED LEMON SLICES:

In small sauce pan add the 1/4 cup water and 3/4 cup sugar, set aside.

Add the 1/2 cup dusting sugar into shallow dish, set aside.

In medium sauce pan add 2 cups water and lemon slices, simmer covered for 45 minutes.

Drain in strainer.

Heat the small sauce pan of sugar and water until sugar dissolves.

Add the lemon slice and cook for 15 minutes.

Remove lemon slices and arrange on wire rack so excess moisture drips off, about 2 minutes.

Then gently coat each slice of lemon with sugar on both sides. Return each slice to the wire rack to set, at least 4 hours.

ASSEMBLY:

Cut cake layers horizontally to equal four cake layers.

Lay first cake layer on cake plate.

Add layer of buttercream, I used a piping bag.

Repeat with remaining layers, adding layer of buttercream between each.

Crumb coat the cake on the sides and top. This is a "naked cake" so a crumb coat is all I did. Refrigerate for 30 minutes to an hour.

Pipe on a border and design as pictured or design of your choice.

Garnish with sprinkles and lemon slices.

Set in a cool place until ready to serve.

If traveling with this cake I would recommend refrigerating it for at least an hour. This will firm up the buttercream and make it less likely to smudge if lightly dinged.