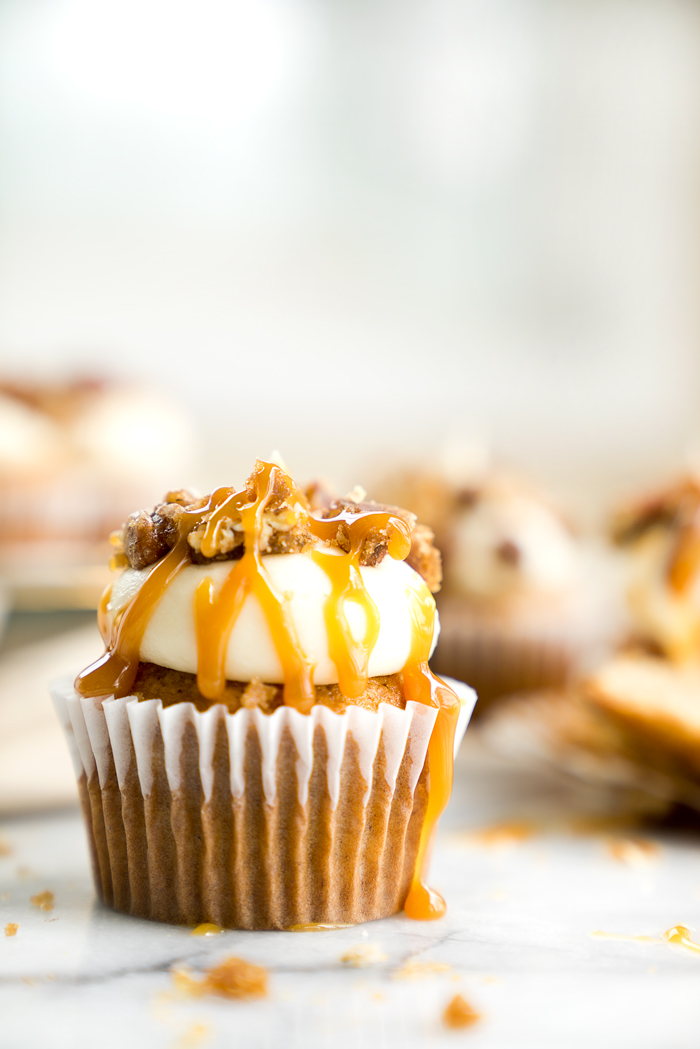 Candied Pecan Banana Cupcake Recipe. Easy stove top candied pecans crumbled on top of cream cheese frosting, drizzled with butterscotch on top of a sweet banana cupcake!
As a blogger I am finally getting into learning more about SEO, I'm a little late to the SEO party. The truth is it feels like a foreign language and the more I read smoke starts to come out of my ears lol. I have picked up a few pointers though and you will start to see them in the post (ex: headers, numbered lists, etc). I'm experimenting to see if it has an impact with Google. I'll let you know how it goes 😉 . Any pointers?
This cupcake…gahhhh, leaves me speechless. You just have to taste it for yourself! Then you will see how sweet the banana cupcake is, you will see how the super easy stove top candied pecans crumble away sweetly into the tangy cream cheese frosting and feel the buttery butterscotch melt it all together into the best cupcake you've ever had.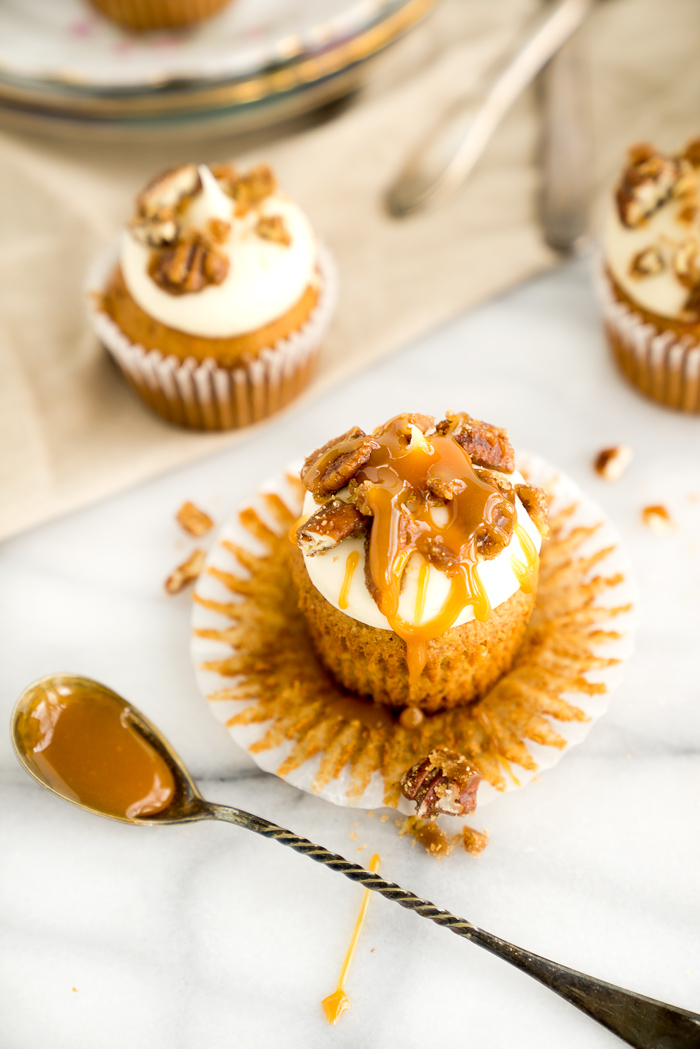 1. Bananas! Why do I love baking with them? Let me count the ways:
Bananas make everything moist
They smell like heaven when baking
Bananas are so sweet and delicious tasting
2. Cream Cheese Frosting: Why do I love it on these cupcakes?
It's tangy sweetness makes it one of the best frostings in the world
Not only is it rich but it's a balancer to the all the sweet goodness we've got going on here.
It super creamy and melts in your mouth!
3. Stove Top Candied Pecans for cupcakes? You bet and here's why:
So easy, all the work is done in one pan on the stove top.
In just a few minutes you are pouring these out of a pan to be cooled and crumbled!
Most importantly – Candied pecans are a treat by themselves, sweet, brown sugary and crumbly. They take these cupcakes to the next level.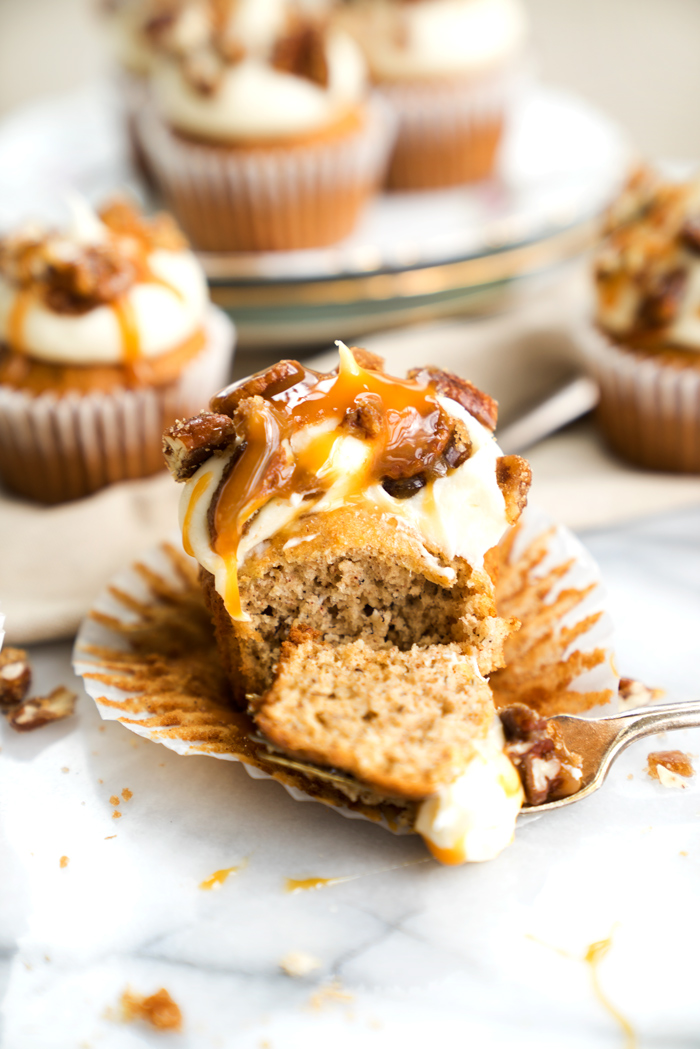 Whats a fab cupcake without a drizzle, a butterscotch drizzle to be exact. There is nothing in the world like butterscotch, its sweet, rich, buttery and that golden color, extra please! Check out this great butterscotch recipe.
Put it all together and you have the Candied Pecan Banana Cupcake. In all honesty this name does not fully explain the perfection of all that is going on here. Just know you get a lot of flavor bang for the buck with this one.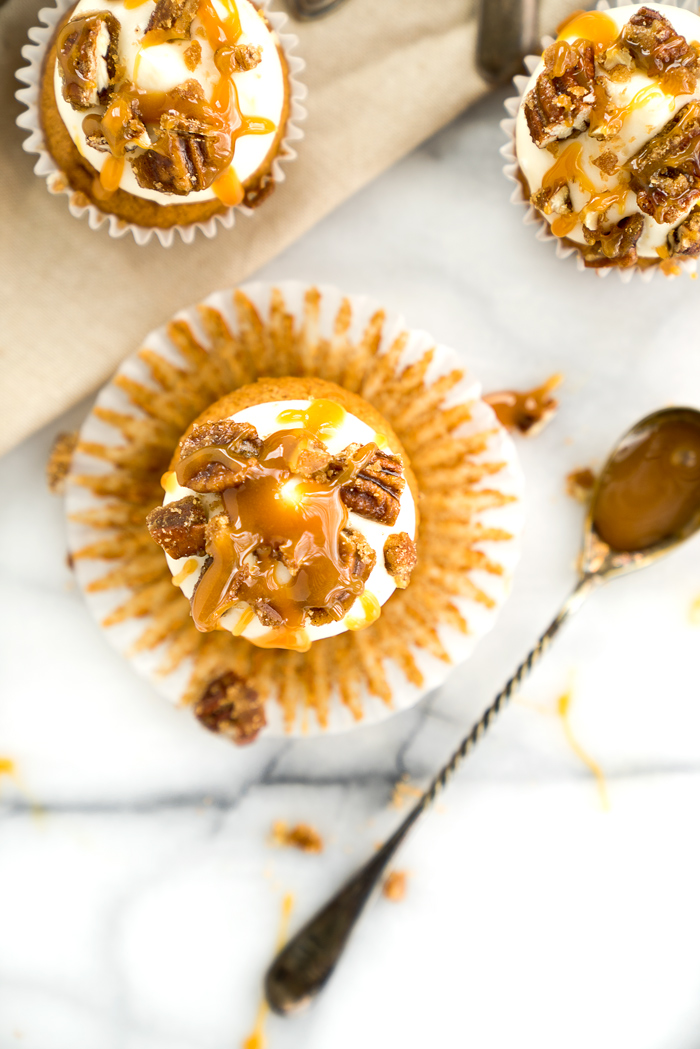 Keep these Candied Pecan Banana Cupcakes in mind for your Easter menu! Check out these other fab banana recipes as well!!
Banana Cake With Brown Sugar Buttercream
Humming Bird Bread With Pineapple Glaze
Enjoy!
Stacey
Here are some of the products used to make the Candied Pecan Banana Cupcakes. Whether you are interested in buying through the link or just want a visual of what to look for see below. (Please note some of the links below are affiliate links which means if you purchase from the link I get a small commission. I use these products and stand behind them which is why I chose to tell you about them. Thank you for your supporting this blog. )
FORGOT TO PIN IT? Here it is. Thanks.

UPDATE AS OF 4/16/18 – Originally I had made a typo and listed the amount of flour as 1/2 cup. This error was fixed to reflect the correct amount of flour to be 1 1/2 cups. If you printed this recipe before the update please reprint. My apologies for the mistake.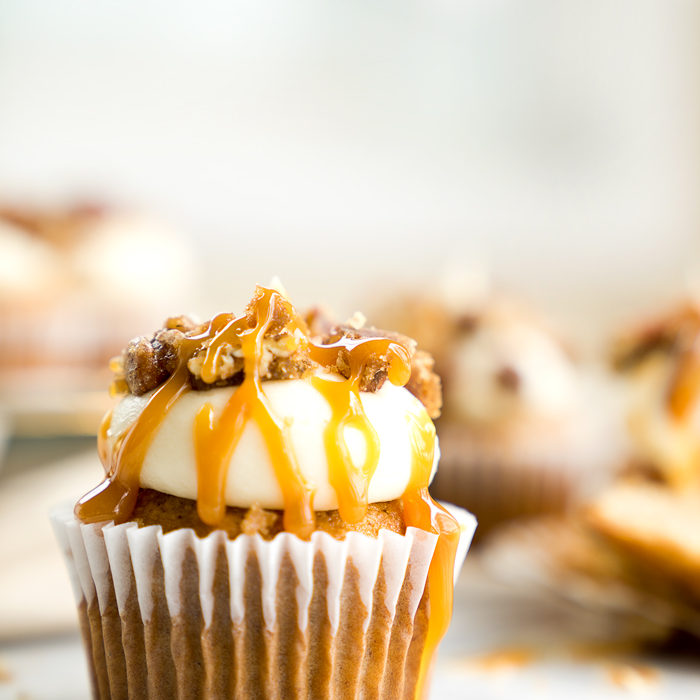 Candied Pecan Banana Cupcake Recipe
Candied Pecan Banana Cupcake Recipe. Easy stove top candied pecans crumbled on top of cream cheese frosting, drizzled with butterscotch on top of a sweet banana cupcake!
Ingredients
CUPCAKES:

1 1/2

cup

all purpose flour

1

cups

granulated sugar

1/2

tsp

baking soda

1

tsp

cinnamon

1/2

tsp

salt

2

large eggs

room temp

1/3

cup

vegetable or canola oil

1

tsp

vanilla extract

1

cups

mashed ripe banana

about 3 large

1/4

cup

milk

CREAM CHEESE FROSTING:

1/2

cup

unsalted butter room temp

8

oz

cream cheese room temp

2

tsp

vanilla extract

3

cups

powdered sugar

CANDIED PECANS:

1

cup

pecans

1/2

cup

brown sugar

2

Tbsp

water

1/4

tsp

salt

1/4

tsp

cinnamon

GARNISH:

Butterscotch

jarred or check post for link to great homemade recipe.
Instructions
Preheat oven to 350 degrees F

Line cupcake tray with liners (this recipe makes 12-14 cupcakes)

CUPCAKES:

In bowl of mixer add in all the dry ingredients.

Add in the eggs, oil and vanilla, mix until just combined.

Add in the bananas and stream in the milk.

Mix until just combined and batter is formed.

Pour into prepared muffin tin.

Bake for 16-18 minutes or until toothpick inserted comes out clean.

Let cool completely.

CREAM CHEESE FROSTING:

Cream butter and cream cheese

Add in the vanilla

Slowly, mixer on low, add in the powdered sugar 2 Tbsp at a time

Mix until completely combined

CANDIED PECANS:

Put brown sugar, water, salt and cinnamon in medium pan.

Cook over medium heat until sugar dissolves and the mixture bubbles.

Add pecans, cook 4 additional minutes, stir to coat pecans in sugar mixture.

Remove from heat and pour onto parchment line cook sheet.

Let cool completely.

Break or chop into pieces.

GARNISH:

Butterscotch, jarred or check post for link to great homemade recipe.

ASSEMBLY:

Line up cupcakes.

Using Ateco 808 tip (or similar) pipe the frosting onto the cupcake.

Sprinkle with candied pecans.

Drizzle with butterscotch