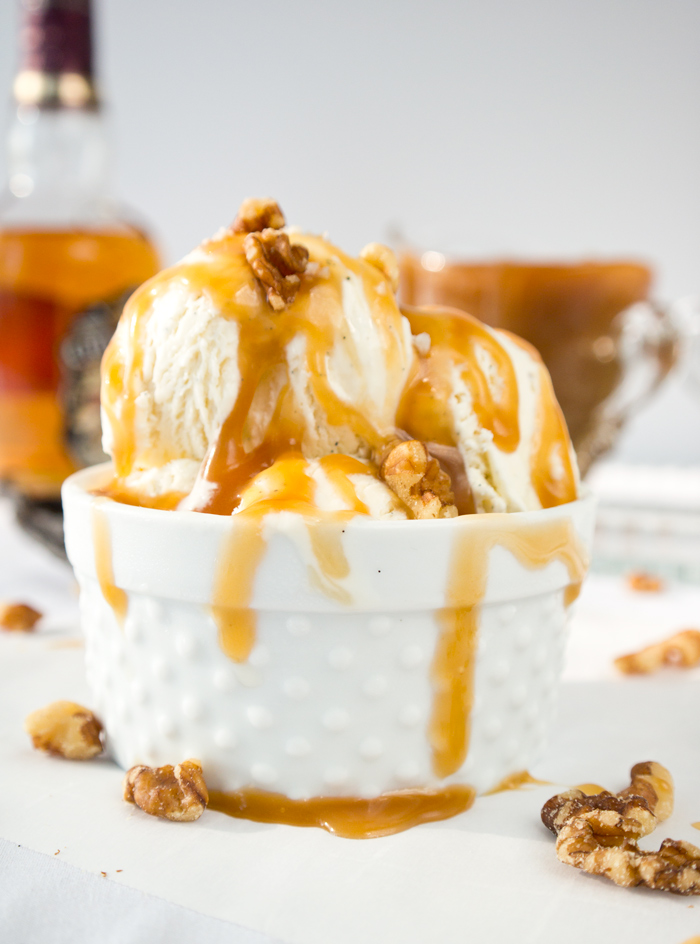 Butter Scotch Sauce on Vanilla Bean Ice Cream. Homemade, no churn vanilla bean ice cream topped with homemade Butter Scotch sauce made with actual scotch.
[social_share/]Yum
So try to imagine if you will the scene at my house, my brother and kids are back visiting, we just got back from church (first time in a lonnngg time, not sure God still recognizes me, just kidding, I know better, lol), my husband is grilling hot dogs and hamburgers, I am making a salad and vegetable plate, cartoons are playing in the back ground over our conversation and I decide to pull out a bottle of scotch. That's what happens when inspiration hits, I just start out of the blue and everyone is like, "what are you doing?". "Just making Butter Scotch.", I reply, as if this happens at everyones house.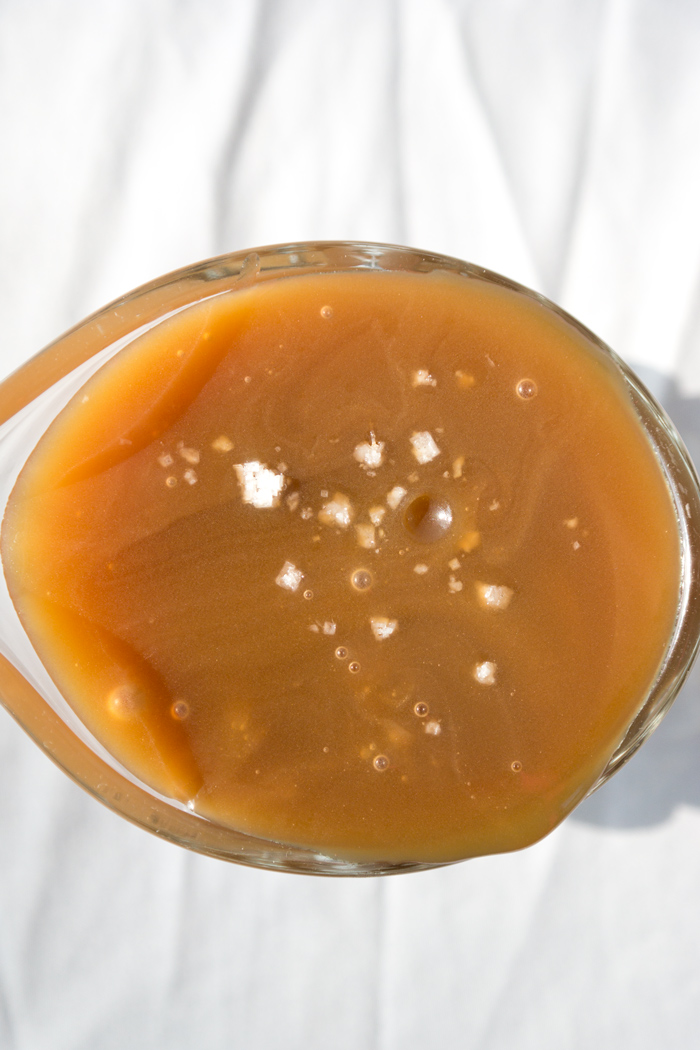 [social_share/]
Ok, so you're probably reading this post and thinking," does she know she spelled butterscotch wrong, there's no space between the two words". And under normal circumstances you would be absolutely right. But this isn't a normal situation because I wanted it to be clear that this "Butter Scotch" was far different than any old butterscotch bought in the ice cream aisle at the grocery store. But let me back up here a bit…
When I set out on this post journey it was supposed to be all about the ice cream, vanilla beans and no churn to boot. All sounds good right? So I thought I would also make a topping for the ice cream since vanilla is such an amazingly versatile flavor that compliments almost anything. Now when I was thinking of the topping I wanted to make it was only meant to be the side kick, the number two, the silent partner…you get the picture. But then something amazing happened….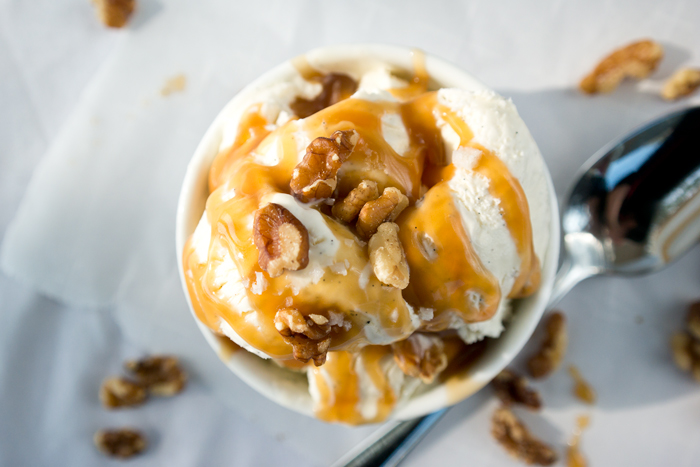 [social_share/]
BUTTER SCOTCH! Can I just tell you that the smell of scotch makes me happy, I mean really happy, I just open the bottle and smell it, again and again. The smell conjures up day dreams of sitting in front of a roaring fire on a cold wintery night, relaxing after a long day in a soft leather chair surrounded by a library of first edition books, taking a load off while enjoying deep conversation and being the type of sophisticated person that, well…that I will never be. Though it's fun to imagine, my type of person has dishes in the sink, toys on the floor, PJ's on at 8pm (for both my daughter and I) and lighting fake candles in my faux fireplace. The books on our shelves are children's books and cook books. The deep conversation is usually with our 3 year old over who is better, Elsa or Anna from the movie Frozen. And though I like a little sip here and there scotch is a hard hitter to a girl that doesn't drink much and to quote a dear friend, "it'll put hair on your chest".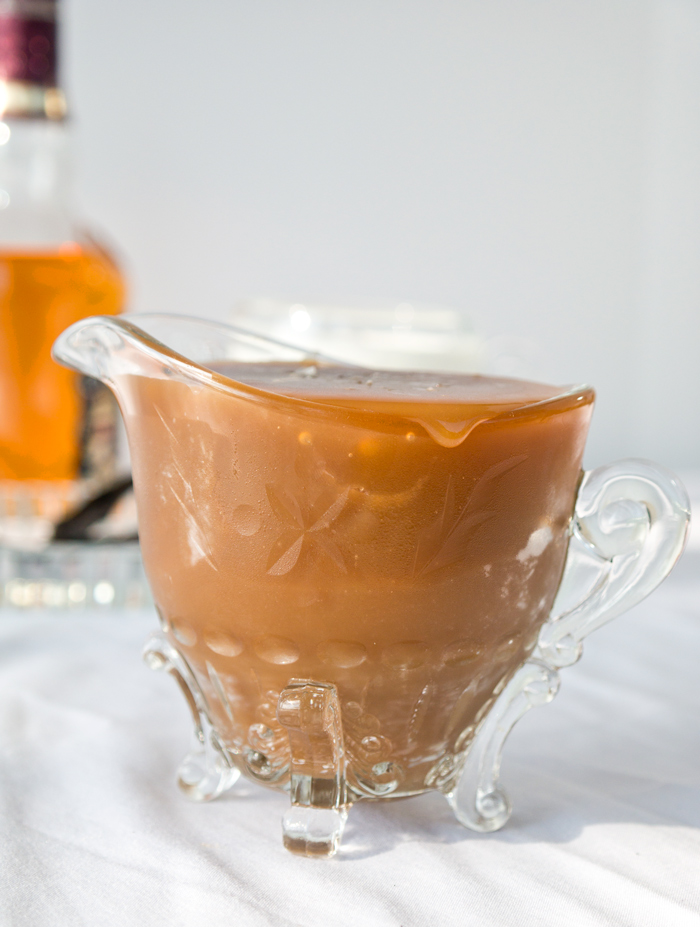 [social_share/]
But Butter Scotch sauce is the best of both worlds and it went from being the side kick to the ice cream to being the star of the show! Imagine cool, creamy vanilla steeped ice cream wrapped in a warm blanket of rich, smooth, sophisticated Butter Scotch! Butter, brown sugar, vanilla and Scotch make the majority of this sauce and the sprinkling of sea salt makes it pop! The dark, rich color also says to me that this is going to be good, no imitation here, no scotch less butterscotch! And once you try it you will agree, you cannot ever go back to the imitators, ever!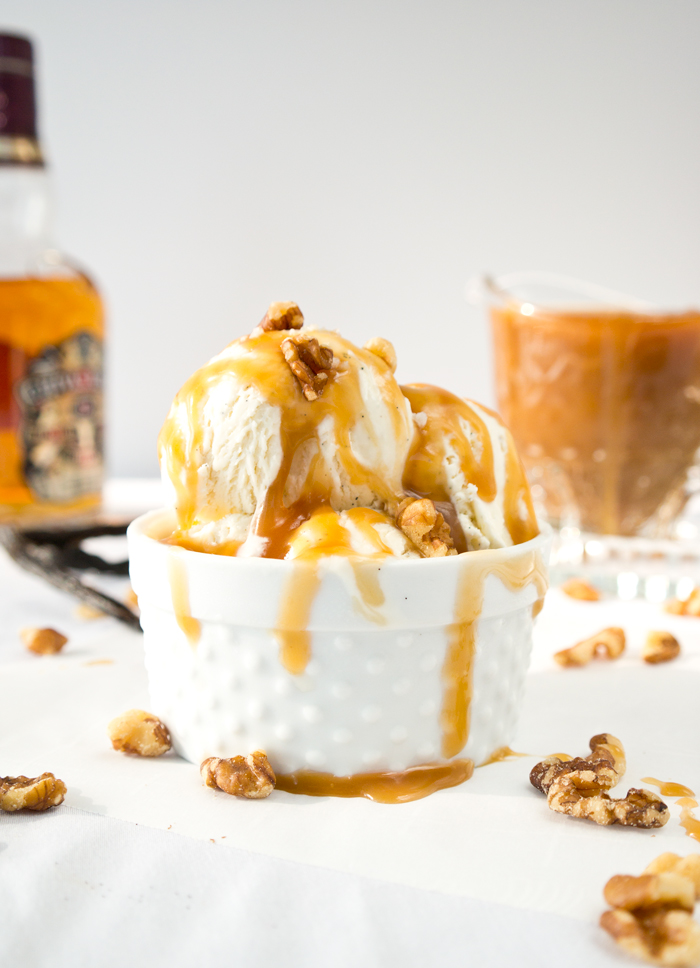 [social_share/]
Butter Scotch Sauce on Vanilla Bean Ice Cream! Now this is something I can curl up on the couch with, turn on my faux fireplace candles and say good bye to a long day!
Enjoy!
Stacey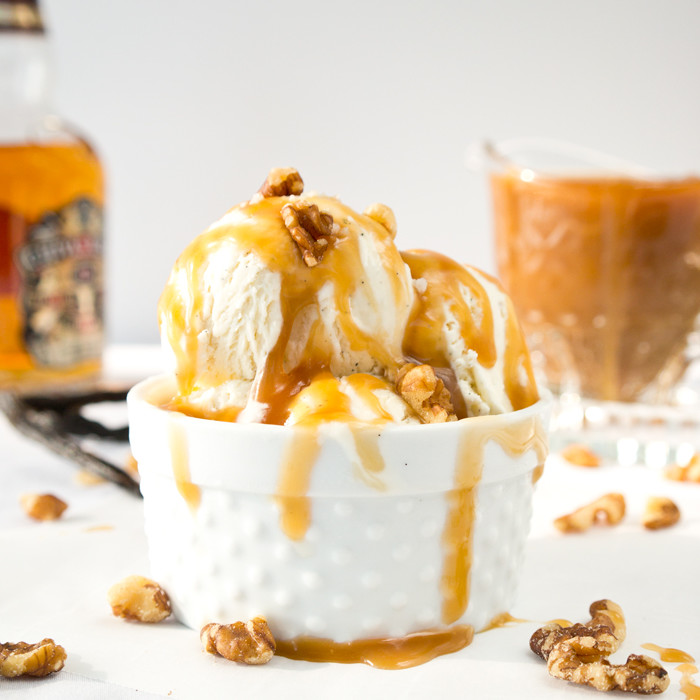 Butter Scotch Ice Cream Cups
Ingredients
BUTTER SCOTCH:

1

and 1/2 cup light brown sugar packed

1/3

cup

light corn syrup

1/4

cup

water

2

Tbsp

unsalted butter

1

tsp

sea salt + plus more for sprinkling

3/4

cup

heavy cream

2

Tbsp

scotch + 1 and 1/2 Tbsp

separated

1/2

tsp

vanilla extract

VANILLA BEAN ICE CREAM:

2

cups

heavy cream

1- 14

oz

can sweetened condensed milk

Vanilla seeds from two vanilla bean

1/2

Tbsp

vanilla extract
Instructions
BUTTERSCOTCH:

In sauce pan add brown sugar, corn syrup, butter, salt and water.

Bring to a simmer and let sugar dissolves, about 3 minutes.

Stir in cream and 2 Tbsp scotch. Continue to simmer until sauce is thick and syrupy. About 12 minutes.

Stir in remaining whisky and vanilla, simmer 3 more minutes and remove from heat.

Let sauce cool to room temperature.

Pour into 1 large glass jar or 2 pint size jars.

Store refrigerated for about a month.

VANILLA BEAN ICE CREAM:

Whip heavy cream until stiff peaks forms.

With mixer on medium slowly pour in condensed milk and add vanilla beans.

Continue to mix until combined and add in vanilla, mix until combined.

Pour into loaf pan or other freezer safe dish. Freeze over night.

ASSEMBLY:

Set out ice cream 10 minutes before serving to soften slightly.

Scoop into bowls, drizzle with Butter Scotch sauce.

Sprinkle with a little sea salt and walnuts (optional)