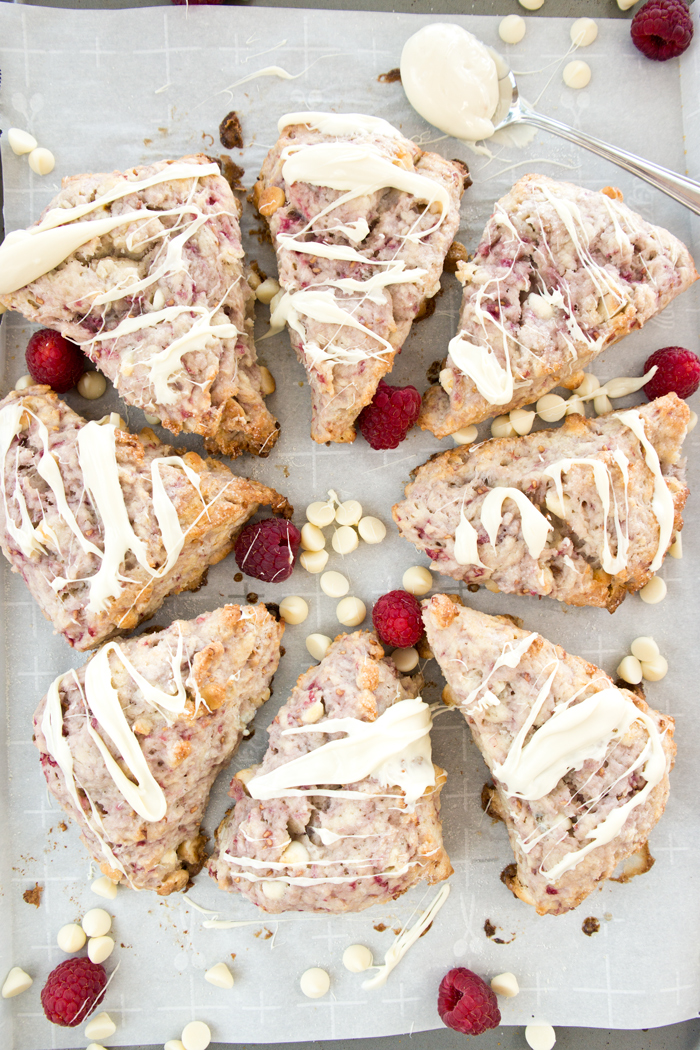 Raspberry Ricotta White Chocolate Scones.
[social_share]Yum
So I've had a few recipe failures, actually the same recipe idea failed twice. Don't get me wrong it always tasted good but you know how it is, it all has to be great, it has to taste great, have a good texture and right balance of flavors. But I just couldn't get all these factors to work together so for today I'm admitting defeat. Throw in the first week of pre-school, my babies growing up, ?, starting to get the house ready for the Fall/Winter and here we are a week later since we last talked.
So I moved on, on to these fabulous Raspberry Ricotta White Chocolate Scones! No failures here!! Just a great combination of flavors, perfect texture and my new favorite breakfast splurge!
[social_share]
Sweet raspberries, smooth white chocolate and the addition of ricotta make these scones crumble perfectly and give a slight creaminess to the texture. And they're not too sweet, just the right amount for breakfast with a piping hot cup of coffee while sitting on the dock trying to ignore the fact I have meetings all day.
I adapted the recipe I found from an April 2015 issue of Better Homes and Garden. I was so excited to get all the ingredients together. I could just feel that these were going to be amazing, ever just get that feeling? I added the whole fresh raspberries and very gently mixed as instructed. Next it was time to pour the crumbly mixture onto floured surface to form dough. It was at that moment I paused, I realized that those gorgeous, fresh, whole raspberries were going to be smashed. There was no way around it, I tried to think of one believe me. And smashed they became but to my delight the raspberry flavor held its own and was more evenly spread through out the scone.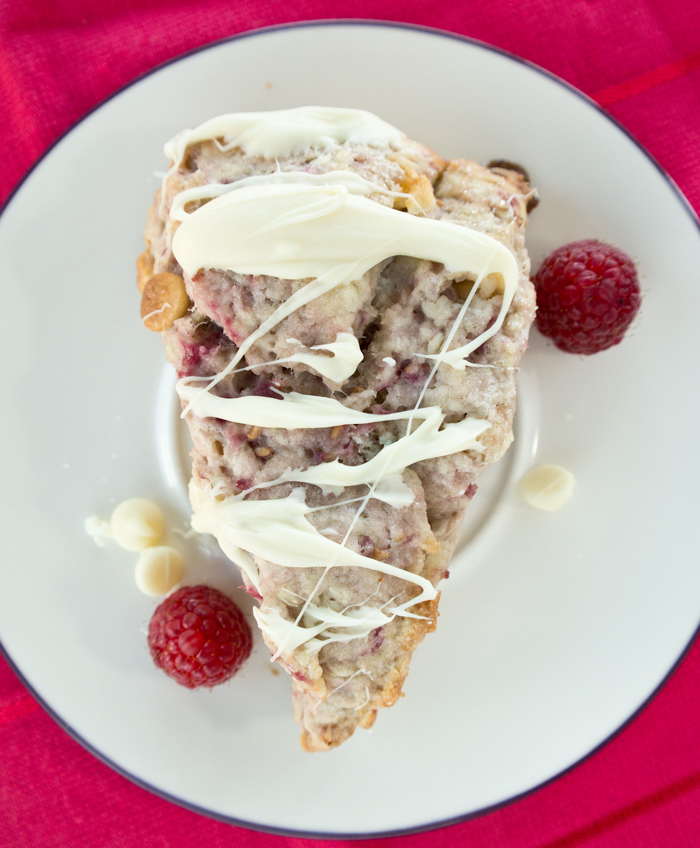 [social_share]
Now its no secret that I like sweet things and before tasting these I was thinking maybe a smear of raspberry jam, lemon curd, etc. The recipe after all only has 3 Tbsp of sugar plus whats in the white chocolate. But you always have to try it first and boy am I glad I did, there is nothing else needed on these scones. They are to be eaten warm and are spectacular. The perfect amount of sweetness and the raspberry flavor is amazing. The texture is crumbly and tender. And an added bonus, your house will smell delicious as these are baking.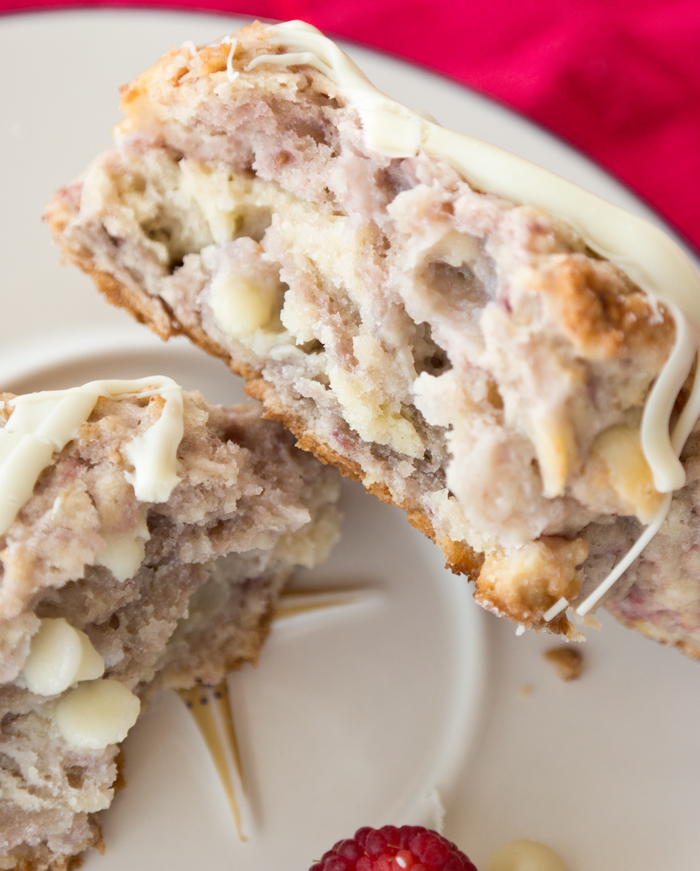 [social_share]
If only every morning could be a Raspberry Ricotta White Chocolate Scone kinda morning…
Enjoy!
Stacey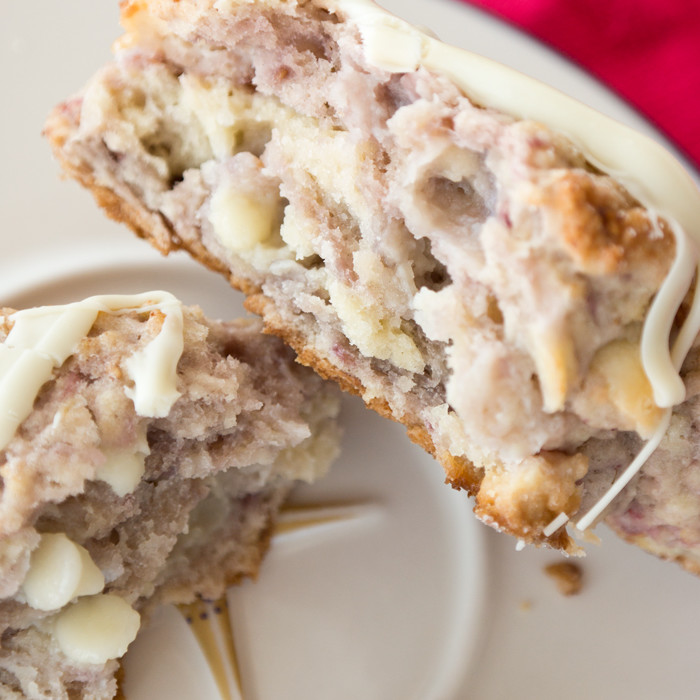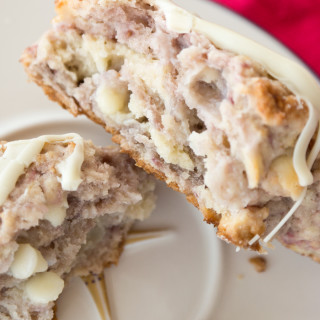 Raspberry Ricotta White Chocolate Scones
Raspberry Ricotta White Chocolate Scones. Sweet raspberries, smooth white chocolate and the addition of ricotta make these scones crumble perfectly and give a slight creaminess to the texture.
Ingredients
1

cup

fresh raspberries

2 1/2

cups

+ 1 Tbsp all purpose flour

3

Tbsp

sugar

1

Tbsp

baking powder

1/4

tsp

salt

6

Tbsp

butter cold and cut into pieces

1

egg lightly beaten

3/4

cup

whole milk ricotta cheese

1/4

cup

heavy whipping cream + extra for brushing

3/4

cup

white chocolate chips + extra for drizzle

Granulated sugar for sprinkling
Instructions
Preheat oven to 400 degrees F

Line baking sheet with parchment paper.

In small bowl put raspberries and 1 Tbsp flour, stir gently to coat.

In large bowl add dry ingredients, cut in butter until crumbly texture is formed.

Make well in center of dry mixture, set aside.

In medium bowl mix egg, ricotta and 1/4 cup cream.

Add egg mixture to dry mixture.

Add raspberries and 3/4 cup white chocolate.

Using a fork, stir until moistened.

Turn dough out onto lightly floured surface.

Gently knead the dough, gently pressing it for 10 to 12 strokes or until dough is nearly smooth.

Pat dough into a circle, cut into even wedges making eight scones.

Brush with extra whipping cream and sprinkle with sugar.

Put on parchment lined baking sheet and bake 16-20 minutes or until light golden brown.

Serve warm, please don't skip this, they must be served warm.
Notes
If not serving right away these can be placed in microwave to re-warm them.
Caution: I used fresh raspberries and that is what I would recommend. Frozen raspberries have more liquid and could effect the texture/consistency of this scone.