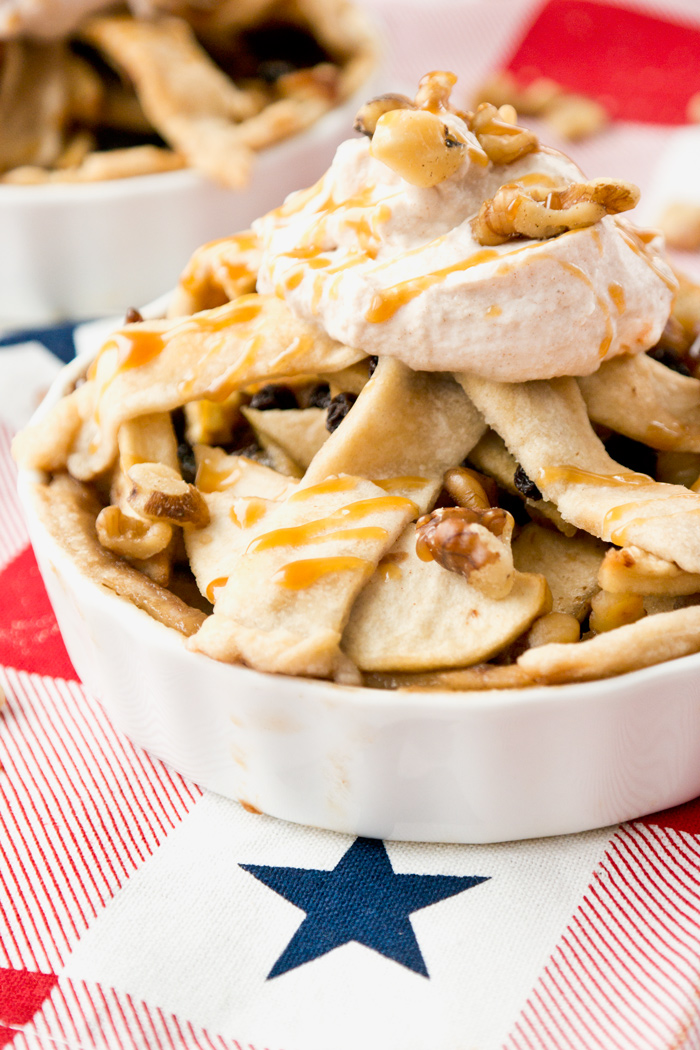 Apple Walnut Currant Tartlets. Crisp, tart apples, toasted walnuts and chewy currants make for an excellent descent into Fall! Did I mention cinnamon whip?
[social_share]Yum
Ok, ok, ok, soooo maybe I am starting to get a little excited for Fall even though we are still having 90 degree weather, which honestly I am a little over heated from, give me some 70's please. I have images of pumpkins, colored leaves and cool temperatures running through my head. Campfires while wrapped in my favorite puffer vest and the smell of leaves burning in the air. And our daughter is over 3 1/2 years old which means Halloween will be a whole lotta fun!!! She already told me she wants to be a princess but I have a feeling that will change a few times between now and then.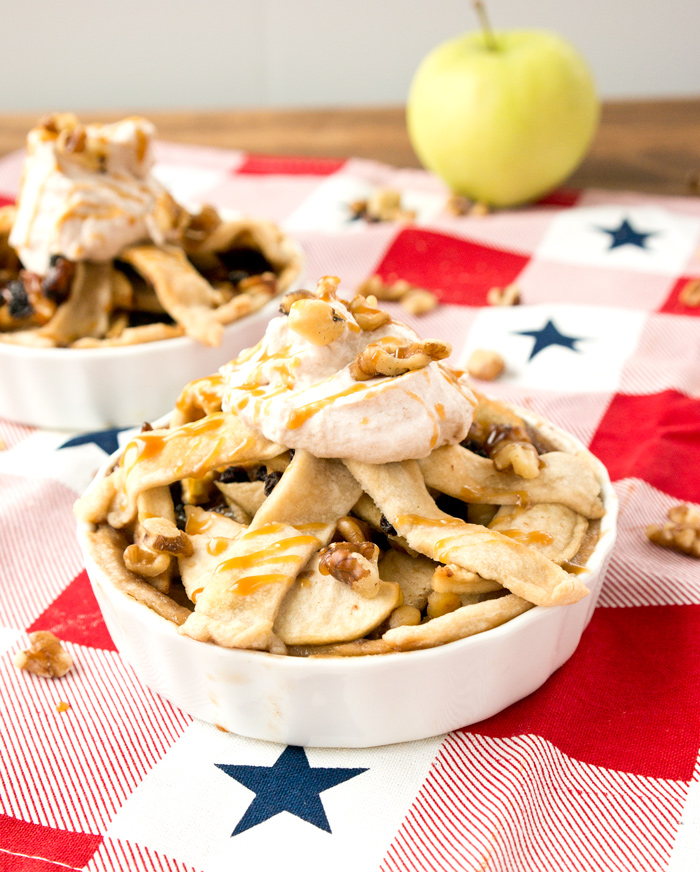 [social_share]
My brother in-law and family went to apple orchard this past weekend, see I'm not the only one ready for Fall. However, like I said it was 90 degrees out, so the idea of a hay ride, fall leaves and sipping hot cider while munching on a donut was out of the question. But they made the drive and being the troopers they are they picked apples regardless of the heat and sweltering sun. Did all their dedication and sweating pay off? It did for me because they shared their bounty with me! Which means I can now share the bounty with you!
Apple Walnut Currant Tartlets are the best way to enter Fall without being too summery or too Fallish. These tartlets are made up of the best apples, toasted walnuts, sweet currents and buttery crust. With hits of warm cinnamon and the richness of brown sugar these are a true intro to Fall and all its wonderful flavors and comforts.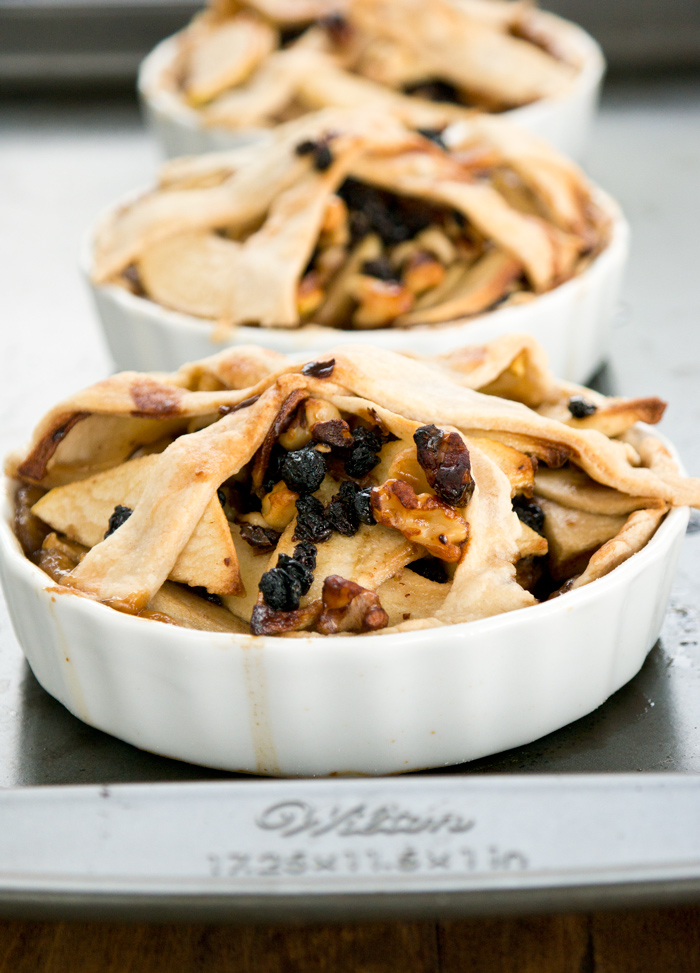 [social_share]
First I started with a sweet tart apple that was firm in texture, this helps it hold up in baking. I peeled and sliced each one into nice 1/8 inch thick slices. Next I toasted the walnuts to really enhance and bring out their wonderful pronounced flavor and crunch. The walnut has a flavor all its own, it is not a sweet nut and can be ever so slightly bitter. Which is absolutely perfect in these tarts because we have a whole lotta sweetness going on here! The currants are sweet and small, I like them for their size, this way your not getting an over whelming sweet chewy bite but rather just enough to compliment the other flavors. The crust is a basic pie crust but to call it basic seems demeaning because it is holding all these amazing previously mentioned ingredients and it still manages to bake perfectly crisp and breaks away so delicately with each bite. This crust knows its place in the mix and even though its not the star of the show its the great supporting character!
And the encore? Cinnamon whipped cream and a drizzling of caramel. Annndddd some more walnuts! Now we're ready to eat!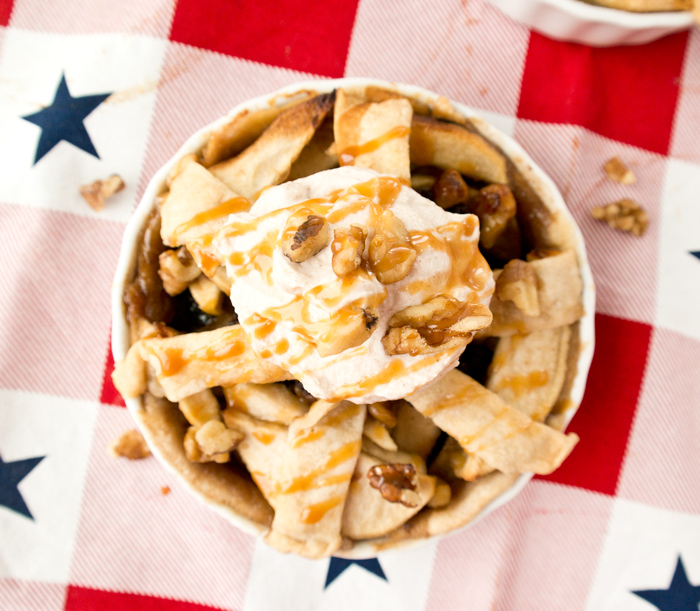 [social_share]
These are going to bake up and make your house smell like warm, comforting, Apple Walnut Currant Tartlet, heaven. Make them to welcome in Fall or anytime!
Enjoy!
Stacey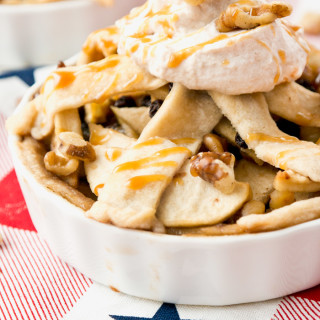 Apple Walnut Currant Tartlets
Apple Walnut Currant Tartlets. Crisp, tart apples, toasted walnuts and chewy currants make for an excellent descent into Fall! Did I mention cinnamon whip?
Ingredients
CRUST:

3/4

cup

+ 3 Tbsp all-purpose flour + more for rolling dough

1/4

teaspoon

salt

1/2

teaspoon

sugar

3/4

tsp

cinnamon

7

tablespoons

cold unsalted butter

cut into pieces

1

and 1/2 tablespoons ice water

more if needed

FILLING:

4

large apples

peeled, cored and sliced 1/8 inch thick

1

Tbsp

lemon juice

1/4

cup

sugar

1/4

cup

light brown sugar

1

tsp

cinnamon

1/2

cup

toasted walnuts

1/2

cup

currants

CINNAMON WHIP:

3/4

cup

heavy whipping cream

3/4

tsp

cinnamon
Instructions
Pre heat oven to 375 degrees F

CRUST:

In food processor add flour, salt, sugar, cinnamon and pulse to mix.

Add in butter pieces at a time, pulse until crumbly.

Slowly add in ice water while pulsing until pea size crumbles form.

Pour onto plastic wrap and press together to form dough.

Wrap and refrigerate for at least one hour.

FILLING:

Place all ingredients in a bowl and mix.

CINNAMON WHIP:

Whip heavy whipping cream and cinnamon until fluffy whipped cream forms. Chill until ready to use.

ASSEMBLY:

Take dough out and cut into 4 equal parts. Roll out each on floured surface and lay into each tartlet dish so the bottom and sides are covered. Trim off excess.

Once all tartlet dishes are crusted, make dough strips to cover the tops of the tarts. Lay over the tops of the filled tartlets.

Place tarts on cookie sheet and back 35 minutes or until crust is golden brown.

Cool until just warm. If not eating right away refrigerate and warm when ready.

To garnish place dollop of whipped cream on top, drizzle with favorite caramel sauce and sprinkle with walnuts.