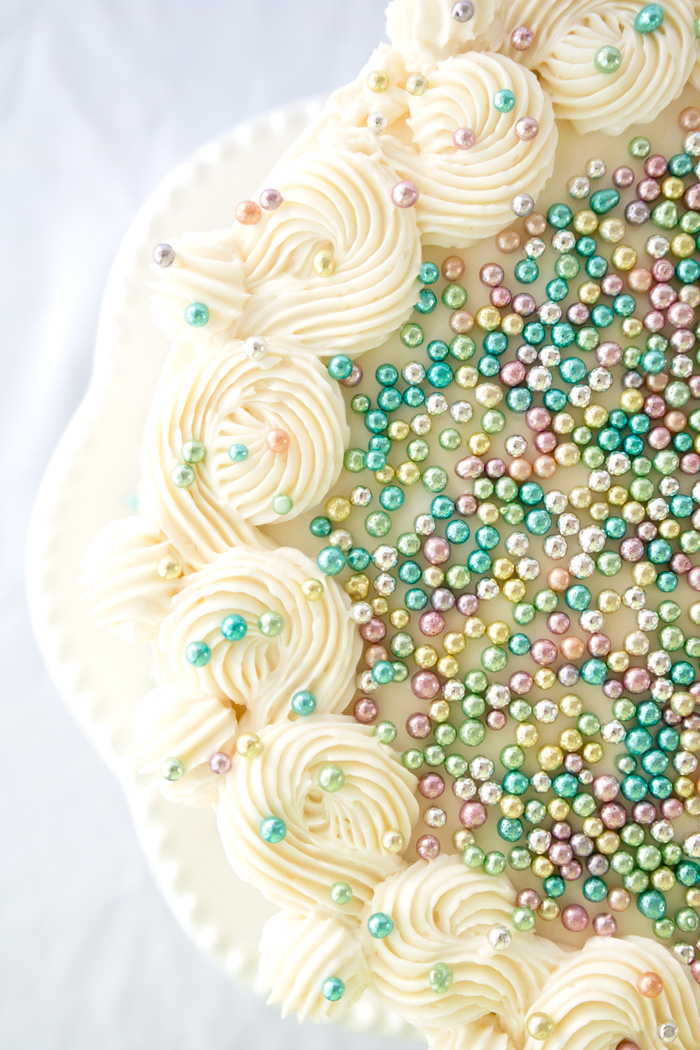 Chocolate Ganache Celebration Cake. Rich chocolate cake and smooth, creamy chocolate ganache filling all enrobed in vanilla swiss meringue buttercream.

[social_share]Yum
My hubby and I are celebrating our 10 year wedding anniversary. Of course it all started with a wedding, every girls dream or so I thought. As I was thinking out how I was going to write this post, I started with the fairy tale side of it but that's all it is, a tale, my wedding was far from fairy tale. Anything that could go wrong did, so to tell you otherwise would be lie. I can honestly say that I don't remember a lot of my wedding day, I remember moments. The nerves, stress and anxiety were full throttle for me that day.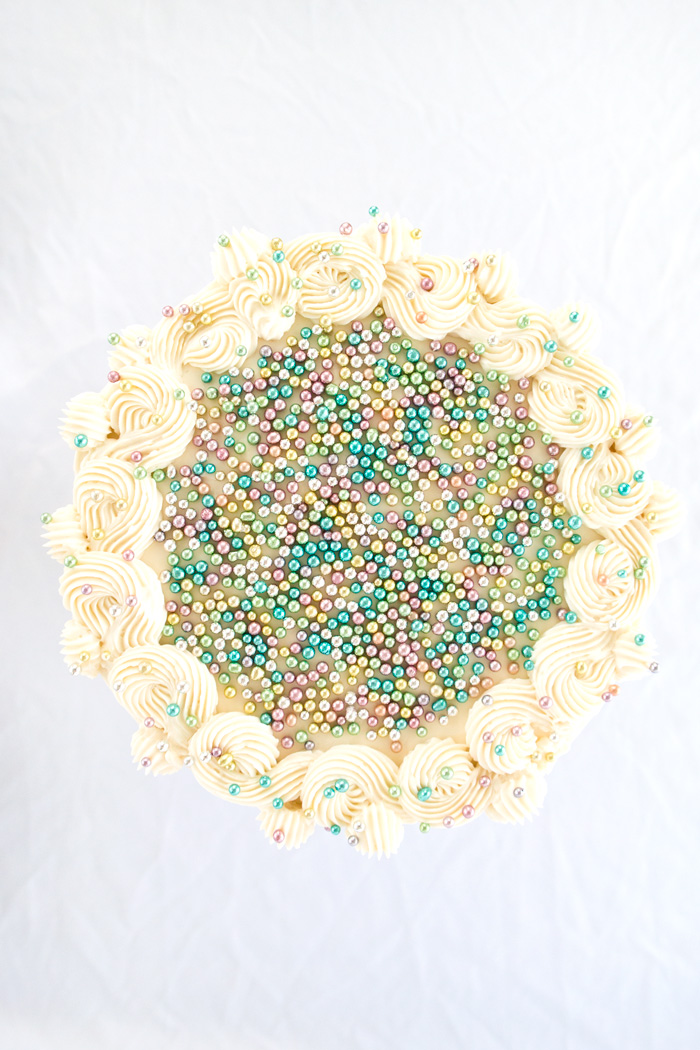 [social_share/]
As I try to look back at when things started going wrong I would have to say it was when I decided to have a church wedding instead of the tropical destination wedding I had always wanted. My grandfather couldn't travel after having a stroke and it was important to me that he be there. So we opted to have a wedding at home in a beautiful church. Thinking I could do it all I didn't hire a wedding planner, big mistake. So here goes the events that shaped the day.
The day of, my grandmother decided it would be too much of a struggle to bring my grandfather with his physical disabilities to the church (she's a peculiar person like that, enough said), so she left him at home. I had no idea this even happened. No one wanted to upset me so no one said anything, I really wish they had cause I would've gotten him myself. I still tear up' over it, I know he was heart broken and powerless. He did make it to the reception and was so happy to be there but that's not the same as the ceremony.
When I had decorated the reception hall that AM it was perfectly mood lit, rose petals everywhere, candles ready to be lit…Not so much when we got there after the wedding. Lights on full blast, no mood what so ever. The DJ wasn't ready and still setting up, it looked like a banquet not a romantically detailed wedding reception. Wow I wish I had hired a wedding planner.
A few days before the wedding we re-arranged my in-laws table to include two close friends per their request. My mom warned that the tables were small to which she was told that the new baby of the family would sit on her moms lap, making the necessary room. Well when the day came, they wanted to know where there extra chair was. On top of that the DJ and photographer wanted to know where there seats were. I honestly didn't know I was suppose to feed the folks I hired, lol, I had no clue. So in the middle of the dinner they were wheeling in extra chairs and tables to accommodate. It was unsightly, especially in full blast lights
The lead caterer decided a few days before the wedding to take the weekend off and left her workers in charge. The red meat that we were promised would be cooked to proper temperature was ALL well done, the summer squash was over cooked and mush.
After finally getting lighting right, thanks to my awesome bridesmaids, it was time to dance. Things were really looking up and I started to relax a little. We cut the cake and had the father/daughter dance. Then the mother/son dance or so I thought. Remember when I said I was in a daze for most of my wedding day…well, the DJ never announced a mother/son dance and no one noticed, I should say, my now husband and I didn't notice. My in-laws did notice and assumed we arranged it like that on purpose which we would NEVER do. I had a whole new family of in-laws and not one of them said a word to us so I could immediately fix it, it would have been as simple as walking over to the DJ booth. But later they let us know just how angry they were, not with specifics but again as if we knew. My father in law made a comment later, "Nothing went right tonight!". Later that night he called us and asked for every bit of money back they loaned us for the wedding, up to that point they told us to take our time. Now they wanted it the next day which left us with $75 to start our married life, ouch. Sad thing is we didn't know what we did to make them so hurt and angry and they wouldn't tell us. I figured it out a year later when we were at another wedding and I asked my husband what song he and his mom danced to…..I cried when I realized, then I knew, then all the pieces fit. How devastating for my mother in law, what a terrible thing to miss out on. I only wish I had been given the chance to make it right that night.
Our photographer was the nicest guy but the photos were AWFUL, my aunts point and shoots were far better. We do not have one photo of the entire wedding party and families. Again that awful daze I was in, didn't even notice at the time. But on top of that the photos he did take were so bad. He must have known the photos were bad because he took months so send me the disk, I had to threaten small claims court.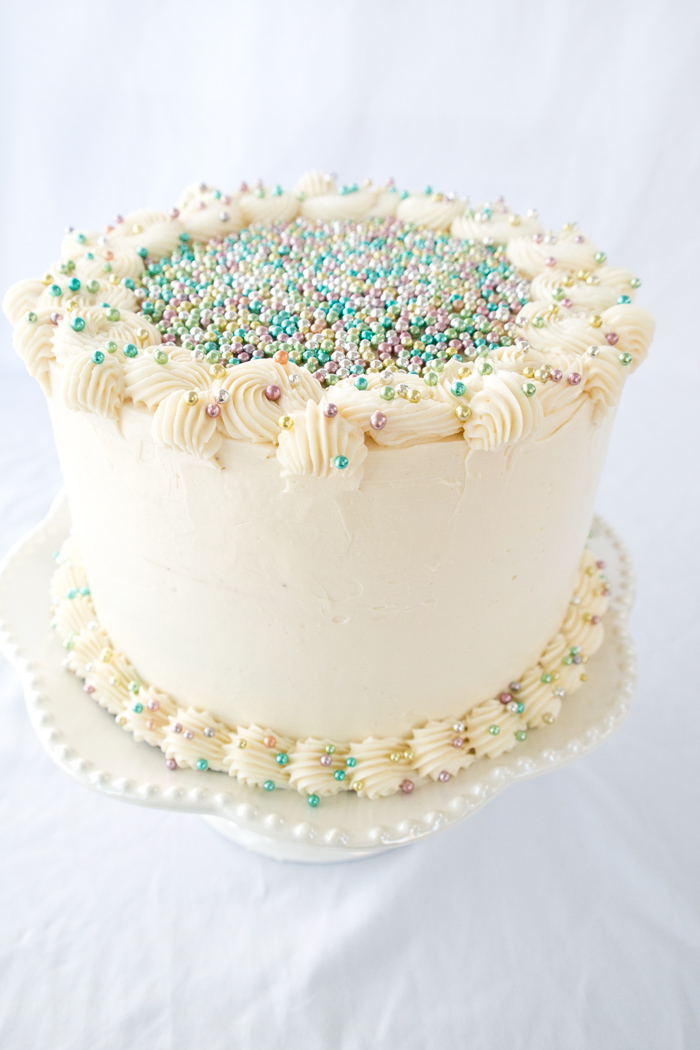 [social_share/]
So as you can see it wasn't my "dream" wedding. Am I sorry I got married, absolutely NOT. When my husband took my hands when I got to the end of the aisle and smiled at me I knew I was where I was suppose to be. I loved my dress!  And so many of our friends and family had a great time and for that I am so thankful to say the least.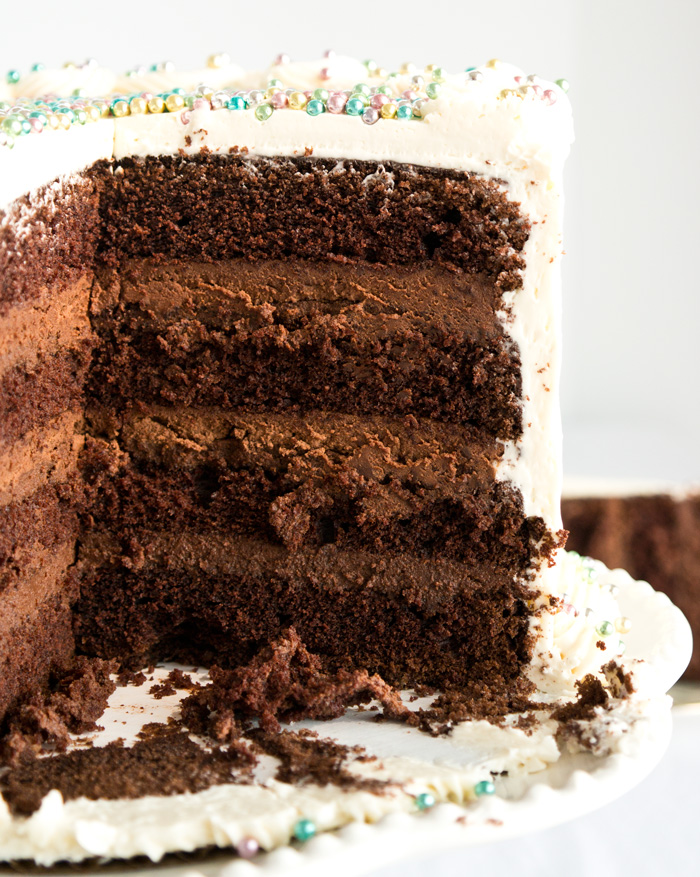 [social_share/]
Why am I telling you all this? I guess I just couldn't pretend anymore, I think I had to personally confront the truth of that day and own it. It only took 10 years, lol. Did I ever mention the mother/son dance to my mother in law, HELL NO! I am too scared to pick that scab. Too much emotion tied to that and who wants to hear, "I didn't know.."? Even if it is the truth.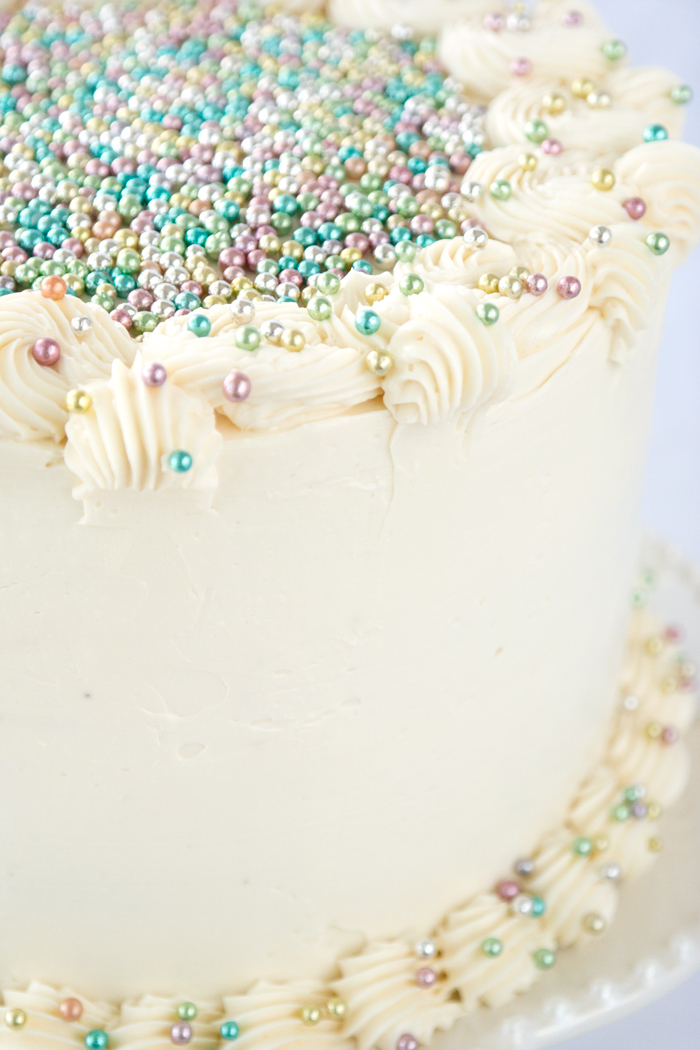 [social_share/]
So with all that drama I present to you the cake I made to celebrate our 10 years and to celebrate letting go of things gone bad on our wedding day. The Chocolate Ganache Celebration Cake! Rich deep chocolatey cake, smooth and creamy ganache all wrapped in white dreamy swiss meringue buttercream! I think the cake speaks for itself! Thank goodness cause I have already spoken a lot today, wouldn't you agree? But I will say this, this cake is so rich and dense, the ganache filling melts in your mouth instantly and the sweet elegant smooth swiss meringue buttercream takes it over the top! Kind of appropriate that I chose a dark center surrounded by light, almost as if to say all things work out and heal with time.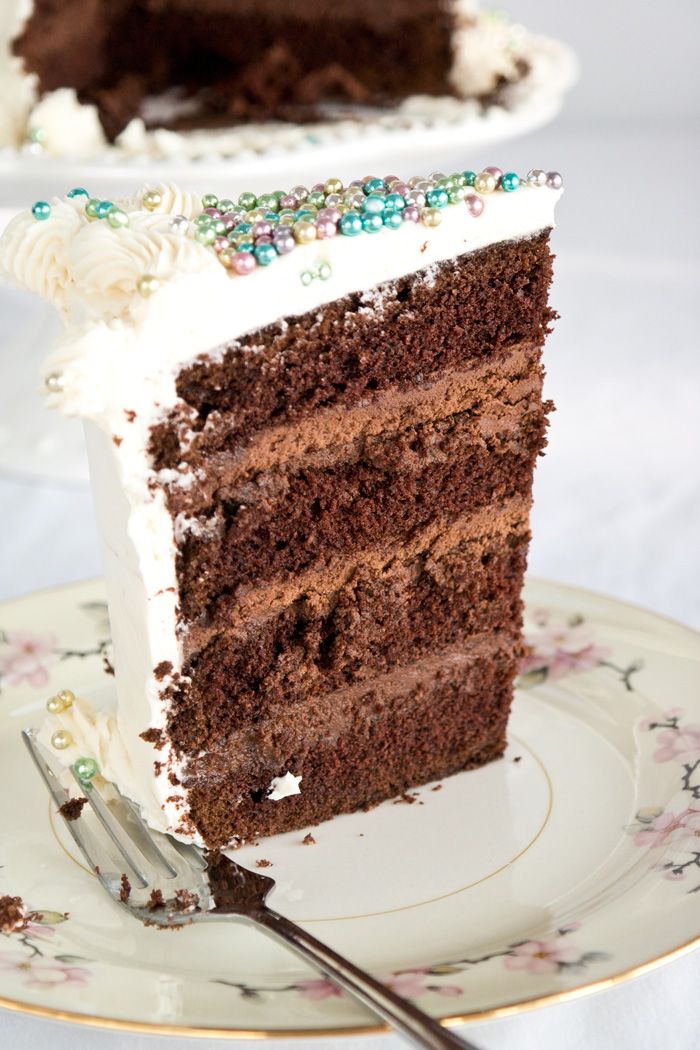 [social_share/]
Thanks so much for listening to my wedding day truth and helping me bring closure to things gone wrong. Here's to the next 10 years and maybe a we'll throw in a destination vow renewal at some point!
Enjoy!
Stacey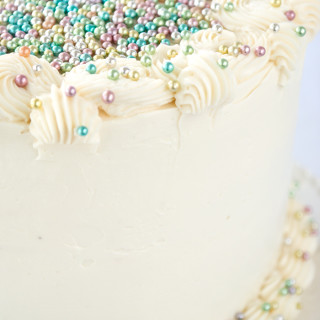 Chocolate Ganache Celebration Cake
Chocolate Ganache Celebration Cake. Rich chocolate cake and smooth, creamy chocolate ganache filling all enrobed in vanilla swiss meringue buttercream.
Ingredients
CAKE:

1/2

Cup

+ 3 Tbsp cocoa powder

1

cup

boiling water

3

large eggs

2

tsp

vanilla

2

and 1/4 cups cake flour

1

and 1/2 cups sugar

1

Tbsp

baking soda

1/2

tsp

salt

1

cup

butter softened

GANACHE:

20

ounces

semi-sweet chocolate

2

cups

heavy whipping cream

SWISS MERINGUE BUTTERCREAM:

5

Large egg whites

1

cup

sugar

2

cups

butter

2

tsp

vanilla extract

1/4

tsp

salt

GARNISH:

Multi-colored metallic dragees
Instructions
Pre-heat oven to 350 degrees F

Oil two 7 inch pans with parchment paper on the bottom, oil parchment. Dust with flour. Set aside.

CAKE:

Add one cup boiling water to cocoa powder, stir to remove clumps and to combine. Let cool to room temperature.

In bowl of mixer add in all dry ingredients, mix to combine.

Add butter and mix until well combined.

Slowly add in the room temperature cocoa mixture. Mix to combine.

In separate bowl mix eggs and vanilla. Pour into flour mixture. Mix well to combine and until batter is formed.

Pour evenly into two prepared pans.

Bake until toothpick inserted comes out clean (45-50 min).

Cool completely.

GANACHE:

Heat heavy cream to just about boiling. Pour over chocolate.

Let sit for 5 minutes then stir in small circular motions until homogenous mixture forms (meaning heavy cream and chocolate resemble liquid ganache).

Let cool completely and refrigerate for about an hour (or more).

SWISS MERINGUE BUTTERCREAM:

In medium sauce pan heat egg whites and sugar until warmed and sugar has melted. (do a pinch test, if you pinch the egg mixture and don't feel sugar granule's its ready).

Transfer to mixing bowl and mix on high speed with whisk attachment until stiff peaks form.

Add in vanilla and salt, mix.

Slowing add in butter in small portions as you continue to whisk.

Mix until buttercream is formed.

Set aside.

ASSEMBLY:

Take two cakes and slice horizontally so you have four total cake layers.

Set first cake layer on cake plate or 8inch cardboard round.

Whip the ganache to make it fluffy, add 1/3 to top of first cake layer.

Repeat with next two cake layers.

Top with final cake layer and chill for an hour.

After cake has chilled, coat the cake with swiss meringue butter cream crumb coat. Refrigerate for 1/2 hour.

Coat cake with final coat of swiss meringue butter cream.

Decorate top by piping with Wiltons 4B french star tip in swirls , every other in opposite directions and then a shell down the side in between each swirl.

Pipe shell border along the bottom.

Sprinkle top with dragees to completely cover and sprinkle dragees lightly over piping.

Refrigerate cake if not serving right away. When time to serve, serve at room temp so ganache is soft and creamy.
Notes
8 inch or 9 inch pans can be used, cake will not be as tall. Adjust baking times as needed.
This cake is best served at room temperature so the ganache is soft and creamy.