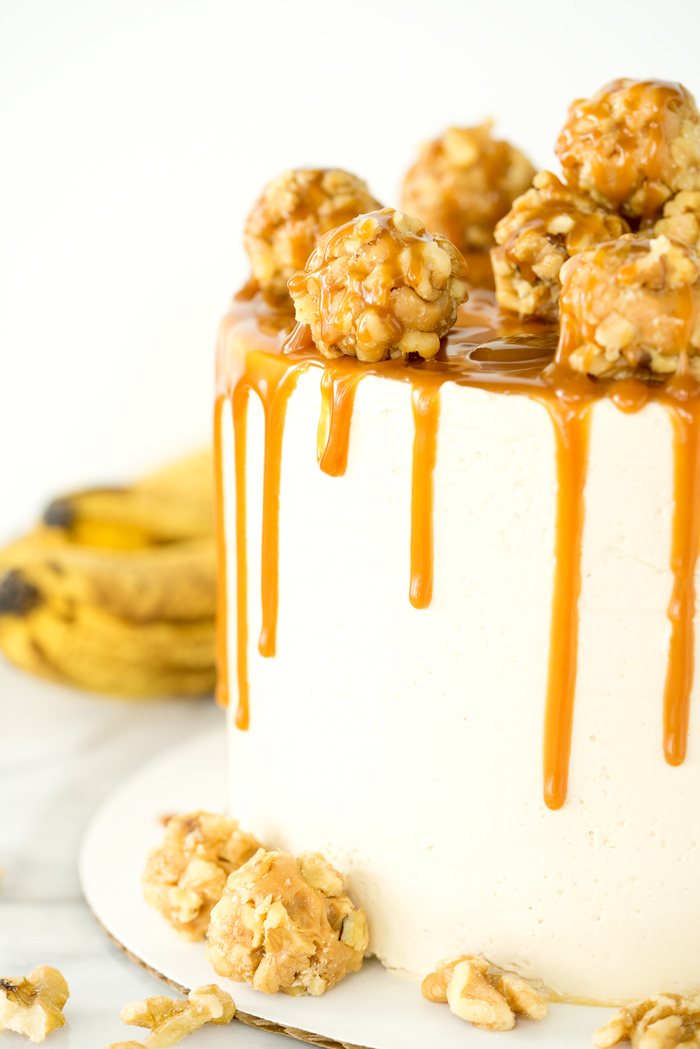 Banana Cake With Brown Sugar Buttercream!! Moist, delicious banana cake combined with my favorite, brown sugar swiss meringue buttercream.
You guys if ever there was a cake to eat this week this is the one. This is the cake to cozy up to as the temps are dropping and the wind is blowing. This is the cake to wait for all the kids to go to sleep, find your favorite place on the couch, maybe a favorite tv show and eat a big slice in peace and quiet or maybe two. This is the cake that could easily replace your standard breakfast because its delightful with tea or coffee. To sum things up… This is the cake!! The Banana Cake With Brown Sugar Swiss Meringue Buttercream.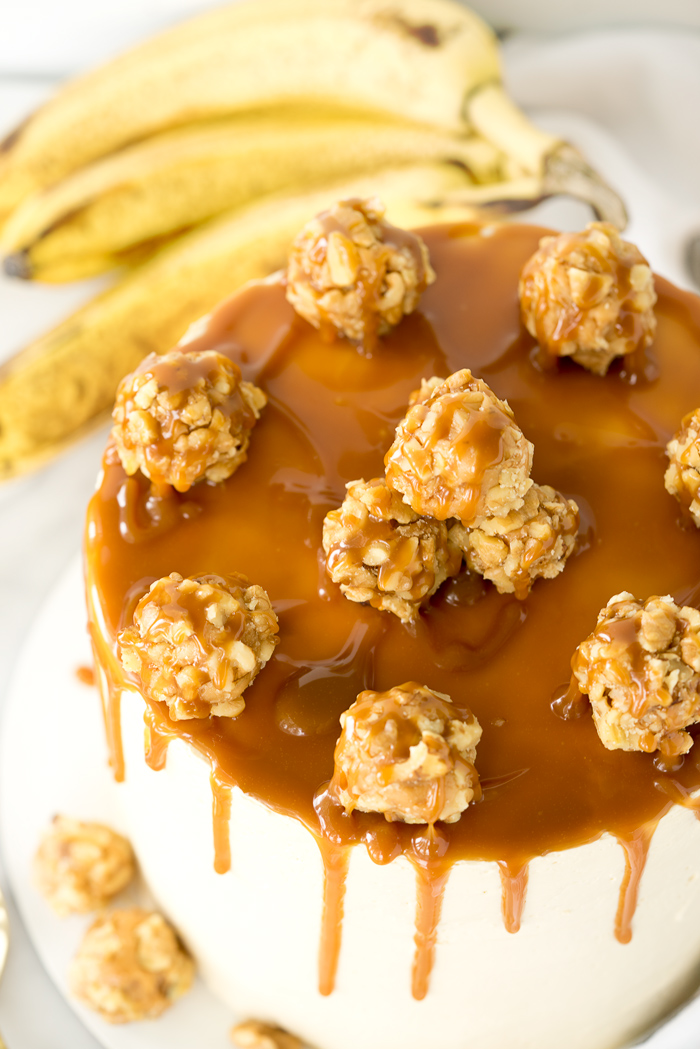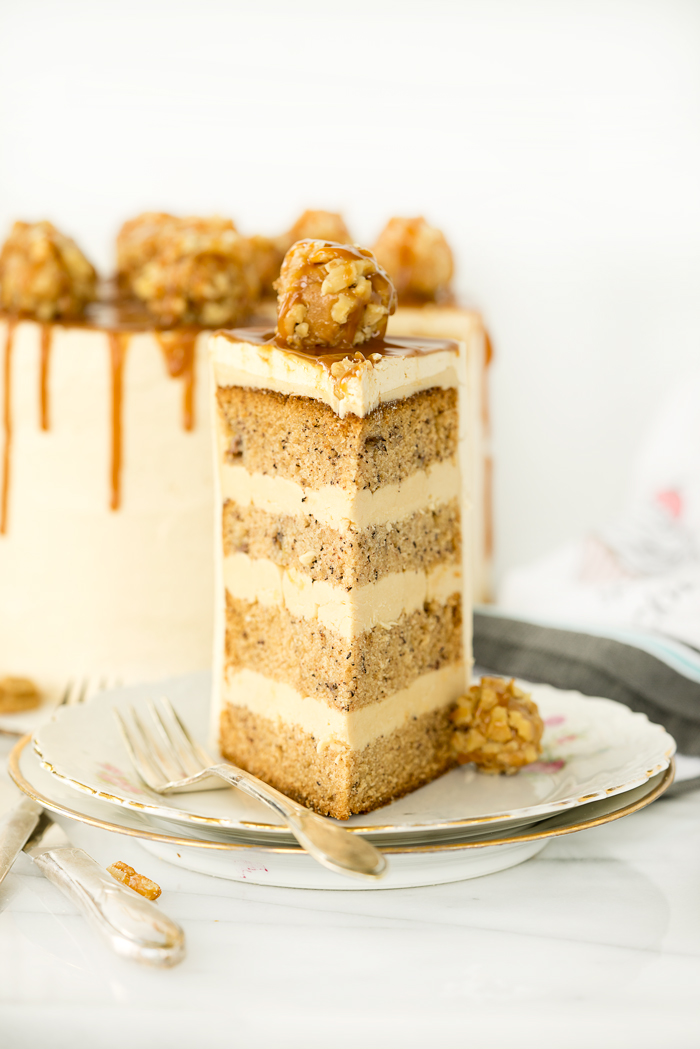 I get excited to see rotting bananas. And for any of you that love to bake you know exactly what I mean. Because those brown spotted beauties could only mean one thing banana cake (or bread, I love both)!! It means that once the process begins your house is going to smell heavenly and you're only a little time away from devouring the most dense, comforting, delicious, give me more cake you can imagine.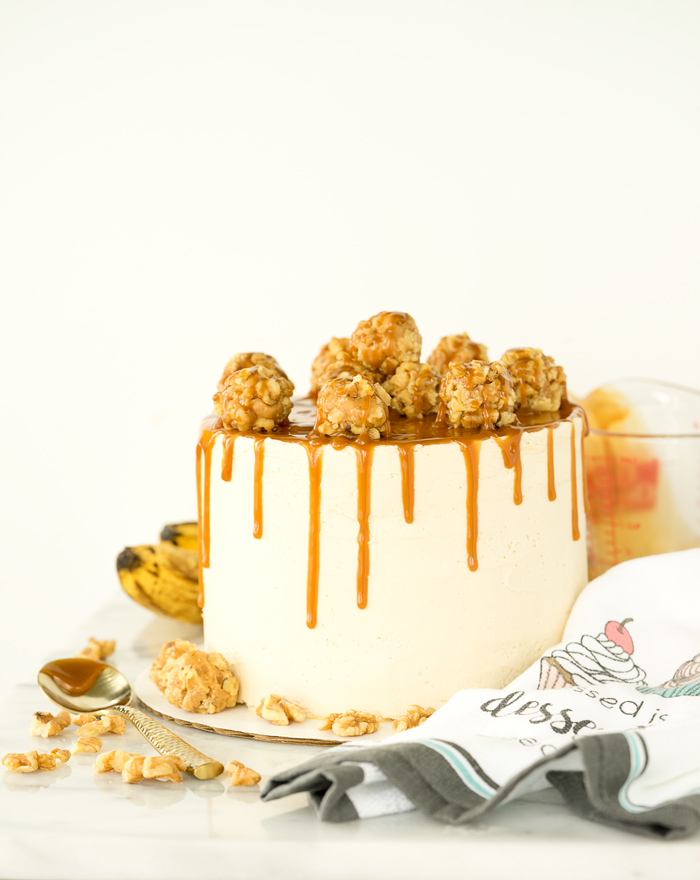 And because I like to make a great thing even greater, I decided this Banana Cake needed swiss meringue buttercream. But not just any, Brown Sugar Swiss Meringue Buttercream. So two things I must insist upon before we proceed. If you have not tried swiss meringue buttercream you absolutely must! If you have yet to try Brown Sugar Swiss Meringue Buttercream do not wait another day. Both these butter creams are cake life changing and will take you from loving buttercream (standard version) to being in love with buttercream!! It truly is the royalty of buttercream and frosting in my humble (yet over bearing 😉 ) opinion.
And those little toppers, what are they you ask? Delicious caramels rolled in walnuts. Isn't that what every Banana Cake With Brown Sugar Buttercream needs? I think so.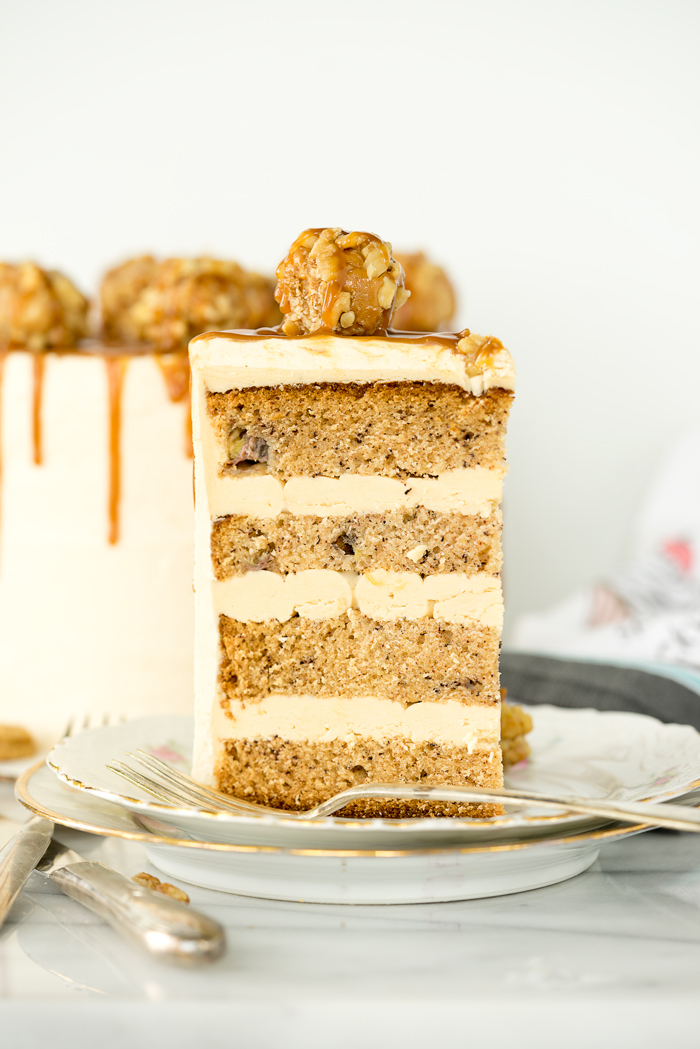 Looking for that warm comforting cake to take the chill off or maybe you need to eat some emotions this week (shhh, I won't tell). Then this Banana Cake With Brown Sugar Buttercream recipe is it!!!
Enjoy!
Stacey
Here are some ingredients that helped make this cake superb and they might help you as well!!
Walnuts – one of my favorites, chop them up and roll away.
Caramels – roll them into ball and then roll them in walnuts. Easy!
Caramel Sauce – for that iconic cake caramel drip. I used Sanders which is made here in Michigan.
Please note some of the links above are affiliate links which means if you purchase from the link I get a small commission. I use these products and stand behind them which is why I chose to tell you about them. Thank you for your support. 
FORGOT TO PIN IT? Here it is. Thanks
Yum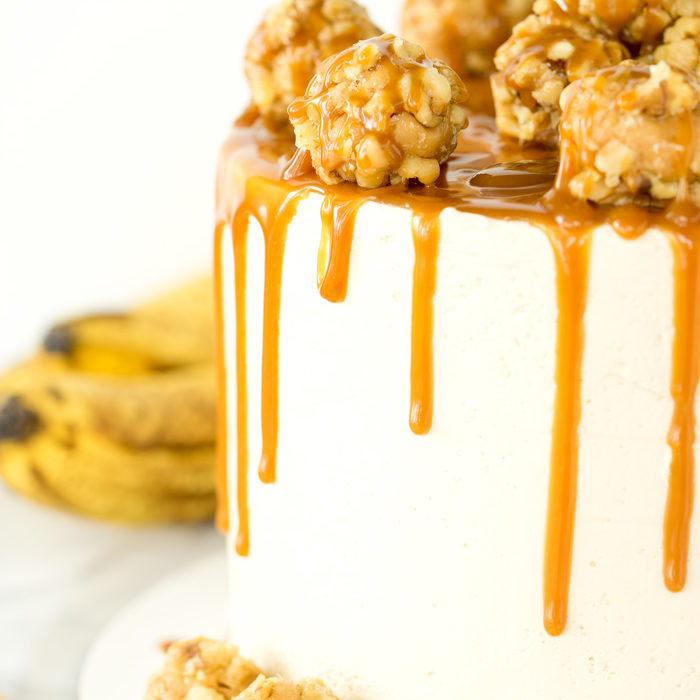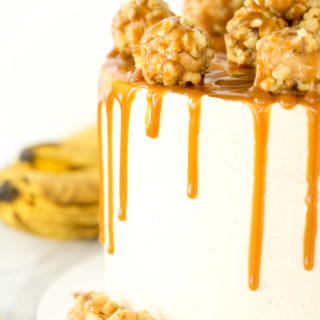 Banana Cake With Brown Sugar Buttercream
Banana Cake With Brown Sugar Buttercream!! Moist, delicious banana cake combined with my favorite, brown sugar swiss meringue buttercream.
Ingredients
CAKE:

3

cups

all purpose flour

2

cups

granulated sugar

1

tsp

baking soda

2

tsp

cinnamon

1

tsp

salt

3

large eggs

room temp

1

cup

vegetable or canola oil

1

tsp

vanilla extract

2

cups

mashed ripe banana

about 3 large

1/2

cup

milk

BUTTERCREAM:

9

egg whites

2 1/4

cups

light brown sugar

1

tsp

salt

6 3/4

sticks butter

3 cups + 6 Tbsp

WALNUT CARAMELS

makes 11:

22

caramel squares

1

cup

chopped walnuts

GARNISH:

3/4

cup

caramel sauce of choice

I used Sanders
Instructions
Preheat oven to 350 degrees F.

Grease, flour and parchment 2- 7" cake pans.

CAKE:

In bowl of mixer add in all the dry ingredients.

Add in the eggs, oil and vanilla, mix until just combined.

Add in the bananas and stream in the milk.

Mix until just combined and batter is formed.

Pour into prepared cake pans.

Bake for 50-55 minutes or until toothpick inserted comes out clean.

Let cool completely.

BUTTERCREAM:

In large sauce pan add the egg whites and brown sugar.

On medium heat you are going to whisk egg mixture until sugar is completely dissolved (you can test it by rubbing a small amount between your fingers to test it, it should be completely smooth).

Transfer to mixing bowl and with whisk attachment whisk on high until stiff peaks form and mixture is completely cooled (if not completely cooled your butter will melt).

Switch to paddle attachment.

Add in the salt.

On low speed add the butter one piece at a time. Mix until well combined, smooth and creamy.

WALNUT CARAMELS:

Unpackage the caramels from their wrappers.

Take two caramels and roll them together into a ball.

Immediately roll in walnuts, you will have to apply a little pressure to have them stick.

Set on parchment line cookie sheet until ready to use. Repeat with the remaining until all walnut caramels are made.

ASSEMBLY:

Cut off the round tops of cakes if need be.

Cut each cake horizontally to make a total of 4 layers.

Lay first cake layer on cake plate/board (add a bit of frosting underneath to hold the cake in place).

Spread or pipe a layer of frosting making sure to go to the edges, repeat with the remaining 3 layers.

With remaining frosting coat the sides of the cake using offset spatula.

Refrigerate for at least an hour.

Pour caramel into a cup with a pour spout. (if caramel is thick and gloppy heat for a few seconds to make it pourable but not too hot that it melts the frosting.)

Pour caramel over top of cake and pour a little heavier near the edges to make it drip down the side.

How heavy your pour will determined the length of your drip.

Refrigerate at least 30 minutes to set the caramel.

Place walnut caramels around the edge of the cake and in the center.

You can refrigerate cake but take out at least an hour before serving as its best served room temp.
SaveSave SaveSave SaveSave
SaveSave
SaveSave
SaveSave
SaveSave
SaveSave
SaveSave
SaveSave
SaveSave
SaveSave
SaveSave
SaveSave
SaveSave
SaveSave
SaveSave