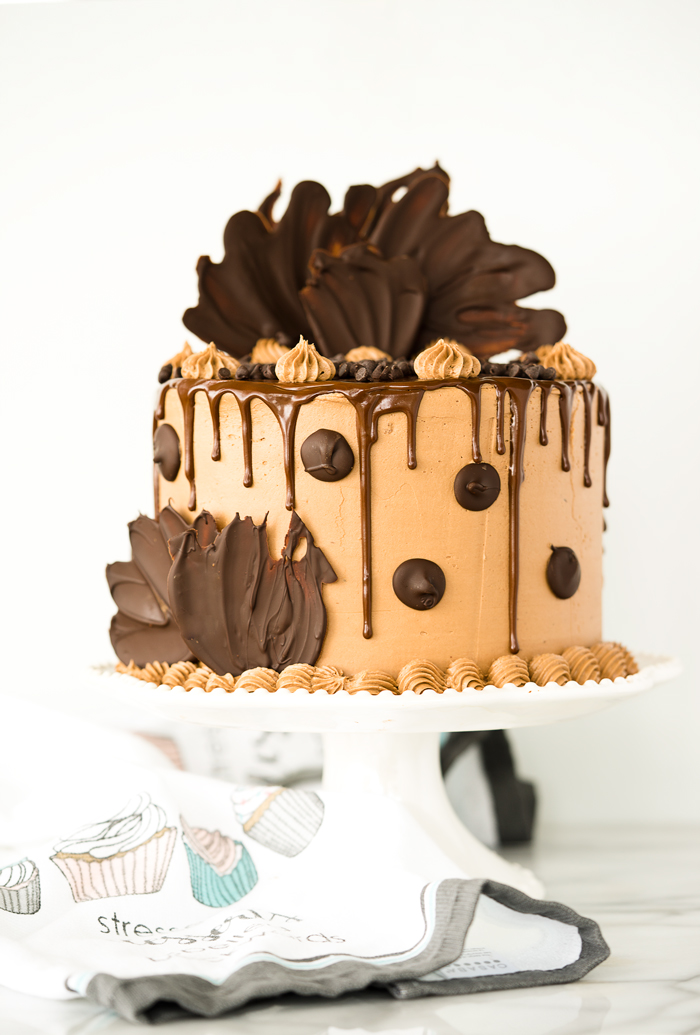 Chocolate On Chocolate Cake. Chocolatey rich cake covered in a blanket of creamy Chocolate Swiss Meringue Buttercream. Dripping with chocolate ganache and adorned by more chocolate.
Can you believe that Thanks Giving is around the corner quickly followed by Christmas! Where is the time flying to?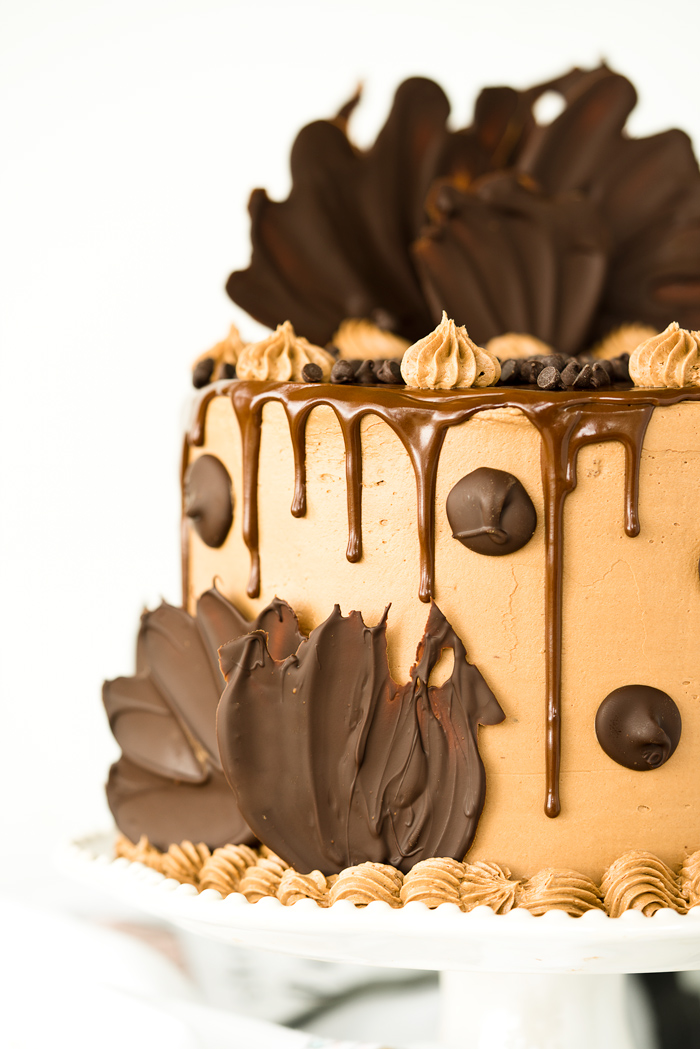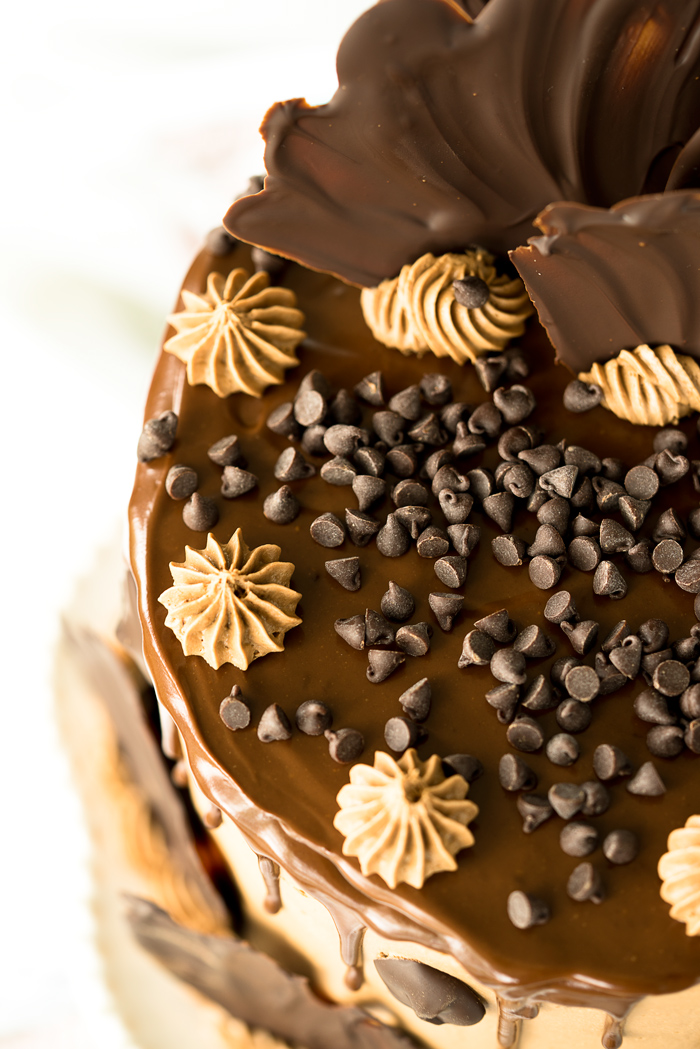 To help us glide into the upcoming holiday season we need chocolate! Chocolate On Chocolate Cake to be more specific! Because sometimes life just needs to be sinful and decadent or at the very least dessert does!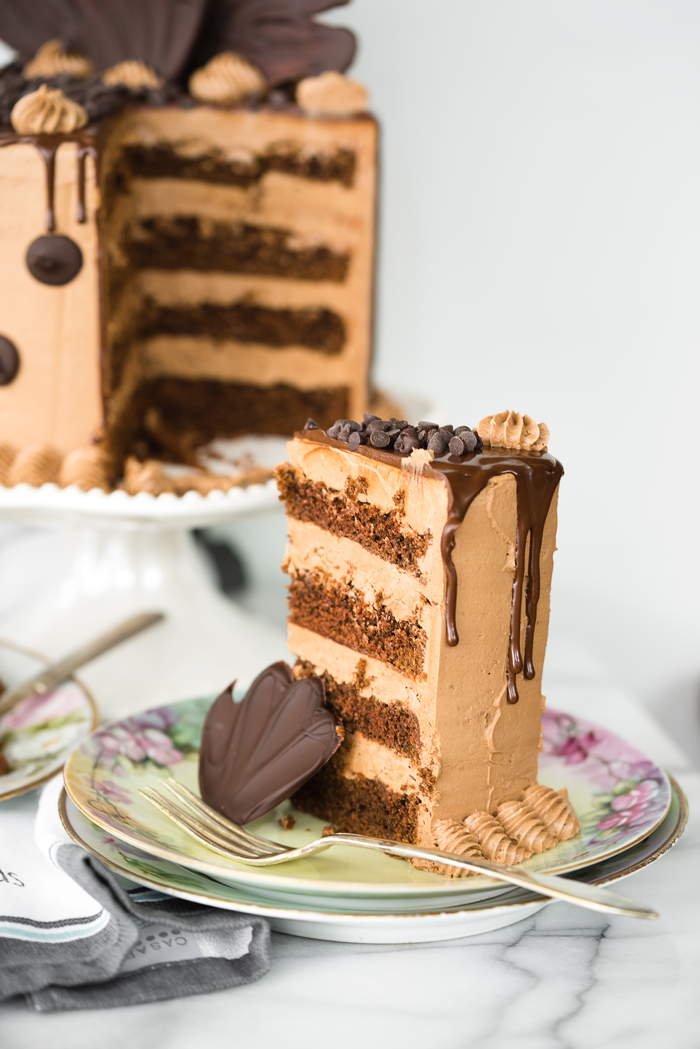 So what makes a dessert decadent? Chocolate is always a good start. Chocolate cake, is even better, rich and light crumbed! Followed by melt in your mouth chocolate swiss meringue buttercream. All topped with a dripping of luxurious chocolate ganache. And for those of you that like that little snap of chocolate like I do, I've topped the cake with mini chocolate chips, homemade chocolate fans and dots.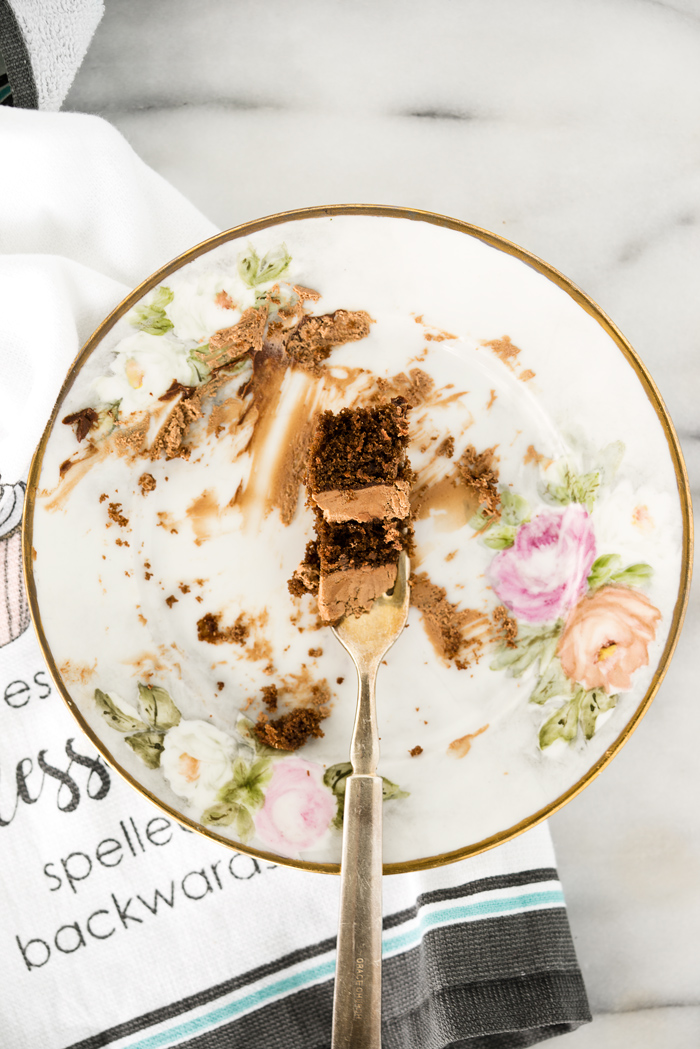 Enjoy this decadent cake and presentation! With the holidays coming up it would make a delightful add to the holiday spread with friends and family!
Enjoy
Stacey
Here are some of the items I used to make this cake and thought they may be helpful to you as well.
Please note some of the links above are affiliate links which means if you purchase from the link I get a small commission. I use these products and stand behind them which is why I chose to tell you about them. Thank you for your support. 
FORGOT TO PIN IT? Here it is! Thanks.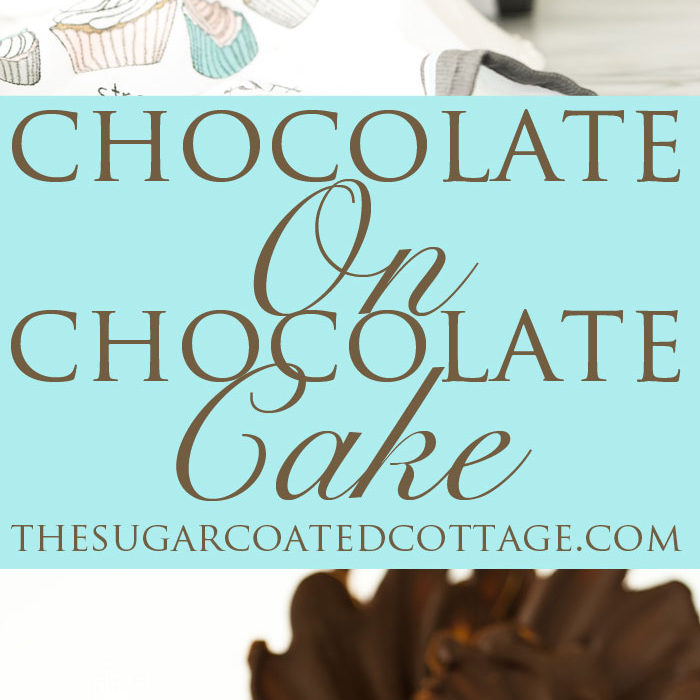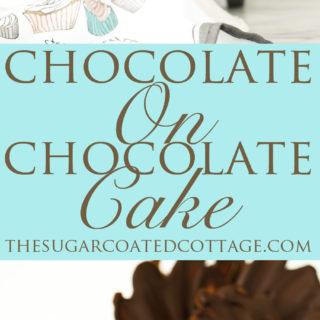 Chocolate On Chocolate Cake
Ingredients
CAKE:

2 1/2

cups

cake flour

2

cups

sugar

3/4

cup

cocoa powder

2

tsp

baking powder

1/2

tsp

baking soda

1

tsp

salt

4

large eggs - room temp

3/4

cup

canola

or vegetable oil

1

Tbsp

vanilla extract

1 1/4

cups

brewed coffee

cooled to room temp

BUTTERCREAM:

9

large egg whites

1 1/4

cups

granulated sugar

6

sticks unsalted butter

room temp

16

ounces

semisweet chocolate melted and cooled.

GANACHE DRIP:

1/2

cup

semisweet chocolate chips

1/2

cup

heavy cream

CHOCOLATE FANS AND DOTS:

1/2

cup

semisweet chocolate melted

GARNISH

optional:

1/4

cup

mini chocolate chips

Chocolate Fans and dots
Instructions
Preheat oven to 350 degrees F.

Grease, flour and parchment 2 - 7" cake pans

CAKE:

In bowl of mixer add the flour, sugar, cocoa powder, baking powder, baking soda and salt.

Mix slightly to combine ingredients.

Add in the eggs with mixer on low one at a time.

With mixer on low slowly pour in the oil, extract and coffee.

Increase mixer speed to medium and continue mixing until batter is formed. You may scrape down the sides of the bowl a few times.

Pour batter into prepared pans and bake 50-55 minutes or until toothpick inserted into center comes out clean.

Let cool completely and remove from pans.

BUTTERCREAM:

In large sauce pan add the egg whites and sugar.

On medium heat you are going to whisk egg mixture until sugar is completely dissolved (you can test it by rubbing a small amount between your fingers to test it, it should be completely smooth).

Transfer to mixing bowl and with whisk attachment whisk on high until stiff peaks form and mixture is completely cooled (if not completely cooled your butter will melt).

Switch to paddle attachment.

Add in the salt.

On low speed add the butter one Tbsp at a time. Mix until well combined, smooth and creamy.

Slowly pour in the melted (but cooled) chocolate while mixer is mixing until all chocolate is used.

Continue mixing until frosting and chocolate are completely combined.

GANACHE:

Pour chocolate chips into heat proof bowl.

In small sauce pan heat heavy to cream, removing from heat when just about to boil.

Pour over chocolate, let set for 2 minutes, then begin to stir in small circular motions until ganache begins to form and chocolate and cream are completely combined.

Let cool, ganache should be pourable but not hot or it will melt the buttercream.

CHOCOLATE FANS AND DOTS:

Spoon about a Tbsp dollop of chocolate onto parchment paper, immediately with back of spoon swoop the chocolate upward about 3-4 swoops to make a fan shape, make 5-6 fans. With remaining chocolate pour onto parchment little dollops, they should resemble large chocolate chips.

Let cool and harden completely, keep in cool dry place.

ASSEMBLY:

Cut off the round tops of cakes if need be.

Cut each cake horizontally to make a total of 4 layers.

Lay first cake layer on cake plate/board (add a bit of frosting underneath to hold the cake in place).

Spread or pipe a layer of frosting making sure to go to the edges, repeat with the remaining 3 layers.

With remaining frosting coat the sides of the cake using offset spatula. Smooth as needed.

Refrigerate for at least an hour.

Pour ganache into a cup with a pour spout. Ganache should be pourable but not hot or it will melt the frosting

Pour ganache over top of cake and pour a little heavier near the edges to make it drip down the side.

How heavy your pour will determined the length of your drip.

Refrigerate at least 30 minutes to set the ganache.

Pipe some swirls around the edge of the cake and in the center.

Pipe border along the bottom.

Place the fans decoratively on the cake top and the lower side, you may need extra dollops of frosting to hold them into place.

Sprinkle on the mini chocolate chips to the top of the cake.

You can refrigerate cake but take out at least an hour before serving as its best served room temp.