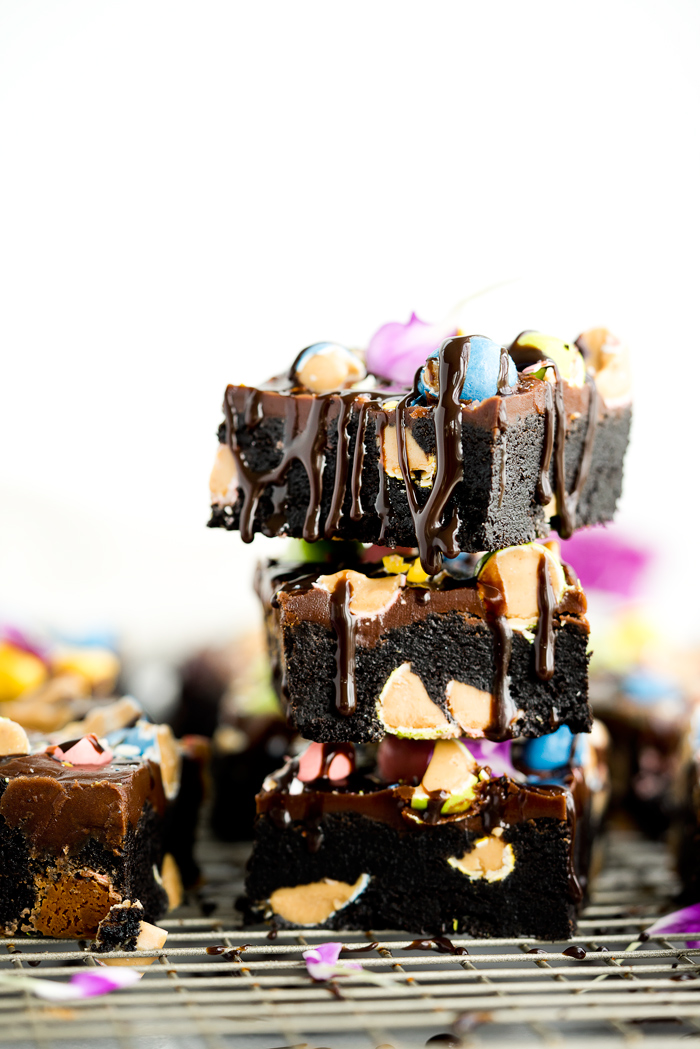 Reese's Pieces Double Fudge Brownie Recipe. My childhood favorite candy, Reese's Pieces, folded into deep dark fudge brownies and then sprinkled on top of fudgy frosting.
I was shopping for our daughters easter basket when I saw them, the candy I loved most as a kid. Reese's Pieces in Easter egg form. I stood there for second wondering, "are these new or have I just missed them all these years?" . I had to show my husband, he agreed he had never seen them before this Easter. So either we are both missing out or this is the greatest new addition to Easter since the Whopper eggs.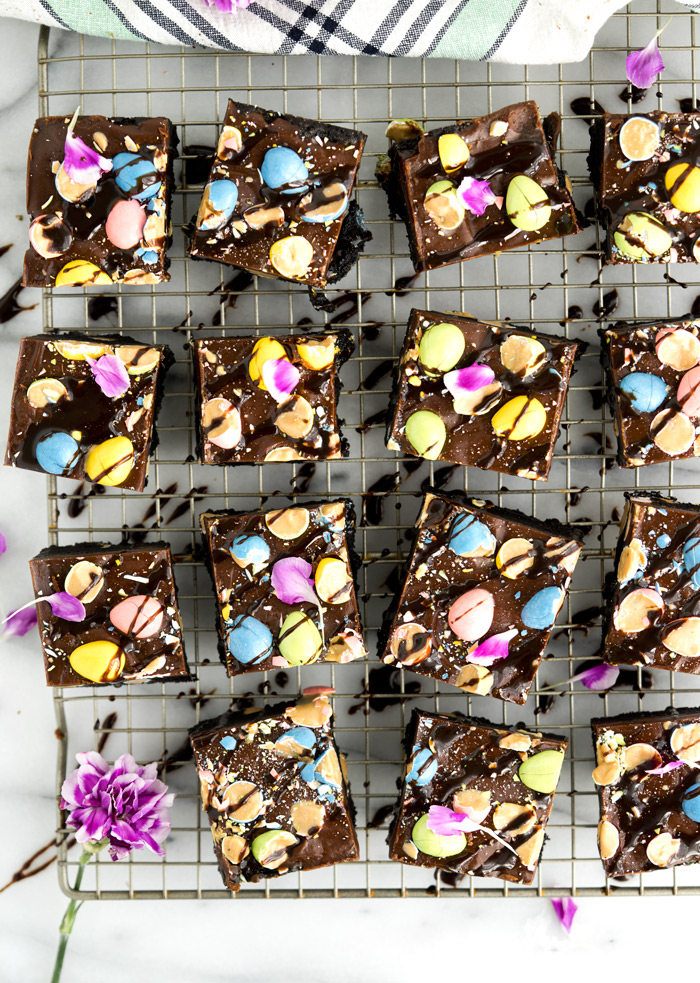 Funny story, embarrassing but funny! When I was in 7th grade (so about 13 years old) my friend and I walked to the local quick pick store for candy. The candy was behind the register and we had to ask the clerk to hand us what we wanted. I saw the orange bag of Reese's Pieces and knew that was what I was getting. When it came time to tell the clerk which candy I wanted I pointed and without hesitation said, "the Reese's Penis's please….". In that very moment as that out of no where, taboo word came out of my mouth I could feel my face and neck turn 5 shades of red. My friend whipped her head around and started to giggle, stunned of course. I apologized to the clerk and corrected myself but couldn't look her in the eyes. After paying I ran out of that store so fast, as soon as we were out the door my friend and I started laughing so hard. Considering my age and innocence I could've died of embarrassment in that moment and I think of it every time I have Reese's Pieces lol.
What's my obsession with Reese's Pieces all about?
I love candy in pieces, silly and as simple as that might sound it's just fun to eat one after the other, especially at the movies.
Reese's Pieces are filled with peanut butter candy and it melts in your mouth. Maybe this should have been the first one on the list.
But my most favorite thing about Reese's Pieces? The shell, similar to M&M's, its thin and crunchy. But it is even thinner and crunchier, it almost shatters when you bite into it.
So it is only natural that I would want to add Reese's Pieces Easter Eggs into a deep, dark, fudgy brownie. Slather it with fudgy frosting and then sprinkle it with more Reese's Pieces Easter Eggs right? Right! And so became the Reese's Pieces Double Fudge Brownie. You guys these are so gosh darn good I had to give them away because I could not stop myself from eating them! Lets face it they have all the markers of comfort food dessert. Deep, dark, fudgy, chocolaty, crunchy, peanut buttery, smooth and creamy.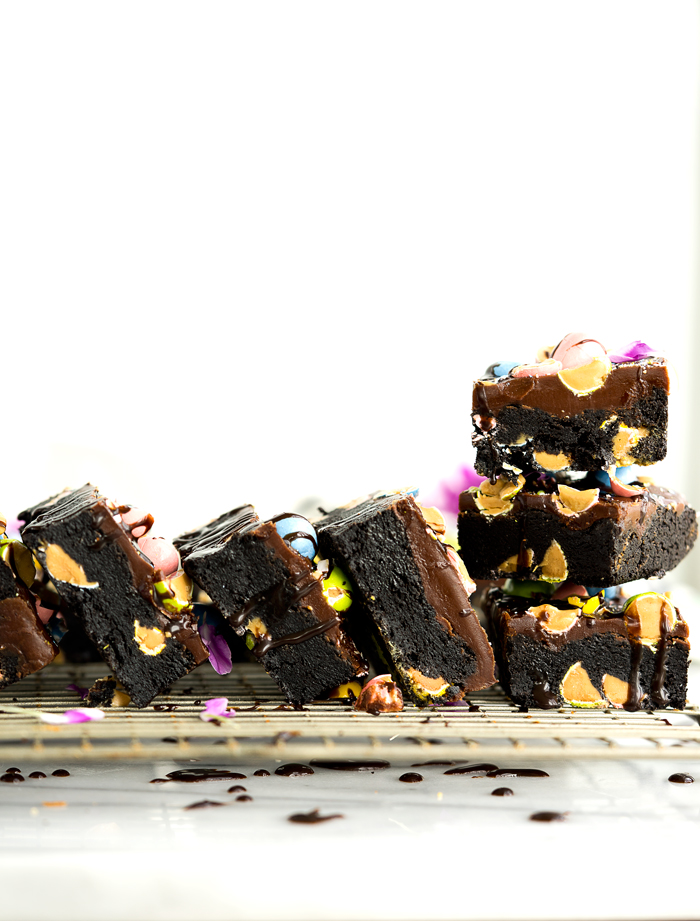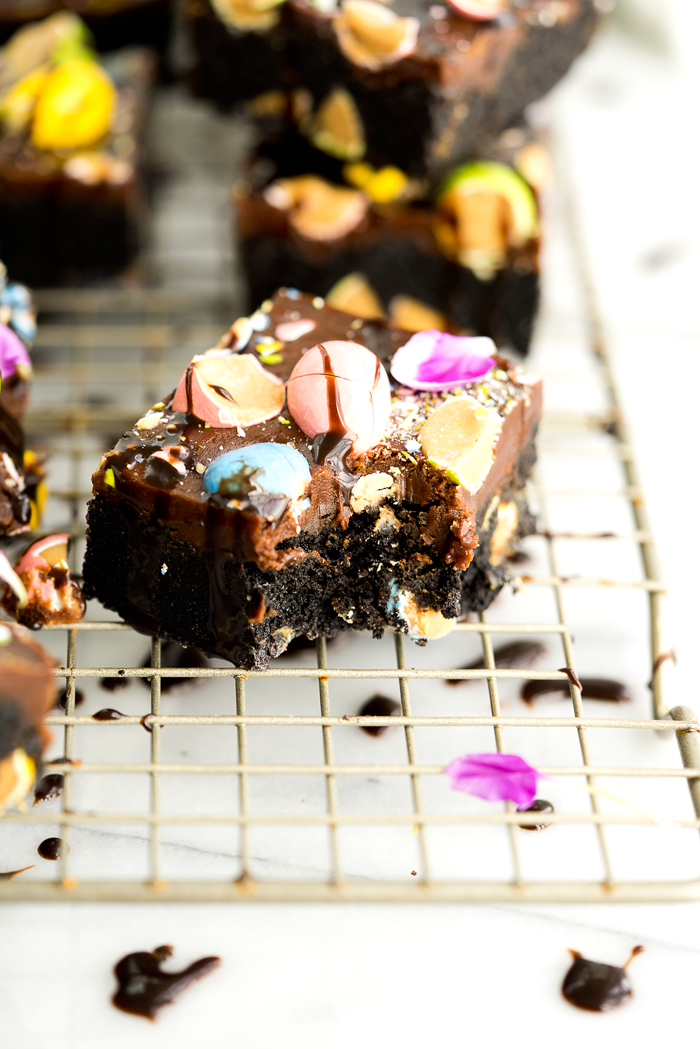 One thing to note, these are not a peanut butter brownie. These are a fudge brownie and the peanut buttery goodness comes from the Reese's Pieces. Meaning peanut butter flavor is present but not the focus flavor.
If you love Reese's Pieces as much as I do and you love fudgy brownies like I do than these are a must!! They make a great gift to.
Enjoy!
Stacey
Here are some of the items used to make these Reese's Pieces Double Fudge Brownie, these may be helpful if you want to buy or get a visual of what to look for at the store. Please note that some or all of the below are affiliate links. This means if you click on the link and buy I get a small commission. Thank you for your support of this blog. 🙂 
Check out these other Brownie recipe!!
Toasted Coconut Meringue Brownies
Fudgy Dark Chocolate Brownies (secret ingredient, Scotch!!)
FORGOT TO PIN IT? Here it is!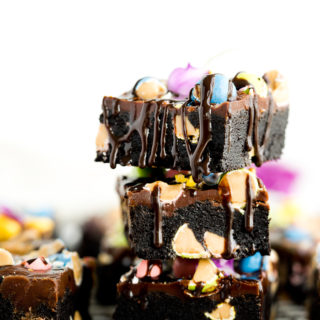 Reese's Pieces Double Fudge Brownie Recipe
Reese's Pieces Double Fudge Brownie Recipe. My childhood favorite candy, Reese's Pieces, folded into deep dark fudge brownies and then sprinkled on top of fudgy frosting.
Ingredients
BROWNIE:

1 1/3

cups

granulated sugar

1/3

light brown sugar

3/4

cup

melted butter

2

Tbsp

peanut butter

2

large eggs

3

tsp

vanilla

1 1/3

cup

all purpose flour

3/4

cup

+ 2 Tbsp Hershey Special Dark cocoa powder

1/2

tsp

baking powder

pinch

of salt

1

cup

rough chopped Reese's Pieces Eggs

rest of the bag for garnish on top

FROSTING:

1/4

cup

milk

1/4

cup

butter

3/4

cup

sugar

2

tsp

vanilla

3/4

cups

chocolate chips
Instructions
Pre-heat oven to 350 degrees F

Line 8x8 pan with parchment paper

In large bowl combine and stir the flour, cocoa powder, salt and baking powder.

In mixing bowl add sugars, butter, vanilla, peanut butter and mix.

Add the eggs and mix well to combine.

Slowly add in the flour mixture.

Mix until well combined.

By hand fold in rough chopped Reese's Pieces eggs.

Pour batter into pan and spread with off-set spatula or regular spatula.

Bake for 25 minutes or until toothpick inserted comes out a little sticky.

Frost while brownie is warm and sprinkle with chopped Reese's Pieces eggs.

Cool and then cut into squares the size you need.

Store in an airtight container in cool place.

FROSTING:

Combine butter, milk and sugar in small sauce pan

Over medium heat bring to a boil and let boil for about 60 seconds.

Remove from heat and add vanilla and chocolate.

Whisk until smooth and shiny and all chocolate is melted.

Pour warm frosting over warm brownie.

Garnish with chopped Reese's Pieces eggs.

Let cool completely.
Notes
If you cannot find the Reese's Pieces eggs you can use standard Reese's Pieces, no need to chop.
I used Hersheys Special Dark Cocoa powder which gave the deep dark color to the brownie. If using a standard cocoa powder the color will not be as dark.