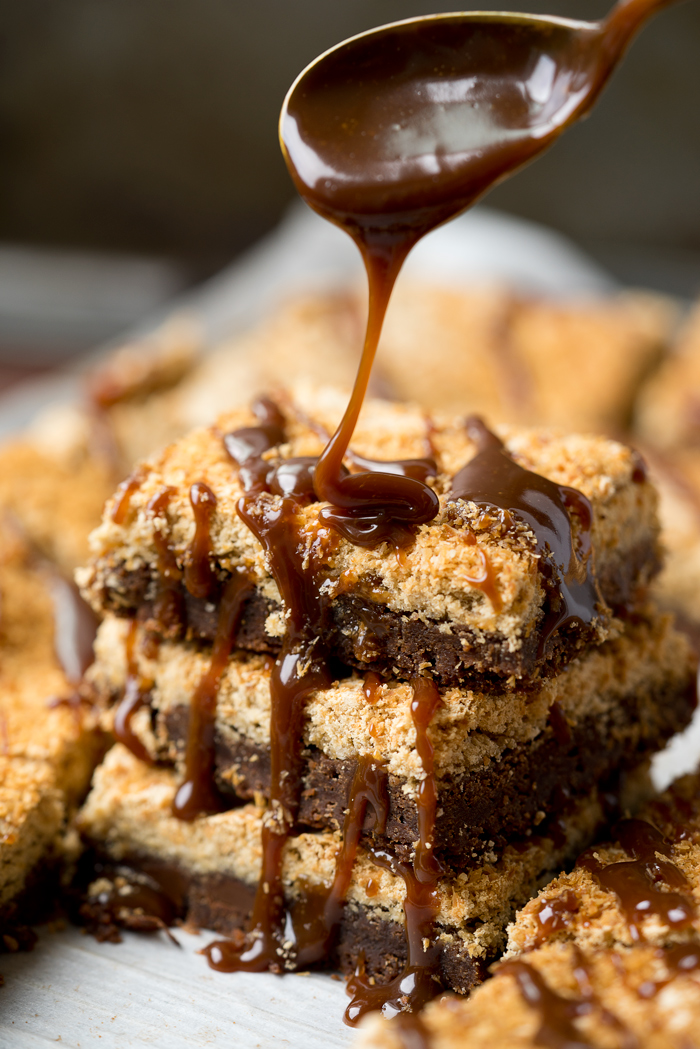 Dreamy Toasted Coconut Meringue Brownies! Chocolatey, fudgey, chocolate chip studded brownie topped with a crisp, rich layer of brown sugar coconut meringue.
[social_share/] Yum

It's all about the fog this morning. Its so deep and dense that you can't see more than a few feet in front of you. It has coated all the spider webs with glistening drops of dew that hold firmly like a string of beads on a chandelier. The fog horns are blowing mighty as the freighters make their way slowly through water amidst the blanket of blindness placed before them. And in the house it has left us feeling tired and snuggly.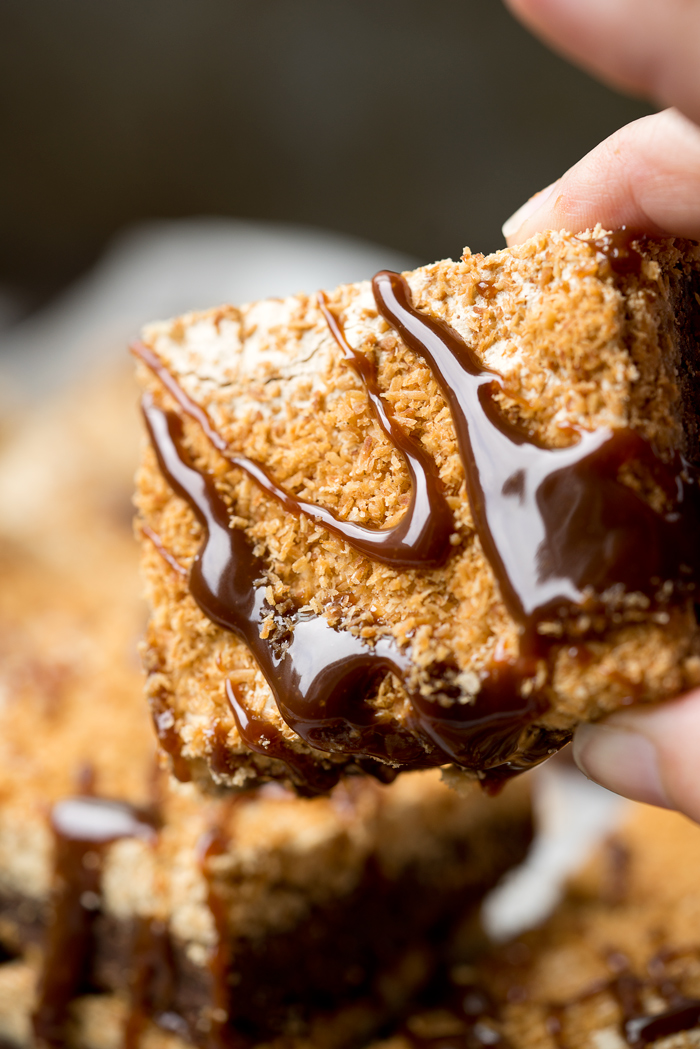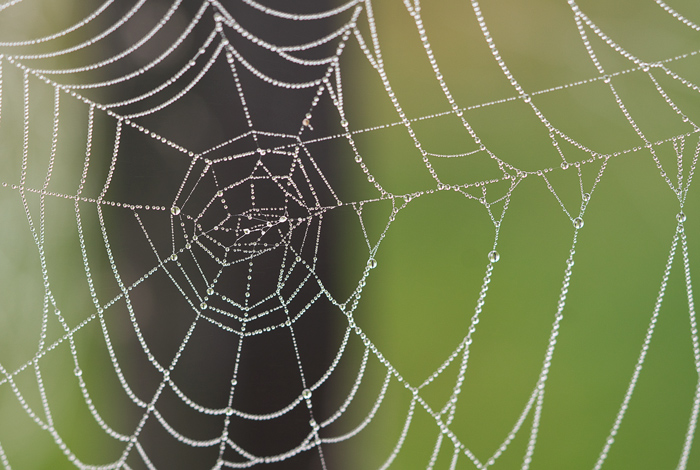 Its the perfect kind of day to indulge in a Toasted Coconut Meringue Brownies. If I were at a bar and this were a cocktail I would tell the bartender to "make mine a double", thats how badly I am in need of these today. But lucky for me its not a cocktail and the pan is here in my kitchen. I'm still gonna make it a double 😉 .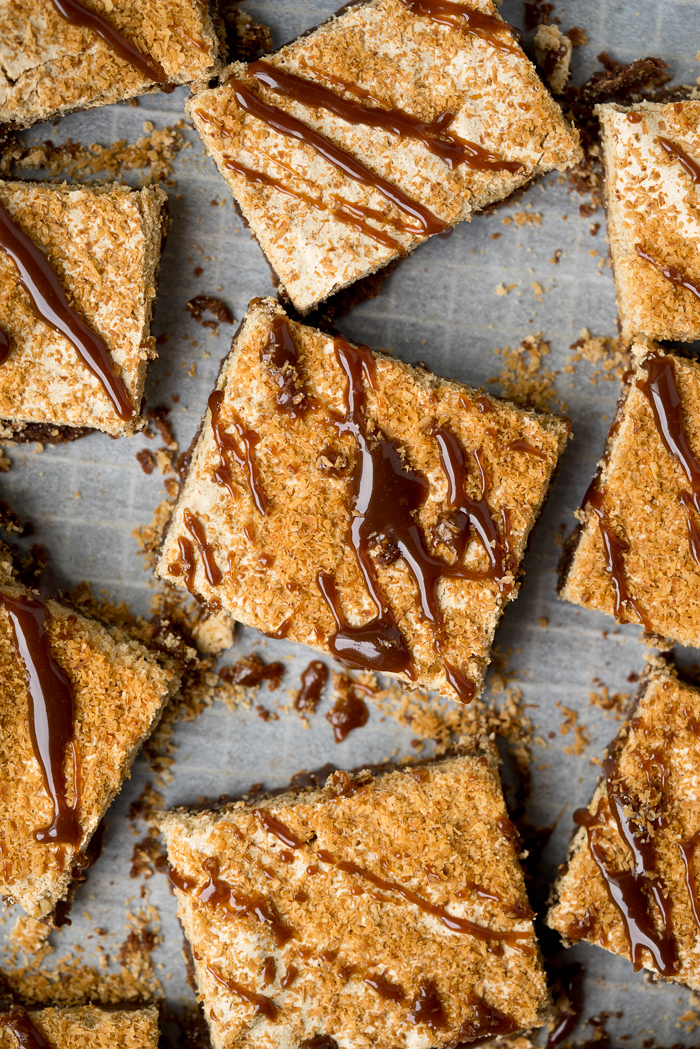 I started with my favorite brownie recipe, made a few adjustments and half baked it in a 9×13 pan. It's hard to believe that these fab brownies could get any better but just wait. I whipped up a brown sugar meringue into stiff peaks, folded in finely shredded coconut and topped the hot brownie base with the coconut meringue. I sprikinled the top with more coconut and popped the pan back into the oven! The house is smelling A-M-A-Z-I-N-G, we got rich fudgey brownies baking, sweet, fragile meringue crisping. The coconut is toasting and browning like a sunbathing beauty.
Biting into this Toasted Coconut Meringue Brownie is no exception. You can feel the crisp meringue crackling along with the rich, dense, heavenly brownie. Together they compliment each other by being polar opposites, you know what they say, "opposites attract" and this Toasted Coconut Meringue Brownie is proof positive!! The coconut flavor ties both worlds together like the perfect belt.
Are you looking to step up your brownie game or maybe your obsessed with meringue, coconut and brownies. Whatever the reason you have to try these, you won't be disappointed.
Enjoy!
Stacey
Here are some of the products I used to make these brownies:
Please note some of the links above are affiliate links which means if you purchase from the link I get a small commission. I use these products and stand behind them which is why I chose to tell you about them. Thank you for your support. 
FORGOT TO PIN IT? Here it is. Thanks!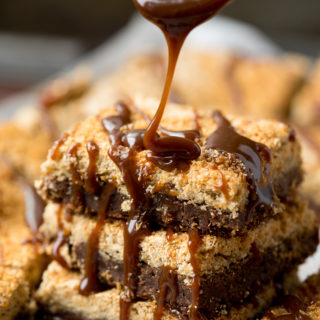 Toasted Coconut Meringue Brownies
Dreamy Toasted Coconut Meringue Brownies! Chocolatey, fudgey, chocolate chip studded brownie topped with a crisp, rich layer of brown sugar coconut meringue.
Ingredients
BROWNIE:

1⅓

cups

granulated sugar

⅓

light brown sugar

¾

cup

melted butter

2

Tbsp

Scotch

you can use milk if you don't want to use alcohol

2

large egg yolks

reserve the whites for the meringue

3

tsp

vanilla paste

I used Nielsen Massey Vanilla Bean Paste

1 2/3

cup

all purpose flour

¾

cup

+ 2 Tbsp unsweetened cocoa powder

I use Guittard unsweetened Cocoa Powder

½

tsp

baking powder

3/4

cup

semi-sweet chocolate chips

MERINGUE:

2

large egg whites

1

tsp

vanilla

1 1/4

cups

packed light brown sugar

1

cup

shredded/fine coconut

I used Bobs Red Mill Macaroon Coconut

Chocolate sauce.
Instructions
Preheat oven to 350 degrees

Line 9x13 pan with parchment paper, set aside.

BROWNIE:

In large bowl combine and stir the flour, cocoa powder and baking powder.

In mixing bowl add sugars, butter, vanilla, Scotch and mix.

Add the eggs yolks and mix well to combine.

Slowly add in the flour mixture.

Mix until well combined.

By hand fold in the chocolate chips.

Pour batter into pan and spread with off-set spatula or regular spatula.

Bake for 15 minutes.

In the mean time make meringue.

MERIGNUE:

Whisk egg whites and vanilla until frothy.

In small increments add in the brown sugar, whisking on med.

Turn mixer on high and beat egg whites and brown sugar until stiff peaks form.

Fold in 3/4 cup coconut.

Spread over hot brownie base.

Sprinkle with remaining coconut.

Reduce oven to 325 degrees.

Bake for 20 minutes and until nice golden brown.

Remove from oven, cool completely.

Drizzle with chocolate sauce (optional)
Notes
Meringue is very sensitive to humidity so keep these brownies in a cool, dry place.
These are very rich and can be cut into smaller pieces if you wish.
SaveSave
SaveSave
SaveSave
SaveSave
SaveSave
SaveSave
SaveSave
SaveSave
SaveSave
SaveSave
SaveSave
SaveSave
SaveSave
SaveSave