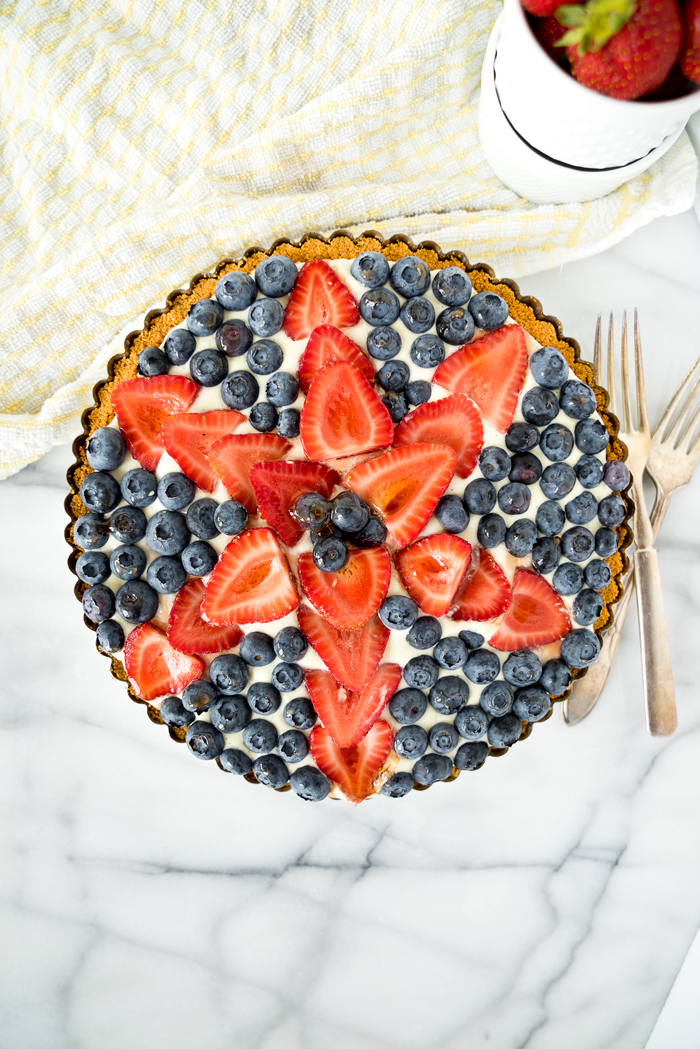 Berries and Cream Tart!! Sweet, season fresh berries and cool, creamy pastry cream. All held in a crunchy graham cracker crust. [social_share/]Yum
Happy 4th of July, it's almost upon us. We'll be grilling outside, lighting fire works and making s'mores. So the stereotypical American celebration but in this case I am just fine with being a stereotype 😉 . We have a lot going on today so this post will be short and sweet!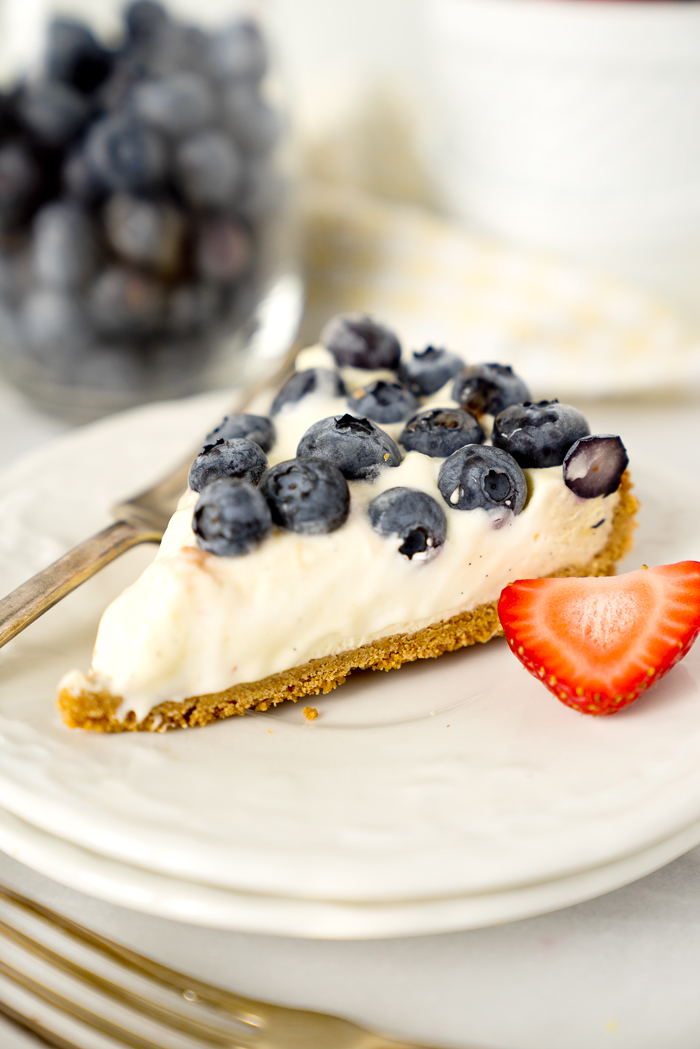 For dessert we'll be having this Berries and Cream Tart. I love the sweet, tart of the strawberries and blueberries plus they're the perfect color for the 4th of July aren't they? Almost as if nature knew. The berries are placed on top of a cloud of deliciously rich and creamy vanilla bean pastry cream, one of my absolute favorites. Now a word about pastry cream, its thick and very soft, it is not a super stiff filling but more creamy. To give you an idea the next photo shows the blueberries starting to slide off the sides as the pastry cream softens. Whipped cream has been added to lighten things up a bit. All this goodness is being cradled in a crumbly graham cracker crust which compliments all the creaminess with a little crunch! For a little added sparkle I glazed the strawberries, this helps keep them fresh and glossy. I wiped a little over the blueberries to keep them glistening as well.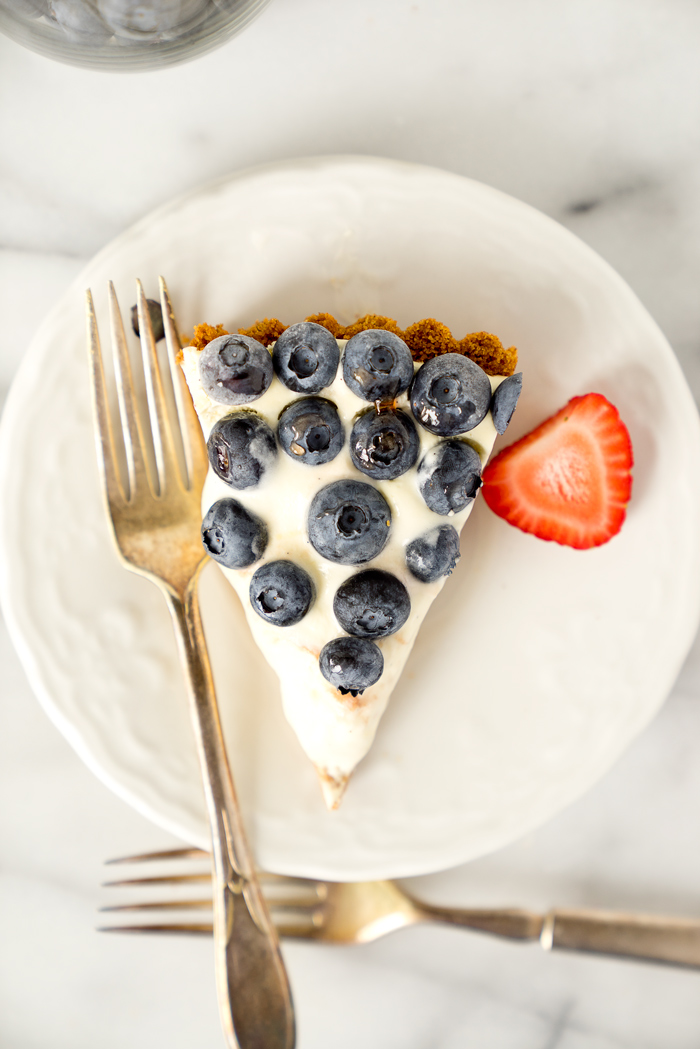 I wish you all a wonderful 4th of July celebration. Enjoy some good eating, some good drinking and all your friends and family.
Enjoy!
Stacey
FORGOT TO PIN IT? Here it is. Thanks!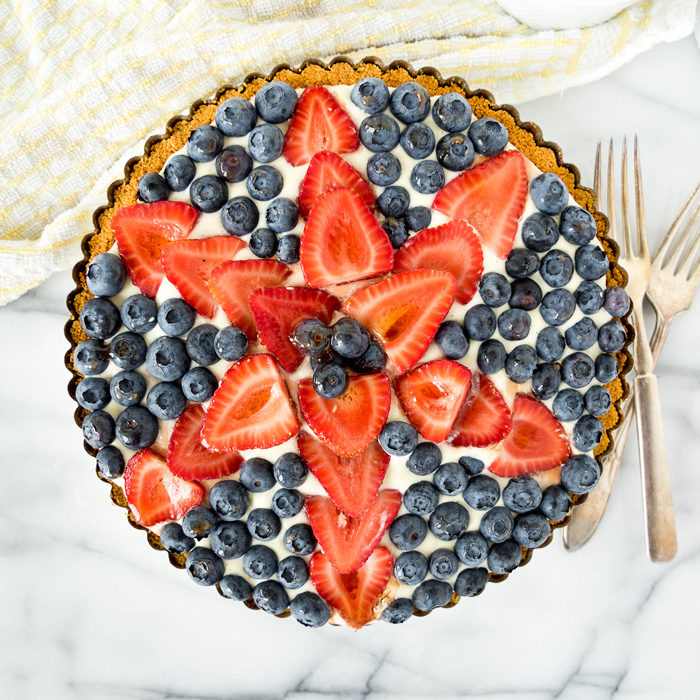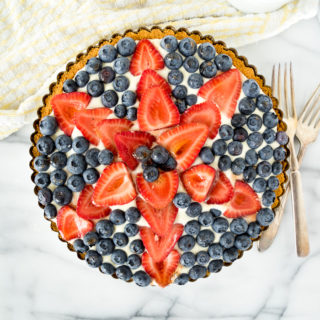 Berries And Cream Tart
Ingredients
CRUST:

1 1/2

cups

finely crushed graham crackers.

6

Tbsp

butter melted

1/3

cup

sugar

2

pinches

of salt

FILLING:

1

cup

milk
vanilla bean seeds from half of vanilla bean

1/4

cup

plus 1 tablespoon sugar

3

large egg yolks

2

tablespoon

cornstarch

1

tablespoon

flour

1

teaspoon

unsalted butter

1/2

cup

heavy cream

TOPPING:

6-8

strawberries

this will depend on size.

1

pint

blueberries.

GLAZE:

2

Tbsp

strawberry jelly

2

tsp

water
Instructions
CRUST:

Pre heat oven to 350 degrees.

Mix the cookie crumbs, butter, sugar and salt together in a bowl.

Pour into 8" round tart pan.

Press with back of hand or cup into tart pan and up the sides as well.

Make sure crust is pressed firmly into place. Bake for 20-25 minutes.

When done remove from oven to cool.

FILLING:

In a saucepan over high heat, bring milk, vanilla seeds, and 1/4 cup sugar to a heavy boil scalding the milk.

In a separate bowl, whisk egg yolks with remaining tablespoon sugar until thick and pale. Sprinkle in cornstarch and flour; continue whisking until well combined.

On high whisk half the hot milk into egg-yolk mixture. Combine with remaining hot milk; slowly bring to a boil.

Continue whisking until thick, about 30 seconds.

Transfer pastry cream to a bowl. Rub top with butter to prevent a skin from forming. Cover with plastic wrap, and let cool completely.

Once pastry cream is cooled make the whipped cream. Whip heavy cream until soft peaks form, fold into cooled pastry cream.

TOPPING:

Rinse fruit and let dry.

Slice strawberries thinly, set aside.

Pick out the pretty blueberries, set aside.

GLAZE:

Mix jelly and water together to thin out jelly mixture set aside.

ASSEMBLY:

Fill cooled crust with pastry cream mixture, spread evenly.

Arrange berries in pretty pattern.

Brush glaze over strawberry slices and lightly over blueberries. (this is not necessary over the blueberries but it adds a nice sheen.)

Refrigerate at least two hours.
Notes
Pastry cream is sensitive to warm temperature. Keep refrigerated.