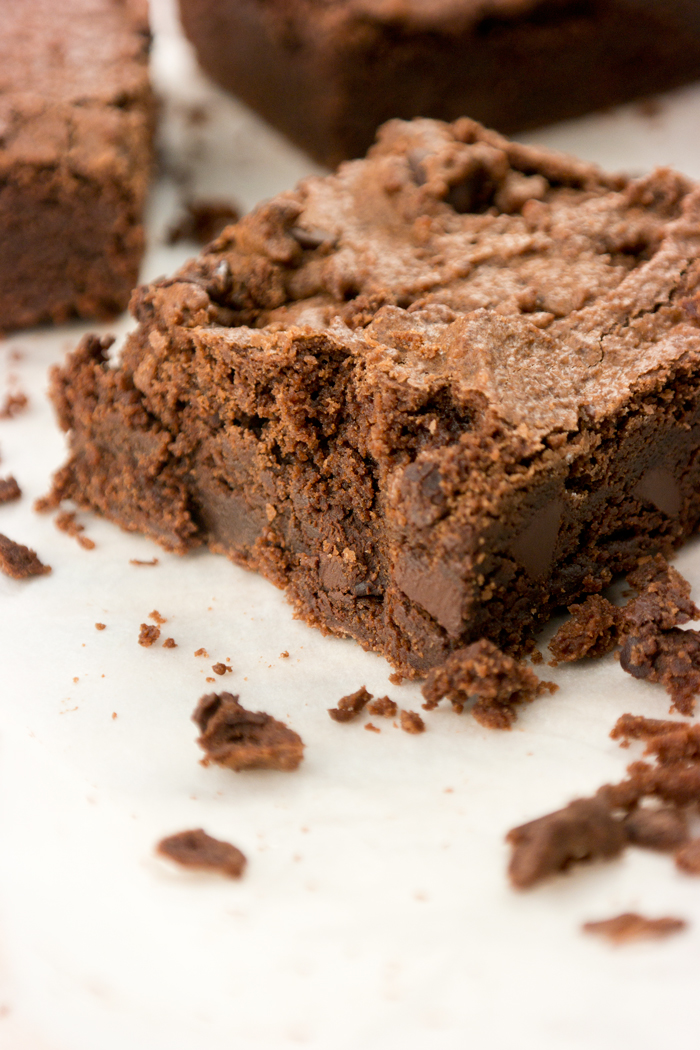 Fudgy Dark Chocolate Chip Brownies. What's better than a brownie? A super deep chocolatey fudge brownie studded with dark chocolate chips.
[social_share/] Yum
Brownies are always a favorite of mine, my husbands, my daughters, brothers, best friends…you get the picture. Can you you blame us? For me the best brownie experience is one with a fudge center, chewy edges with a slight crisp on initial bite. I like it thick enough that I need a piping hot sip of coffee or cold drink of milk to wash it down. Because if I wanted a cake like texture I would bake a chocolate cake right? But we want brownies, Fudgy Dark Chocolate Chip Brownies.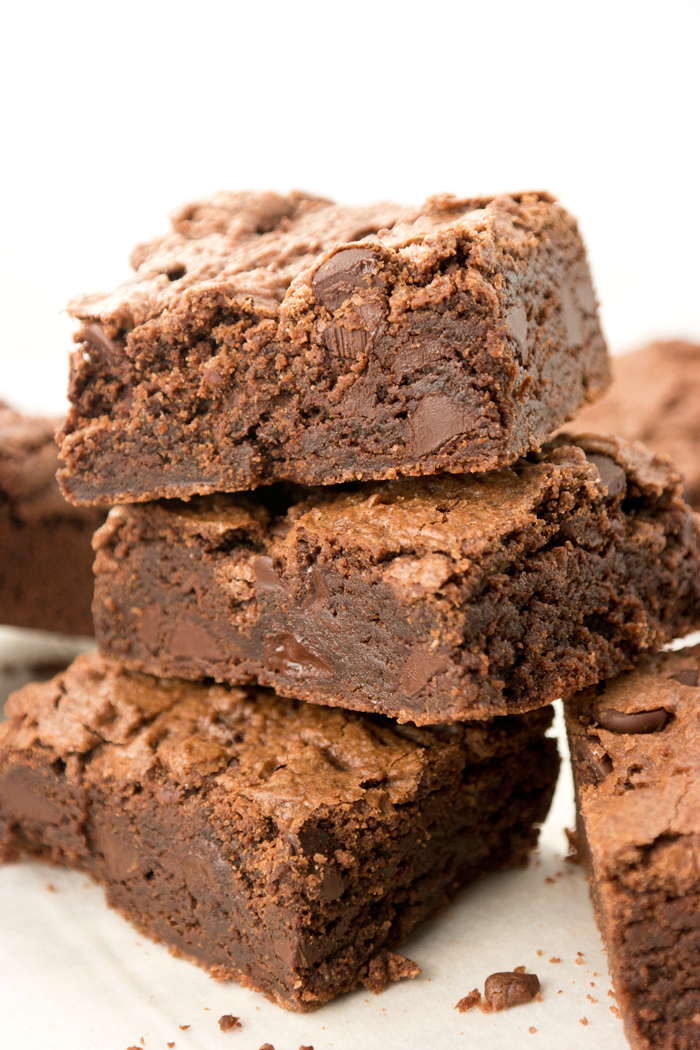 I've said it before and it always proves true, you can almost always tell how good a baked good is going to be just by how the batter comes together. This Fudgy Dark Chocolate Chip Brownie is no exception. The batter is dark and super thick, the dark chocolate chips are almost camouflaged within. It needs to be spread into the pan with a large off-set spatula and smells of sweet sugar, butter, chocolate, vanilla and a hint of Scotch. Yes, Scotch, you heard me right. I find Scotch (Whiskey, Brandy) enhances the flavor of chocolate. You don't necessarily taste it and its not enough for a buzz but you notice that "something" wonderful flavor that you can't explain, that enhancement in the chocolate flavor, that would be the Scotch.
As I pulled the hot pan out of the oven it looks almost like it had when I put it in the oven accept, well, baked. All the swoops and swirls that I made when using the off-set spatula to spread the batter were still there, the batter baked but didn't move. The surface has a smooth sheen to it that crackles as you cut into them.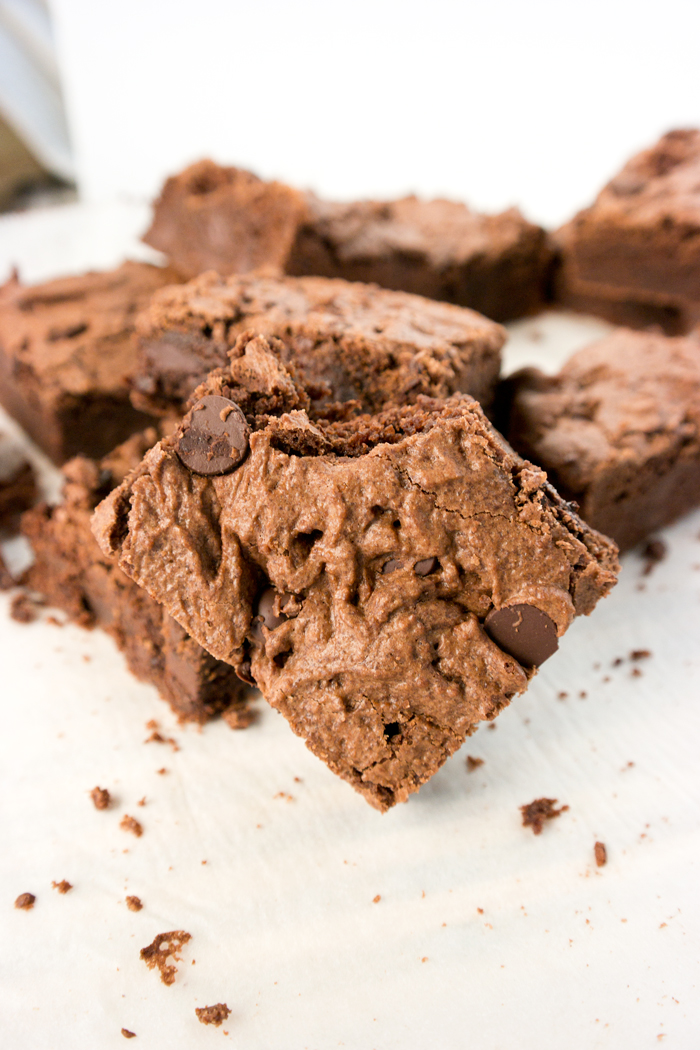 I wish I could tell you the first brownie was mine but my hubby started to circle the kitchen like a hawk as they were coming to the end of the cooling period. I pretended to ignore it and he pretended not to be doing it, lol. Finally he couldn't take it anymore. "Can I have a brownie..?", I heard from over my shoulder. It was a quiet question as if he already knew the answer would be no. A lot of times I make him wait until I photograph everything before he can dig in. But this time I gave in and 1/3 of the pan was gone in a blink of an eye! I knew then they had to be great!
The top of the brownie is slightly crunchy, the edges have a light chew and the centers are deep, rich and fudgy. The dark chocolate chips snap with each bite and the hints of butter and vanilla melt into the deep chocolate flavors.
Grab yourself a hot coffee or cold milk and a pan of these brownies! You won't want to share.
Enjoy!
Stacey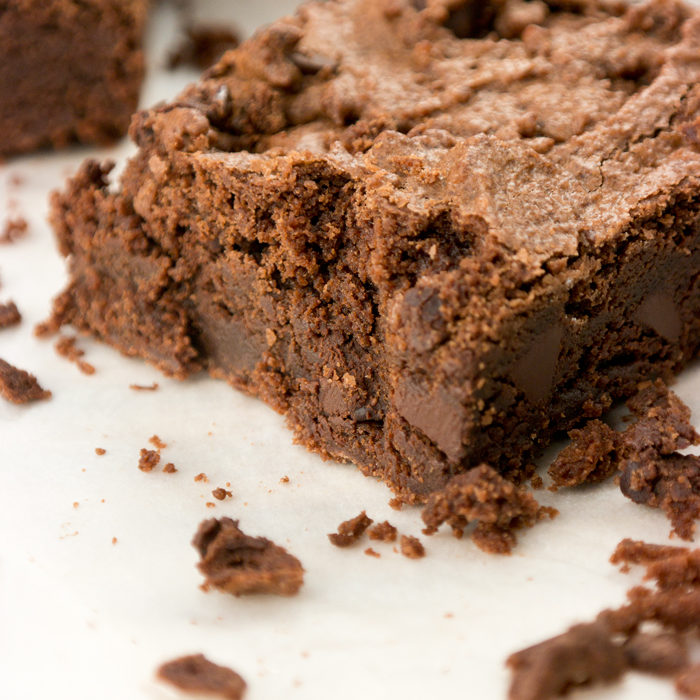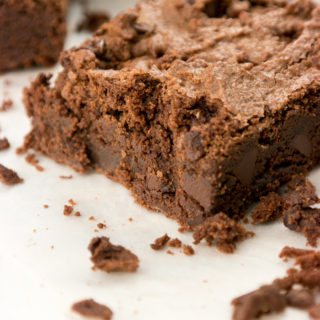 Fudgy Dark Chocolate Chip Brownies
Fudgy Dark Chocolate Chip Brownies. What's better than a brownie? A super deep chocolatey fudge brownie studded with dark chocolate chips.
Ingredients
1 1/3

cups

granulated sugar

1/3

light brown sugar

3/4

cup

melted butter

2

Tbsp

Scotch

you can use milk if you don't want to use alcohol

2

large eggs

3

tsp

vanilla paste

or extract

1 1/3

cup

all purpose flour

3/4

cup

+ 2 Tbsp cocoa powder

1/2

tsp

baking powder

pinch

of salt

1

cup

dark chocolate chips
Instructions
Pre-heat oven to 350 degrees F

Line 8x8 pan with parchment paper

In large bowl combine and stir the flour, cocoa powder, salt and baking powder.

In mixing bowl add sugars, butter, vanilla paste, Scotch and mix.

Add the eggs and mix well to combine.

Slowly add in the flour mixture.

Mix until well combined.

By hand fold in the dark chocolate chips.

Pour batter into pan and spread with off-set spatula or regular spatula.

Bake for 25 minutes or until toothpick inserted comes out a little sticky.

Cool and then cut into squares the size you need.

Store in an airtight container in cool place.