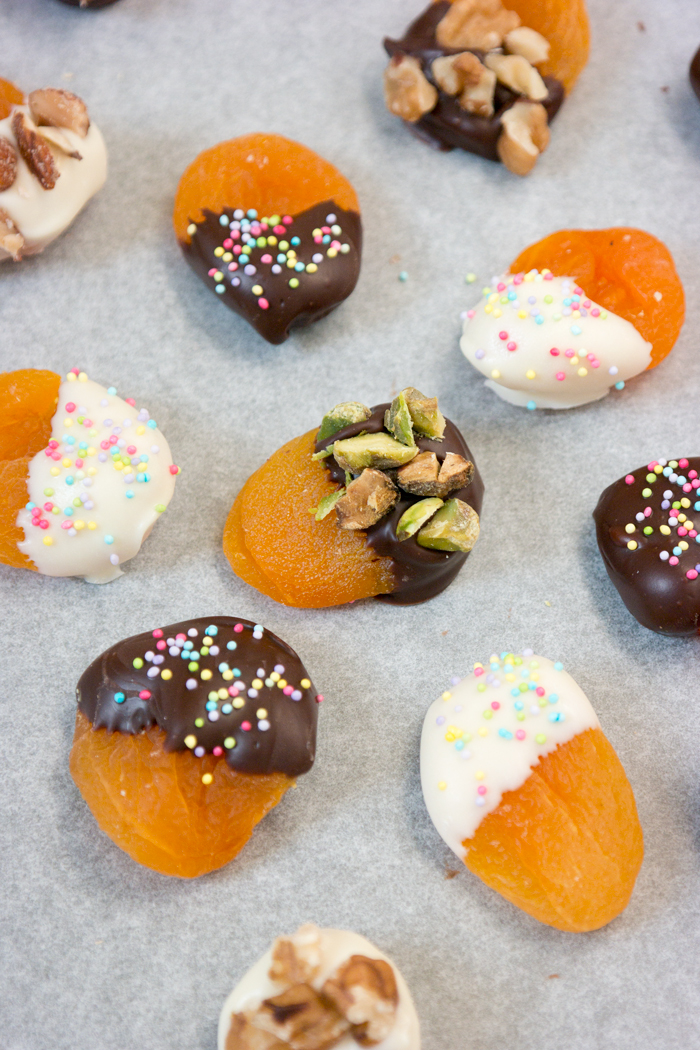 Chocolate Dipped Apricots. Three ingredient sweet treats that are super easy to make and simply delicious. [social_share/] Yum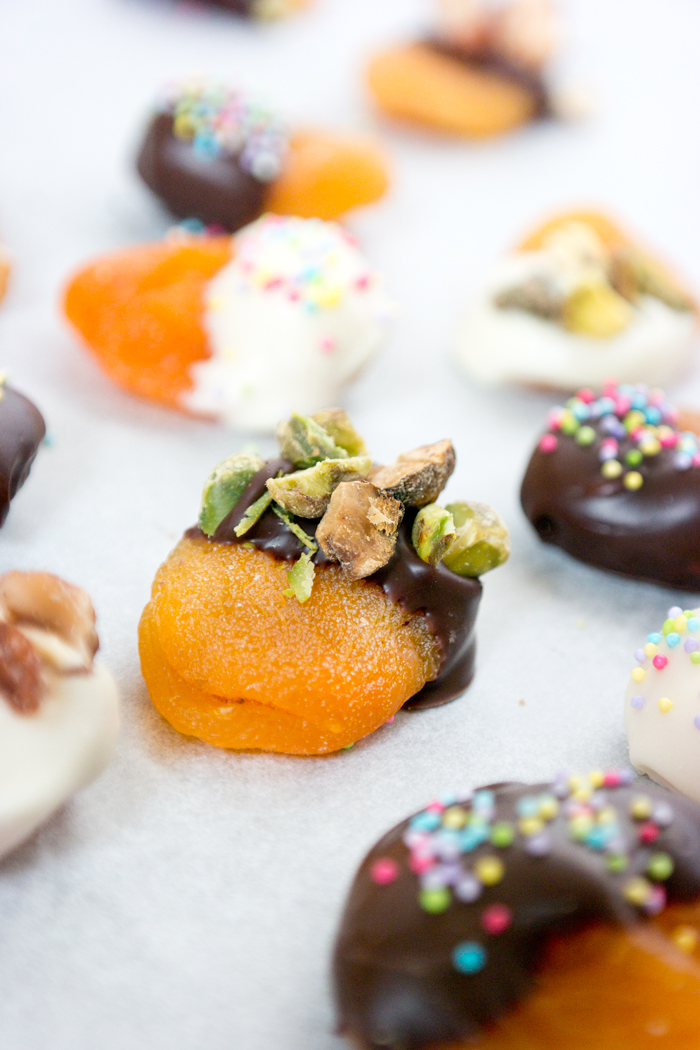 I make cakes part-time and for the last two weeks I have been living, breathing, thinking, baking, decorating and dreaming cake. Can I just tell you that as exciting as it is, its hard work. During you're thinking, "what was I thinking…", "..am I going to get this done in time?", "Will they like it?"… Then the moment comes, the moment when you are finished, you're done piping, writing, decorating. At that moment a sense of relief comes over your body, a smile starts to peak through. Those feelings are fast fleeting, quickly switching to thinking I have to deliver this cake now before an earthquake or freak accident happens and this cake ends up ruined, lol!! If you know my kind of luck, you would know this panic is for good reason…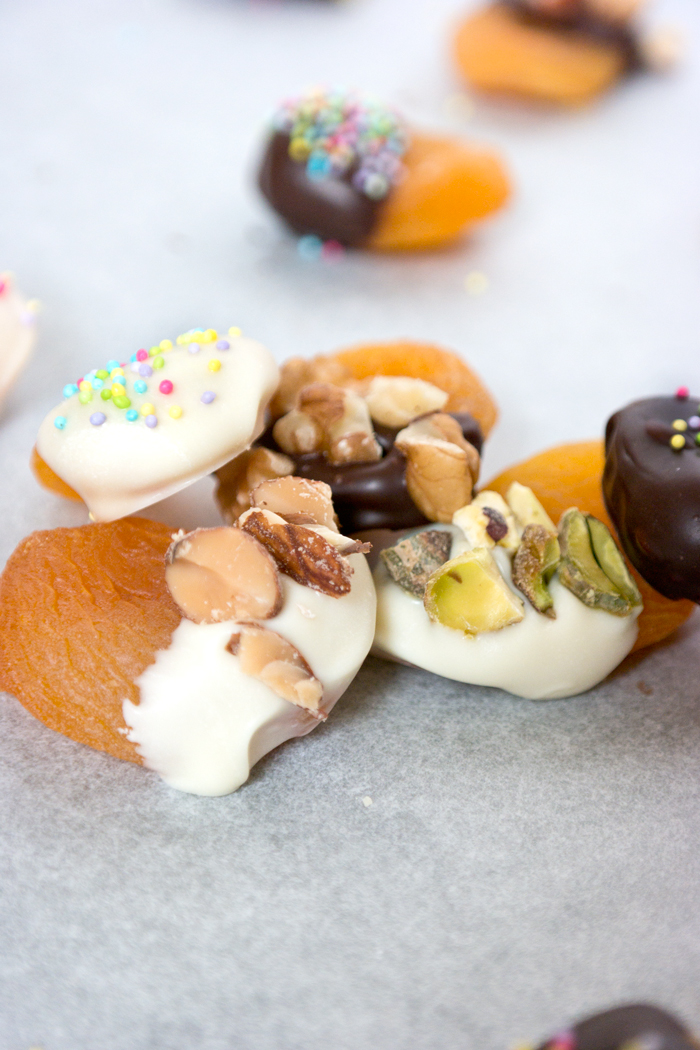 So its no wonder that I was in the mood for something simple this week! The kind of simple that requires no mixing, no baking, no thinking and only a little bit of time. Chocolate Dipped Apricots fit the bill! Jewel toned, plump, sweet apricots. Smooth, creamy chocolate and crunchy nuts or sprinkles.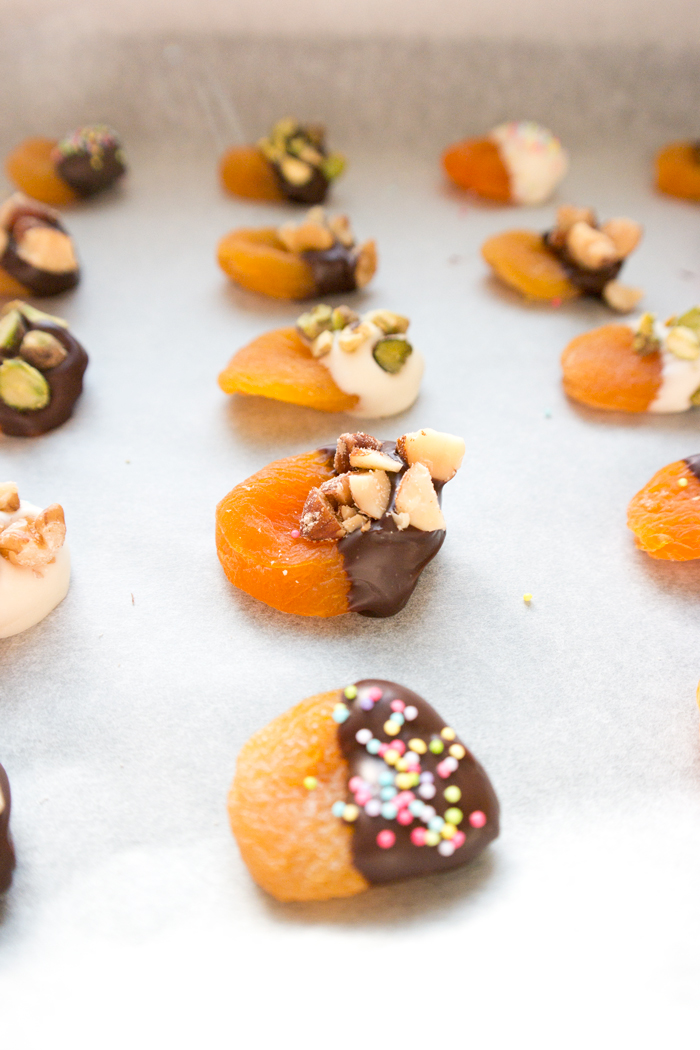 Whenever I have apricots in the house I always have to hold one up to the light, I love their rich, vibrant color and even more I love their sweet taste and soft chewy texture. By themselves they are delicious. But since I can never leave well enough alone I decided to dip mine in chocolate. You'll notice I only dipped them halfway, I couldn't bring myself to cover all of their beautiful color. I couldn't commit to dark chocolate or white chocolate so I did both. Same with the nuts, I couldn't commit to one kind so I mixed it up a bit using pistachios, walnuts and smoked almonds. And then there were the sprinkles, I can never get enough sprinkles…so why not?
So here's the break down of steps. Arrange your toppings, layout your apricots, melt your chosen chocolate, dip apricots, sprinkle with topping and let dry. Done!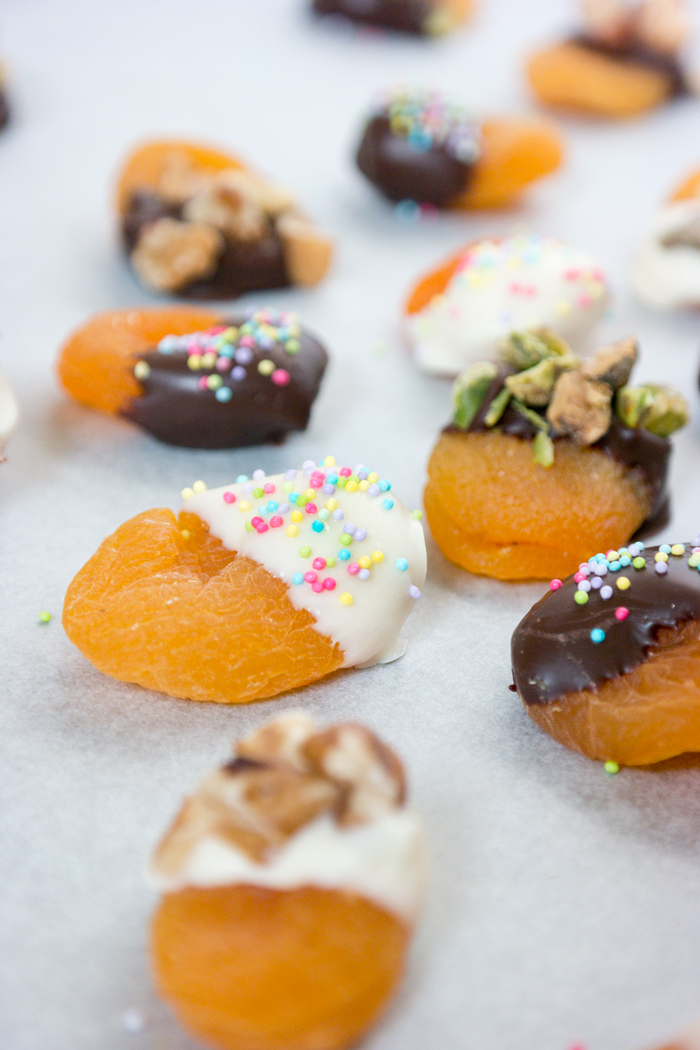 These little three ingredient treats are beautiful, delicious and easy to make. They look beautiful on dessert platters as well as cheese plates.
Enjoy!
Stacey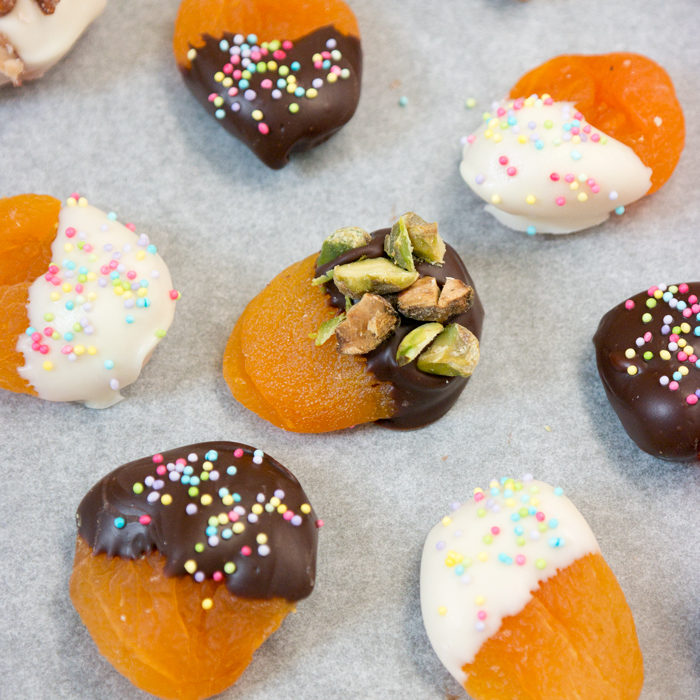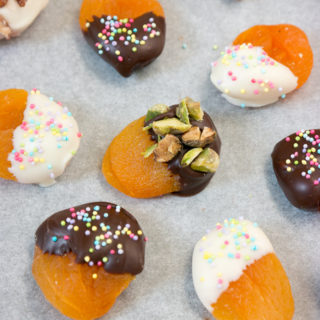 Chocolate Dipped Apricots
Chocolate Dipped Apricots. Three ingredient sweet treats that are super easy to make and simply delicious.
Ingredients
30

dried Turkish apricots

1

cup

chocolate of your choice melted

if using two kinds of chocolate use 1/2 cup each

Toppings - 1 cup crushed nuts and/or enough sprinkles to cover top side of apricots.
Instructions
Line cookie sheet with parchment.

Select and layout your apricots.

Dip first apricot half way, wiggle it around a bit to get a good coat.

Sprinkle with topping of choice.

Repeat until done.

Let set until chocolate has dried.

Store in cool and dry place.
Notes
When melting your chocolate use a small, deep dish, i used a tea cup. If the chocolate is too shallow it will make it difficult to get a good coating of chocolate.