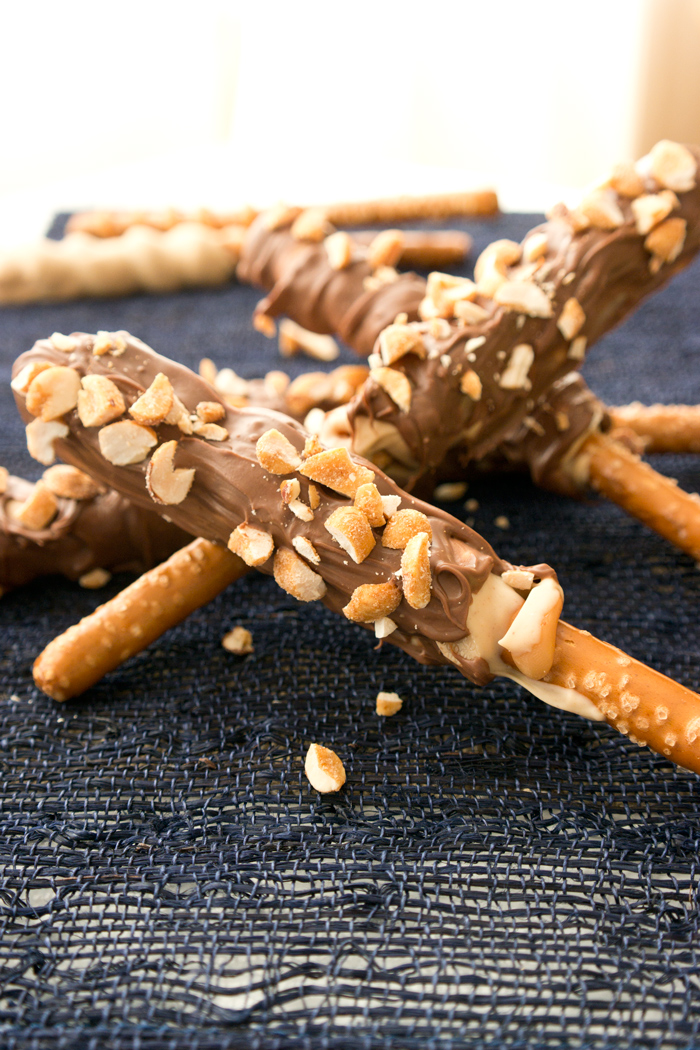 Peanut Butter Ganache Caramel Pretzels. Crisp and salty pretzel rods wrapped in caramel, dipped in peanut butter ganache, dunked in chocolate and finished with dry roasted peanuts. A decadent splurge!
[social_share/] Yum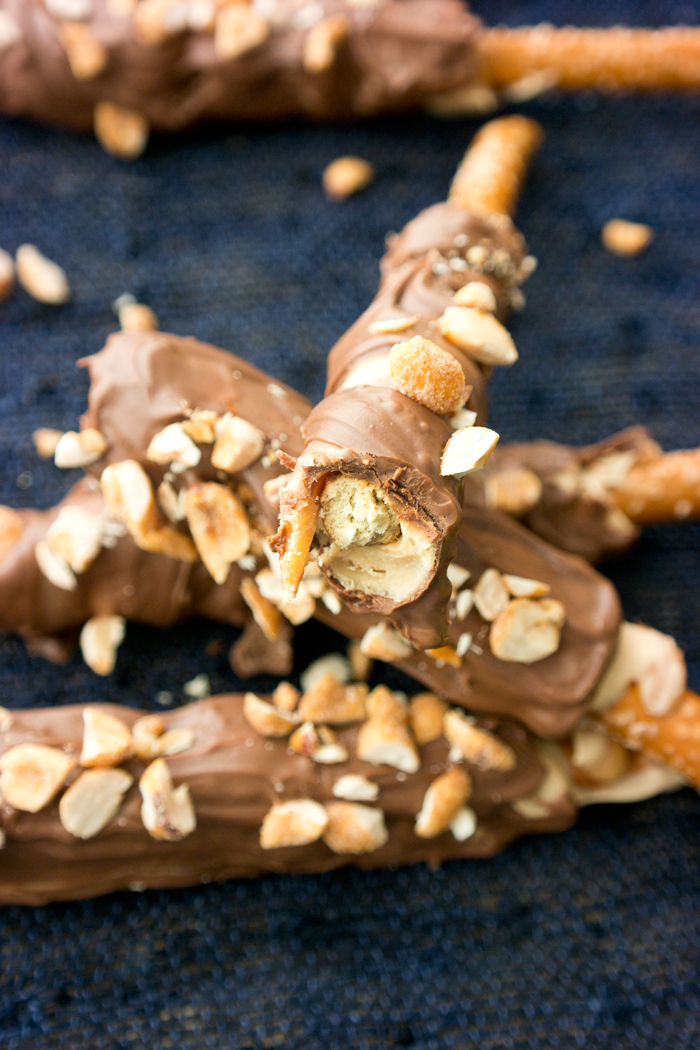 I decided to take last week off from work, the computer and anything that makes the "stress crack" on my forehead worse, lol. I know a lot of folks that go "up north" to their cabins to get away. They are usually small, limited on modern day amenities and allow for total decompression and the enjoyment of nature, maybe a tv but no wifi. We don't have a cabin up north but we do live by the water (which is all I need) and I decided to cabinize our house for the week, meaning limited TV, no computers and lots of time outside in the gorgeous sun. The grill was used a lot and I actually enjoyed gardening because I wasn't rushed. It was wonderful not setting an alarm clock, getting up when we were ready and having all our meals on the deck.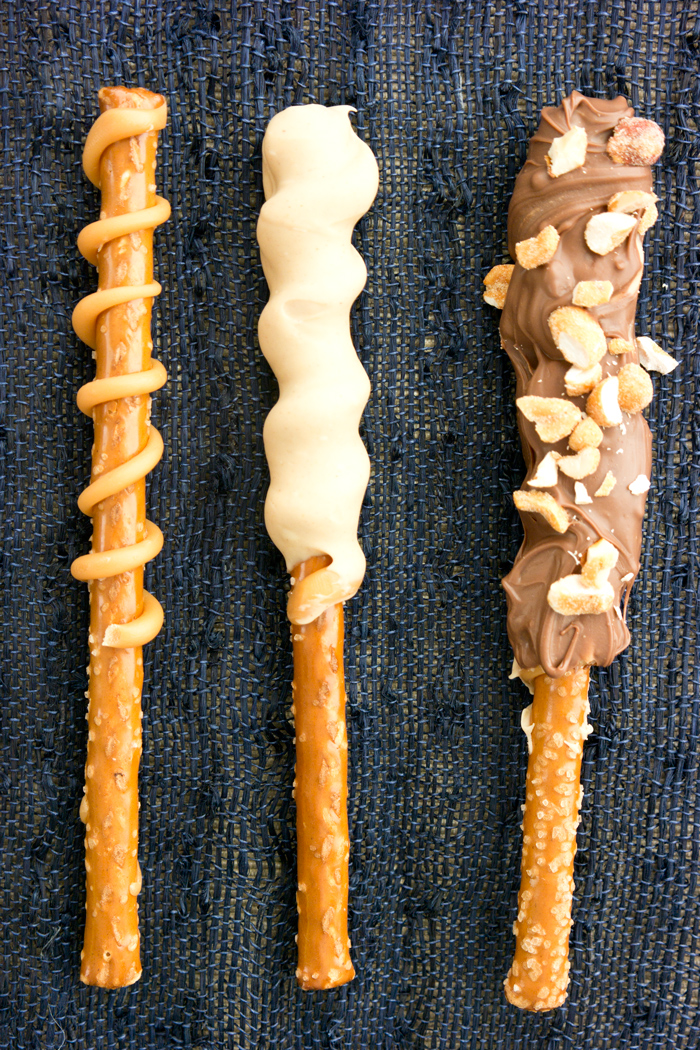 Back to the grind this week so I needed to make something to get me through the afternoon workday hump. These Peanut Butter Ganache Caramel Pretzels are doing the trick. I would love to eat two but due to their richness one is more than enough (how many times have you ever heard me say one is enough…rarely). All those things we love in a snack are in this one. Crunchy, salty, smooth, creamy and satisfyingly delicious!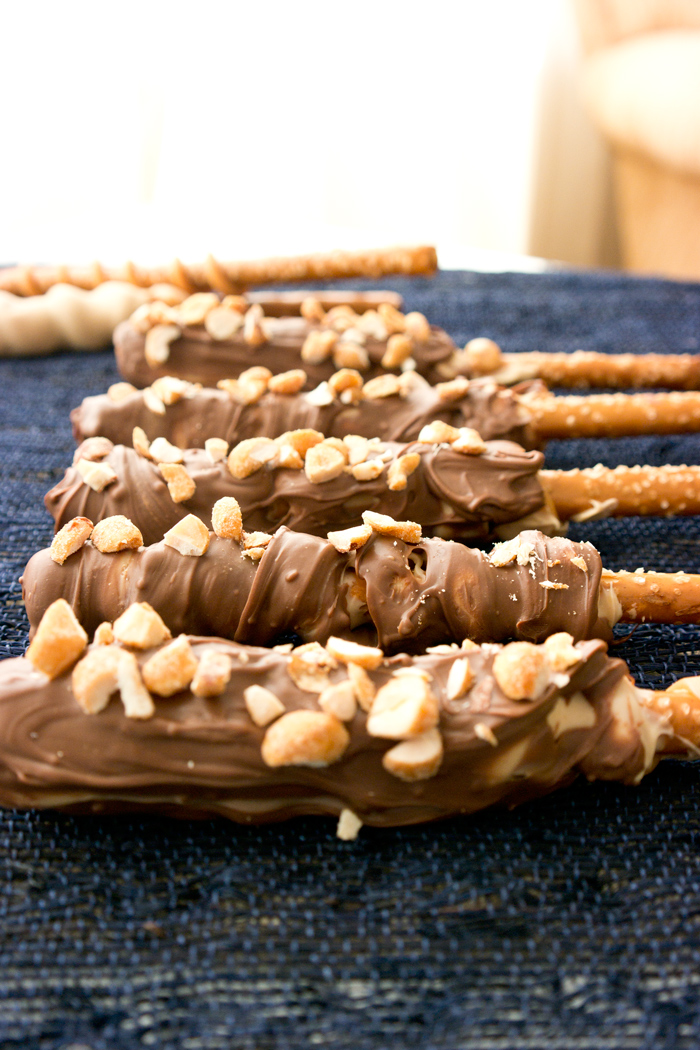 When I was dreaming about these I originally dreamt of dipping these in caramel and then it hit me, what if I rolled out soft caramels and wrapped the pretzel instead? It worked like a charm and held up nicely for dipping. I then moved on to making a peanut butter ganache, I went with a firmer ganache but make no mistake, it melts in your mouth! I did this so when they were dipped in the chocolate the ganache wouldn't melt with the warm chocolate. Now onto the final chocolate dip and sprinkling of dry roasted peanuts! Perfection!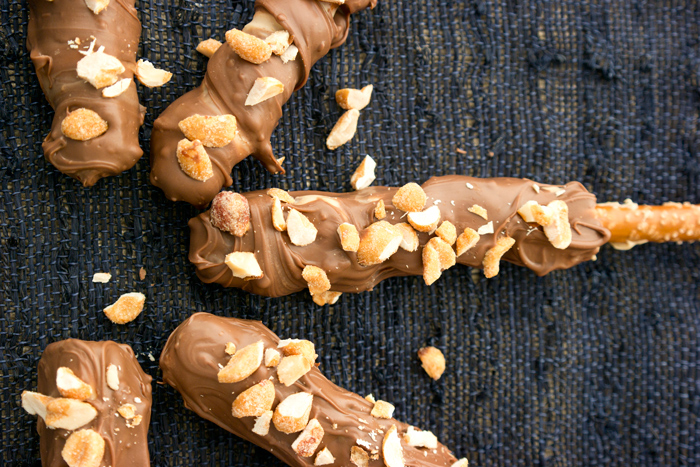 These Peanut Butter Ganache Caramel Pretzels are everything guys! After making these I will never view pretzels the same again.
Enjoy!
Stacey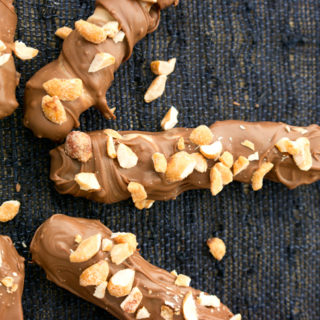 Peanut Butter Ganache Caramel Pretzels
Peanut Butter Ganache Caramel Pretzels. All the things we love in a snack are in this one. Crunchy, salty, smooth, creamy and satisfyingly delicious!
Ingredients
8

pretzel rods

8

squares of caramel rolled out into long strips

1/4

cup

smooth peanut butter

1

cup

white chocolate chips melted

2

cups

chocolate melted

1/4

cup

crushed dry roasted peanuts for garnish
Instructions
Prepare baking sheet with parchment or non-stick silicone liner

Wrap each pretzel rod with strip of caramel till about half way down (see photo in post).

Make ganache by mixing the melted white chocolate and peanut butter. Let cool so its not hot but soft enough pretzels can still be dipped.

When ready dip the caramel wrapped pretzels into the peanut butter ganache, you may need to spin the rod to get a good coating. Use off set spatula to spread if needed. Dip about half way down the pretzel.

Place on prepared baking sheet and refrigerate 2 hours or until ready to dip in chocolate.

When ready dip each pretzel in melted chocolate and garnish with crushed peanuts.

Let set a few hours before eating.

Keep in cool dry place in airtight container.
Notes
When dipping, place melted coatings in a tall, narrow cup/container. This will allow for a deeper dip for each pretzel which will save time.
Depending on time of year and humidity pretzels can stale if left out for long period of time so store in airtight container.
As you dip the pretzels into the melted chocolate some pb ganache may melt and this is no big deal, it will blend with the chocolate.