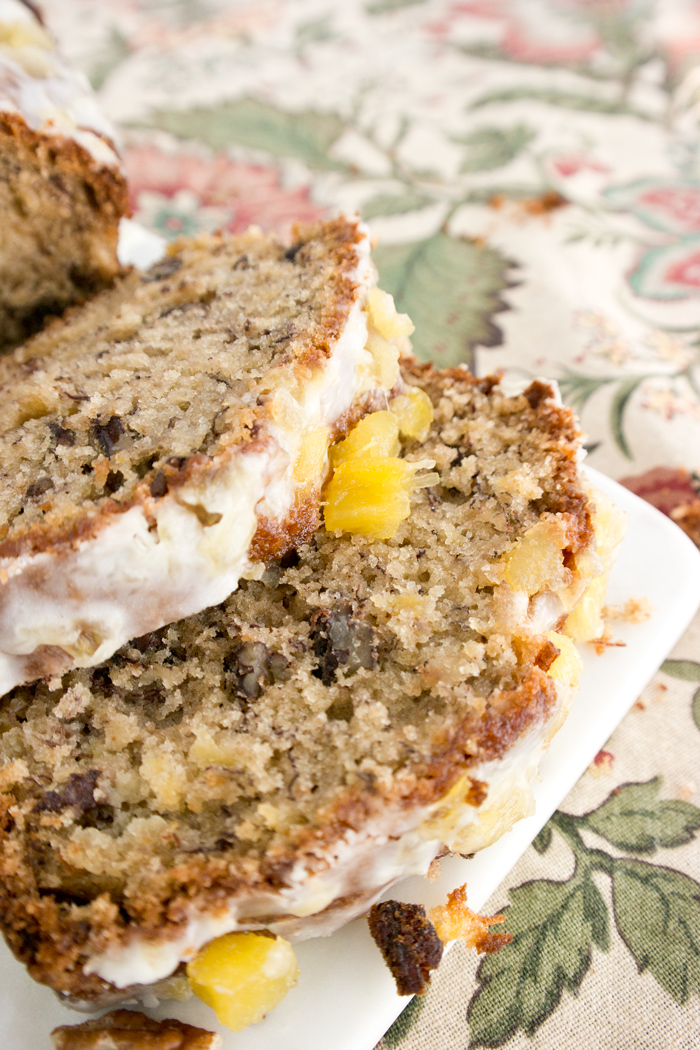 Humming Bird Bread with Pineapple Glaze. Ripe bananas, sweet juicy pineapple and crunchy pecans are the stars in this amazing bread.
[social_share] Yum

Woo hoo!! IT'S FRIDAY!! Another Friday is upon us and I couldn't be more thrilled. No alarm clock tomorrow, I can stay up and watch one more DVR'ed show tonight. Plus the normal stresses of the work day are just a little less stressful on Friday. And I think my daughter and I will be making pizzas for dinner, doesn't get better than that.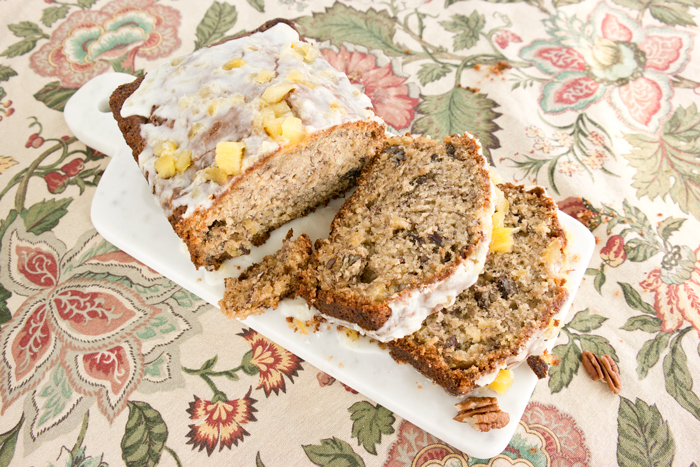 [social_share] Yum

I'm celebrating today! And what better way than to have some amazing Humming Bird Bread with Pineapple Glaze. What am I celebrating? The Sugar Coated Cottage is officially on Facebook, https://www.facebook.com/TheSugarCoatedCottage. This might seem strange to celebrate so let me explain. I personally have not engaged in social media, it scares me to death, lol, you can laugh, I know it sounds silly. All these folks knowing your every move, gee paranoid much, lol? But I had been contemplating it for a while and took the plunge. Now many of you may not know this but you have to create a "personal page" before you create a business/blog page. So as I feared, there I was out there for the world to see until I figured out how to make my blog page my front page that everyone sees. Confusing I know, I spent so much time doing this and a lot of time on Facebooks "Help" page. But how do you get help when you don't know how to actually put into words what you are trying to do? Its like when you ask how to spell and word and someone says, "look it up in the dictionary", I'd look it up if I knew how to spell it…. But all knowing Facebook read my mind and figured out what I needed in the help options and I finally got to where I needed to be. Exhausting but exciting none the less. So check it out if you get a chance! https://www.facebook.com/TheSugarCoatedCottage
Now what you've all been waiting for, Humming Bird Bread with Pineapple Glaze. This is probably my all time favorite bread, even over traditional banana bread which this resembles. It's moist, dense, sweet and super delicious. It feels like a real treat every time I eat it. If ever there was a batter you could eat with a spoon this is it. Even those of you who would never eat raw batter just take a small taste and you'll see what I am talking about.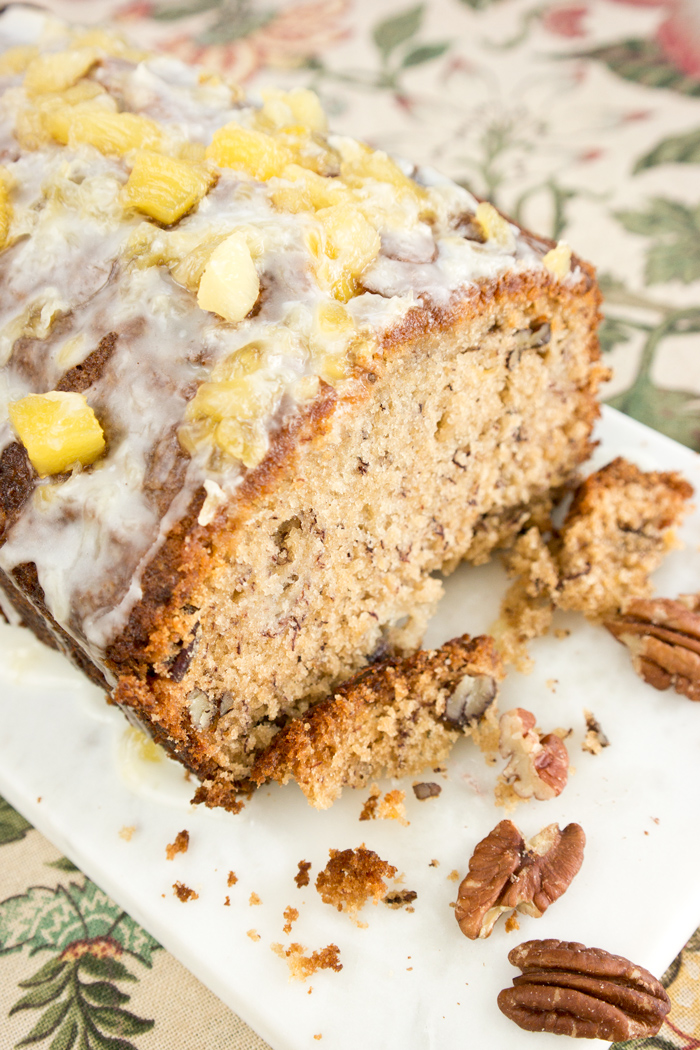 [social_share] Yum

This recipe starts with all purpose flour which I love, so there's no cake flour, which I never have when I need it and no yeast to this bread. Next, bananas, let me clarify, RIPE bananas. Next we have crushed pineapple and if that wasn't good enough the crushed pineapple juice is added as well. For a bit of crunch we have pecans, this subtle little nut compliments the other flavors perfectly. We add a touch of cinnamon for some warmth. And to top it all off a pineapple glaze because you can't have Humming Bird Bread without glaze.
Now just stop for a moment and try to imagine all these flavors blending together as they bake, your house smelling like a bakery and not just any bakery but the kind people line up out the door for because they make everything from scratch in small batches. The house smells warm and sweet and of love. Seriously this bread gives the sense of love. Smelling it bake calms the nerves and each bite is like a warm embrace of flavors as if to say, "come on in, your home".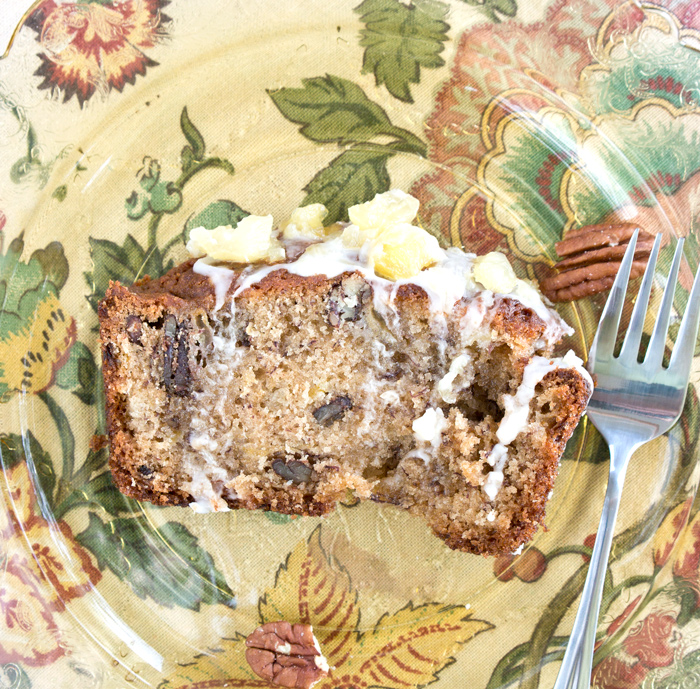 [social_share]Yum

Humming Bird Bread with Pineapple Glaze. Make it for yourself but be sure to share the love of this bread with friends and family to.
Enjoy!
Stacey
Remember to check us out on Facebook if you have a chance and "Like" us as many time as you'd like :-). https://www.facebook.com/TheSugarCoatedCottage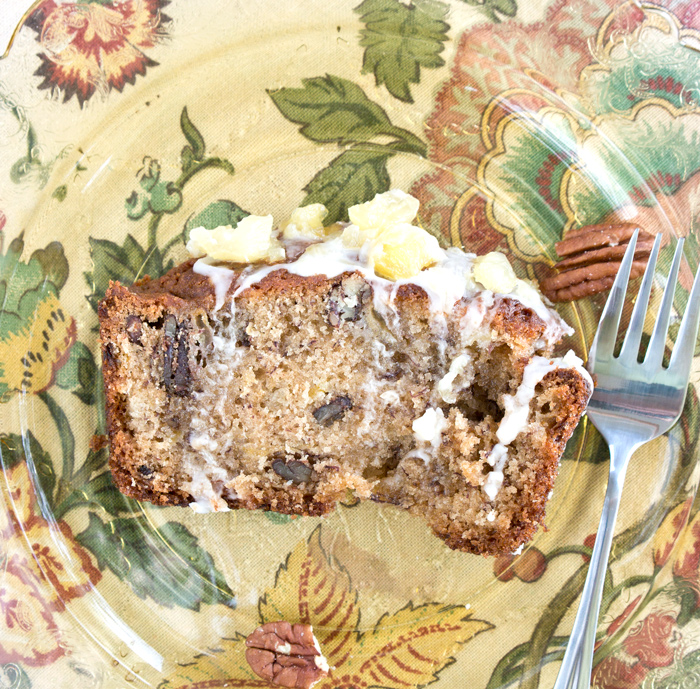 Hummingbird Bread with Pineapple Glaze
Ingredients
BREAD:

3

cups

flour

2

cups

sugar

1

tsp

baking soda

1

tsp

baking powder

1

tsp

salt

1

tsp

cinnamon

4

eggs beaten

1 1/3

cup

oil

1 1/2

tsp

vanilla

1 8

oz

can pineapple with juice

2 1/2

cups

mashed bananas

4-5 med bananas

1 1/2

cups

pecans

GLAZE:

3/4

cup

crushed pineapple

1 1/2

cups

powdered sugar
Instructions
BREAD:

Preheat oven to 350 degrees F

Oil and flour 2 - 5x10 loaf pans

In large bowl add all dry ingredients.

In second bowl add liquid ingredients.

Add wet ingredients to dry ingredients. Mix until combined.

Fold in pineapple, bananas and pecans.

Pour into prepared bread pans.

Bake 60-70 min or until golden brown and toothpick inserted comes out clean.

Cool completely before glazing.

GLAZE:

Mix pineapple and powdered sugar together until combined.

Do a swipe test by swiping a small amount on a plate, leave for 5 minutes, if it glazed over you are good. If it's still really wet, add more powdered sugar 1/4 cup at a time and test until right consistency is met.