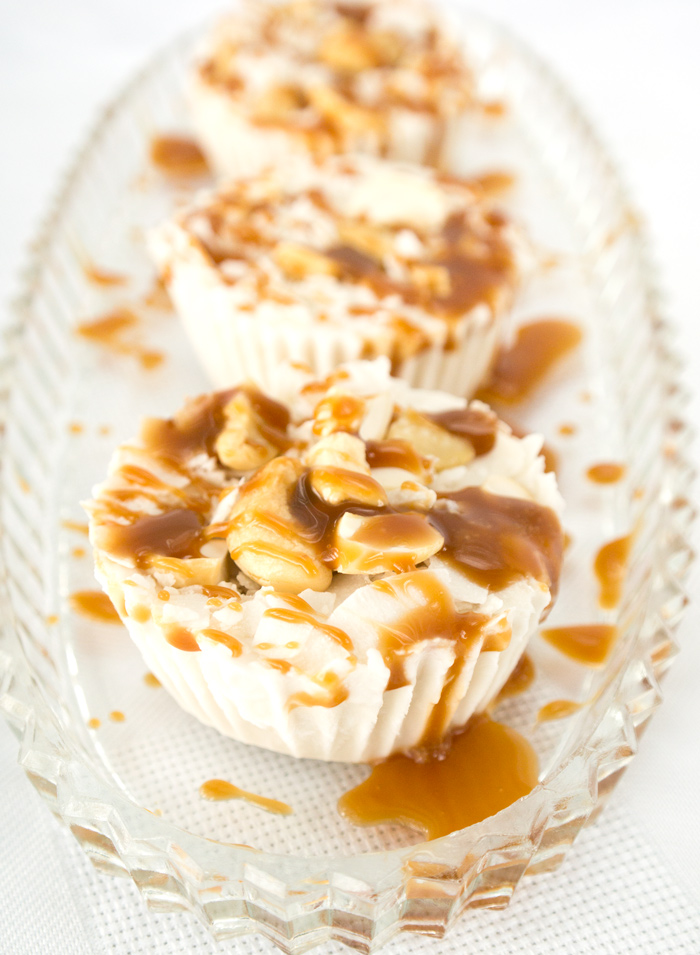 Coconut Caramel Cashew Cups. Sweet tropical coconut, buttery caramel and crunchy smooth cashews make these little 5 ingredient cups delicious and simple to make.
[social_share/]Yum

Lately my daughter has been wanting more mommy time. She is not shy at home and will come out and say, "I want it to be just me and mommy tonight, sorry grandma you have to go home but I'll see you tomorrow, ok?". We've been having a lot of those "just me and mommy" times lately and they really are a blast. When I intentionally turn off the outside world and really allow myself to be in the moment with her it's like magic. Watching everything through her eyes and hearing her laughter is so fun. But I always find myself going to check my phone, my computer, tv, etc. I have to continually tell myself, "it can wait". Seriously, my phone hasn't even rang and I'm looking to see if someone called. I'm not even expecting a phone call but I am always checking as if I'm a 16 year old girl again waiting for my crush to call and invite me to homecoming, lol. What has happened that we/I are so electronically attached? Remember the days before cell phones, DVR's (gasp, I don't want to on that one) and computers. Now I sound like my parents. Was there more fun time then or were there just other distracting habits…I wonder.
Well, enough lessons learned and sappy stories. Sorry, I know I get carried away. Let's talk about something simple now, seriously simple. Coconut Caramel Cashew Cups. These little treasure cups have only 5 ingredients, do not require an ice cream maker and are super delicious!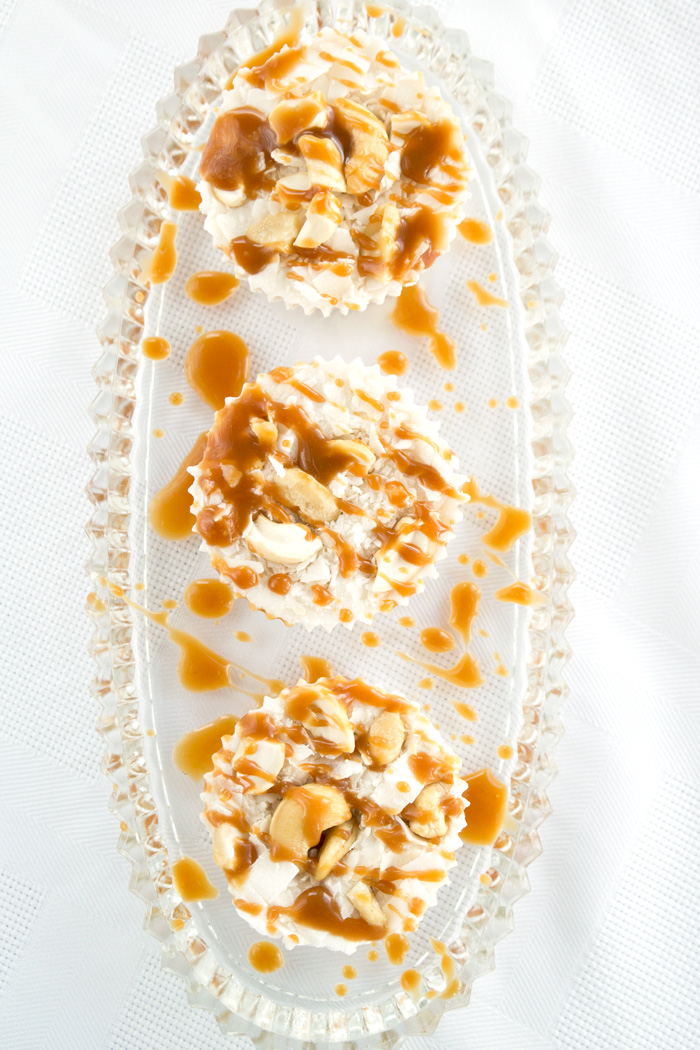 [social_share/]Yum

The coconut ice cream provides a wonderfully full flavored base and it's coconut so it's gotta be good right? I took a can of coconut milk, now let me take a moment to explain picking out coconut milk. This is only my opinion but when I shop for coconut milk I shake the can, if I hear sloshing there is too much liquid. If I hear very, very little to no sloshing around I know its a very good thick and creamy can of coconut milk. Which means that your end result will be a bit creamier and less watery. So I take a can of coconut milk and 1 cup of shredded, unsweetened coconut, 1/4 cup agave nectar and blend it until thoroughly mixed, about 1 min.
This next part is important, I used foil muffin/cupcake liners. These are stronger and when pulling them off the finished product they come off nice and clean. Paper cups would tear easier. I pour the coconut mixture into the cups and sprinkle the tops with shredded unsweetened coconut flakes and cashews. Love, love, love, one more time, LOVE, cashews in this recipe. They are the perfect consistency, not too hard and they add a wonderful nutty flavor and crunchy texture to these cups. Push down on the toppings just a little so they are partially in the coconut mixture so they stick. Pop them in the freezer.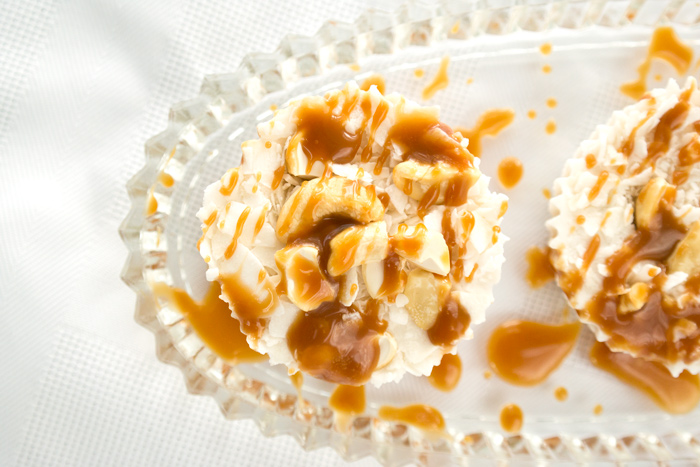 [social_share/]Yum

You're thinking I forgot the caramel aren't you? No worries, caramel is NEVER forgotten around here, I promise you that! Once the cups are completely frozen remove from the freezer. I would suggest removing the foil liner and putting the cup on the plate it will be eaten from. Drizzle with caramel, woo hoo, there it is, the caramel. Its ok and preferred if extra gets on the plate, you can scoop it up with each bite of your Coconut Caramel Cashew Cups. One quick note, I like a darker caramel sauce, its a little richer in flavor and since it has to compete with the awesome flavors of the coconut and cashews we can't skimp on the right kind of caramel. I used Sanders but when you are looking at all your options you will definitely see all the color variations, go for the darker one.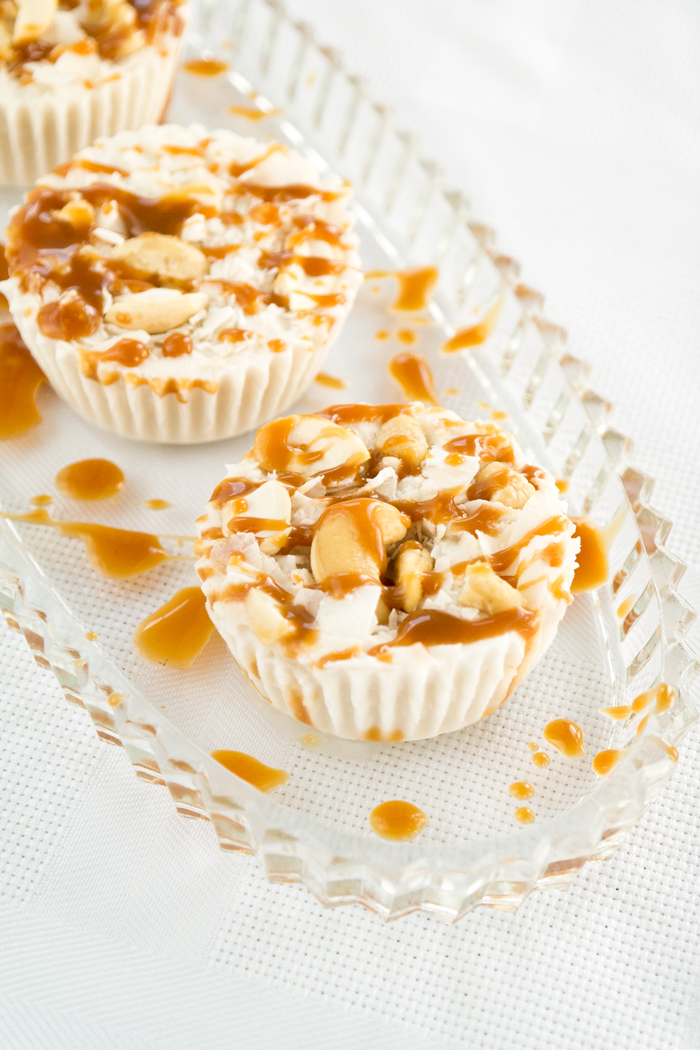 [social_share/]Yum

That's it everyone, just five ingredients and those simple steps and we're done! These cool, creamy Coconut Caramel Cashew Cups are simple to make and delicious!
Enjoy,
Stacey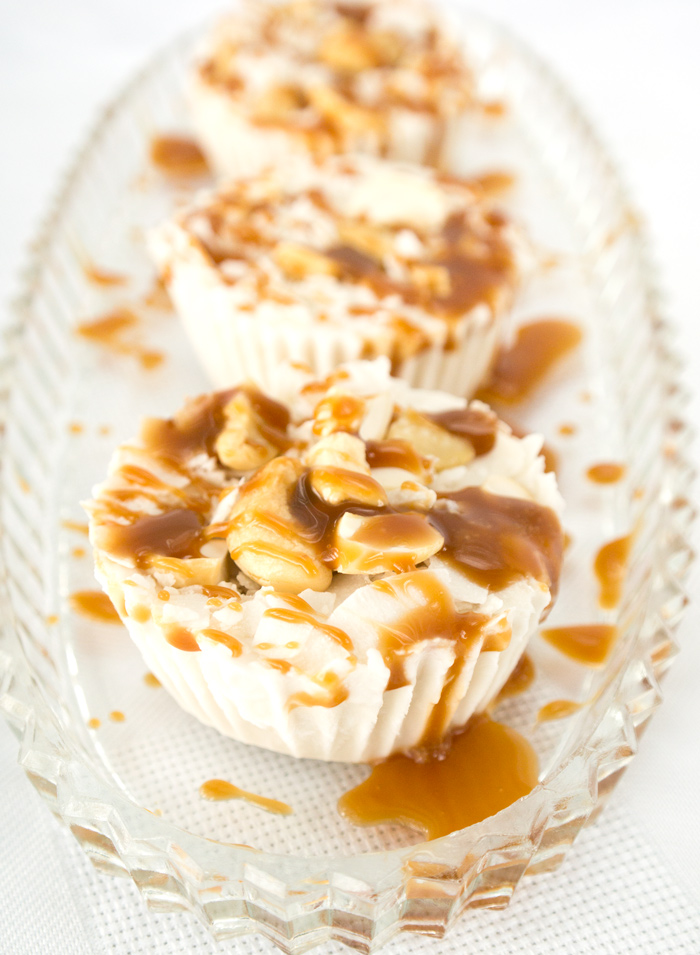 Coconut Caramel Cashew Cups
Coconut Caramel Cashew Cups. Sweet tropical coconut, buttery caramel and crunchy smooth cashews make these little cups 5 ingredient cups delicious and simple to make.
Ingredients
1

can of thick coconut milk

1

cup

flaked unsweetened coconut flakes +1/2 cup more for garnish on top

1/4

cup

agave nectar

1/2

cup

rough chopped cashews

Jar of dark caramel topping

12

foil cupcake liners
Instructions
Line 12 cup muffin tins with foil cupcake liners.

In blender blend the coconut milk, agave nectar and 1 cup flaked coconut until blended, about 1 minute.

Pour evenly into muffin cups, about 1/2 inch from the top.

Sprinkle with cashews and coconut flakes, press lightly so they stick in coconut milk when frozen.

Freeze for minimum 5 hours.

When ready to serve, remove from freezer for 5 minutes.

Remove foil liners and plate.

Drizzle caramel sauce over tops and on plate for presentation (and eating, yum).

Serve.
Notes
I used coconut flakes for this recipe which is different than shredded coconut. They are larger in size. Either will work and provide the same flavor. But if you prefer the flakes I used Bobs Red Mill Coconut Flakes. I usually find them in the baking aisle by the Bobs Red Mill section or organic aisle.