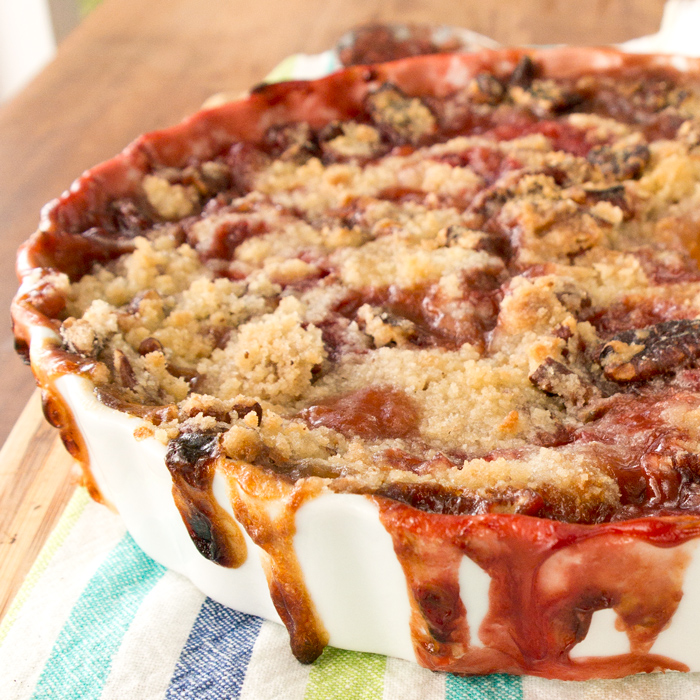 Strawberry Peach Pecan Crumble. Fresh, sweet strawberries, juicy, ripe peaches, crunchy pecans and crumbly crust. This is a summertime must!
[social_share]Yum

A good friend and I met up for lunch on Saturday, it was sweltering (by Michigan standards, anyone from Las Vegas/Arizona/New Orleans regions please forgive me), like 90 degrees F and the humidity was like a heavy blanket. As I pulled into the parking lot of the restaurant I noticed they had a patio. Now I love a good patio lunch but today there was no way that was going to happen, I did not want to be sweating over my food. I was so afraid that once my friend saw everyone sitting on the outdoor patio she would want to as well and I was panicking a little. She arrived and I asked if she wanted to dine on the patio, secretly hoping and praying for the right answer. Now mind you I wasn't sure what I was going to say if she wanted to…Her response? HELL NO!! And that is why we have been friends since the 7th grade! Kindred spirits maybe? Do the words hell and kindred go together? LOL, they did that day as we enjoyed a cocktail in the air conditioning.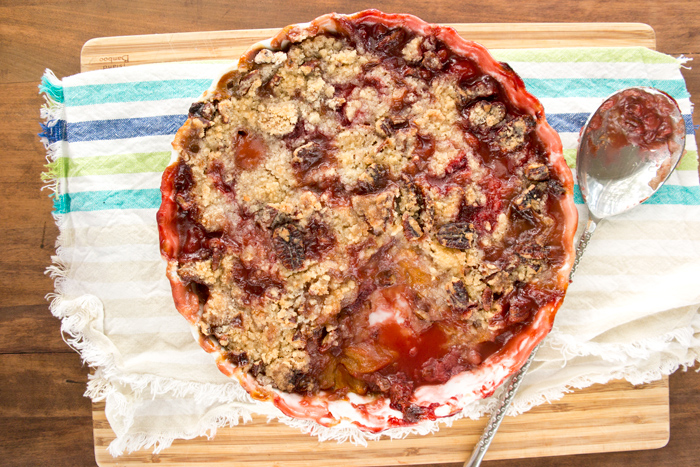 [social_share]Yum

This heat helps bring in the super ripe and juicy, in season, fruit. I walked into the grocery store and was bombarded by sweet smells, colors and beautiful ripe produce. I think I spent half my grocery budget on fruit this week. Some of the most beautiful were the peaches and strawberries. I wasn't sure what I was going to make with them when I bought them, heck I was just going to eat them just as they are until….Strawberry Peach Pecan Crumble.
Now I've had fruit crisps before and always liked them but this "crumble" is absolutely positively amazing! Off the charts, don't want to share kind of wonderful. I had planned on giving my neighbors some but I can't part with it, just not ready to hand it over yet, what can I say. I just want to marvel one more day its beauty and eat some more of course, I'll admit it. The crumble is just that, crumbly. Though surrounded by all these fabulous juices it stands strong, not giving into them. That is until you take a bite and the crumble just disintegrates into this beautiful, sugary, melt in your mouth, sweet crumble. And here I thought the fruit was the main attraction.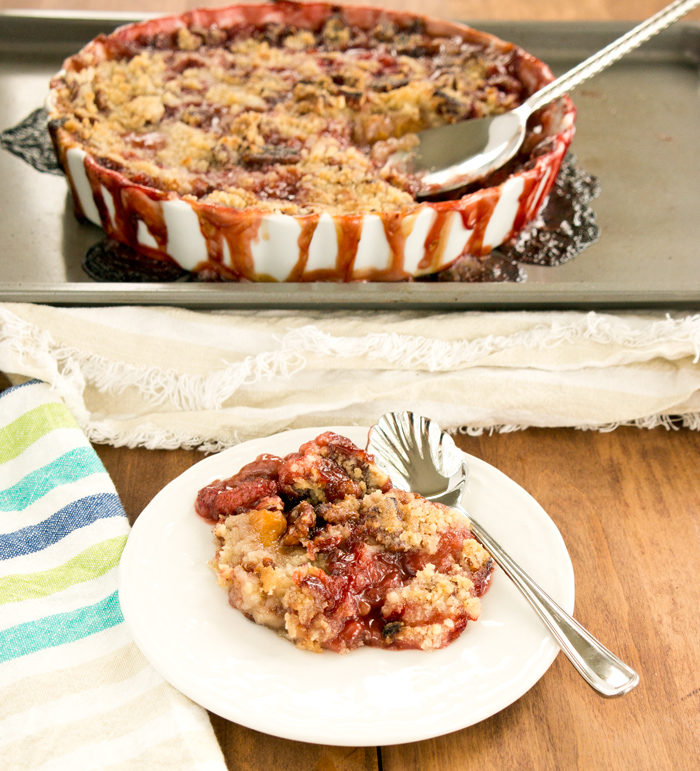 [social_share]Yum

So let's talk about the fruit. Fruit all together is like a gift from nature and when paired with this crumble it's absolutely heavenly. You have the sweetness of the strawberries, the ripe juiciness of the peaches. We can't forget to mention the colors, red and peach, what a lovely presentation. A truly magical combination of natures candy. I think it's easy to forget to use fruit as the main attraction in a dessert, I know I have. It's almost too simple therefore forgotten.
And the pecans? Quite simply, crunch! We have all these wonderful textures and flavors but it needs just a little crunch and nuttiness and the pecan adds the right amount of both crunch and nutty flavor without taking over.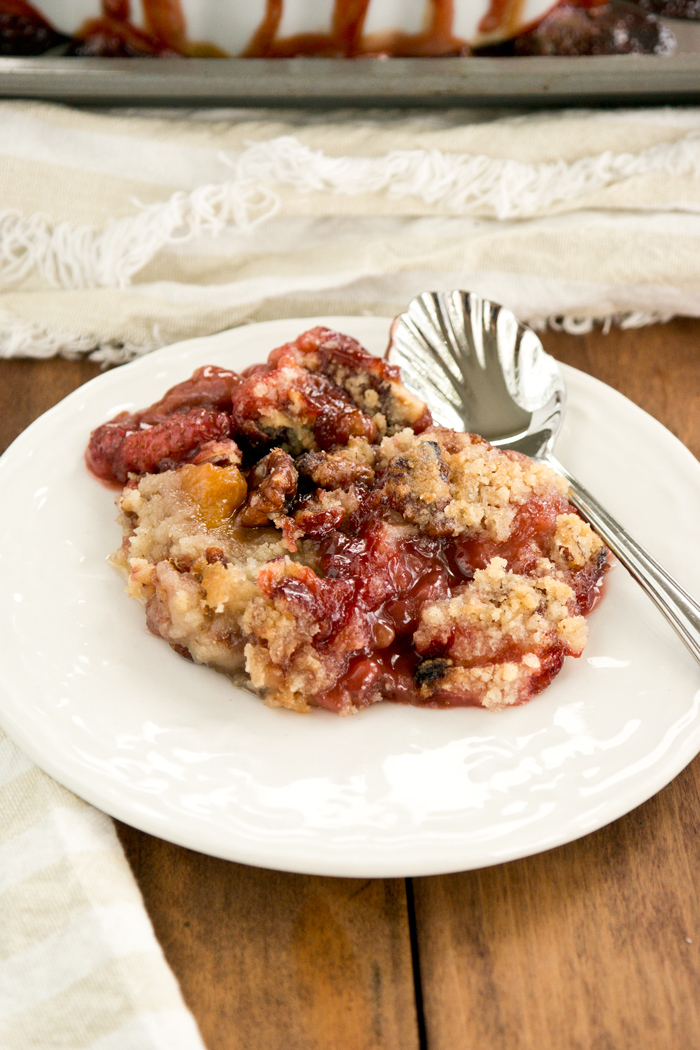 [social_share]Yum

As the Strawberry Peach Pecan Crumble was baking I could smell each fruit slowly heating up. One moment I would smell the strawberries, the next the peaches. As the mixture began to bubble over I was so excited I could hardly contain myself. This meant it's doing exactly what it should be doing, baking down to combine the fruit and juices into one sweet and bubbly filling. Magically the crumble stands its ground, never moving but rather coming together to form this absolute delicious crumbly crust holding in, as best it can, all these glorious fruit and juices.
Waiting for the Strawberry Peach Pecan Crumble to cool proves torturous. I should expect this by now, everything needs to cool out of the oven right? Yet it always seems to surprise me every time as if it's never happened before. But then FINALLY, time to dig in. The warm bubbly strawberries and peaches sing the beautiful flavors of sweet, ripe goodness all while still retaining their beautiful colors. Each fruit has gave into the heat of the oven and broken down into a combination of delicious fruit filling and sticky juices. The crumble baked and stands beautifully as if to brag that it was able to hold this delectable filling in place. With each bite, It dissolves slowly mixing with the fruit and providing the crumbliness that gives this dessert it's name. And not to be forgotten, the pecans add a mild yet welcomed crunch and flavor that compliments all that's going on here while keeping everything in balance.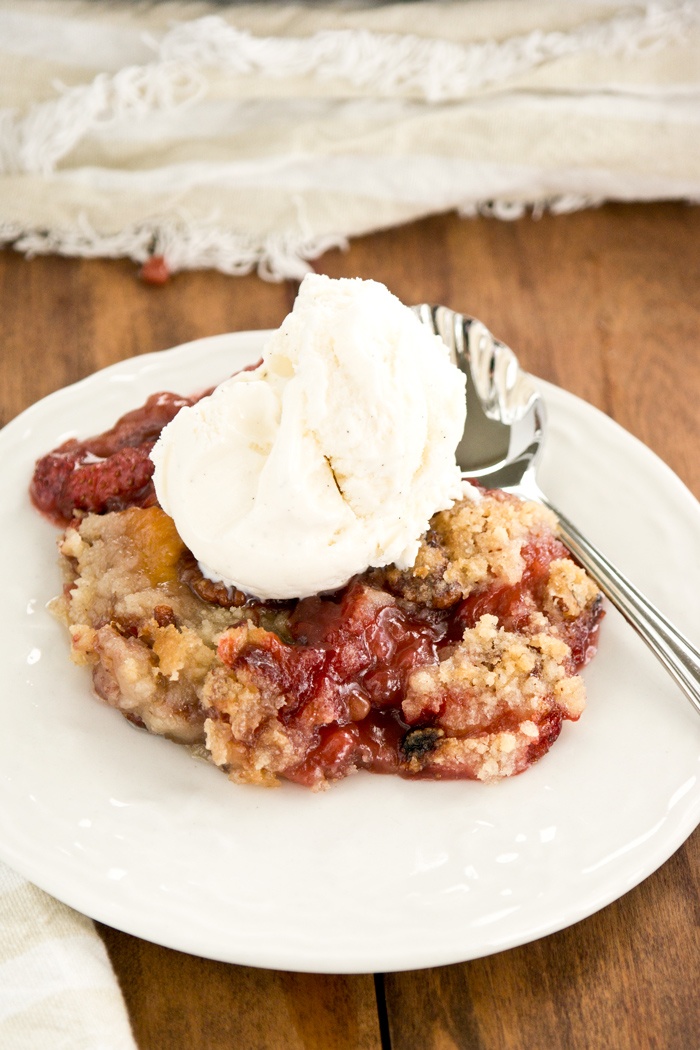 [social_share]Yum

Strawberry Peach Pecan Crumble. Simple pleasures and flavors make this an outstanding summertime dessert or anytime dessert!
Enjoy!
Stacey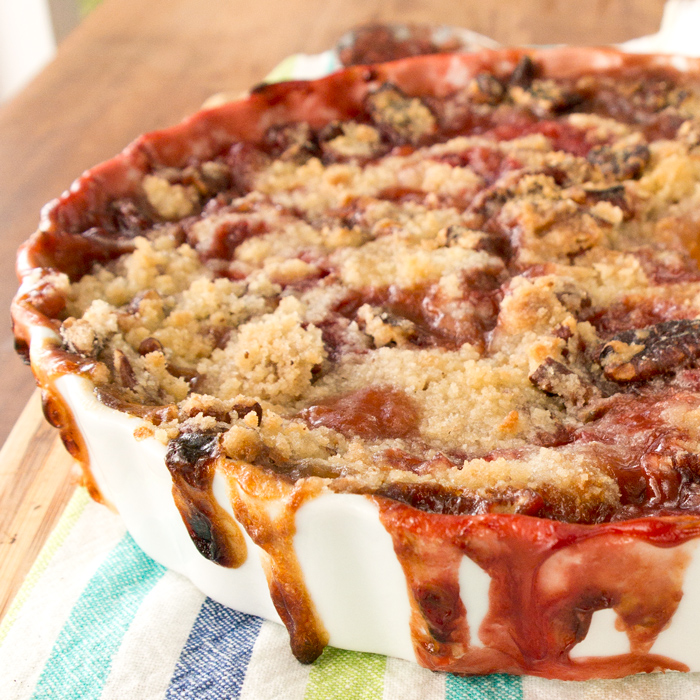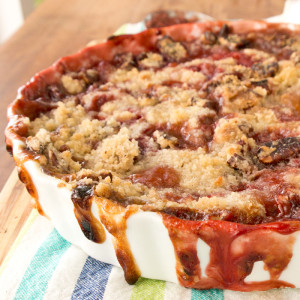 Strawberry Peach Pecan Crumble
Strawberry Peach Pecan Crumble. Fresh, sweet strawberries, juicy, ripe peaches, crunchy pecans and crumbly crust. This is a summertime, or anytime must!
Ingredients
FILLING:

3

peaches peeled

pitted and sliced about 1/2inch thick

2

cups

strawberries

cleaned and cut in half

1/4

cup

packed light brown sugar

2

Tbsp

salted butter cut into bits

2

Tbsp

fresh lemon juice

3

Tbsp

all purpose flour

1/4

tsp

cinnamon

TOPPING:

3/4

cup

all purpose flour

3/4

cup

sugar

3/4

cup

rough chopped pecans

ok if some stay whole

6

Tbsp

cold salted butter

cut into bits
Instructions
Preheat oven to 375 degrees F

Butter baking dish, 10" tart plate. 8x8 pan will also do.

In large bowl toss fruit with brown sugar, butter, lemon juice , flour and cinnamon.

Spread mixture into baking dish.

In a bowl combine the flour, sugar, pecans and butter. Blend until mixture resembles course meal. (I used my fingers to do this lightly mashing the butter into flour mixture but food processor will work well. )

Sprinkle topping over fruit mixture, spread evenly.

Place baking dish on cookie sheet and bake in middle of oven for 50min to 60min or until it bubbling and golden brown.

Let cool 10 minutes before serving.
Notes
Notes: this will bubble over side of baking dish, do use recommended cookie sheet to catch drips. This is also excellent with whipped cream or ice cream.
If doing all peaches reduce flour to 2 Tbsp in the filling mixture.