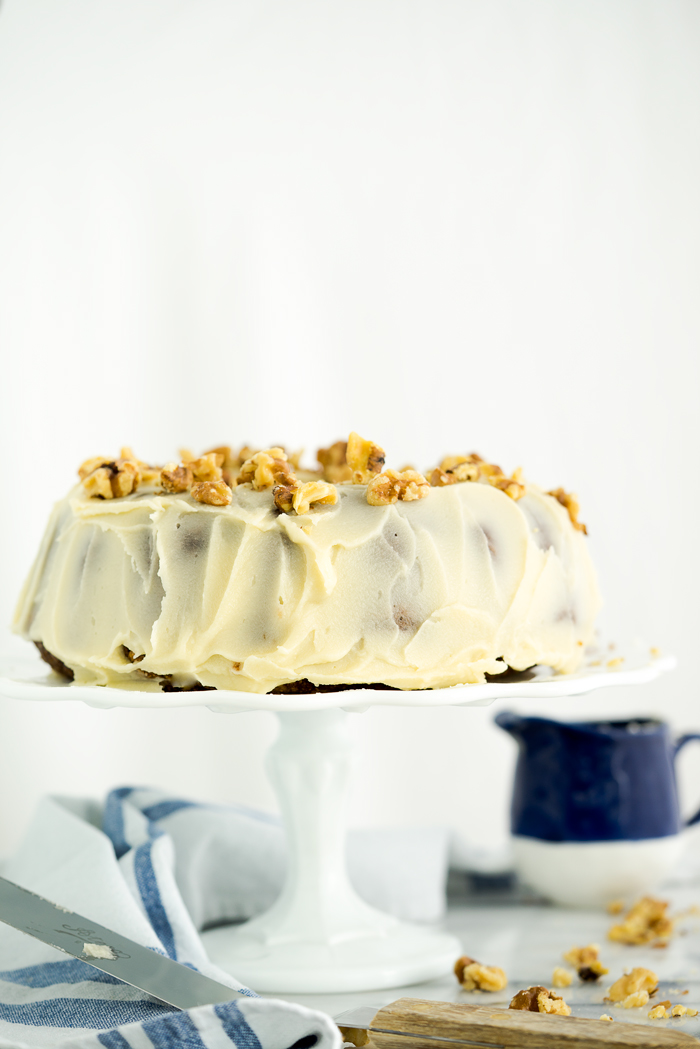 Rum Raisin Carrot Bundt Cake Recipe. Moist, dense, spiced carrot cake with spiced rum soaked raisins. Topped with a buttery rum icing.
Ahhh the carrot cake, in my opinion the carrot cake is not about a season or holiday. It is all about love. Love for anyone you make this cake for. Love for yourself, love for someone you care about, love for that person who says, "I want a carrot cake for my birthday", or anniversary, graduation, etc, etc. It's made for and devoured by those that truly, madly, deeply love it.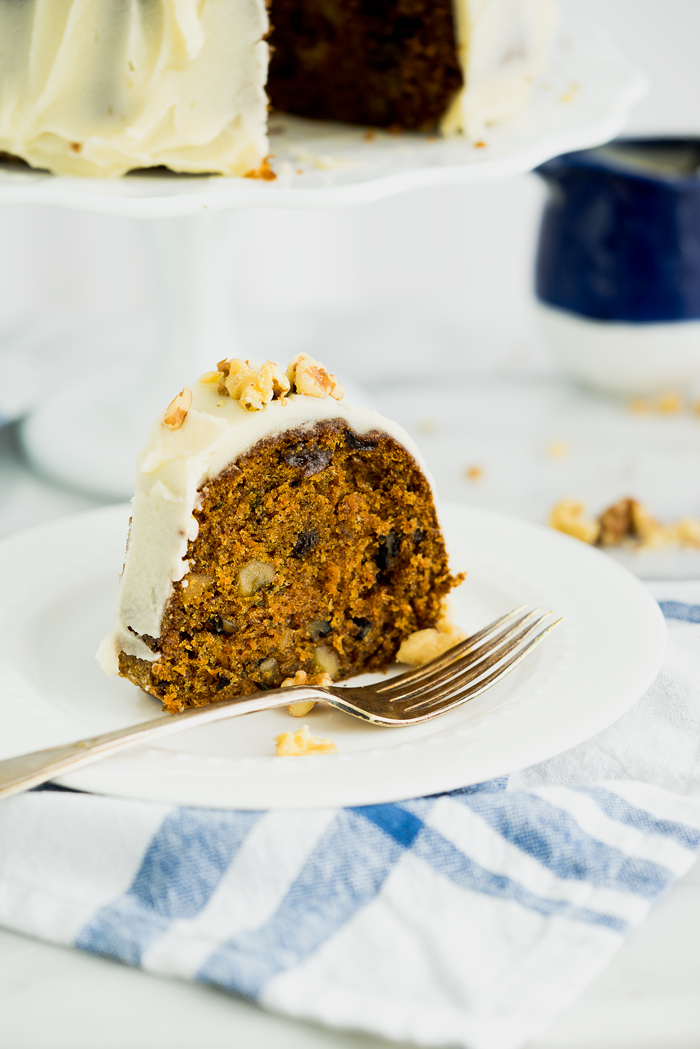 You've probably already concluded that I am a lover of carrot cake and to be more specific this Rum Raisin Carrot Bundt Cake. You know I love layer cakes but there's something special about a cake that gets made in one pan, iced and done! It actually makes my love for this Rum Raisin Carrot Bundt Cake even greater.
What makes this Rum Raisin Carrot Bundt Cake so special?
Rum soaked raisins!! Any recipe with a little liquor is fab in my book 😉
4 cups of shredded carrots – this explains why this cake is so moist.
Gets baked in one bundt pan, cooled and iced. Easy peasy right?
We have a swiping of Rum enhanced buttery icing. Gahhh!!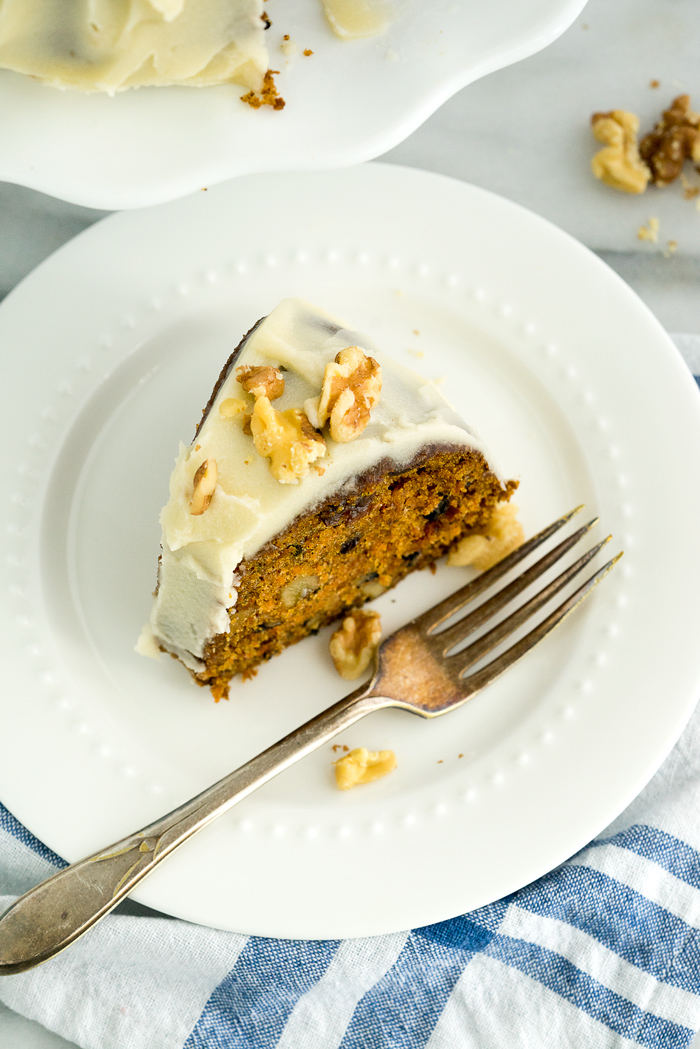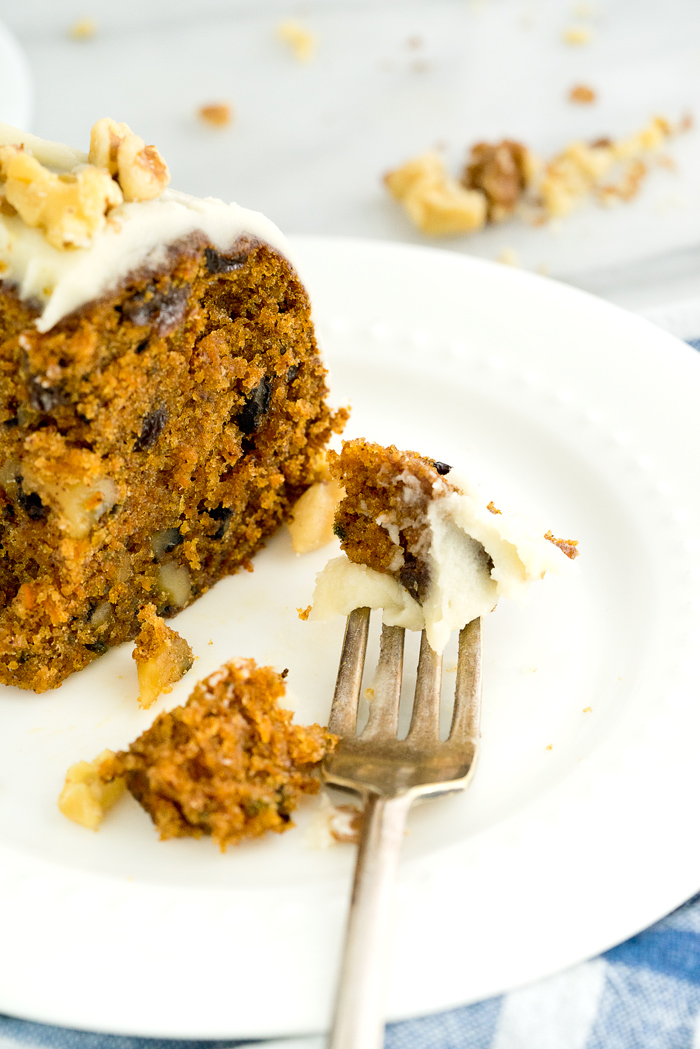 The most labor intensive part of this cake is the carrot shredding. Now if you have a food processor with the shredding blade go for it! It will make that process fast and simpler. If shredding by hand (watch your fingers and knuckles) it will take around 10-15 minutes. 4 cups is around 1 lb of carrots, I would recommend the big carrots, do not try this with the little baby carrots.
The raisins get soaked in spiced rum over night. The darker the rum the better, more flavorful. I happen to love Myers Dark Rum but whatever you have on hand will work. The reason the raisins are soaked over night is so they fully absorb the rum and get plumped.
I used walnuts for a little crunch in this recipe and I find they play really nice with the other flavors. The walnuts are optional but recommended.
The icing is a simple butter, powdered sugar base with a few splashes of rum, ok maybe a little more than a few 🙂 . The sweet plays off of the spice in the cake brilliantly.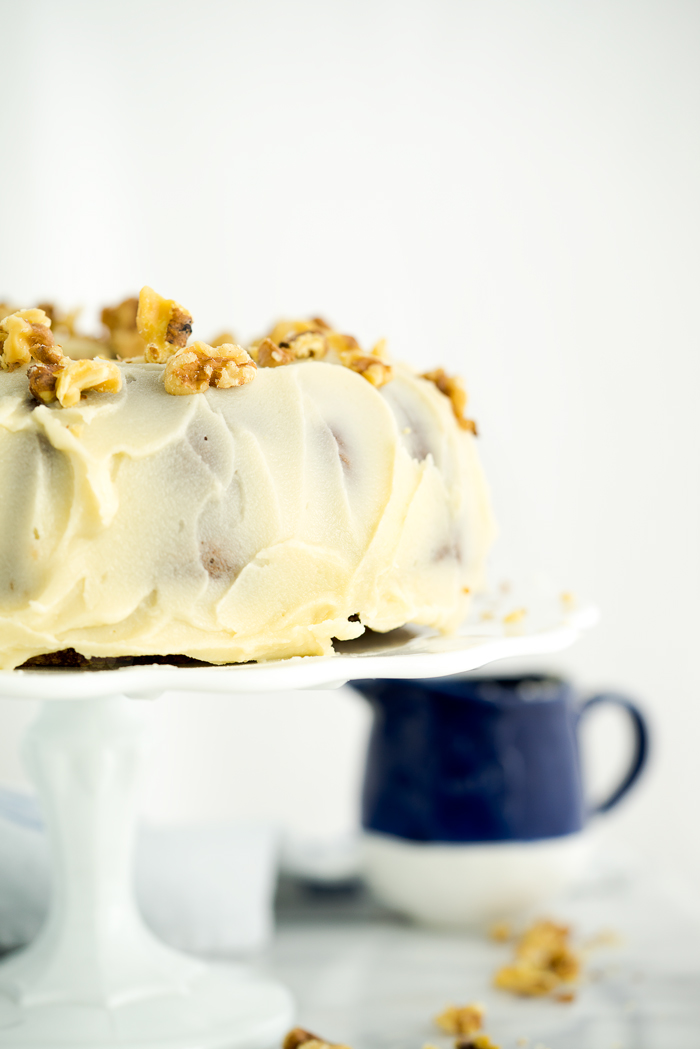 This cake is super moist, flavorful, filling and delicious. The carrot cake lover in your life (maybe its you) will love this Rum Raisin Carrot Bundt Cake.
Enjoy!
Stacey
Here's a few more single layer cakes you might like as well:
FORGOT TO PIN IT FOR LATER? Here it is! Thanks.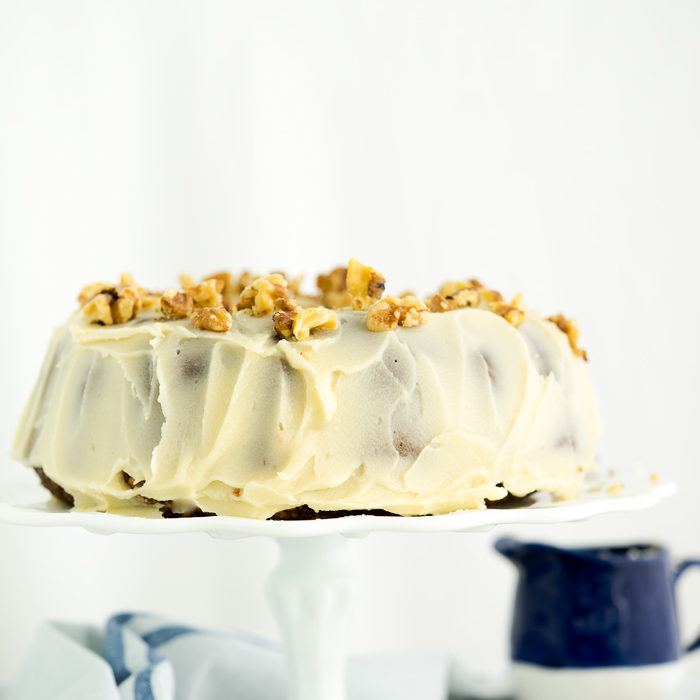 Rum Raisin Carrot Bundt Cake Recipe
Rum Raisin Carrot Bundt Cake Recipe. Moist, dense, spiced carrot cake with spiced rum soaked raisins. Topped with a buttery rum icing.
Ingredients
CAKE:

2

cups

all purpose flour

2

cups

granulated sugar

2

tsp

baking soda

1/2

tsp

salt

1/2

Tbsp

cinnamon

1

tsp

ground ginger

1/4

tsp

nutmeg

4

large eggs

1

cup

canola oil

4

cups

grated carrots

1

cup

raisins

1

cup

spiced rum

1

cup

crushed walnuts

plus more for garnish

ICING:

1 1/2

cups

powdered sugar

8

Tbsp

butter

1 stick room temp

3

Tbsp

spiced rum

1/2

Tbsp

vanilla
Instructions
Pre heat oven to 350 degrees F.

Grease and flour bundt pan.

CAKE:

Night before put raisins in a bowl and pour rum over top. Make sure raisins are under the rum as best you can. Let set over night.

In bowl of mixer add all the dry ingredients (flour, sugar, baking soda, salt, spices).

Mix to combine.

Next add in the eggs and canola oil, mix until well combined about, 2 minutes.

Scrape sides of bowl as needed. Give the bottom of mixing bowl a good scrape to.

Drain the raisins, lay out a paper towel and lay raisins on top, gently pat dry (don't press hard).

By hand fold in the raisins, carrots and walnuts.

Pour batter into pan, set on cookie sheet and place in oven.

Bake 50-60 minutes or until toothpick inserted in center comes out clean.

Cool for 10 minutes.

Then place cooling rack over the open end of the bundt pan and invert the cake (flip it over).

Gently lift cake pan off and let cake cool completely.

If not icing cake right away (after its cooled) then wrap in plastic wrap to keep cake fresh.

ICING:

Place butter in mixing bowl and mix until pale and yellow.

Add in the powdered sugar one spoonful at a time.

Add in rum and vanilla. Continue mixing until completely combined.

ASSEMBLY:

Ice cake with icing and sprinkle with walnuts.