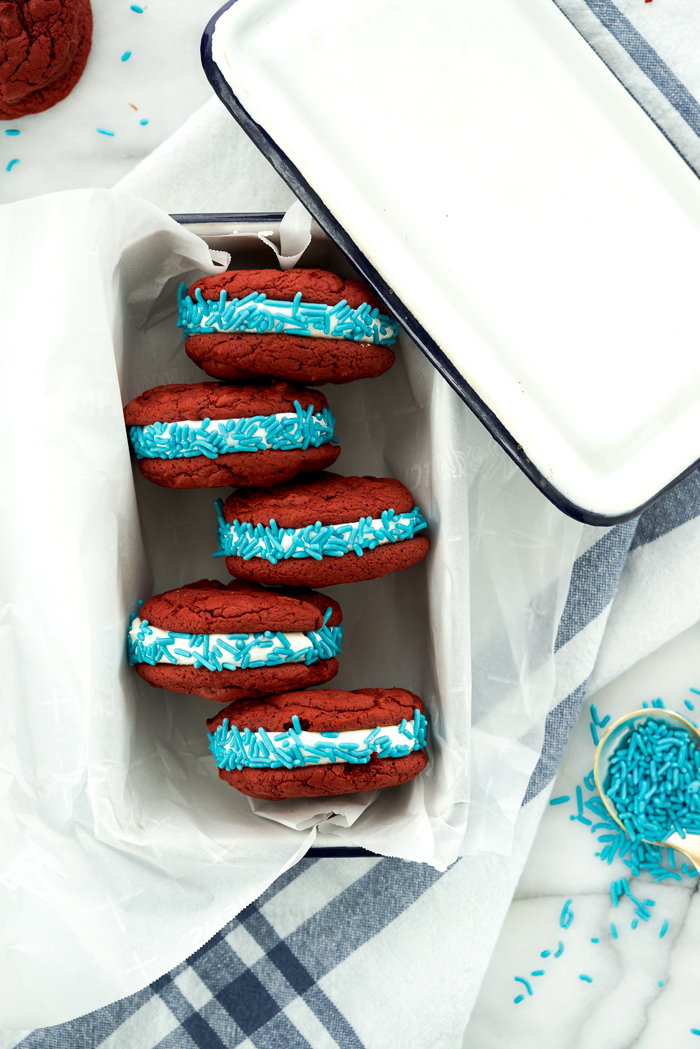 Red Velvet Marshmallow Cream Whoopie Pies. Pillowy soft red velvet cookies sandwiching sweet marshmallow buttercream and rolled in festive sprinkles.
4th of July is right around the corner YAY!! It's probably my favorite holiday. It's when all the flowers are in bloom, the temperatures are warm. Winter is no where in sight. Most of all I love how patriotic and festive the 4th of July is. I love the flags, the red white and blue, fireworks, I love it all.
To celebrate the occasion I made these Red Velvet Marshmallow Cream Whoopie Pies!! Anything with the word whoopie in it has to be good right?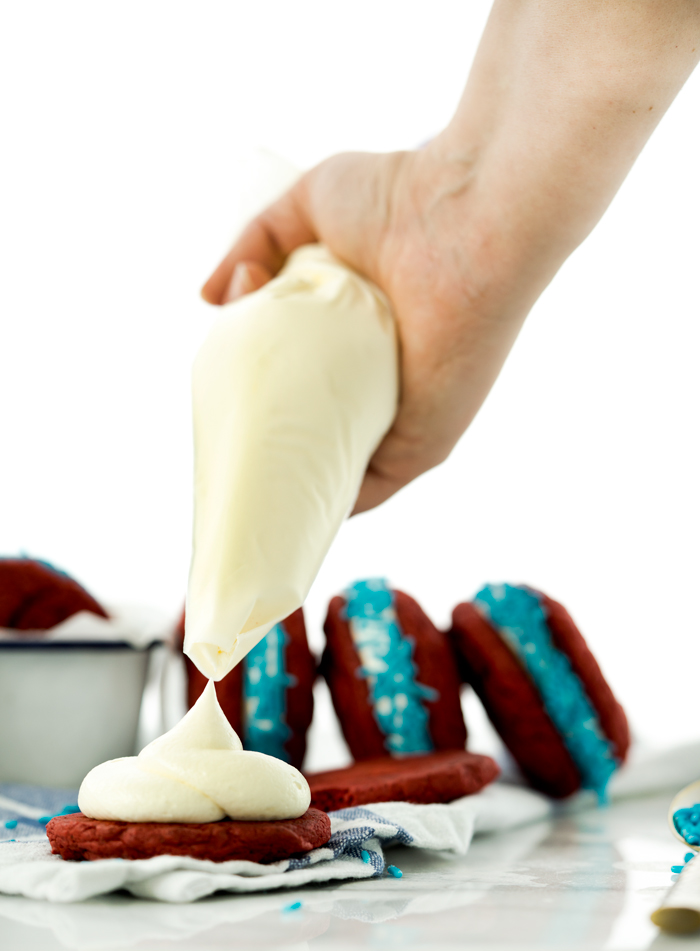 All the things that make these Red Velvet Marshmallow Cream Whoopie Pies amazing!!
We start with a red velvet cake mix – please don't judge, wouldn't you rather be playing outside instead of maticulously measuring out ingredients?
The marshmallow buttercream has 1 whole 7 oz jar of marshmallow cream in it!!
Sprinkles make everyone smile!
If you follow the red, white and blue theme like I did you have a festive, patriotic, simple treat that everyone will love!!
Oh and the best part… they taste amazing. They taste so good I had to call my mom to come pick them up so I would stop eating them, no joke.
So as you can see from item #1 I used a box mix, Duncan Hines Red Velvet to be exact. It was so nice to dump all the ingredients into the mixing bowl and just mix. No exact measuring, just simple fun baking!! The batter itself is gloppy (is that even a word?), its not runny but its not like cookie dough either. But when you scoop it out onto the cookie sheet the batter blob (yes, I just said blob) will stay in place. Sorry for using words that can't be found in a dictionary but I want you to have an idea of what to expect and these words just seem to work best 😉 . As the batter bakes it will spread into these crinkly, round cake cookies.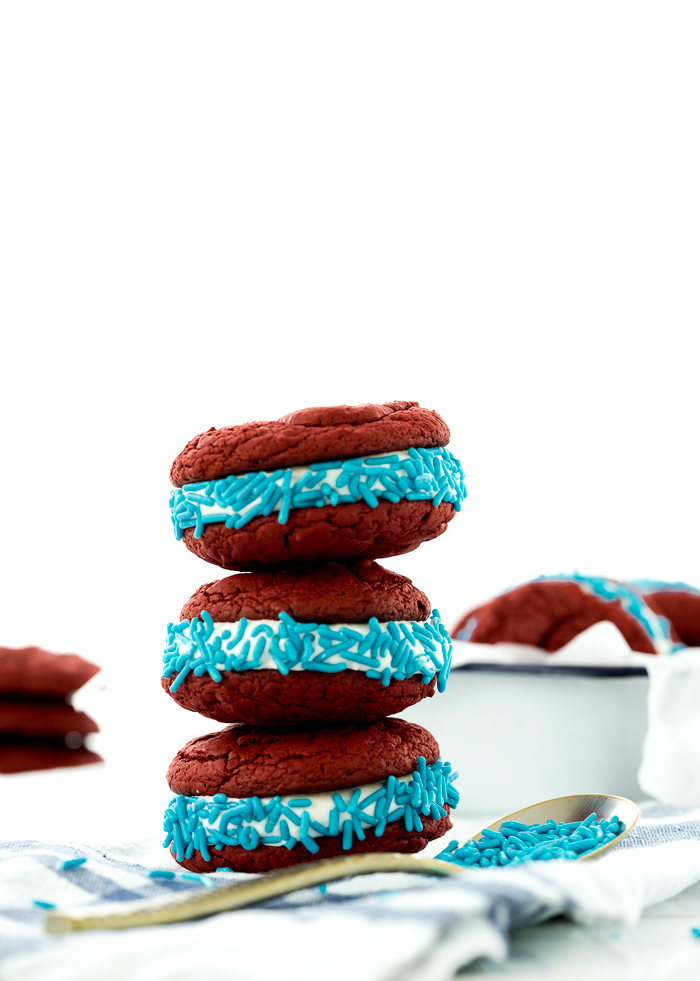 I know cream cheese is usually the obvious choice for red velvet and though I have no problem with obvious I was craving something different. I was craving marshmallow!! But to be honest I wasn't sure what the right ratio's would be for making a marshmallow filling that would hold its shape but still be marshmallowy. So I took to google and found this recipe from Lil Luna. I added a bit more vanilla because I can't help myself but the Lil Luna recipe is spot on!!
Now comes the fun part… Sprinkles!! I feel like a kid when I get to sprinkle something. After the Red Velvet Marshmallow Cream Whoopie Pies were assembled I filled a shallow bowl with sprinkles. I used Wilton Jimmies in blue (though to be honest they are kind of a mix between blue and teal). They come in tubes and they hang from the rack. They come in a bunch of colors so you will likely see a rainbow of hanging sprinkle tubes in one place like I did. I gently rolled each whoopie pie in the sprinkles so they would stick to the filling, if any spots got missed I used a spoon to sprinkle them on.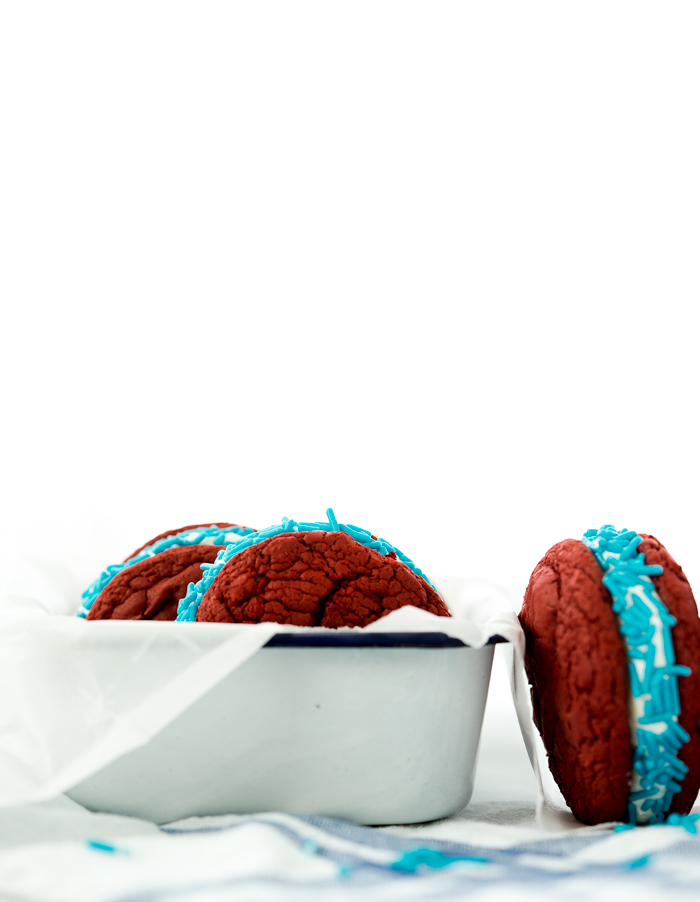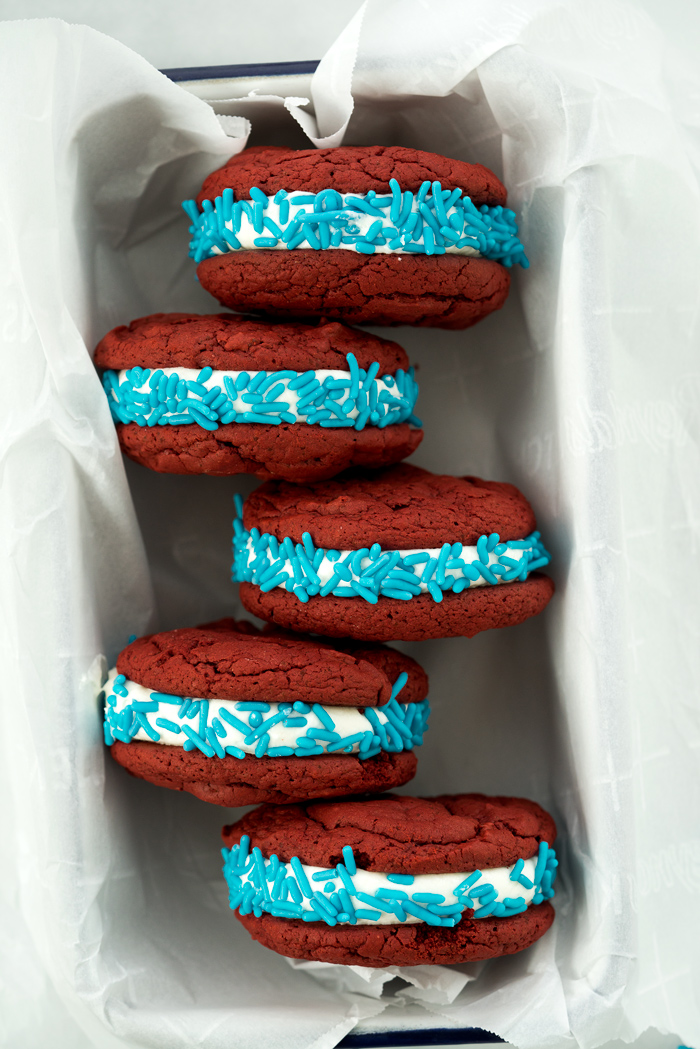 Please note that the marshmallow filling will definitely hold its shape but is sensitive to temperature and will become soft. My kitchen was a tad warmer than usual because it was 94 degree outside when I was assembling these. Because of this I put a cookie sheet in the fridge, I assembled and sprinkled one whoopie pie at a time and then placed it on the cookie sheet in the fridge to set. And repeated with the rest. It worked perfectly!
These Red Velvet Marshmallow Cream Whoopie Pies are sweet, pillowy, melt in your mouth delicious. Plus the Duncan Hines Red Velvet cake mix has just the perfect hit of salt in it so its having  baked in balance to all the sweet.
Enjoy!
Stacey
DON'T FORGET TO PIN IT FOR LATER 😉 .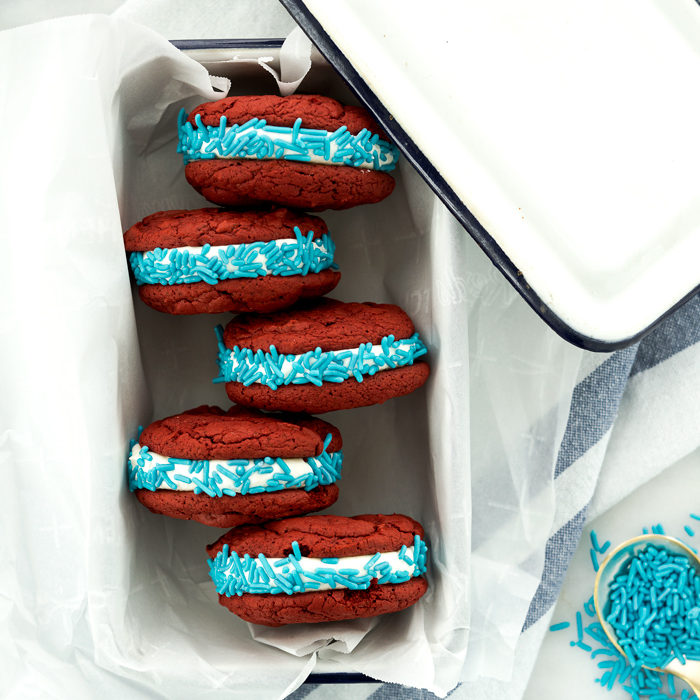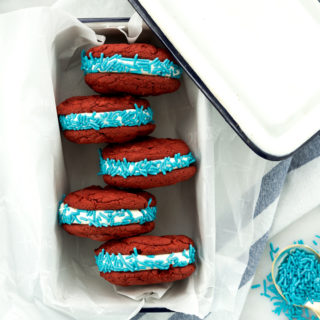 Red Velvet Marshmallow Cream Whoopie Pies
Red Velvet Marshmallow Cream Whoopie Pies. Pillowy red velvet cake sandwiching soft, sweet marshmallowing buttercream!!
Ingredients
CAKE COOKIES:

1

box Duncan Hines Red Velvet Cake Mix

2

eggs

7

Tbsp

butter melted

2

tsp

vanilla extract

MARSHMALLOW BUTTERCREAM:

1/2

cup

butter room temp

1 - 7

oz

jar of marshmallow whip

1

cup

powdered sugar

2

tsp

vanilla extract

GARNISH

optional but everyone loves sprinkles:

Wilton Jimmies in Blue

they come in a tube I needed 2 tubes with some left over or any sprinkles you wish
Instructions
Pre-heat oven to 375 degrees F

Line two cookie sheets with parchment, set aside.

CAKE COOKIES:

Place all ingredients in the bowl of mixer.

Start mixing on low and work your way up to medium speed.

Mix for about 2 minutes. Scraping down sides and bottom of bowl as needed.

Scoop out cookies onto cookie sheets, spacing 2 inches apart. I used a 1 1/2 Tbsp sized cookie scoop for this so they would be as uniform.

Bake for 8 minutes or until edges are set.

Let cool completely.

MARSHMALLOW BUTTERCREAM:

In bowl of mixer begin by creaming the butter.

Add in the marshmallow cream, continue mixing.

Add in the powdered sugar one spoonful at a time.

Add in the vanilla.

Mix until completely combined.

ASSEMBLY:

Match up your cookie pairs.

Pipe buttercream onto one cookie of each pair leaving a 1/4 inch edge.

Gently press the top cookie on top of the buttercream to make a sandwich.

Spoon sprinkles around the edges or pour sprinkles into a shallow bowl and roll the edge of the cookie in the sprinkles. I used both techniques, spooning helps fill in any spots rolling missed.

Set aside, repeat with remaining cookies.
Notes
1. When scooping out cookie batter and putting on tray batter will not be runny but will not be stiff, do the best you can to make a uniform shape/size. You may need to use a spoon to help the batter release from the scoop.
2. If making the cake cookies the night before, let cool and then store in airtight container or wrap in plastic wrap to keep fresh.
3. Marshmallow buttercream is soft, it will hold its shape but if your kitchen is slightly warmer (like mine was) it may start to ooze from the sides of the whoopie pies. Just place them on a cookie sheet in the refrigerator to firm up or until ready to serve.