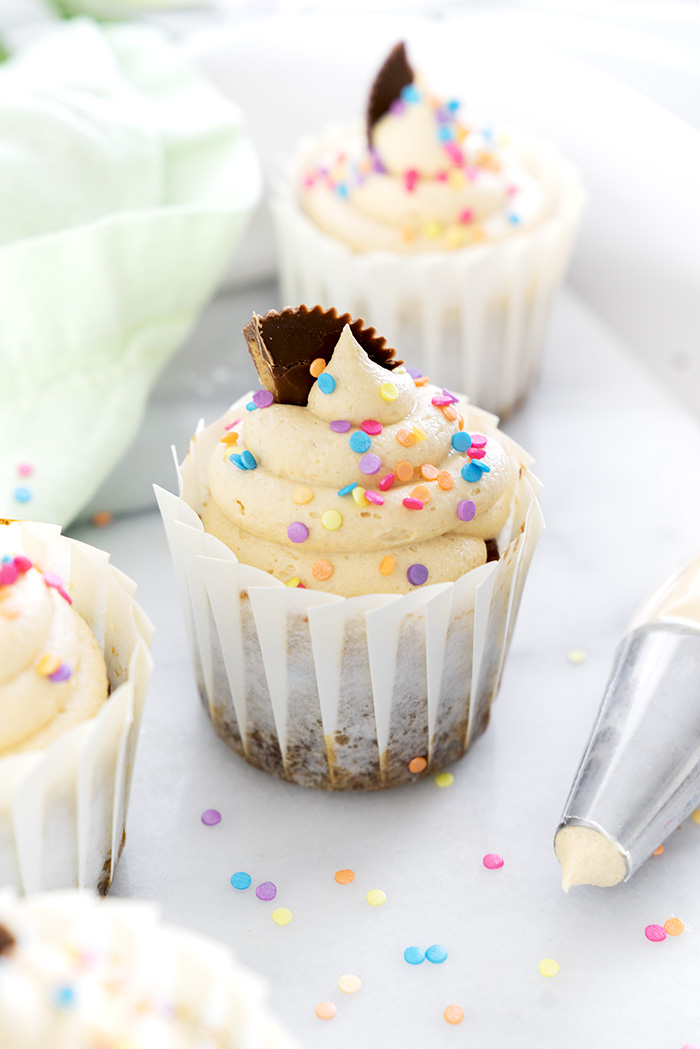 Banana Cupcakes with Peanut Butter Buttercream. Moist, dense, delicious banana cupcakes topped with a swirl of smooth and creamy peanut butter buttercream.
These Banana Cupcakes with Peanut Butter Buttercream are one for the books! In other words this recipe is a keeper. If you are looking for that special comfort food, this is it!! Every time I make these I have to just as quickly give them away because I simply cannot say no to a second, third, fourth….you get the picture.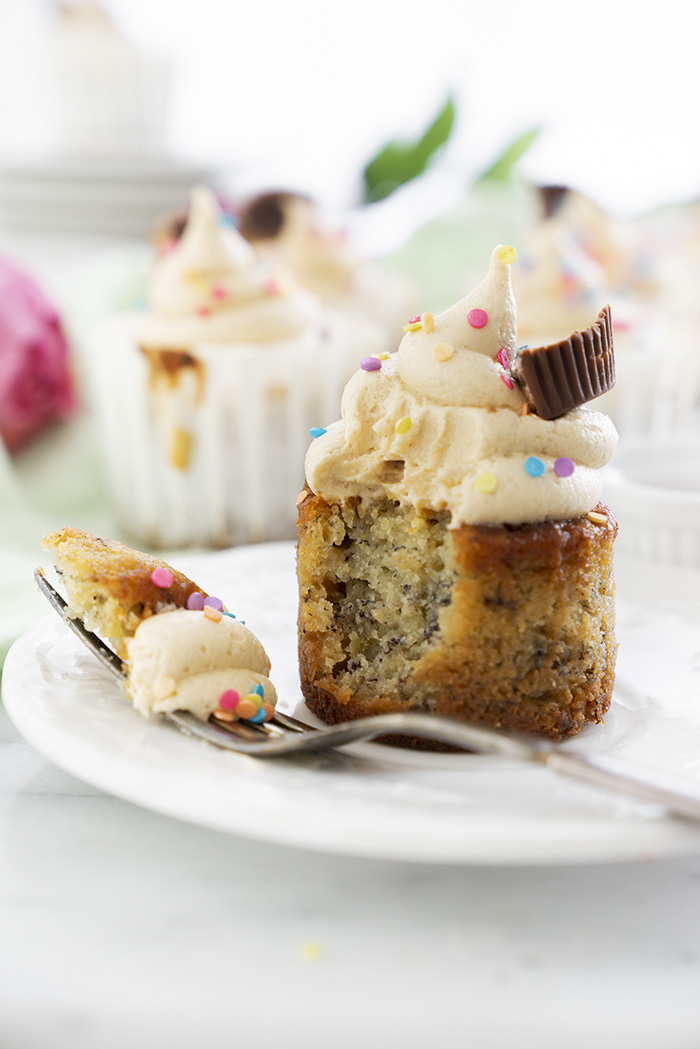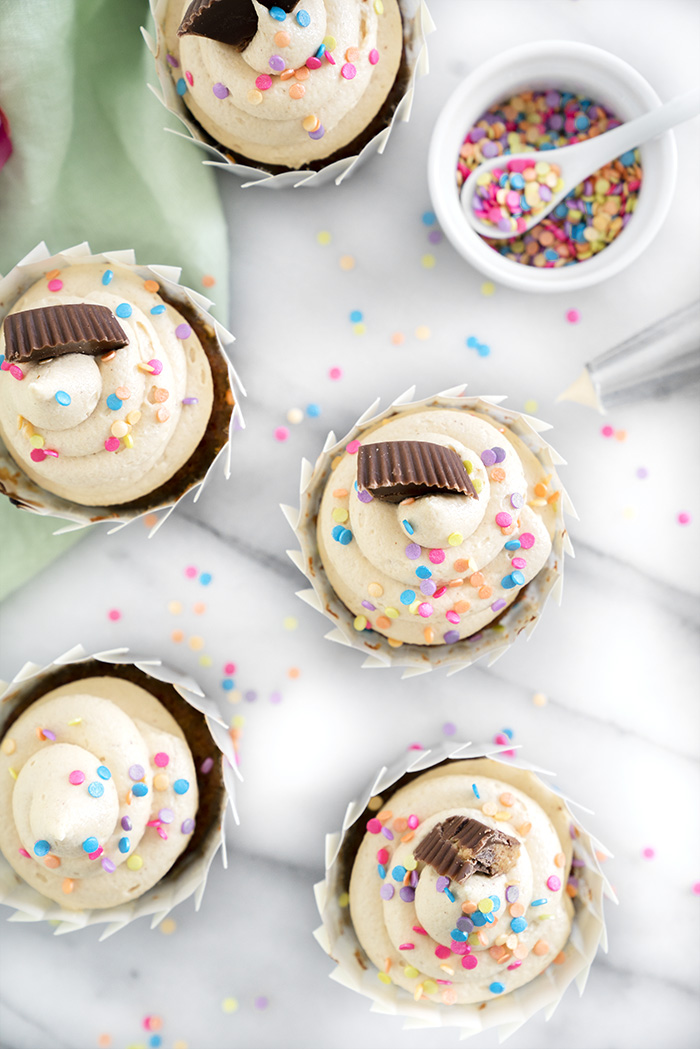 Banana Cupcakes with Peanut Butter Buttercream:
The banana flavor is at full force with these cupcakes.
Because we are using ripe bananas we are also lending a hand in making a super moist and dense cake that is off the charts! The words "light and airy" do not belong here.
This batter may look a little grainy if the bananas do not fully blend with the other ingredients but that's just fine. Mix as best you can but don't over mix.
Cupcakes are always fun and single serve, great for serving and storing/freezing.
Can this recipe be cut in half? Yes, absolutely. I have done it and can confirm it works.
Peanut butter and banana just belong together. Each of these cupcakes has a generous swirl of full flavor peanut butter buttercream.
Regarding the buttercream, don't forget the little bit of salt in the recipe, it really helps make the peanut butter pop and balances all the sweetness going on.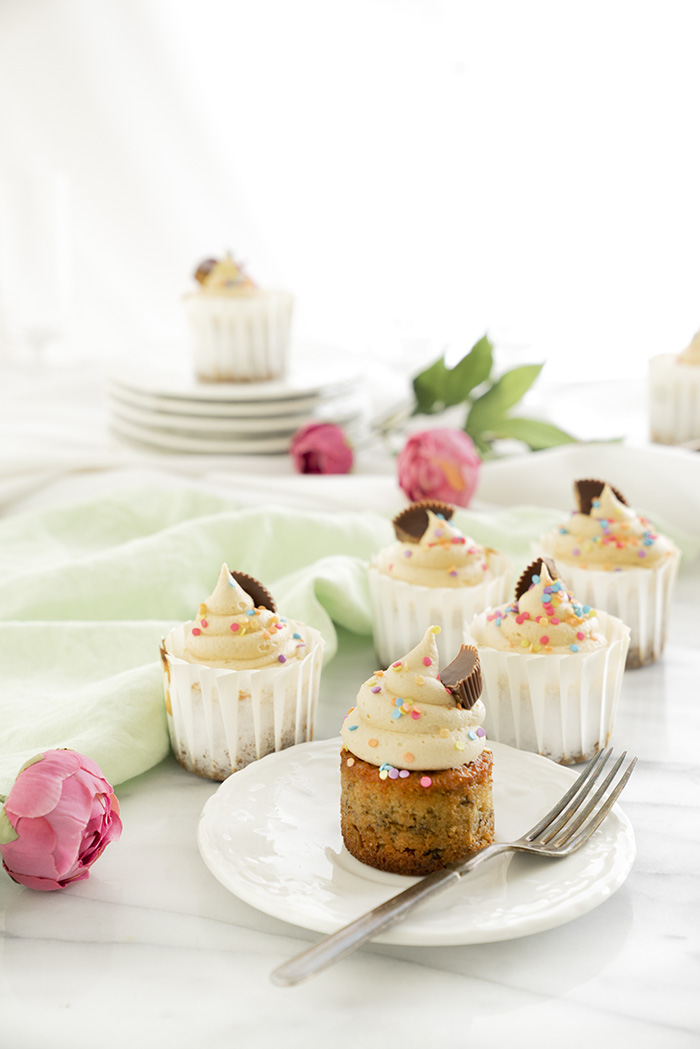 Now the most important question regarding these Banana Cupcakes with Peanut Butter Buttercream…. Would you like to wash them down with milk, coffee or tea? 😉
Enjoy!
Stacey
You may also like these recipes:
How To Make Rainbow Buttercream
The Best Carrot Cake Recipe Ever
Here are some of the items used to make these cupcakes. The below are Amazon Affiliate links which means I get a small commission (at no cost to you) if you buy from these links. 
PIN FOR LATER! You'll be glad you did! 🙂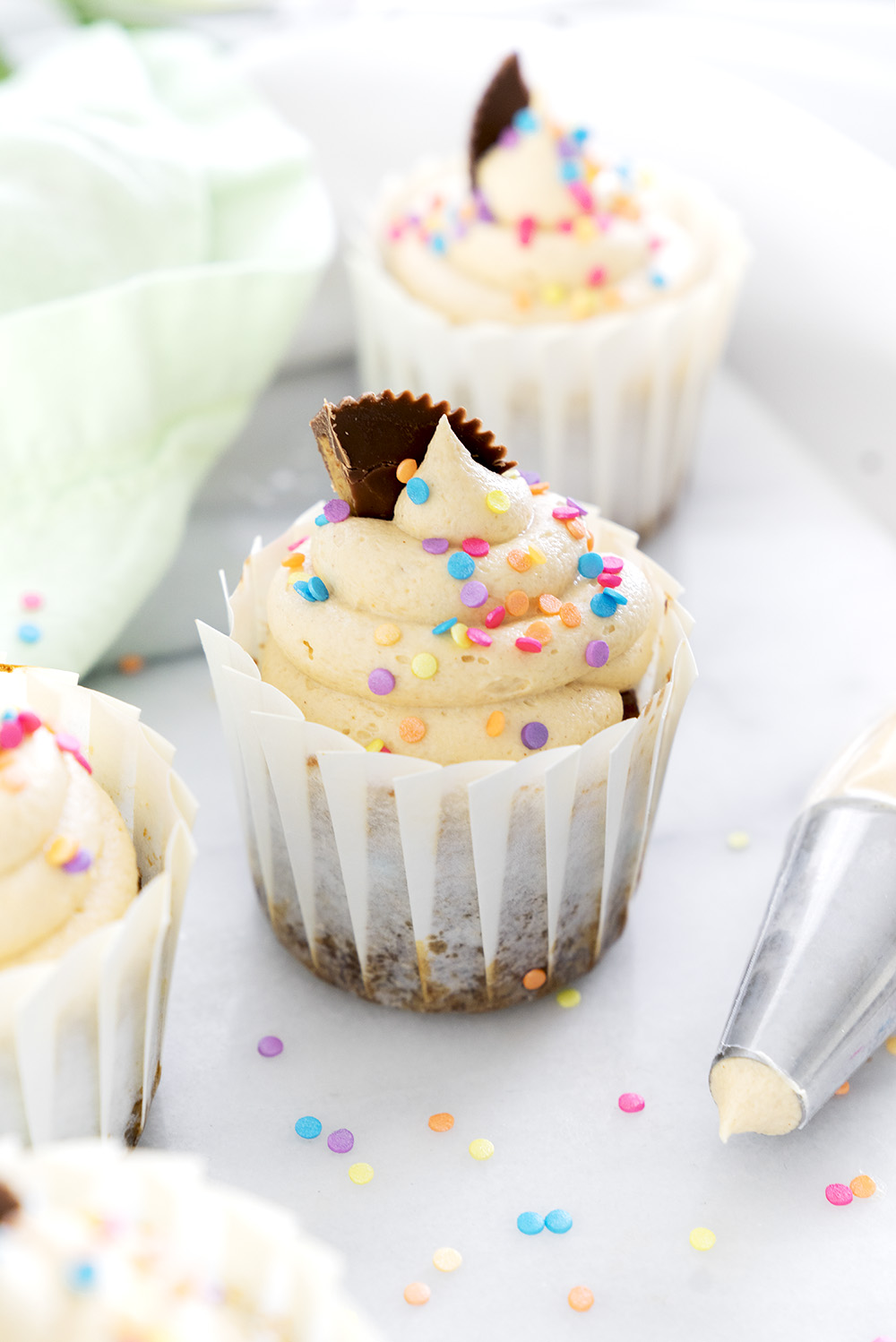 Banana Cupcakes with Peanut Butter Buttercream
Banana Cupcakes with Peanut Butter Buttercream
Ingredients
1/2

cup

very ripe bananas mashed (about 1 1/2 large)

(about 1 1/2 large)

1/4

cup

buttermilk

room temp

1

tsp

vanilla extract

1/4

cup

+ 2 Tbsp unsalted butter

room temp

3/4

cup

sugar

1

large egg

room temp

1

cup

cake flour

sifted

1/2

tsp

baking soda

1/2

tsp

baking powder

1/4

tsp

salt

BUTTERCREAM

4

oz

cream cheese

room temp

3/4

cup

peanut butter

I used Jiff creamy

1/4

cup

unsalted butter

room temp

3

Tbsp

milk

room temp

1

tsp

vanilla extract

1

pinch

salt

3

cups

powdered sugar
Instructions
Preheat oven to 350 degree F. Line muffin tin with cupcake liners. (this recipe should make 12 cupcakes give or take). 

1. Combine the mashed bananas, buttermilk and vanilla in small bowl. 

2. In bowl of mixer fitted with paddle attachment, cream the butter and sugar until light and fluffy. 

3. Beat in the egg, mix well and scrape sides of bowl as needed. 

4. Sift flour, baking powder, baking soda and salt into bowl.

5. With mixer on low, mix in the flour mixture and banana mixture into the mixing bowl, alternating between the two. 

6. Bring mixer up to medium speed. Mix well to combine, scraping down sides of the bowl as needed. About 10-20 seconds.

7. Pour mixture into prepared cupcake pan. Filling each cavity halfway full. 

8. Bake 12-17 minutes or until you gently press on the surface of the cupcake and it bounces back (meaning no finger print remains). 

9. Let cool completely. 

BUTTERCREAM:

1. In bowl of mixer fitted with paddle attachment, cream the butter, peanut butter and cream cheese until light and fluffy, about 1 minute so they are completely combined. Scrape down side of bowl as needed.

2. With mixer on low, add in powdered sugar one spoonful at a time, alternating with milk as needed.

3. Add in the vanilla and salt. Mix well to combine with mixer on medium/high speed. Scrape down side of bowl if needed.

4. Put buttercream in piping bag and pipe onto cupcakes. I used tip Ateco #806