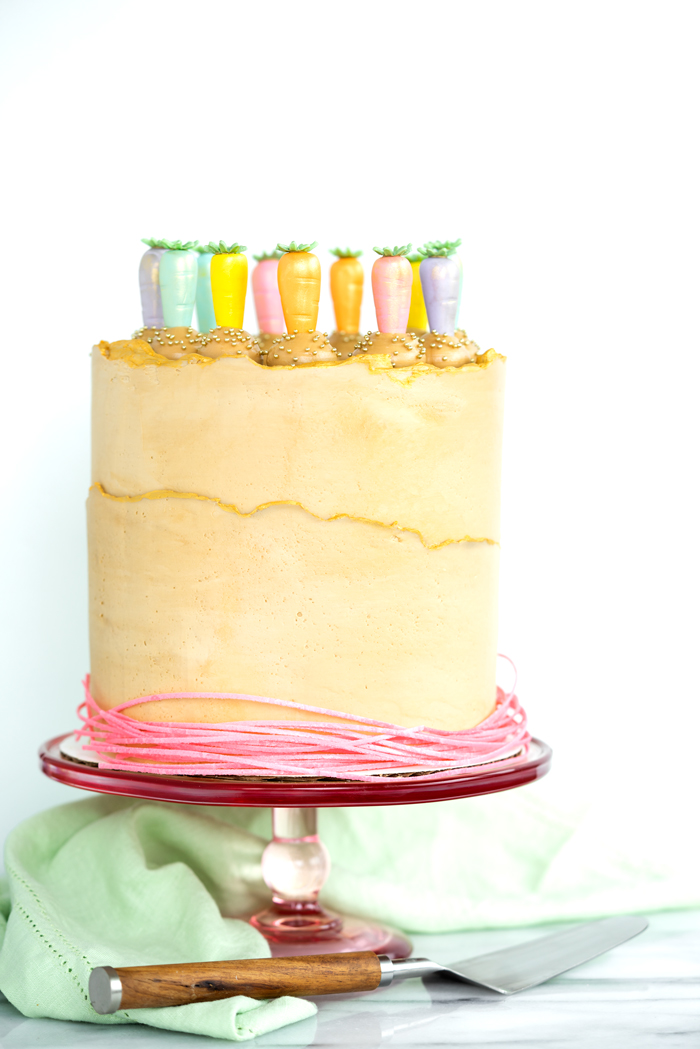 The Best Carrot Cake Recipe Ever. Hands down the most moist, carrot packed, delicious carrot cake recipe ever. To top it all off it's coated in dark brown sugar swiss meringue buttercream!!
First in case I don't chat with you again until next week Happy Easter!!!
I always hesitate to claim anything as "the best" because most the time this is left to personal preference and taste. But today I am confident to say that this is the best carrot cake recipe or at the very least the best I have ever had. So let's look at the break down.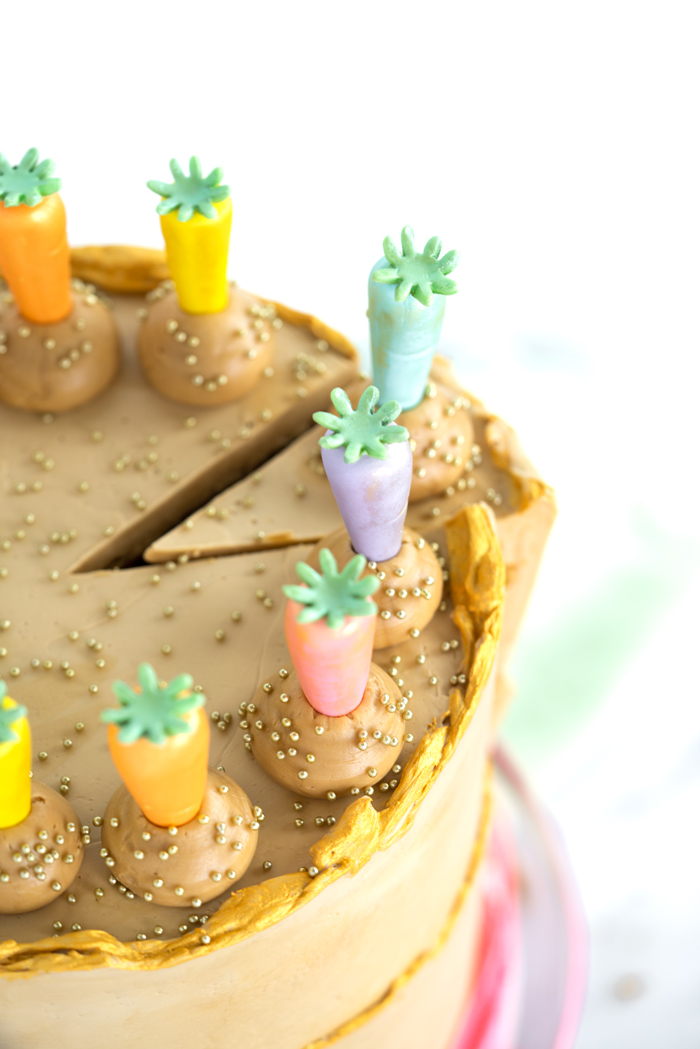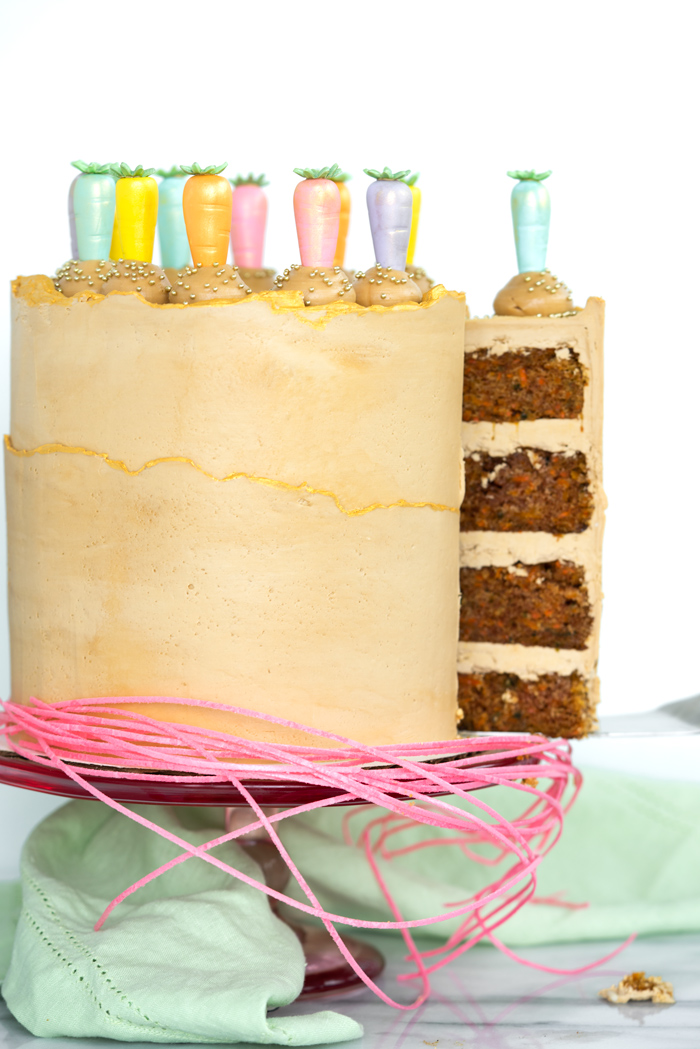 The Best Carrot Cake Ever Breakdown:
A carrot cake should be super moist – This one delivers and then some! So moist in fact that you can feel it while handling the cake on the surface.
A carrot cake should be packed with carrots – This one definitely is packed with carrot shreds, 6 cups to be exact. In fact that is one of the reasons this cake is so moist.
A carrot cake needs to some spice – Got it! I used cinnamon only but feel free to add a few more spices. However cinnamon does the job fine on its own.
A carrot cake needs an amazing frosting/buttercream – I went with a dark brown sugar buttercream for this one and it is spot on!!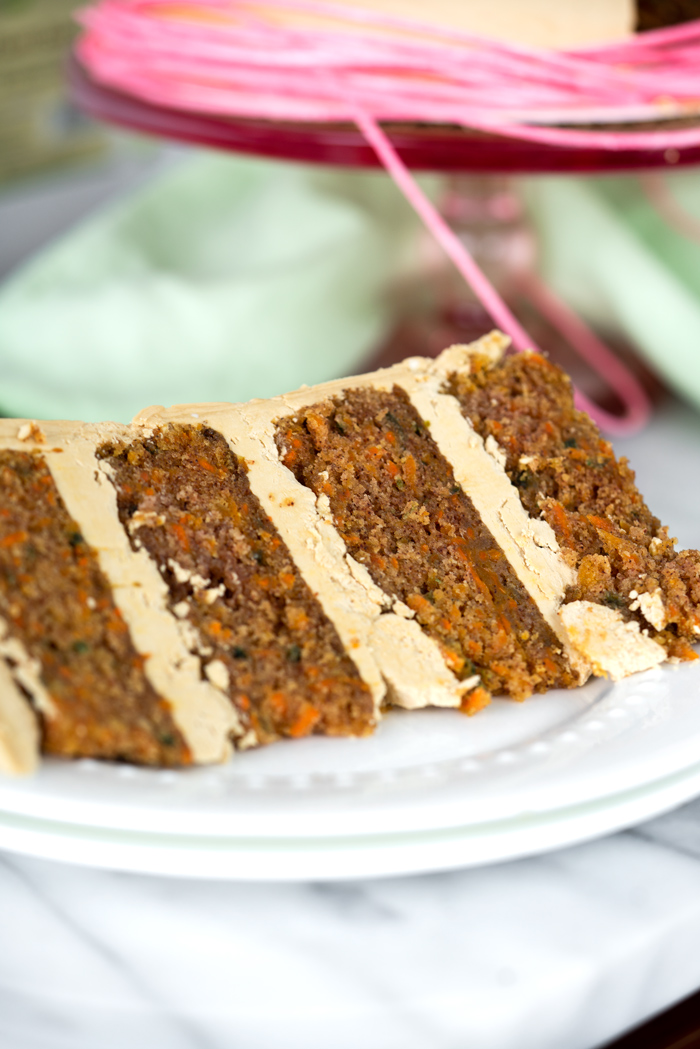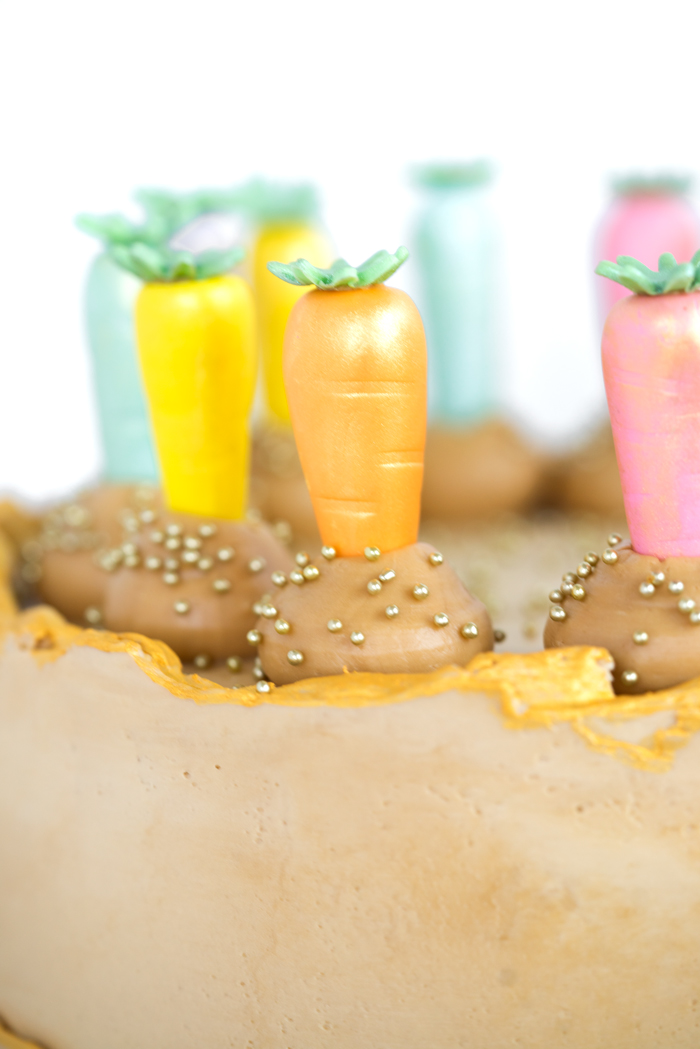 For the decorating I loved the natural color of the buttercream so I didn't fool with it. I painted the raw edges with gold luster dust (using lemon extract to make a gold paint). Since carrot cakes need carrots I made some whimsical rainbow carrots out of Satin Ice Gum Paste.
This Best Ever Carrot Cake will be on our Easter table (or birthday, Mothers Day, Any day table 😉 )! Hope it makes it to yours.
Enjoy!
PIN FOR LATER! Thank you.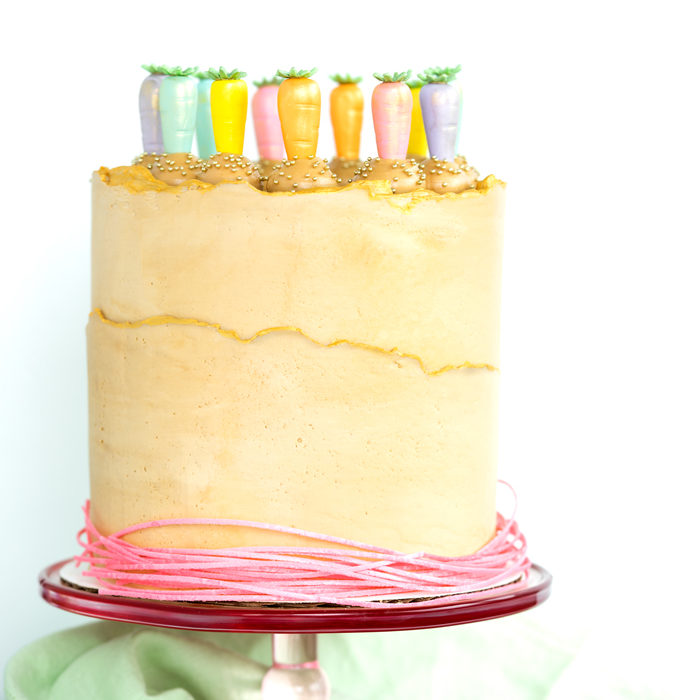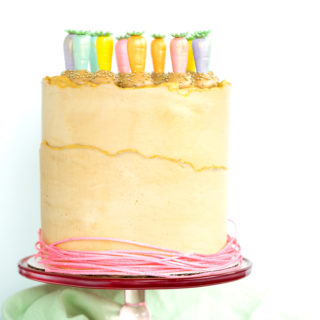 The Best Carrot Cake Recipe Ever
The Best Carrot Cake Recipe Ever. Hands down the most moist, carrot packed, delicious carrot cake recipe ever. | thesugarcoatedcottage.com #carrotcake #cake
Ingredients
CAKE:

3

cups

all purpose flour

3

cups

sugar

3

tsp

baking soda

1 1/2

tsp

salt

1 1/2

Tbsp

cinnamon

5

large eggs room temp

1 1/2

cups

canola oil

6

cups

shredded carrots

BUTTERCREAM:

you will need two batches of this buttercream, the recipe below is for one batch. I have a 5 qt mixer and only 1 batch will fit into the mixer at a time. I make the first batch to fill and crumb coat the cake and the second batch to final coat and decorate.

5

egg whites

1 1/4

cups

dark brown sugar

1

lb

butter room temp

1/2

tsp

salt

1

tsp

vanilla extract

1

tsp

salt
Instructions
preheat oven to 350 degree F.

Grease/flour and line bottoms with parchment of (4) 7 inch cake pans

CAKE:

In a large bowl add the flour, sugar, baking soda, salt and cinnamon. Stir to combine with a whisk.

In bowl of mixer add the eggs and beat until frothy. Stream in the oil.

With mixer on low/med add in the flour mixture gradually, continue mixing until combined.

By hand fold in the carrot shreds.

Pour evenly into the four prepared cake pans.

Bake 30-35 minutes or until toothpick inserted in center comes out clean.

Cool completely.

When ready to remove from pan run knife around the edge of the cake.

BUTTERCREAM:

In large sauce pan add the egg whites and brown sugar.

On low/medium heat you are going to whisk (continuously) egg mixture until sugar is completely dissolved (you can test it by rubbing a small amount between your fingers to test it, it should be completely smooth).

Transfer to mixing bowl and with whisk attachment whisk on high until stiff peaks form and mixture is completely cooled (if not completely cooled your butter will melt). If you have reached the stiff peak stage but meringue is still warm let it sit to cool to room temp.

Switch to paddle attachment.

On low speed add the butter one piece at a time.

Bring mixture up to high speed and continue to mix until well combined, smooth and creamy.

Add in the vanilla and salt, mix to combine.

ASSEMBLY:

Place first cake layer on cake board, secure it in place with a dab of frosting underneath.

Spread even layer of butter cream on top of the cake layer, smooth with offset spatula.

Repeat with the next two cake layers.

Add the top cake layer and crumb coat the cake with buttercream.

Refrigerate at least 30 minutes.

Put final coating of buttercream on cake.

Decorate as desired.
Notes
1. This cake has an equal amount of sugar and flour, this is not a typo.
2. This cake batter will bubble as it bakes, this is normal.
3. This cake has a bumpy top, this is normal.
4. I used a food processor to shred my carrots and highly recommend it.